Your guide to hi vis workwear
Hi vis workwear can be a bit of a minefield. Our guide will help you to understand what kind you need and the considerations you should take into account.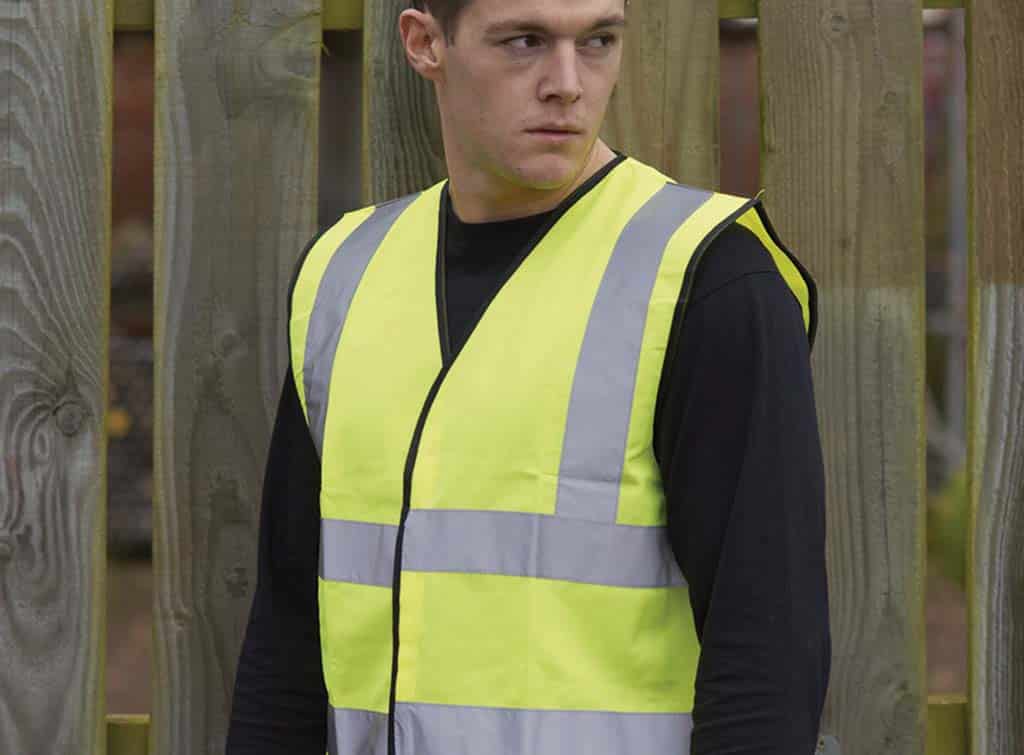 Do you know what hi vis workwear you or your team should wear in different working environments?
If you work in certain settings, you'll have a legal obligation to provide it for employees. But with lots of different kinds of hi vis garments and in various colours, it can be hard to know where to start.
Together with our partner, Workwear Giant, we've put a guide together to help you feel confident picking out the hi vis workwear you need.
Why invest in hi vis workwear?
The main purpose of hi vis workwear is to make you visible, and in turn keep you safe. In fact, in potentially dangerous environments where machinery is being operated, hi vis clothing has been proven to prevent accidents and fatalities.
In general, you'll need hi vis workwear if you're working in any environment that combines machinery with ambient or artificial lights – or a lack of light altogether!
If you're an employer and your employees are going to be exposed to significant risks to their safety, you'll also legally have to provide them with hi vis gear free of charge.
At the end of the day, everyone deserves to be safe at work. Hi vis clothing is an important part of this.
What are my responsibilities when it comes to hi vis workwear?
If you have employees, you won't just be responsible for providing your employees with hi vis clothing if they need it.
You'll also have to:
Maintain it in a clean state and in good working order
Check it before you give it to employees
Provide storage facilities for when it's not being used
Give your employees information and guidance on how to use it correctly
Supervise your employees to make sure they're wearing it correctly and when they need it
Guidance to choosing the right hi vis clothing
Wondering what type of hi vis clothing you need to invest in? There are lots of factors you'll need to bear in mind when making the right decision.
The risk
What's the lighting like? What are the weather conditions (is there snow or fog, for instance)? Is it daytime or nighttime?
You'll need to consider these factors when assessing the level of risk you're dealing with.
For some jobs, a hi vis waistcoat might be all you need. But if workers are at a particularly high risk, for instance from moving vehicles, they might need full body clothing – like hi vis workwear jackets together with hi vis workwear trousers – to make them as visible as possible.
As a general rule, the darker the conditions you're working in, the more hi vis clothing you'll need to wear.
The job
What does the job involve? What will the working conditions be like?
Make sure to think about what your employees will need from the clothing. For instance, you might find that a loose-fitting hi vis tabard would snag on moving machinery parts, or if it's summer, you might decide that a hi vis jacket would be too warm.
Remember, PPE always has to be suitable for the work being undertaken. If the work changes, you'll need to check that the PPE, including any hi vis clothing, is still suitable.
The wearer
Who will be wearing the hi vis clothing?
It's really important that it's comfortable, fits the person wearing it properly and doesn't restrict their movement. For this reason, you might need to consider buying specific men's hi vis workwear and women's hi vis workwear, or investing in a range of sizes to suit different body types.
Our guides to the best men's workwear for trades and the best women's workwear for trades are worth a read.
Compatibility with other forms of PPE
Will the workwear be worn with other PPE?
If you're going to be wearing more than one type of PPE, it's important that they don't affect one another. That's why it's often useful for your hi vis clothing to double up as another kind of PPE too. For instance, you could get hi vis clothing that's also designed to offer protection from chemical spills.
You might also want to consider investing in waterproof hi vis workwear if you're going to be working in wet weather. That way, you won't be hindering the performance of your hi vis clothing by wearing separate waterproof clothing over the top. Our guide to PPE for construction might help.
Standards the workwear needs to meet
Does the workwear you're considering meet the new British Standard?
Hi vis garments should always be manufactured to a recognised standard – the new British Standard is BS EN 471. Workwear that conforms to this will be marked with two numbers: the first will indicate how conspicuous the workwear is (Class 3 is the best and Class 1 is the lowest); the second will indicate the workwear's retroflection performance (Class 2 is more visible than Class 1 when seen in headlights in darkness).
Usually, you should wear Class 3 hi vis clothing if there's a high risk that you'll be hit by a moving vehicle. Class 2 is recommended if there's a medium risk. And Class 1 is usually worn by workers providing roadside assistance, volunteers or delivery drivers, where risks are lower.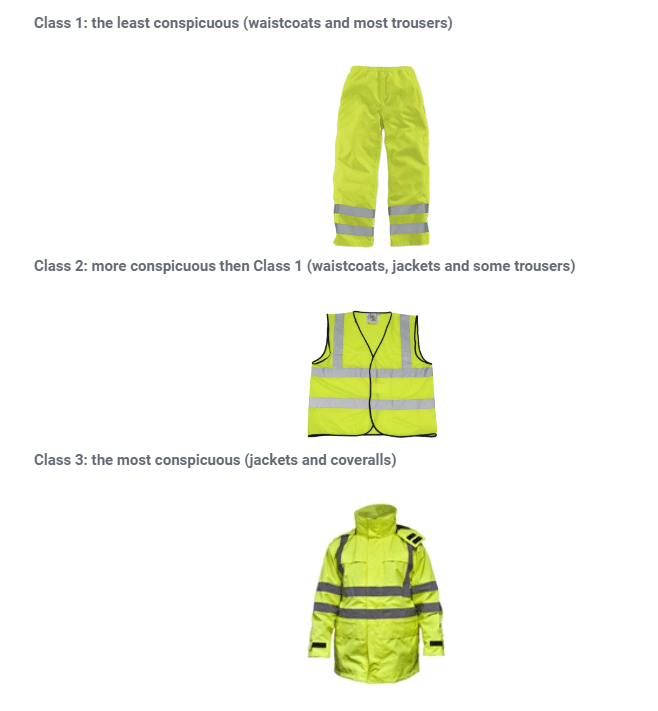 What colour hi vis should I wear?
When you're choosing hi vis clothing, you should consider what colour you'll be seen best in.
Hi vis garments can come in a range of colours, including black and navy. However, the most common (and those that tend to conform to the new British Standard) are yellow and orange.
Yellow versus orange hi vis workwear
Both yellow and orange hi vis workwear can both conform to the new British Standard. So, how do you choose between them?
Well, it depends on which you're likely to be better seen in, given the conditions of the job. If you're carrying out work outdoors in green environments, fluorescent orange is likely to be much more visible as it won't blend in. Hence why rail workers wear orange hi vis workwear.
On the other hand, yellow hi vis workwear is used more indoors. Yellow is a brighter colour, so it can be seen better in low-level light.
Two-tone hi vis clothing
Two-tone hi vis clothing uses two colours – a fluorescent colour and another colour (which can be fluorescent or not).
The main reason to use two-tone hi vis workwear is to tell different job roles apart, or to tell apart people who work in different locations. For example, different teams might be assigned different colours of hi vis.
However, it can also be useful to help protect against dirt, especially if the lower half of the workwear is a darker colour. Just bear in mind that this might affect the class of the workwear, as if there's less fluorescent fabric on show, you're likely to be less visible.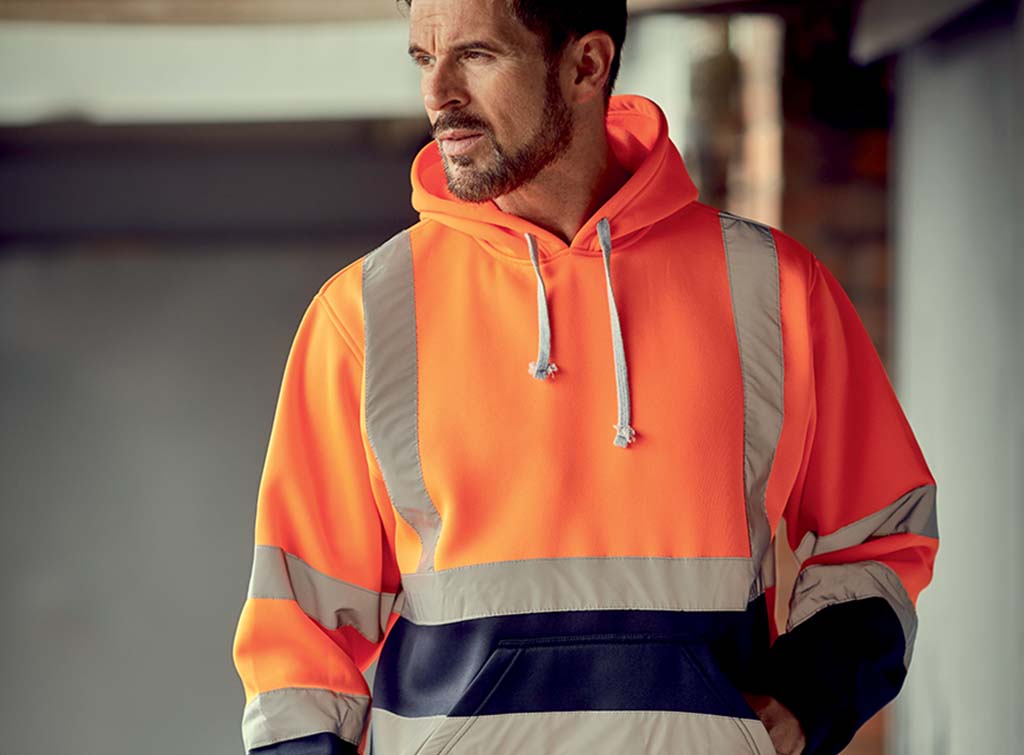 Personalised hi vis workwear
Getting hi vis workwear with your logo on is a great way to increase brand awareness. After all, the more that somebody sees your branding, the more likely they are to think of your company when they need a service that you can provide in the future.
Custom hi vis workwear can also help to give your whole team a sense of consistency and unity. And it can even enhance trust. In fact, studies have shown that customers feel more comfortable approaching individuals who are clearly part of a company.
Embroidered hi vis workwear versus printed hi vis workwear
If you've decided to get your hi vis clothing branded, you'll need to choose between printed or embroidered workwear. They each have their pros and cons. However, here are the key points.
Printed hi vis workwear
Costs less
Better for complex or fiddly designs
Can be utilised on more garments, eg. hard hats
Embroidered hi vis workwear
Longer-lasting
Can withstand multiple hot washes
Looks more professional
FAQs
Where are you required to wear a hi vis vest?
You'll need hi vis clothing if you're going to be working in places with low, ambient or artificial lighting and machinery. For this reason, hi vis workwear is common in environments such as construction sites and warehouses.
How often should you replace hi vis clothing?
Hi vis clothing typically lasts around six months. However, it can last longer if it's not worn daily, or it could last for less time if it's frequently worn in extreme conditions. Remember that employers are responsible for cleaning their employees' hi vis clothing and keeping it in good working order.
What is hi vis clothing used for?
Hi vis clothing is designed to make the wearer easier to spot, so that they're kept safe. It's particularly useful in environments with low, ambient or artificial lighting where machinery is being operated.