How to start a bricklaying business
If you've been working as a bricklayer for a while, then there's no doubt that you've wondered if it'd be possible to go it alone and be your own boss. This post on how to start your own bricklaying business will answer all those niggling questions and set you on the right path.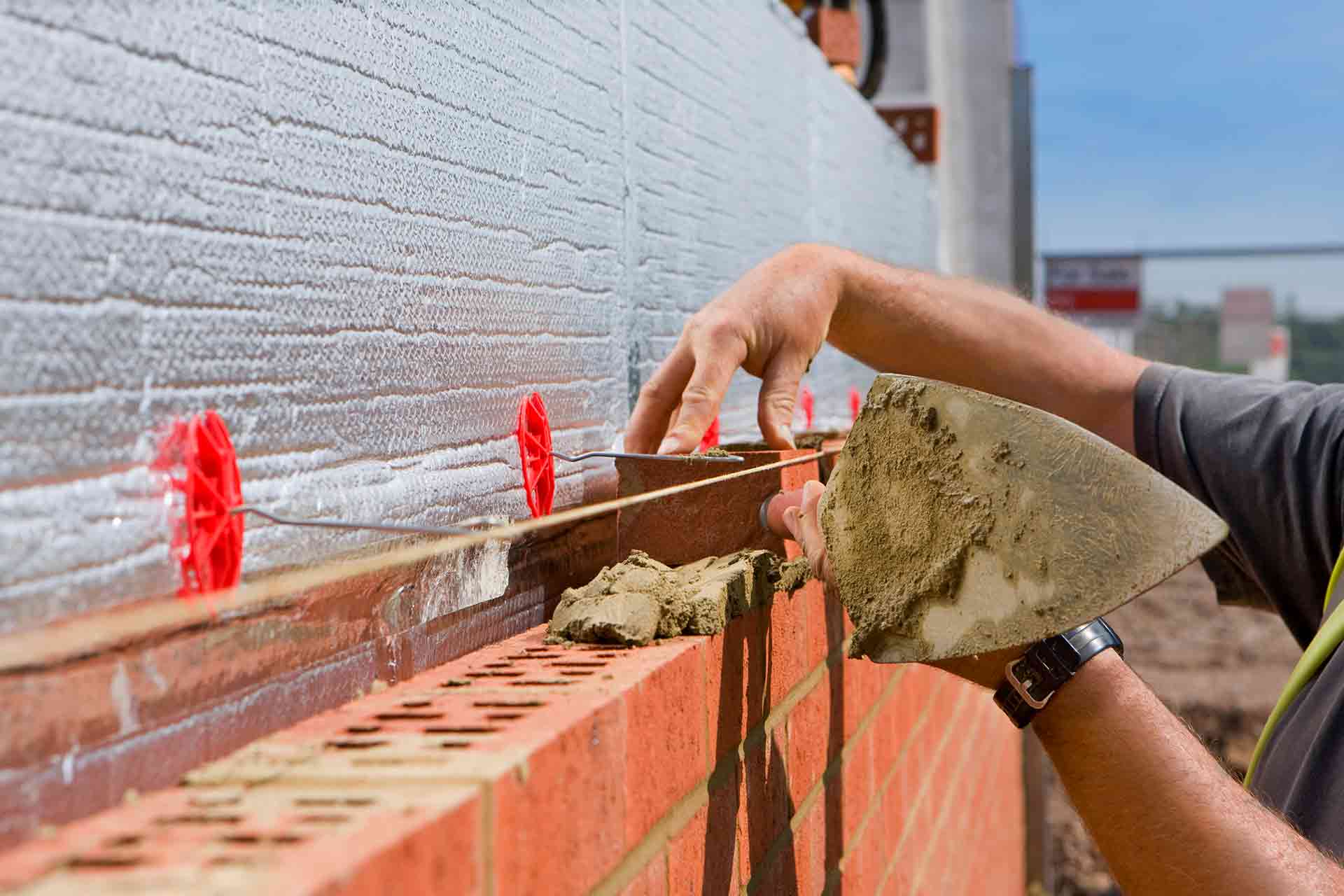 You've worked your socks off as an apprentice, grafting in all weather conditions, earning your stripes on site. Are you ready to branch out and go it alone? Domestic and commercial projects are always in need of bricklayers, with plenty of scope to specialise based on your interest and expertise.
Last year, the Checkatrade website saw, on average, 39,000 searches per month for bricklayers across the UK*. As you can see, it's a profession that's in high demand. And this upward trend is unlikely to change anytime soon.
The average bricklayer salary in the UK is around £37,000 per year, while highly qualified and experienced bricklayers can earn a potential of between £40,000 – 50,000 per year, depending on location.
But taking a leap of faith and leaving the safety net of employment to become your own boss takes courage – and a little planning.
This article on how to start a bricklaying business will guide you through every step of the process from training and qualifications, to bricklayer insurance, tools, equipment, marketing, and everything in between.
Don't have the time to read about all of this right now?
Not to worry, our 'Become the Boss' series will help you to get your bricklaying business started in no time.
7 emails in total (and a cheeky bonus email) with easily actionable steps to get started. Featuring fellow tradespeople who were once in your position, a free business strategy call, and at the end of it all, you as the Founder of your new business.
Hit in your email below to make the most of this free business advice.
Start by creating your bricklaying business plan
Creating a business plan should be the first step for anyone thinking of starting their own business.
It will set out your goals and the steps you need to take in order to achieve them. It will help you to stay organised, work efficiently and productively, and make informed decisions.
It's also a necessary document to have should you need financing to start your bricklaying business.
Not sure where to start? Download our free business plan template below.
Training and qualifications
As you'll be aware, there are various certificates and diplomas you can work towards to become a bricklayer, either at a college or training provider or in combination with an employer as an apprentice.
But with experience and basic qualifications already under your belt, what else do you need in order to become the boss and start a bricklaying business of your own?
Get certified
To boost your business profile and maximise opportunities it's recommended to have extra certifications. The Federation of Master Builders and the Construction Skills Certificate Schemes are two that you should be aware of.
Federation of Master Builders (FMB)
Joining the FMB is a great way to enhance your reputation and gain more clients. To become a member, you're required to pass assessment and inspection processes to ensure you meet the high standards of a Master Builder. Upon completion, you'll be able to display the FMB badge and impress customers with your recognised expertise in bricklaying.
Construction Skills Certificate Scheme (CSCS)
Many bricklaying jobs will involve working on a construction site. So it's crucial that you have a CSCS card to be allowed to operate in these areas. Without one, you'll miss out on opportunities to work on larger projects.
If you haven't already, get a bricklaying NVQ
You may already have an NVQ while you were employed, but it's worth checking out our partner's bricklaying NVQ level 2 over at North West Skills Academy.
Other useful skills and attributes
While qualifications and experience are an essential part of being a successful bricklayer, there are other 'soft skills' and attributes that are important for anyone wanting to start their own business.
So what makes a great boss?
Knowledge of the building and construction industry
Attention to detail and highly organised
Interpersonal skills and great customer service
The ability to lead and manage and have conviction in your decisions
Patience, fairness, integrity, and self-awareness
Enthusiasm and endurance
How to set up your bricklaying business – step by step
In this section, we'll outline the practical steps you need to take to set up a bricklaying business, including registering your business, applying for licenses, and securing the right business insurance.
Register your business
Once you've decided on a name for your bricklaying business, you'll need to legally register it.
When doing so, you'll need to decide whether you'll be recognised as a sole trader or a limited company. Each comes with different taxes and regulations. So the structure of your business will depend on what suits you best.
Take time to weigh up the pros and cons of each before making a decision.
You'll also need to contact HMRC to apply for the necessary tax and national insurance documents too.
Apply for licences and permits
Before launching your new bricklaying business, you'll need to get in touch with your local council. They will be able to advise what permits and licenses you'll need in order to operate as a bricklayer.
Get bricklayer insurance
Bricklayer insurance offers protection for you, your business, your livelihood, and any third parties (members of the public or future employees) from losses or damages caused by unexpected events.
As you'll appreciate, accidents can and do happen on a construction site, so it's imperative you're fully insured to mitigate the financial impact this could have on your business.
Your bricklayer insurance should cover all aspects of your business, for example, your tools, materials and equipment, your work van, and your income should you be unable to work.
Public Liability Insurance is often a contractual requirement too. A specialist bricklayer insurance broker will be able to recommend the right cover for your needs.
Accounting and bookkeeping
A big part of running a successful bricklaying business is being organised with your accounting and bookkeeping.
You need to keep a close eye on monies coming in and payments going out of your business. This will help you to manage your finances efficiently, easily track whether invoices have been settled, and claim relevant business expenses in preparation for your self-assessment tax return.
Bricklaying tools and equipment
Approaching a job fully equipped gives you a professional edge as well as allowing you to complete the work to a high standard. Not to mention a company vehicle to transport you and your tools to each job!
Check out this post for help finding the best van lease deals.
Essential bricklaying tools and equipment include:
Trowels
Corner poles
Wall ties
Line block and twine
Levels
Brick hammers
Brick tongs
A jointer
A cement/mortar mixer
A wheelbarrow
More than just a directory listing
Get support and a range of money-saving discounts to help get your business off the ground
Find out more
How to grow a bricklaying business
Your bricklaying business is well and truly up and running. You've been working on a range of different construction projects but now you want to grow your bricklaying business.
In this section, we'll help you to create a detailed plan for business growth. We'll look at why you want to grow your bricklaying business. Your business targets and goals. And how you're going to achieve growth.
Firstly, it's important to understand more about business growth. This will help you to focus your plan on the areas of your bricklaying business you want to grow.
What is business growth?
Before you focus on generating more leads and winning more jobs, you need to understand that growing your bricklaying business involves more than just getting more work.
As your bricklaying business grows, you'll want to ensure that you still offer the same high-quality service that you did when you first started out. To do this, you need to create a business plan with realistic growth targets.
Setting growth targets for your bricklaying business
Your growth targets should reflect the direction you want to take your bricklaying business. You may want to focus on increasing leads and generating more work.
On the other hand, you may want to focus on growing your team to enable you to work on larger scale bricklaying projects. You may also want to expand your services to include other construction work so that you can offer a more comprehensive service.
Whatever you decide, your growth targets should be S.M.A.R.T.
Specific
Measurable
Achievable
Realistic
Time-bound
This will help you to stay focussed on your goals as your business grows.
How to achieve your growth targets
Achieving your growth targets will give you a great sense of success and control over your business. Once you've set your growth targets, you need a to create a plan to help you to achieve these targets.
Have a look at our free business development strategy template. This will help you to develop a clear and concise marketing strategy to help grow your business.
Alongside the template, you can read our useful article that explains all the essential information you'll want to include in your plan.
How to create a business development strategy – Free template included
Marketing for your bricklaying business
Marketing your bricklaying business is all about promoting your business and getting your name known to a wide range of potential customers. When done well, marketing can have a hugely positive effect on business growth.
Let's look at the two different types of marketing you'll want to focus on to grow your bricklaying business.
Traditional marketing
Traditional marketing, sometimes known as print marketing involves marketing your business in the real world. It involves using physical signage and branding and can include:
Sending brochures and leaflets via the post
Signage for your vans and workwear
Sponsoring local events with your company name
Adverts in local magazines and newspapers
Digital marketing
Digital marketing, on the other hand, involves all the work you do online to promote your business. According to recent statistics, a large number of people research a business online before making a purchase or using a service. This means your digital presence is extremely important.
To boost your digital marketing, you'll need:
A professional and user-friendly website
A regularly updated social media profile
Online customer testimonials (both on your website and on third party reviews sites)
Membership to an online directory (such as Checkatrade!)
Want to find out more about marketing your bricklaying business? Sign up for our free digital marketing guide below.
You need a marketing plan now more than ever – Free marketing planning guide included
Increasing your business' scope
Once you've got your marketing strategy up and running, you'll soon start to see your business increase. As a bricklaying business owner, you'll need to consider the next steps to grow your business.
You may want to focus on large scale construction projects. This could involve employing a team of skilled bricklayers and working on various construction projects either local or across the country.
Alternatively, you may want to focus on home extensions and renovations. In this scenario you will either want to employ other skilled tradespeople or develop a network of sub-contractors to carry out any works that fall outside your scope.
Key considerations for business growth
Growing your bricklaying business may seem like a daunting prospect. When trying to boost sales, grow your team or offer more services, it's important to remember why you decided to set up your own business in the first place.
Financial stability
Quality and consistency
Maximising efficiency
Training and accreditations
Winning more work as a Checkatrade registered bricklaying specialist
One of the most important things you can do to grow your bricklaying business is to become a Checkatrade registered trader.
All Checkatrade members gain access to a wide range of benefits to help their business to thrive. With over 3 million homeowners searches per month, being part of the Checkatrade database is a great way to promote your brand and grow your bricklaying business.
With the Checkatrade tick by your name, it makes your marketing just that little bit easier, as 8/10 people would choose a trade endorsed by Checkatrade, compared to one which isn't*.
You can also showcase your qualifications, customer reviews, and images of your work on your Checkatrade profile to help to enhance your reputation.
More than just a directory listing
Get support and a range of money-saving discounts to help get your business off the ground
Find out more
Become your own boss in 7 days
You could get your business started in just 7 days with the help of our 'Become the Boss' series.
To get trade business insider secrets sent to your pocket, put your email address in the form below so we can help you to get started.
FAQs
Is a bricklayer a sole trader?
A self-employed bricklayer can operate as a sole trader or limited company. The different company structures have different tax implications. Speak to an accountant if you're unsure which is best for you.
What can a self-employed bricklayer claim for?
As a self-employed worker, you can claim expenses for any costs that are vital to keep your business running, such as work tools and equipment, workwear, travel expenses, and office running costs.
What insurance does a bricklayer need?
Bricklayer insurance is vital for protecting both yourself and your business. The main types of cover to include in your policy are:
Public liability insurance
Employer's liability insurance (a legal obligation if you employ staff)
Professional indemnity insurance
Insurance for your tools and equipment
Commercial vehicle insurance for your work van
More than just a directory listing
Get support and a range of money-saving discounts to help get your business off the ground
Find out more
*Checkatrade search data 1st January – 31st December 2021
**Deep Blue Thinking 2021 Trade Perception Survey