How to start a network engineering business
Nowadays, almost every company will rely on a computer network to access and share information across their organisation. With networks being such an important part of working life, it's no surprise that engineers are highly valued for their ability to upgrade, maintain or troubleshoot systems. That's why going self-employed in the industry is such a…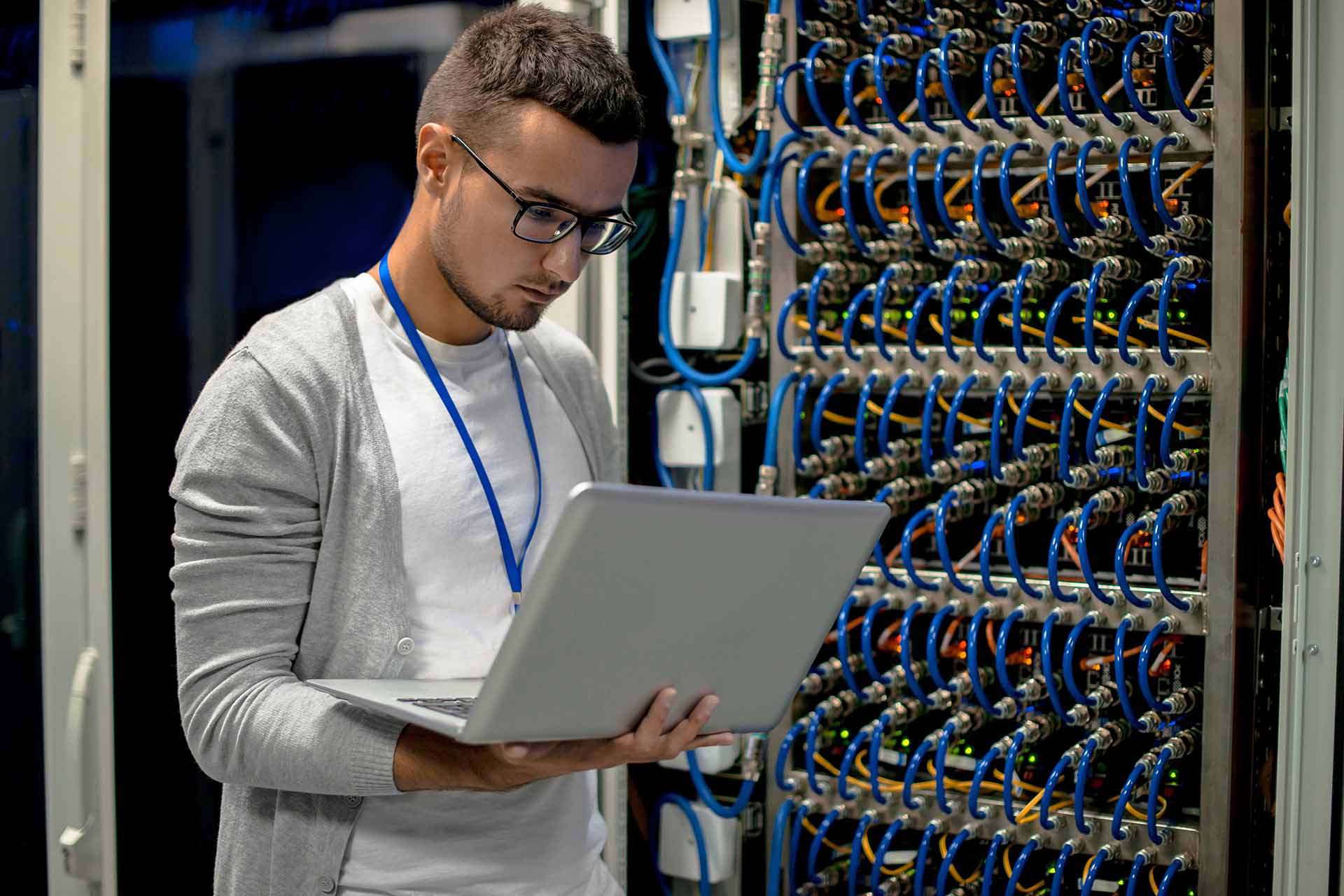 Nowadays, almost every company will rely on a computer network to access and share information across their organisation. With networks being such an important part of working life, it's no surprise that engineers are highly valued for their ability to upgrade, maintain or troubleshoot systems.
That's why going self-employed in the industry is such a great opportunity. Not only will you be able to profit from plenty of business, but you'll also have the freedom to choose your working hours, specialisms and customers.
This guide covers everything you need to know, from equipment through to business planning, so you can start your own network engineering business and take that next step in your career.
Do I need qualifications to become a self-employed network engineer?
Network engineering is a highly skilled role that usually requires qualifications, so potential clients will be a lot more likely to hire you if you have the right credentials. While not essential, here are the most recognised qualifications that will highlight you as a reliable tradesman:
Undergraduate degree in network engineering or a related field
Level 4 Certificate in Network Services
Level 4 Diploma in Network Security
Network cable installer advanced apprenticeship
Network engineer higher apprenticeship
Degree apprenticeship in digital and technology solutions
How can I make my business stand out?
Alongside qualifications, you could seek further certification by joining a relevant trade association. Joining The Chartered Institute for IT recognises your competence and high standard of work in the network engineering industry. Becoming an official member could potentially give you an edge over the competition when seeking new customers.
What skills are important for starting a network engineering business?
You'll come across a range of challenges while completing jobs and running your business network engineering business, so you'll need a wide skillset. Here are the most important qualities:
Thorough understanding of computer operating systems for designing, configuring or troubleshooting different networks
Systems, hardware and software knowledge
Attention to detail for spotting issues and protecting networks
Analytical thinking to evaluate network performance and security
Problem solving and troubleshooting skills for resolving network issues
Ability to lead and manage projects
Basic maths for managing your business's financials and taxes
Teamwork, especially alongside a client's in-house IT team
Interpersonal skills for building business relationships and providing a high standard of customer service
What equipment is required for network engineering?
Having the right equipment is key for completing jobs quickly and to a high standard. The following list covers the essential for most day-to-day work:
Software tools for analysing and troubleshooting networks
Ethernet cable
RJ45 female-to-female connector for ethernet extension
Serial to ethernet adapter
USB to serial adapter
Screwdriver for dismantling and replacing systems
Cable tester
Tone probe to trace cable routes
Cable snake to keep wiring tidy
How can I start a network engineering business?
First, you must legally register your network engineering business with HMRC and choose a name. Try to make it short, catchy and relevant to your services. This is more likely to stick with potential clients – especially in a competitive market like IT.
You'll also need to choose a recognised structure for your business. You can set up as a sole trader or as a company, and each has its own pros and cons. For instance, sole trading requires less paperwork but you'll be personally responsible for any losses or debt your business incurs, whereas a limited company structure gives you more financial security but less privacy around your profit and earnings. Read our full guide here on the differences to help you make a decision.
Plan your network engineering service
It's important to have a clear idea of the type of you work you'll be offering. Network engineers typically focus on delivering high-availability network infrastructure, but roles can overlap with computer network architects, security systems engineers or professionals within a client organisation. If you're not quite sure what you want to specialise in yet, here are several network engineer business ideas you can use for inspiration:
Network performance consultancy – Analyse network performance and advise on updates or changes that should be made
Troubleshooting service – Monitor networks, identifying and resolving any issues that crop up
Network design and configuration – Put together network designs for businesses and install the equipment
Network security – Maintain firewalls, update virus protection software and perform data backups
Choose a target market
As a network engineer you could expand your services across a huge range of different businesses. But to begin with, it's advisable to focus on a couple of key sectors and develop your portfolio from there.
Healthcare and education have large estates requiring extensive networking, though they can be difficult markets to break into. Contracts in corporate offices, on the other hand, are very common and the technical challenges are often more straightforward. Be sure to consider the types of businesses in your local area before settling on a target market – research and planning is key.
Insuring your network engineering business
Network engineering is technical work that can involve the handling of valuable or sensitive data, so there's always a small chance of something going wrong. That's why it's essential to protect you and your business with relevant insurance policies. Here are the main types you should consider:
Professional indemnity insurance – You'll be dealing with numerous companies in your line of work, so this will cover your business if clients are unhappy with any work you've completed
Employers' liability insurance – If you decide to take on employees, you'll be legally required to have this cover in place
Cyber and data insurance – Your business centres around computer systems, so it's essential for you to have protection against data breaches or hacks
How to run your network engineering business
While it's not the most exciting thing about owning a business, bookkeeping is crucial. You'll need to monitor your ingoings and outgoings to ensure you're making profit at the end of the day. Bear in mind your expenditure may outweigh your revenue in the beginning due to start-up costs, which is perfectly normal. If this is a concern for you however, consider taking out a business loan to cover the initial costs of registration, equipment and insurance.
Don't forget to manage your taxes as well. Different taxes apply to different business structures, so make sure you understand what taxes you need to be documenting. If you're not sure, consider employing an accountant to help you file your taxes. Read our handy article here for more information on hiring accountant services.
Hiring a team
As your business grows, you may be faced with larger projects or an increased workload across different sites that you'll need help with. Make sure your candidates have a solid CV with all the necessary skills and experience to be a competent network engineer. However, they may have learned 'on the job' and worked their way up, so it's always best to meet potential colleagues in person. Attitude is massively important for a new business, so play close attention to their manner and approach. After all, they'll be representing your business.
Marketing your network engineering business
Devising an effective marketing strategy will be key to securing more opportunities and building your business's reputation. Seeing as you'll be working directly with other organisations, it's important to employ the right approaches for targeting these particular clients. Signing up to Checkatrade is a great way to raise your profile as it opens up your service to over three million monthly site users that could become your clients. You'll also be able to interact with other members community, build trade relationships and gain valuable industry insight.
Social media is another useful marketing tool for your business. Setting up a profile gives you a platform to expand your audience, allowing you to interact with potential clients in your target market and drum up new business.
FAQs
Are network engineers in demand?
Most businesses are reliant on computer networks for both sharing and protecting valuable information, but maintaining these systems is very technical work. That's why the skills of a network engineer are highly sought after for configuring and servicing networks. It is certainly a profession in demand, making it the perfect opportunity to start your own business.
How much can I earn as a self-employed network engineer?
Your earnings as a self-employed network engineer will vary depending on the demand for services and your rates, but here are some ballpark figures:
Network engineers with several years of experience earn on average £29,000 year.
Network engineers with a lot of experience under their belt earn around £40,000 a year.
As a network engineering business owner, you could potentially earn even more if you're receiving a steady stream of opportunities. This will rely on you establishing a niche and marketing your business effectively.