How to guard against van and tool theft during the cost of living crisis
As a tradesperson, your van and tools are your livelihood. But the cost of living crisis is likely to bring with it a rise in van tool theft.
Tools are very expensive and they're absolutely essential to your day-to-day work. Of course, that means protecting them is a top priority.
Sadly, the cost of living crisis has already brought with it an increase in shoplifting. So, we're expecting to see a rise in van and tool thefts too.
Here's how you can prevent tool theft from vans, keeping your tools – and your livelihood – safe.
Why be vigilant against van tool theft?
In the UK, tool theft is a major source of anxiety for tradespeople. In fact, according to the National Federation of Master Builders, 51% of UK builders have had their tools stolen before.
Not only are tools costly to replace. Stolen tools can also reduce your earnings by causing days or even weeks of lost work!
Tools are usually stolen from vehicles parked overnight, either at a home address or in a hotel car park if you're working away from home.
That's why, although it's always important to be wary of tool theft, you'll need to be particularly vigilant against van tool theft at night.
How to guard against tool theft from vans
Although it's never impossible to guarantee you won't be a victim of tool theft, there are some steps you can put in place to make it less likely.
Covéa Insurance's claims experts have given us their top tips on overnight tool safety and tool theft prevention.
1. Improve your van security
First things first, it's worth investing in additional vehicle security to deter thieves.
Van anti-theft devices are a great way of protecting your van from being stolen or broken into. If you don't currently have any anti-theft measures in your van, consider adding the following:
Alarm
Deadlock
Immobiliser
Motion detector lights and CCTV at your home to protect your van overnight
If you're investing in a new van, it's wise to choose one that allows you to lock the cab and cargo areas separately. You could also install a locking toolbox or built-in storage within your van, so that even if a thief manages to break in, they're unable to access your tools.
Our article on how van storage systems and organisation can keep your tools safe covers all the essential information you'll need.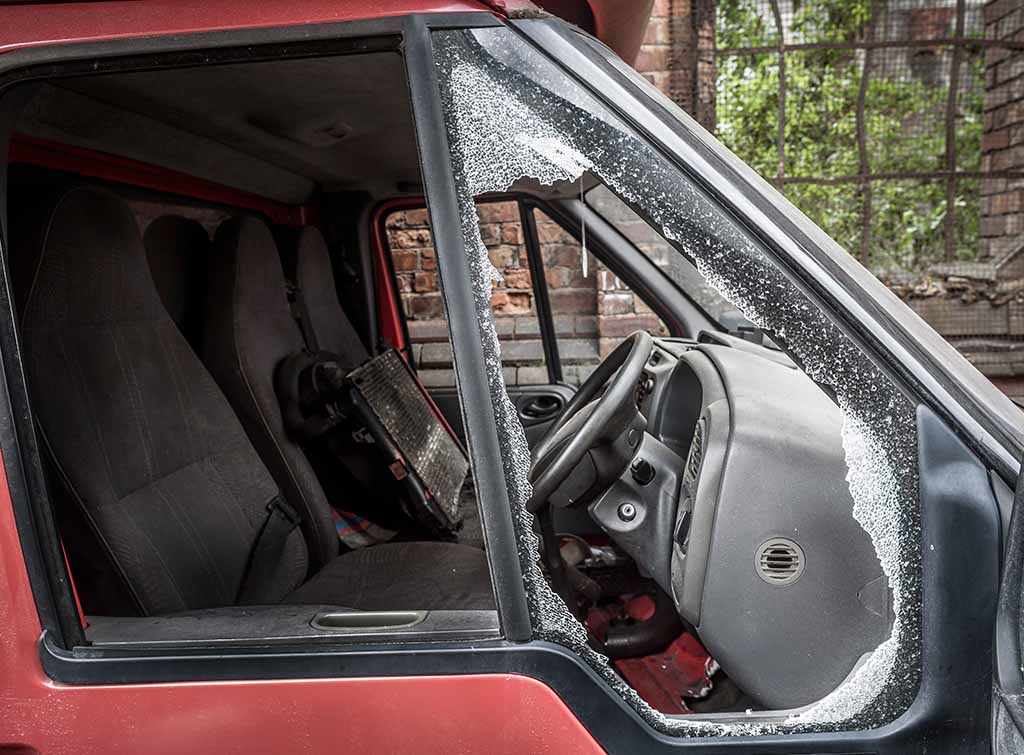 2. Be security-conscious when parking
It's also important to be mindful of security when you park your van or leave it overnight. It might sound obvious, but always test the door handle to make sure it's locked when you leave, and make sure any windows are closed.
Covéa Insurance's experts also recommend reversing your vehicle up to a garage or wall to block the van doors where possible.
Aside from this, it's a good idea to park in a busy area, or one with good lighting and CCTV, as this will be a big deterrent to criminals.
You could also add stickers saying your van is alarmed and that no tools are left in your van overnight. These are easy, affordable measures that could make a big difference.
3. Avoid leaving tools in vans unnecessarily
We understand that you have a lot of tools and that it's often not possible to store them anywhere other than in your van. However, where you can, it's wise to take as many tools as possible out of your vehicle at night.
In particular, try not to keep tools in your van that aren't required for the job you're currently working on.
Instead, tools are much safer stored in a locked garage. This is less likely to be targeted by thieves.
4. Mark your tools
Lots of tradespeople mark their tools to keep them from ending up in the wrong toolbox on a job. But it can also be a great deterrent for thieves!
By marking your tools in a bright colour or with your company details, you'll reduce the possibility of resale, making your tools less sought-after by criminals. Not only that, but if the worst happens and you do fall victim to tool theft, your tools will be much easier to identify if found.
There are lots of different ways you can mark your tools, from painting to metal stamping or etching. Just be sure to use a permanent solution that can't be easily erased by thieves.
5. Keep an inventory of tools
The claims experts at Covéa Insurance also recommend creating an inventory of all your tools and equipment.
Of course, we hope that your tools don't get stolen. But if they do, your inventory can help with any insurance claims and police statements. Just make sure to keep it up to date each time you invest in a new tool or add to your collection.
It's also important to keep all receipts for tools you purchase and send copies to your accountant for safekeeping as your insurance provider will need to see these, otherwise, it could impact the amount paid out if you need to make a claim.
6. Make sure you have adequate tool theft insurance
Tool theft insurance is one of the best ways to protect your business if you're unlucky enough to be targeted by thieves. While you'll still be affected by losing your van and tools, you at least won't need to worry about finding the money for replacements.
Just make sure that you check the policy limits on your insurance documents to make sure you have the right level of cover in place. The last thing you want is to underinsure your tools, as this will stop you from being able to claim fully if the worst happens.
Checkatrade members can save money on tool theft insurance thanks to our exclusive deal with Covéa Insurance. Just become a Checkatrade member, select Covéa's Insuratrade policy and add the option to protect your tools. That way, you'll have peace of mind that if your tools get stolen, you won't be left out of pocket.
Protect your tools for less
Become a Checkatrade member and enjoy exclusive deals with Covéa Insurance
Join Checkatrade
What happens if I fall victim to tool theft?
If you do end up falling victim to tool theft, here's what to do.
Take photos of the break-in area immediately
Report the theft to the police and get a Crime Reference Number
Report the claim to your insurer as soon as possible
Make sure that you also keep the receipts for any new tools you purchase, and for any repair work that you have carried out on your van as a result of the theft. That way, you'll hopefully be able to get the money back from your insurance provider!
Why invest in tool theft insurance?
No matter how careful you are, you can never completely rule out the possibility of falling victim to tool theft. Tool theft insurance is the best way of making sure that if the worst happens, your business won't find itself struggling financially.
If you become a Checkatrade member, you'll have even less of an excuse not to get insured. That's because we've teamed up with Covéa Insurance to offer our members an exclusive new Public Liability Insurance policy for tradespeople and professionals, with a £2 million Public Liability limit for the price of £1 million.
With an Insuratrade policy, you can select the option to protect your tools, which means you'll benefit from up to £5,000 worth of cover for handheld and portable tools as well as £500 for your goods in transit.
In other words, you'll have the protection you need without having to fork out the same prices as other tradespeople. Winning!
Checkatrade members save 20% on specialist insurance with Covea
FAQs
How do thieves break into vans?
Thieves are often very crafty and constantly coming up with new ways to target vans. We've summarised some of the most common ways that criminals could try to break into your van below:
Forcing your van lock using a wrench. They then lever the plastic lock surround away and remove the lock from the van.
'Peel and steal' is where thieves put pressure on the door of your van using their knees. They then create a bend in your van door allowing them to break in.
Using a skeleton electric key, they simply unlock your van and drive it away.
How can I stop my van from being stolen?
There are a variety of different ways you can stop your van from being stolen. If you're at all concerned about your van being targeted, look into investing in one or more of the below upgrades:
Steering lock
Pedal lock
Handbrake lock
GPS tracker
Protect your tools for less
Become a Checkatrade member and enjoy exclusive deals with Covéa Insurance
Join Checkatrade