Helping you to manage your time and workload
Are you managing to stay on top of the day to day administrative tasks? Or are they getting on top of you? If you're struggling, there's technology that can make your life easier, including the Checkatrade Trades app.
Did you know there are apps out there that can make your life easier? They're especially useful for busier trades such as plumbing, gas engineering, gutter maintenance and electricians, ensuring you can focus on what you're good at without sweating the small stuff.
We're here to help you manage your time and workload, so read on for some invaluable insights.
How are apps are helpful?
In a digital world, using apps to save you time and money is invaluable. Consider downloading software to help you manage tasks in real-time, such as invoicing, quotations and scheduling. Instead of being inundated with time-consuming paperwork, an app takes away the stress of juggling various tasks by putting them all in one place.
Some top benefits include:
A simplified organisational system
The use of pre-filled templates you can manage in real-time
Easier and quicker job management
Seamless scheduling services
A better customer service offer
Business administration all in one place
Quick and remote access on multiple devices
Top tips to help you manage your time and workload
Your clients are your priority, and being busy makes staying on top of everything hard to manage. You're only human and you're bound to forget things from time to time. However, we've put together some quick wins to help you stay in control.
Use a calendar app
Google Calendar and Microsoft Outlook are great (and free) scheduling tools. Better yet, if you link them with your phone in your settings menu, life gets a whole lot easier.
Simply open your device settings and add the account you want to link. Most Android or iOS phones will sync automatically.
If you don't have a Google or Outlook account, then download a free app like Calendly or Fantastical 2.
Use a task management tool
'Task management' is just a fancy way of saying 'to-do list.' Consider downloading one of several free tools (for their basic versions) that help you track your workload with ease.
Trello, ToodleDo, Todoist and Wunderlist are all mobile-app and user-friendly, letting you access them on your phone or computer with ease. This also helps you estimate realistic deadlines, prioritise key tasks and delegate sub-tasks.
Download an invoicing app
You've completed the work and you've invoiced your client. Weeks pass and you're still waiting for payment. However, chasing up is time-consuming and you have other clients to deal with. That's why using apps like PayPal, Wave, Square Invoice, Freshbooks and Xero are all fantastic tools for creating, managing and chasing invoices at the click of a button, saving you precious time and money.
Help to manage leads and respond to customer enquiries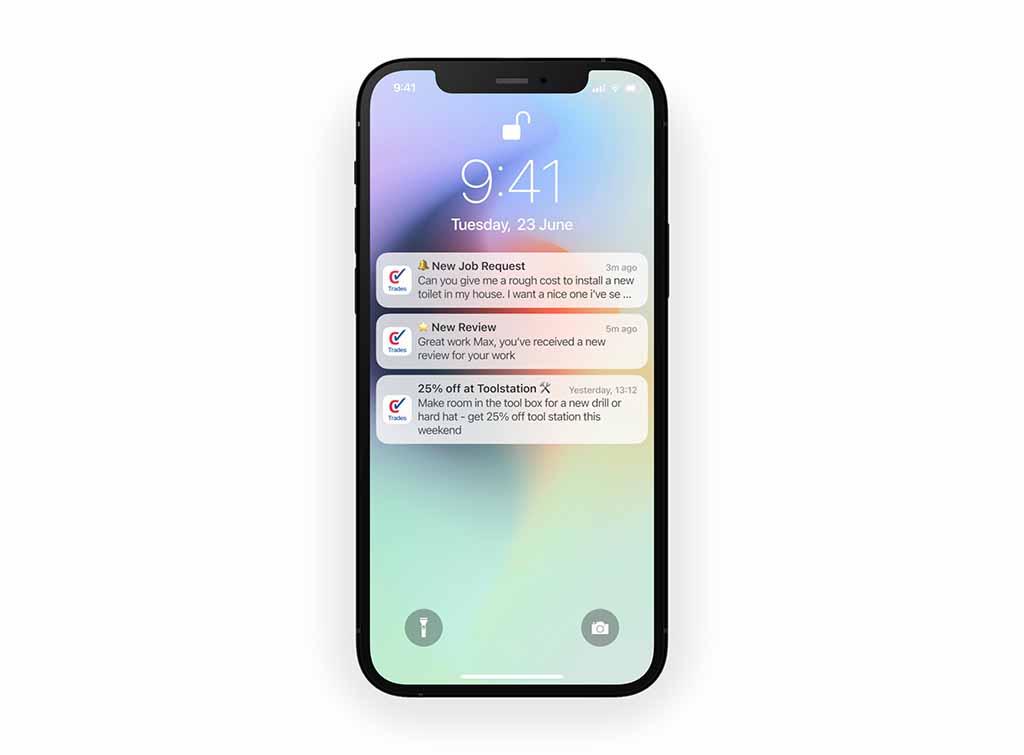 That's where Checkatrade can help you.
If most of your work is coming from Checkatrade, using the Checkatrade web app or mobile app is a no brainer.
You can respond to your new customers on the app. Simple.
It's exclusively available to our members. You could become a member too if you manage to pass our checks.
Work smarter, not harder
Our members are working smarter using Powered Now and Checkatrade apps
Find out more
Manage your time and workload with the Powered Now app
If you're looking for an all-in-one app that lets you run your business on a single platform, consider using an app like Powered Now – an invoicing, quoting and job management service that's tailored specifically to tradespeople. With various templates available, it lets you create brand-specific paperwork from anywhere in the world, including:
Invoices
Quotes
Job sheets
Certificates
Business forms
Estimates
Scheduling
Invoicing
All these handy tools are available within the app, making it a one-stop-shop for all your business needs.
Advice from a tradesperson
However, don't just take our word for it. We interviewed successful business owner, Jonny Clayton, who runs JC Secure Sytems and knows firsthand how valuable an app like Powered Now is.
How has the app helped you?
It's helped massively in regards to planning my day, the people in my office, and scheduling appointments. It's made booking new clients, chasing quotes and invoices – all that day-to-day stuff – really easy. With multiple users, everyone in my team is on the same page and has access to the same information, which is much less time-consuming.
What do you like most about the app?
Its usability and how easy it is to put together a quote or invoice. I did it all manually before, which was really time-consuming, so having all the pre-set templates are great. I've also uploaded a catalogue of prices to stop misquotes and track costs more efficiently.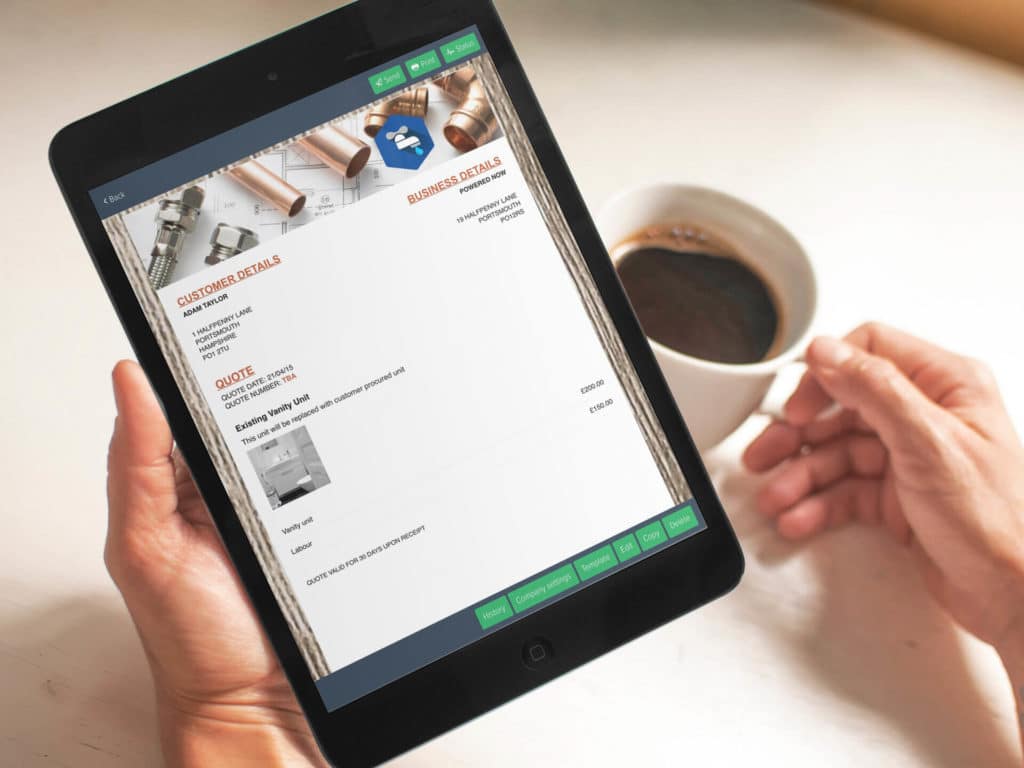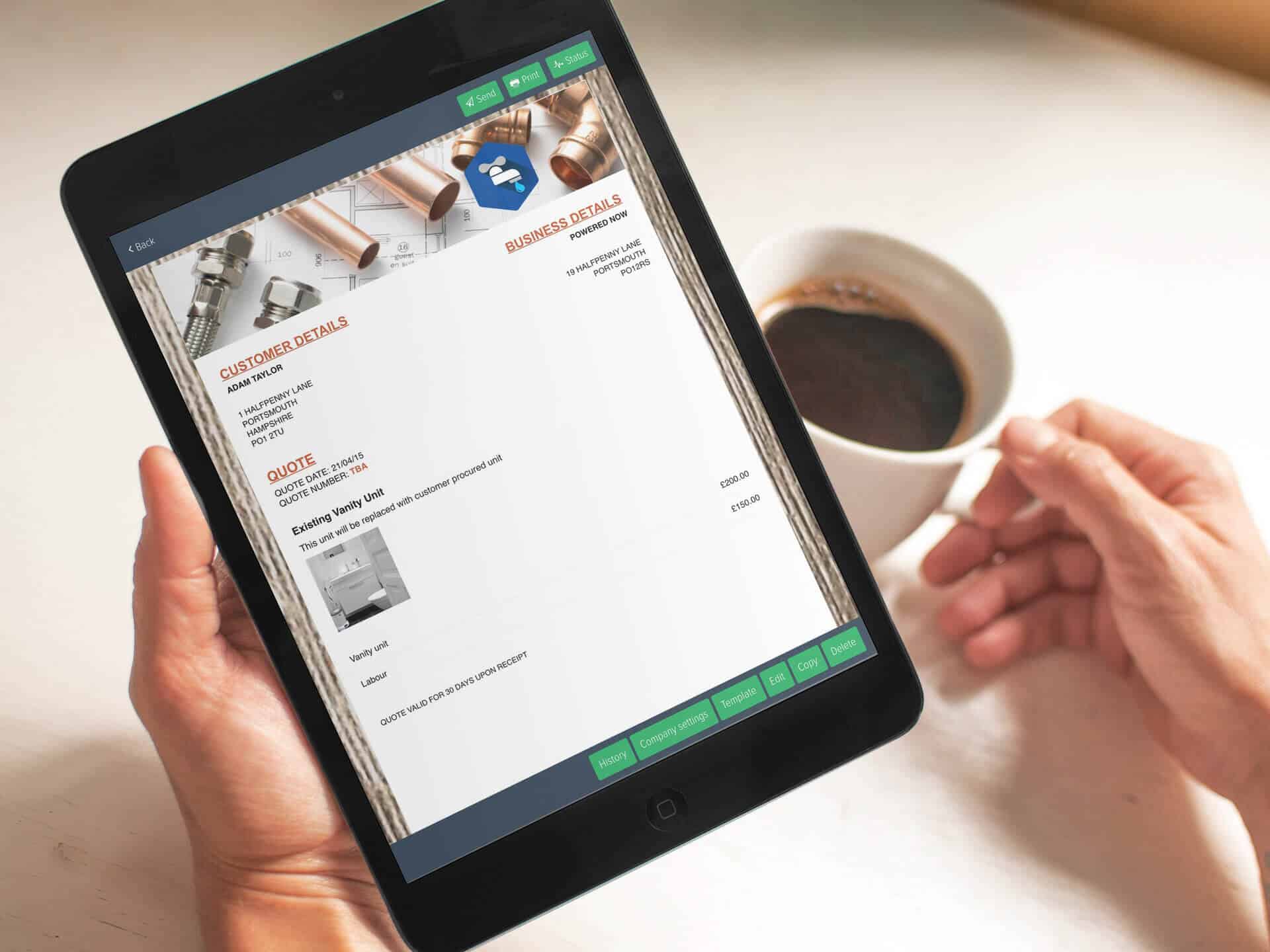 How do you manage your work alerts, emails and voicemails from Checkatrade (and any other advertising you do?)
I always have someone at the end of the phone picking up any calls. No customer is left unanswered, and anything urgent is passed to me straight away. This is mostly down to the Powered Now app, which we update every time we get a call, creating a robust call log.
It also helps us stay aligned with Covid regulations. So, when we're scheduling work, we ask our customers about any symptoms they've had in the last few weeks and reassure them about how we're sticking to the guidance (wearing masks, social distancing etc). Being able to track that is really useful and puts everyone's minds at ease.
Do you have any other tips for traders on how to prioritise/organise/manage their time?
Other than apps, I recommend looking for ways to limit your downtime as much as possible. For example, remote management and diagnostics for security products set us apart. I can control alarm systems remotely if my customers have any issues, making it a two-minute job versus a two-week wait for us to go out and visit them.
I also keep myself updated on all the latest technology. I'm always looking for the next products coming out and seeing if they'll help. A lot of tradespeople don't always want to make the jump, but having the latest tech is important to customers. We like to make sure we offer the best of the best to suit various budgets.
It's also about integrity. The idea is to install great products at the start to reduce callbacks, build trust and save you time and reputational damage. A lot of my customers install their own DIY kits, which aren't reliable, so they hire me to install a professional system, which shows how quality matters.
Do you use any other platforms/apps that might be useful for other tradespeople?
Checkatrade is a great platform that's already a trusted brand, and most of our calls come from them.
However, outside of that, I recommend having a good website, a social media presence on multiple platforms, and enough evidence of your work to prove you know what you're doing.
We've advertised on the radio and we've started uploading YouTube videos to stand out and build relationships with potential customers. If they feel like they know you, they're more likely to want to work with you.
Work smarter, not harder
Our members are working smarter using Powered Now and Checkatrade apps
Find out more
Key takeaways
Your business benefits from staying on top of paperwork, schedules, emails and work alerts.
Work can be super time consuming, but being organised is easy with the right apps.
Consider an all-in-one app to business admin all in one place.
Use the latest technology to help you reduce downtime.
Quality work equals fewer callbacks, complaints and reputational damage. Trust matters.
Sign up to Checkatrade, but also advertise on other platforms for a greater marketing presence.
Checkatrade members are discussing this article in the Community. Click here to join the conversation!