How to start a building business
Many people dream of starting their own business and the freedom it brings. The benefits are numerous - setting your own hours, being your own boss, and working with people you've handpicked. In this post, we guide you through how to start a building business, step-by-step.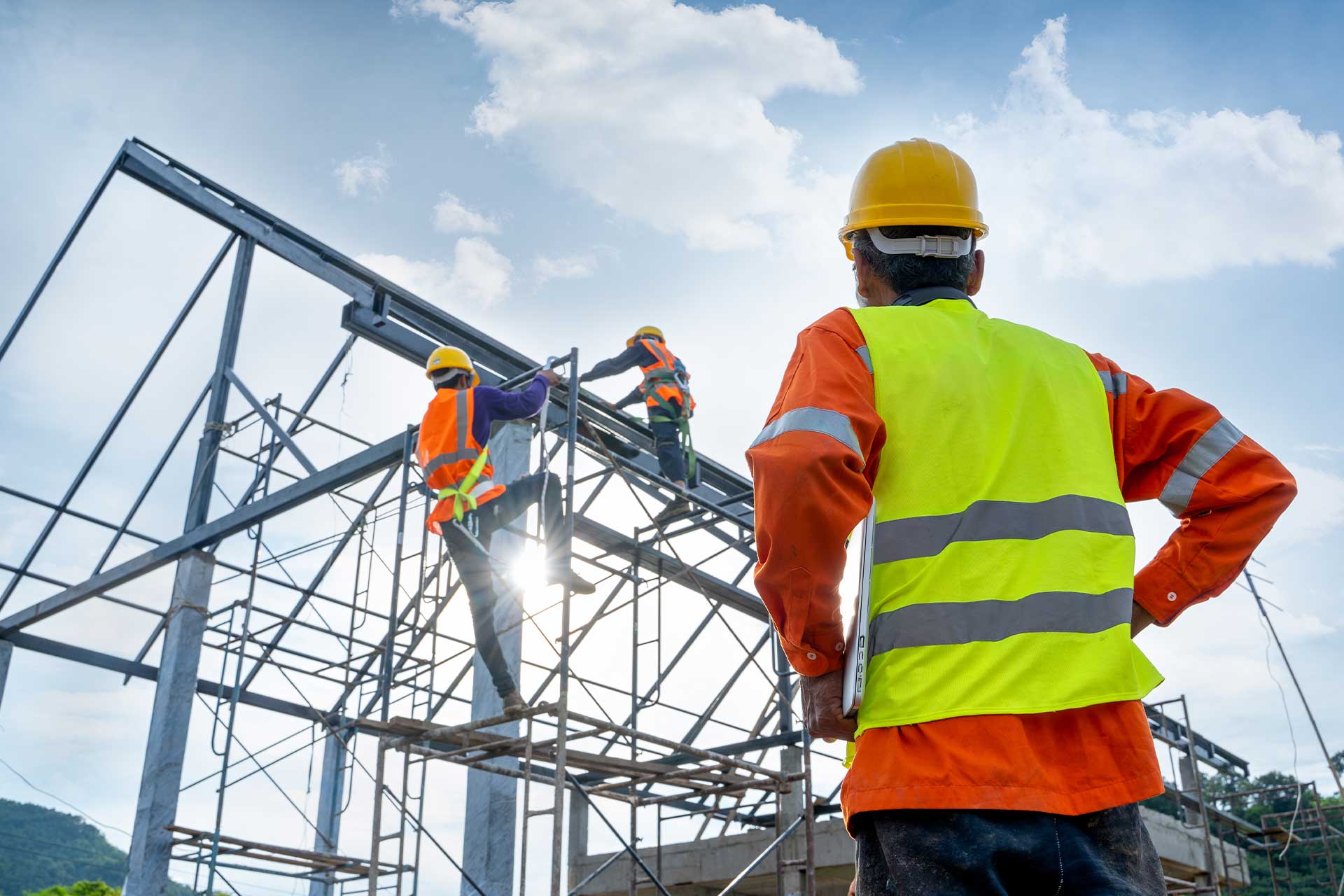 If you're looking to understand the ins and outs of how to start a construction business, read on as we guide you through top tips, essential considerations (such as finance and legal), and common mistakes to avoid.
If you've been working in the construction industry for a while, you might be wondering how to start your own building business. But as you might imagine, there's much to consider before launching your own venture, especially in an industry so tightly bound by health and safety regulations.
In this guide, we'll explain everything you need to know about how to start a construction business, from training and qualifications to insurance, marketing, regulations, marketing, and more.
No time to read this article right now?
Our 'Become the Boss' series will help to get the wheels in motion for your building business.
Sign up below, and you'll receive a series of eight emails containing business advice from tradespeople who were once in your position, a free business strategy call, and you could be the founder of your new business at the end of it.
Enter your email below to get started:
Create a business plan for your construction business
A business plan should be the first step for anyone thinking of starting their own business.
It outlines your goals and how you plan to achieve them. It will help you to stay focused and organised, work efficiently and productively, and make informed decisions. It's often necessary to present a business plan if you need to source financing to get your new business off the ground too.
A business plan in itself can be bewildering. Fear not. We have a free business plan template download, below, and a guide to writing a business plan here.
Within your business plan, you will also include the various aspects of the business such as finance, logistics, marketing, and legalities, as well as information about your competition and your target market.
A few pointers:
Finance
How much will you charge for different types of job?
Do you need an accountant?
Will you need to borrow money initially to cover start-up costs? Remember loans will come with interest charges that you need to factor in.
What will your overheads be, for example, wages and tool hire?
Do you have a sufficient contingency fund to cover a range of different scenarios? For example, late payments?
Logistics
Where will you get your materials? Checkatrade members get exclusive discounts through our carefully selected partners
Do you plan to work on your own or hire employees to expand your company? Perhaps you could hire an apprentice?
Will you operate from home or rent an office space?
What services will you offer? This will largely depend on the experience level of you and your employees, the competition, and what your target market wants or needs
Marketing
Who will your customers be? Would you rather work on residential, commercial, or industrial buildings?
How will you reach your customers? Will you advertise using traditional methods such as leaflets or use social media or an online trade directory, such as Checkatrade?
How will you stand out from your competitors? What's your unique selling point? Perhaps you'll offer new services, fulfill a specific niche, or offer higher-spec work to set you apart
Tip: when setting your goals within your business plan, make sure they're 'SMART'. That is:
Specific: Be clear about what you want
Measurable: How will you know you have completed your goal?
Achievable: Make sure your goals are within your ability
Realistic: Your goals need to be possible
Time-based: To be accomplished within a given time frame
Create solid foundations for your new construction company
Join the best trades on the UK's leading trade directory
Start our checks now
Health and safety regulations
If you've been working in construction for a while, you'll be no stranger to the stringent health and safety regulations in the industry.
When you become the boss, it's your responsibility to make sure that you and your employees understand how to carry out your work safely. It's therefore crucial you read up on health and safety in the construction industry as a priority.
Building regulations
Similarly, before launching your construction business, you must make sure you're up to speed with the various building regulations within the construction industry.
Training and qualifications
If you've reached the point where you're considering branching out on your own, you'll no doubt have substantial hands-on experience, and perhaps some qualifications too.
NVQs
Qualifications can help to boost the credibility of your business in the eyes of the customer. Take a look at our partner's construction NVQ qualifications over at North West Skills Academy.
Certification
To maximise the opportunities for your new construction business, take a look at the following certifications:
You will not be allowed to work on a construction site without a valid CSCS card, so start applying now if you've not already got one.
Joining the FMB is a great way to enhance your reputation and gain more clients. To become a member, you're required to pass assessment and inspection processes to ensure you meet the high standards of a Master Builder. Upon completion, you'll be able to display the FMB badge and impress customers with your recognised expertise in construction.
Other useful skills and attributes
Knowing how to start a house building business is about far more than regulations, qualifications and certifications.
As the boss, you'll ideally possess a selection of personal attributes that will help to create a successful business with a hard-working, happy, and committed team.
So what makes a great boss?
Knowledge of the building and construction industry
Attention to detail and highly organised
Interpersonal skills and great customer service
The ability to lead and manage and have conviction in your decisions
Patience, fairness, integrity, and self-awareness
Enthusiasm and endurance
How to set up your building business – step by step
What actually needs to happen to get a business started? We're talking about the practical steps such as registering your business name, deciding on your business structure, finding the right insurance, and understanding what books to keep.
In this section, we'll guide you through each part.
Register your business
Once you've decided on a name for your building business, you'll need to register it.
Part of this process involves deciding whether you'll be recognised as a sole trader or a limited company. Each comes with different taxes and regulations. So the structure of your business will depend on what suits you best.
You'll also need to contact HMRC to apply for the necessary tax and national insurance documents too.
If you need help in this regard, an accountant will be able to provide professional advice.
Register for the Construction Industry Scheme (CIS)
Regardless of the type of building business you set up (sole trader, partnership, or limited company), you will need to register for the Construction Industry Scheme (CIS).
The CIS is designed to make payments from contractors to subcontractors accountable. It allows for tax on a subcontractor's pay to be taken 'at source' by a contractor and sent to HMRC.
Register for VAT
If you anticipate your annual turnover will exceed £85,000, you must register for VAT.
Get business insurance
Business insurance is vital to protect you, your business, your income, and any third parties (members of the public, customers, or employees) from losses or damages caused by unexpected events.
When you get business insurance for your new construction company make sure it covers all aspects of your operation, for example, your tools, materials and equipment, your work van, and your income should you be unable to work.
Public Liability Insurance is often a contractual requirement. It's a necessity for all Checkatrade members.
Accounting and bookkeeping
As a business owner, it's crucial you stay on top of your books.
You need to have a clear picture of monies in and monies out to keep an eye on your cash flow, claim relevant business expenses, and prepare for your tax liabilities.
Hiring employees
Hiring employees will allow you to grow your business and take on more jobs. It will also benefit you to gain knowledge and experience from someone else and working as a team will help to prepare you for any situation.
Think about the below when taking on employees:
It may be worth investing in training so you can offer better services and bring in more money. Although this will be a little expensive, you'll reap the rewards when you can start charging higher prices for more complex or specialist jobs
An alternative is to ensure you hire qualified, trained employees if you don't have the time or funds for training
Once you're established, consider taking on employees who are just starting out and want to do an apprenticeship and train on the job to save on costs
Decide whether you need your employees to already have their own equipment or if you will supply it
Make sure you pay your employees a fair wage that will still give you a good profit
Check out our how to grow your trade business free guide to help take your business to the next level.
Other considerations when starting a business
When thinking about how to start a house building business, there are a range of other important considerations too:
Are you prepared to work weekends, bank holidays, and evenings, depending on your customers' schedules?
As the boss, you're the face of your business. To build good relationships with clients as well as suppliers and your employees make sure you're always professional and considerate.
What type of construction business do you want to be? A small renovations contractor, or a general contractor, taking on a wide variety of trades?
Have you crunched the numbers? Are you realistic about your finances: what you can afford, how you'll cope with financial obligations, and how you can survive if things don't work out the way you planned?
How will you attract and retain good employees? Think about training and development to benefit them and the business.
Create solid foundations for your new construction company
Join the best trades on the UK's leading trade directory
Start our checks now
Construction tools and equipment
You're only as good as your tools, right? So what tools and equipment do you need to start your own construction business?
Ladders
Drills
Different types of saw
Hammers
Basic tools like screwdrivers, pliers, wrenches, and spirit levels
You may need to either buy or hire large machinery like diggers and excavators
You may also want to purchase basic supplies that you'll need again and again like adhesives, plaster, paint, cement etc.
Check out this post for help finding the best van lease deals.
Did you know that Checkatrade members get exclusive discounts on business necessities including tools, materials, and equipment? Sign up today to start saving.
More than just a directory listing
Get support and a range of money-saving discounts to help get your business off the ground
Find out more
How to grow your construction business
With all the practical boxes ticked, you now need to think about how you'll grow your business to maintain a steady income.
Marketing
Traditionally, businesses would rely on print marketing to spread the word, advertising in the local paper or business directory.
Checkatrade members have the opportunity to feature in our leading trade directory, which is delivered to homeowners around the country.
This is still a great way to raise awareness of your business in the local area, but typically, customers will expect to find you online too.
How to create an online presence for your building business
Digital marketing is an umbrella under which there are many different ways in which you can market your business online to help customers find you, including:
Your company website
Your company social media channels, such as Facebook and Instagram
Presence on online trade directories such as Checkatrade
Many tradespeople find it hard to decide the best way to market their business online, which is why we've put together this helpful guide to advertising with Google vs. choosing a Checkatrade membership.
Save money and save time trying to market your business
With our digital marketing strategy and strong online presence, becoming a Checkatrade member makes it easier for customers to find you.
As long as you pass up to 12 checks, you'll instantly be seen as a trusted and guaranteed business to your potential customers.
With the Checkatrade tick by your name, it makes your marketing just that little bit easier, as 8/10 people would choose a trade endorsed by Checkatrade, compared to one which isn't*.
You can also showcase your qualifications, customer reviews, and images of your work on your Checkatrade profile to help to enhance your reputation.
More than just a directory listing
Get support and a range of money-saving discounts to help get your business off the ground
Find out more
Become your own boss in 7 days
You could get your business started in just 7 days with the help of our 'Become the Boss' series.
Eight emails containing actionable tips featuring fellow tradespeople who were once in your position, a free business strategy call, and at the end of it all, you could be the founder of your new business. What's not to love?
To get trade business insider secrets sent to your pocket, put your email address in the form below so we can help you to get started.
FAQs
How do I start my own builder business?
To start your own builder business you will need to look at the practical steps of setting up a business, in particular, the health and safety requirements, building regulations, the CIS, and relevant insurances.
Can you start a construction company with no experience?
Building a business from scratch is a complicated process and having no experience in the field will make it much harder. But can you start a construction company with no experience? It's definitely possible, but consider the following before making any decisions:
Knowing about construction will help when budgeting for any necessary tools and materials
Knowing the best way to solve construction issues will save you time and energy
One option is to hire employees to carry out the work if you have no experience yourself
It may help to speak to others who own construction companies for tips and guidance. Especially for the financial side of your new business
Be realistic and start small, otherwise, you may overextend yourself, causing your business to fail
What is the difference between a limited company and a sole trader?
The main difference is that starting a limited company means your business will be treated as a separate legal entity to yourself and becoming a sole trader means you would be considered self-employed, therefore in charge and liable for your business.
The great thing about being a sole trader is you will enjoy more privacy, plus will need to deal with less paperwork. Setting up a limited company, however, brings benefits like protection for your personal assets and tax savings.
For further details take a look at our guide on the differences between sole traders and limited companies.
How much does it cost to start a construction business?
Beginning any company can be expensive, especially when you take into account the materials you need as well as all the legal costs involved. A good starting point is £5,000 but this will vary depending on the following factors:
The size of your company
The number of employees you plan to hire
Whether you need to buy tools
Whether you're paying for business premises.
What license do I need to start a construction company?
When you start a new business, there are a number of legal bodies, schemes, and licences you'll need. If you're unsure what licence you need to start a construction company it's recommended you register with the following bodies:
The Construction Industry Scheme
Companies House (if you're a limited company)
The Construction Skills Certification Scheme
You will also need to be aware of corporation tax as a limited company, and VAT if you're earning over £85,000 a year (note, this will increase your prices for consumer jobs).
How much can I charge for construction services?
Deciding how much to charge for your company's services is something you need to put a little thought into. You don't want to charge too much as this will put off customers, and if you charge too little this will affect your profits.
Consider the following:
How much experience do you and your employees have? If you're offering services by experienced workers you can increase your prices
How much training do you and your employees have? Multi-skilled tradespeople generally offer more varied services with a high-quality finish, meaning you can increase your prices
Where are you located? If your company is based in London or an area with higher living costs, it may be time to raise how much you charge
What services do you plan to offer? Every different job will have a different price point, so it's worth setting dedicated costs for each service you offer
How much are your competitors charging? It may be a good idea to look into the amount your competitors charge for different jobs so your prices will stay competitive
Create solid foundations for your new construction company
Join the best trades on the UK's leading trade directory
Start our checks now
*Deep Blue Thinking 2021 Trade Perception Survey