5 top tips to help you choose the best builders' merchant
Reputation matters, and you need your projects to run smoothly to keep your rep. Sourcing materials will have a big say on how smooth your projects are, which can be helped by having a quality builders' merchant that you work with. Here's how to find the right builders' merchant for you.
In this article, we'll cover:
A decent builders' merchant will stock a host of different supplies. From building materials and timber to kitchen and bathroom fittings, you'll be able to find everything you need to get the job done for your customers.
Your builders' merchant will become an essential part of your trade business.
If you've just started your business or you're looking for a reliable builders' merchant, follow our top 5 tips for finding the right supplier for your needs.
1. Build a rapport
You'll spend a lot of time at the builders' merchants over the years, and there are a number of reasons why a good rapport is essential.
Builders' merchants employ skilled sales staff, often with vast industry experience.
They can share their expertise to help you select the right materials for your project.
They can help you to calculate the quantities needed to minimise waste.
They can share their knowledge of innovative products and materials that could improve the efficiency or cost-effectiveness of your project.
Some suppliers, such as our partners over at Selco, have a nifty Project Lists tool to help you plan and price your projects.
Remember, it's in their interests to be customer-focused and provide you with great service, so you become a returning customer.
2. Check stock and lead times
It's a good idea to spend some time visiting a selection of builders' merchants to check the type (and volume) of products they hold in stock. This will also give you a good idea of where to go if you ever need a particular item in a hurry!
If there are items the builders' merchant doesn't stock, for example, bricks or tiles, ask about the typical lead times you can expect.
3. Compare prices
It goes without saying, you don't want to pay more than you need to for your project materials.
With your list of project materials in hand, contact the sales representative at a selection of builders' merchants for a quotation. You'll be able to compare prices, like-for-like, and highlight the best value supplier for the various items you need.
Be sure to ask about delivery charges, too. Do they offer free same day and next-day delivery for trade customers, for example?
4. Ask about trade accounts
As a new business, you want to get the best possible prices to keep your invoices competitive for your customers.
When you sign up for a trade card with a builders' merchant, you instantly get access to discounted trade prices.
A credit account allows you to buy now and pay later, often with interest-free credit. This can help to budget for the materials you need and manage your cash flow, especially when you're just starting out.
Read our article on top tips for applying for a credit account
5. Make savvy decisions
There's a range of builders' merchants out there, including national chains and local and regional independent stores, too.
With so much choice, what other factors can help you to decide on the best supplier for your business?
Our final tip is to think about additional ways to get your project materials in the most cost-effective way.
Save money on your building supplies by becoming a Checkatrade member. We've partnered with Selco, to offer Checkatrade members exclusive discounts.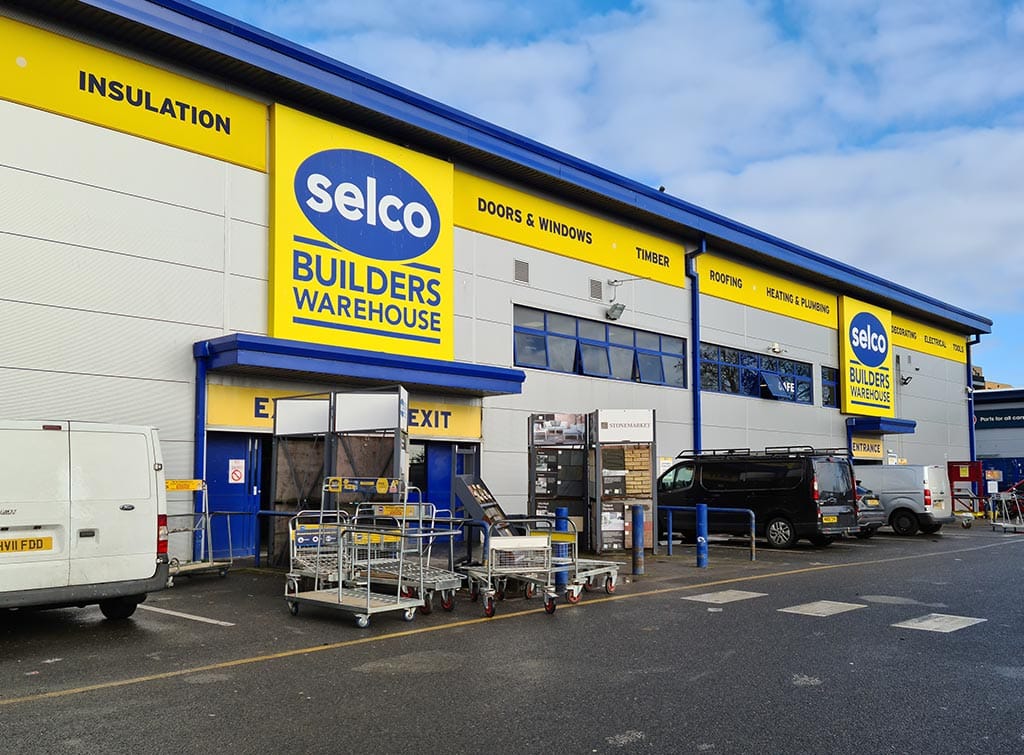 Benefits of becoming a Checkatrade member
Once you've passed our checks, you'll become an Approved member. Checkatrade is a great place to be, especially as a new business, as you'll instantly benefit from our trusted reputation and extensive network.
Checkatrade is the best-known sign of quality in the trade industry,* with 13 million homeowners using our trades last year.
Align your business with our trusted tick to give your company a competitive edge. We'll give you free marketing materials, including branded vinyls for your van.
8 out of 10 people would choose a tradesperson we've checked over one we haven't*
Worried about the cost? Our membership is tiered, so you can find the right level for your business. And you can flex your membership to control the volume of leads you receive (and your membership fee) month-by-month.
1 in 4 homeowners using Checkatrade are checking quality credentials before going direct*.
However, being a Checkatrade member is about more than getting an awesome listing in our directory.
You'll save money on business essentials such as vehicles, fuel, insurance, tools, workwear, and more.
You'll have access to a range of member benefits, for example our free finance app from PoweredNow, and our newly revamped Checkatrade app to manage your profile easily on-the-go.
What are you waiting for? Sign up below to see if you have what it takes to pass our checks.
Want more jobs for your growing business?
And a range of money-saving member benefits too?
About joining us
*Claims are sourced from a survey conducted by Deep Blue Thinking on a nationally representative UK sample in November 2021.