Last updated on March 25th, 2023
How much does it cost to add a plug socket?
Adding a plug socket to a room has endless benefits and can be completed in as little as a couple of hours. We break down the cost in our comprehensive guide.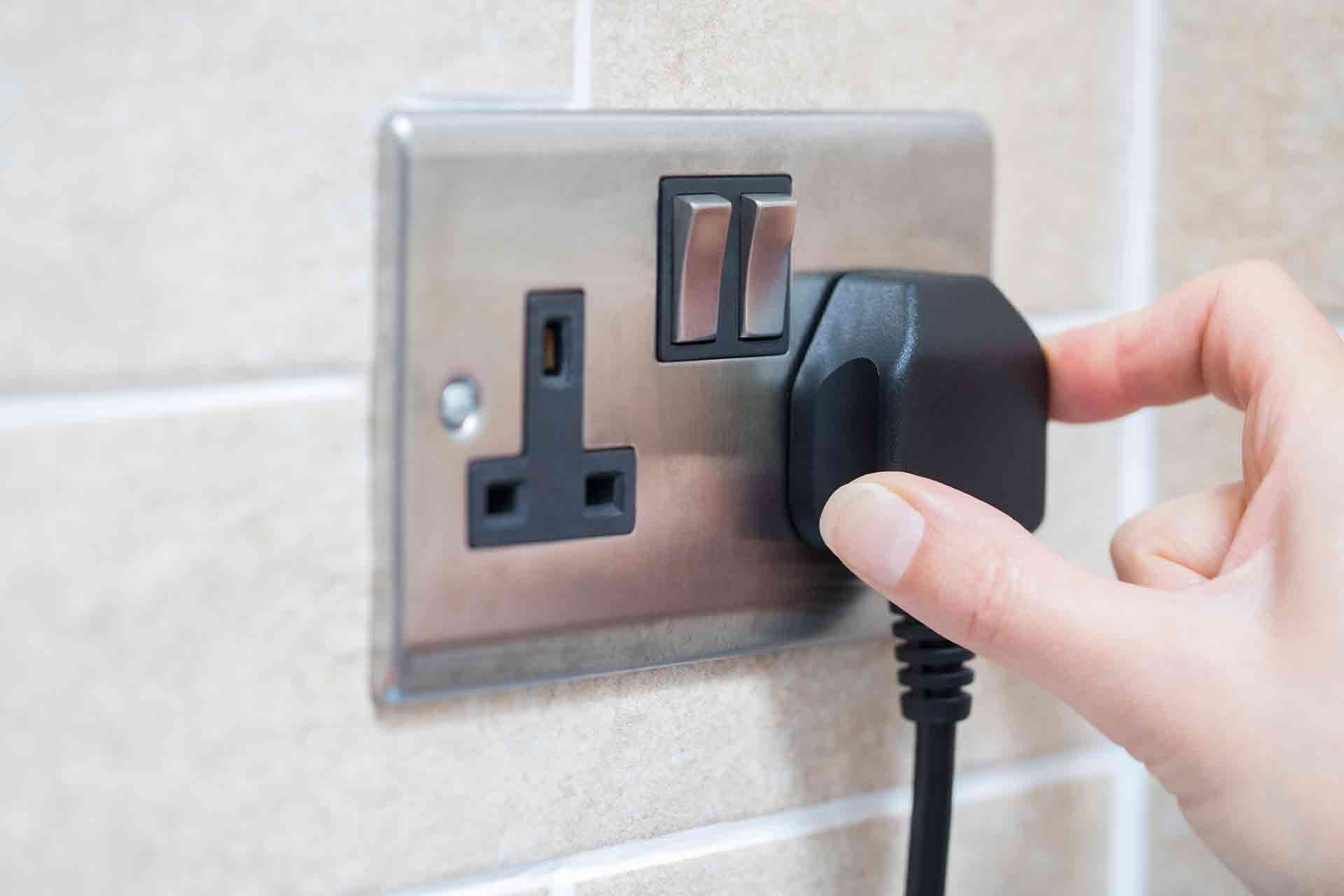 Why add a plug socket to a room?
Chances are you've run multiple plugs from a single socket with various multi adapters in the past. Or, maybe you've run long extension cables across rooms to reach specific appliances.
The problem is these options aren't always safe, can overload the circuits, can cause tripping hazards and increase the risk of a fire. You may also have old and dangerous sockets that need replacing (such as those identified during an electrical safety check).
To solve these problems, and ensure you have access to power where you need it, installing new plug sockets is the ideal solution. It's also the next step you'll need if building an extension, creating a home office, or changing a room's layout.
Adding a plug socket to a room costs less than the risk of fire damage, and is easily worth it for the added convenience and safety benefits.
How much does adding a plug socket to a room cost?
Plug socket costs
Cost + VAT
(Range low - high)

Average UK cost
Adding a plug socket to a room cost (single socket)
£100 - £200
£150
Adding a plug socket to a room cost (double socket)
£100 - £200
£150
Adding a plug socket to a room cost (USB socket)
£100 - £200
£150
Outdoor socket cost
£85 - £135
£110
Installing a plug socket (labour)
£40
Moving a socket cost
£150
It can cost between £100 - £200 including labour to add a plug socket to a room. The price is the same for single, double and USB sockets, but might change depending on where you'd like it positioned.
How much to install a new plug socket by type
Despite the indoor socket installation cost being the same for all types, you'll still need to decide which one is right for your room. And if you're installing one outdoors, the cost does differ. Some of the most common types include:
Single: A standard socket with a single plug. These are useful for single appliances, or tight spaces. They cost on average £150 to install.
Double: Double sockets are better value than fitting two single sockets and help future-proof your home in case you need to use more devices later on. They are also more desirable to potential buyers when selling your home. Double sockets cost on average £150 to install.
USB socket: These cost a little more to buy than single sockets but give you the added convenience of being able to charge by USB whilst keeping the plug free for other appliances. They are very useful for heavy tablet and phone users. USB sockets cost on average £150 to install.
Outdoor socket: If you need to use your plug outside – such as for a lawnmower, hot tub or other external appliance – then you'll need an outdoor plug. These cost around £110 to install.
Cost of installing a USB port
You'd be hard-pressed to find a home without plug sockets, but most older homes won't yet have USB outlets fitted. While you can charge USB-powered devices using a dedicated plug, installing a USB port is a great way to reduce clutter. Most USB outlets will have two USB ports included, which will allow you to charge two devices at a time.
The average cost of installing a USB port is just £150, which is likely to be well worth it if you're after hassle-free charging.
See the tradespeople we've checked and recommend for your job
Important considerations
When deciding where to place your new plug, and what sockets are needed, you should consider the following:
Pick a location for convenience and safety. For example, in the kitchen it needs to be well away from any sources of water or heat.
If someone elderly lives in the home, positioning plug sockets 40-50cm above the floor, instead of the standard 15-20cm, can help make it much easier to change plugs.
Try to plan ahead so multiple sockets can be installed at the same time, which can be more cost-effective.
Decide which type of socket is best for you based on what you will use it for. Double sockets are a great way to future proof your home.
Check if your fuse box or consumer unit is able to cope with additional sockets. An electrician can help advise you if this is the case.
Plug sockets come in different colours and styles so choose the one that best matches your needs and decor.
Metal sockets must be earthed, so ensure that your electrician will do this.
Consider replacing existing single sockets with double sockets as a lower-cost solution.
Check if your electrician will use a plasterer to repair the walls after the work has been completed, or if you will need to do this.
Factors affecting the cost of installing additional plug sockets
Type of plug socket chosen: As we have shown above, the cost of installing a new plug socket is heavily driven by the type of socket you choose.
Number of sockets: To save on future work you can opt to have more sockets done as part of a single job. A little bit of planning beforehand can save you wasted labour costs later.
Style, colour and quality of socket: A standard white socket costs less than brushed steel, black nickel, polished chrome and other styles.
Ease of access: To save on the labour time you should make it as easy as possible for the electrician to access the space. This can be done by moving furniture and appliances.
Moving current socket or adding new socket: Moving a socket a short distance can be cheaper than adding a new one if your electrician is able to use the existing wiring.
Location: Electricians will charge more the further away from their core location you are, so finding an electrician near you will ensure cheaper rates. You can also expect to pay more in London and the South East.
Whether extra wiring is needed: Adding a plug socket to a room costs more the further away from other connections it is. The price will also rise if any rewiring is needed for faulty connections.
Cost to move a plug socket
The way we use our rooms can change a lot over time. From new furniture to new arrangements and even by knocking through walls. So sometimes the location of sockets needs to be changed to suit the new usage.
On average, the cost to move a plug socket is £150. This will vary depending on how far it is moved and the condition of the socket.
Can I install a plug socket myself?
We highly recommend a professional electrician be hired for this work. It is always dangerous to work with electrics and if not done properly can be a fire and electrical hazard.
Hiring a professional electrician gives a guarantee the work is done properly and safely, in line with building regulations. They can also inspect the electrical circuits and fuse boxes to make sure they're up to scratch.
To find a local, reputable, tradesperson in your area and get the cost of installing a new plug socket use our free search feature.
FAQs
How long does it take to install a new plug socket?
It can take around 1-2 hours to install a new plug socket. This time will increase if lots of new wiring is needed, or in the case of an extension it will take a lot longer if the room hasn't yet been wired.
How much are labour costs?
We recommend reading our electrician hourly rate guide for a detailed run down of hourly and daily rates. Typically, the labour costs for this job would be £40, although this varies based on experience level and location.
Useful plug socket installation checklist
Using multi-plug adapters and long extension cables can be unsafe. Installing new sockets removes this risk.
Consider which type of socket you'd like: single, double, USB or outdoor, as well as the style.
The cost of installing a new plug socket is more than replacing an existing socket.
By planning ahead you can save money on future electrical work.
See the tradespeople we've checked and recommend for your job