Last updated on July 3rd, 2023
Car aircon service cost guide
When the temperature climbs and a heatwave has us praying for rain, a working aircon system in your car is a must-have. If you think your aircon needs maintenance, it's best not to leave it to the scorching summer months.
Hiring Advice
Practical measures for preventing scams and choosing reputable trades
But roughly how much does car aircon regas cost? We've put together a practical guide for the average aircon service cost to help you budget.
Car aircon service/regas cost
| Unit | Ballpark cost |
| --- | --- |
| Aircon regas and check | £65 - £130 |
| R134A regas | £65 |
| R1234YF regas | £130 |
| Aircon anti bacterial clean | £20 - £30 |
| Aircon performance test | Free |
A car without a working aircon can be unbearable in summer. Getting the gas level checked and recharged regularly will ensure it's working properly when you need it the most.
According to our experts, the average car aircon regas cost is typically £100.
Ultimately, the car aircon service cost will depend on the type of refrigerant gas your car uses. Most cars use one of two types of refrigerant gas: 'R134A' and 'R1234YF'.
If your air conditioning system requires R134A gas, the aircon recharge cost is around £65. This is usually the gas used in cars manufactured before 2014.
For vehicles that require R1234YF gas, the car aircon recharge cost is £130. R1234YF gas is the most environmentally friendly of the two and is typically the gas used in cars made after 1st January 2017.
See the tradespeople we've checked and recommend for your job
How much does it cost to service AC in a car?
If you're looking to get your car air conditioning serviced or regassed, it'll typically cost between £30 - £50 per hour for the labour. The variance in the figures is due to the make and model of your vehicle.
In addition to this, you'll be charged for the refrigerant required, which could be between £35 - £100.
If you require a call-out to your location, you could also be charged a call-out fee of approximately £80 on a weekday or £100+ on a weekend. It's worth asking your car garage for an aircon service at the same time as other work, i.e. the oil service, because you're likely to get a lower price overall.
If you're based in London or the South East you can expect to pay a higher rate.
Car aircon service cost calculator
When getting your car aircon serviced or regassed, the total cost will be dependent on:
The labour charge plus any call-out fee
The cost of any new refrigerant
Any new parts that may be required to bring your aircon back to full working order
You may also need to pay for any additional services including cleaning or antibacterial treatment which can cost in the region of £20 - £30.
Car aircon service quotes
Don't get caught out by broken air conditioning in your car during the hot summer months. If your aircon is in need of a service then it's time to get a quote! We always recommend getting a minimum of three quotes for any job or service. This means you can compare what's included as well as the price.
Use our request a quote feature to post the details of the job. We'll send it to three local aircon specialists and you'll receive quotes straight to your inbox.
Alternatively, type your postcode into our search feature, below to find a list of professional air conditioning service experts in your local area.
See the tradespeople we've checked and recommend for your job
FAQs
How do I know when my car's aircon needs a regas?
Not feeling the effect of the A/C? If your car's aircon needs a regas, you'll usually know by the lack of cool airflow in the car. Manufacturers recommend getting the car's aircon recharged at least every two years.
Aircon regas is not part of your MOT or car service, so it is something you need to ask your mechanic to check for you.
What kind of refrigerant gas does my car aircon use?
Since the price for a regas on an R134A model is less expensive, you might be tempted to go with this option. However, it's not worth making a false assumption to get the cheaper price.
The port to recharge the gas is different for both types – you can't simply take your pick. A professional aircon engineer will be able to quote for the right type of service for your vehicle.
Can I use my car's aircon in the winter?
Absolutely! Air conditioning is great for the winter as it can help you to de-mist and de-ice your car on those frosty early mornings.
What is a regas?
A regas involves removing old refrigerant gas and oil from your air con system. This is then replaced with the right amount of new refrigerant and lubricant as per your vehicle manufacturer's recommendation. A vacuum test will also be done to make sure there are no cracks or damage in your vehicle's air conditioning system that could cause a gas leak.
See the tradespeople we've checked and recommend for your job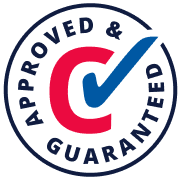 The Checkatrade guarantee
When you contact a trade through Checkatrade, our guarantee could cover you for up to 12 months. You can claim up to £1,000. Exclusions and T&Cs apply.