Last updated on March 31st, 2022
Bathtub installation cost guide
Often, bathtubs are replaced as part of an entire bathroom renovation. However, if damaged or leaking, it may be necessary to install a new bathtub as a standalone task. You might also choose to get a new bathtub for comfort, practicality, mobility reasons or purely aesthetics.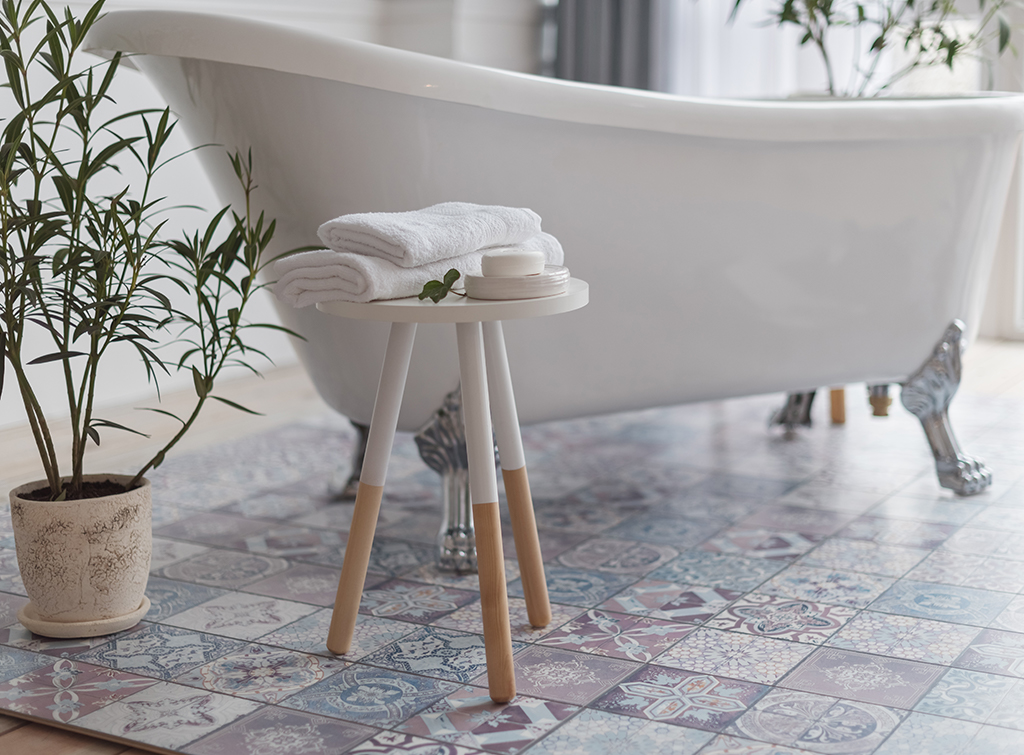 A new bathtub can breathe life into a bathroom of any shape and size. But what's the cost of getting a new bathtub supplied and fitted?
Often, bathtubs are replaced as part of an entire bathroom renovation. However, if damaged or leaking, it may be necessary to install a new bathtub as a standalone task. You might also choose to get a new bathtub for comfort, practicality, mobility reasons or purely aesthetics.
When updating or renovating a home you may wish to move your bathtub from downstairs, so it may be helpful to read our cost guide on this project.
If you're thinking about getting a new bathtub fitted, it's best to get an idea of the price ahead of time. We recognise the importance of keeping within budget, so we've spoken to the online estimators at My Build Estimate – a professional estimating company monitored by the Royal Institution of Chartered Surveyors (RICS).
| Bathtub installation costs | Labour | Average cost |
| --- | --- | --- |
| Average cost to install and fit a bath | Per project | £300 |
| Acrylic bathtub supplied and fitted | Per project | £200 - £250+ |
| Steel bathtub supplied and fitted | Per project | £250 - £450+ |
| Cast iron bathtub supplied and fitted | Per project | £1250 - £1650+ |
| Walk-in bath bathtub supplied and fitted | Per project | £1500 - £1700 |
| Cost of removing and disposing the existing tub | Per project | £75+ |
| Shower taps | Per project | £100+ |
| Shower screen/curtain | Per project | £100+ |
| Bath panels | Per project | £50+ |
| Tile bath panels | Per project | £150+ |
| Installation hourly rate | Per hour | £30 - £40 |
Here are some estimated, average bathtub installation costs. Don't forget with all projects there are a wide variety of options to choose from that can influence the final new bathtub cost. As well as the costs of installing a new bathtub, we've included the key considerations for purchase and process.
Costs to install a new bathtub
The average cost to install a new bathtub is £80-125 per bathtub.
When trying to keep within a budget, it can be tempting to fit a new bathtub by yourself. Unless you are well-versed with pipework and the fitting of bathroom furniture, it's best to hire a professional.
Even the smallest leak in a bathtub can take days to repair and the costs for this can amount to more than a professional plumber would have charged for installation. In this case, it's worth paying extra to ensure the job is done right. So how much does a plumber charge to install a bath tub? The table to the right shows the breakdown of bathtub installation costs in the UK.
Bathroom fitter hourly rates
How long does it take to install a bathtub? Most bathtub installations will take between 2 to 4 hours, at an average rate of £30 to £40 per hour. That rate is for a standard bath, but if you're planning to replace or install a spa bath then the price of installation will be higher. That also goes for heavy baths, which may require extra people to remove or install the bathtub.
It's also worth noting that the exact labour cost of the bathtub installation will also depend on where you live in the UK and the individual tradespeople you hire.
See the tradespeople we've checked and recommend for your job
Bathtub installation cost calculator
If you're planning a budget for your bathtub installation project, there are a few costs you need to take into consideration.
To calculate the cost of installing a bathtub, you'll first want to decide on the size, shape and style of the bath you want – as that's the biggest single cost factor. You'll also need to add on the labour costs of the installation, along with any tiling needed once the bathtub is in place.
Bathtub installation quote
Once you're ready to get going with your bathtub installation, it's a good idea to get quotes from a number of local tradespeople. With multiple quotes, you're able to make sure you're being given fair and competitive prices for bathtub installation in your area.
As part of the quotes, ask for a detailed breakdown of all costs (materials, labour, tiling, etc) so that you can easily compare the quotes and see who is charging what.
We recommend obtaining three quotes from our trusted tradespeople. Our 'post a job' is perfect for this – you post your job, we send it out to trusted tradespeople in your local area. Try it out!
Types of baths
Bathing has been ingrained into our culture ever since the Roman times. Naturally, the design, style and materials used have changed over time to reflect trends and modern plumbing.
Unbeknown to most, the type of material you choose for your new bathtub can make all the difference in the bathing experience.
Material will also determine the cost to install a new bathtub. It's worth considering your needs before taking the plunge to ensure the bath you choose is right for you.
Today, the types of bath available are vast and typically crafted from one of the following:
Acrylic
Acrylic baths are durable, resilient and perfect for anyone looking to replace their bathtub on a tight budget. If your home is an older property with thinner floors, an acrylic bathtub will also be ideal in terms of weight.
Generally, an acrylic bath is cheaper than steel or any other materials. The cost of the average acrylic bathtub will on average be £100+ (supply only) + installation.
Cast iron
Cast iron baths are commonly considered the most luxurious. They are also the most expensive – and understandably so. If well maintained, they can be kept without replacement for decades.
It's worth bearing in mind that the weight of a cast-iron bathtub can often exceed 500lb.
The cost of a new cast iron bathtub starts at approximately £850+ (supply only).
Natural stone
Natural stone baths may be a little harder to maintain, but their smooth finish makes them a highly popular choice for homeowners. Made from stone and minerals, these bathtubs are much easier to mould into fine-edged custom shapes.
What's more, the stone material will retain 50% more of the heat from your bathwater, ideal for those who like to soak a little longer.
The cost of a natural stone bath will vary between £300 and £3000 on average.
Steel
Steel baths can be easily moulded into striking designs and are generally better at retaining warmth than acrylic bathtubs. Like acrylic tubs, they are cost-effective and easy to maintain in good condition.
Weight of a steel tub could be considered a drawback, but strong flooring should support this bathtub no problem.
Cost for a steel bathtub typically starts at around £150+  (supply only) depending on your choice of brand, style and sizing of the tub.
Bathtub styles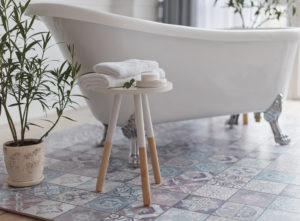 Bathtubs vary in style from simple to luxurious. Some are designed for convenience, while others are made to be the centrepiece of your bathroom. The style of bathub you choose will determine your new bathtub cost. Some of the more popular types of bathtub include:
Clawfoot and pedestal baths
Recessed or alcove baths
Drop-in baths
Free standing baths
Corner baths
Whirlpool baths or Jacuzzis
Walk-in or gated baths
Bathtub styles – health and mobility considerations
If you have limited strength or mobility, there are plenty of options that are designed for convenience, comfort and practicality. Here are some key mobility considerations and tips when buying and installing a new bathtub:
If you plan to use a bath seat and hoist, it's best to opt for a stronger metal bath. Metal bathtubs are strong enough to withstand the weight of a seated person and support most types of bathing equipment.
Shallow bathtubs can be convenient for those with limited strength in getting in and out easily.
If your bathroom allows, a walk-in bathtub will make for easy access as they come with a door with a watertight seal that simply opens and closes. Walk-in bath costs are typically on the higher end of the scale to be installed, sitting at around £1500+ for supply only, with installation costs on top.
Whirlpool and jacuzzi baths can be effective in soothing aches and pains but come at a higher cost.
Walk-in bathtubs are a great choice for anyone who is less mobile, or who finds it difficult to bend or sit in a traditional bath.
Walk-in baths offer a variety of specification options including the ability to choose which side the door opens on, which is helpful if you also need to install grab rails. They often also come with an integral moulded seat for ease and comfort.
These special bathtubs also offer additional add-ons including spa jets, colour changing lights (chromotherapy) and even wireless sound systems. For these additional items, the walk in bathtub cost can range from £1,500 to £5,000.
See the tradespeople we've checked and recommend for your job
Bathtub installation FAQ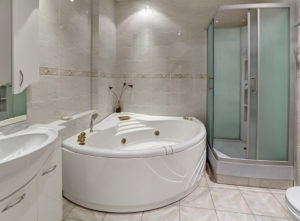 What accessories and fittings do I need to buy for my new bath?
Along with the bathtub itself, there are several additional accessories you may need to buy alongside. These include:
Bath panels –  these will be used if the bathtub will be positioned against a wall.
Tiled bath panels – For a spa-like feel you could choose to have a tiled bath panel to surround your tub with decorative tiles
Bath taps – your choice of taps will depend on your type of bath and set up (e.g. wall-mounted, deck-mounted or floor standing).
Shower screens – these panels can be added if you need the bath to double up as a shower.
Bath wastes – these combine your bath plug, plug hole and overflow pipe.
The addition of these accessories will typically be charged as part of the bathtub installation cost.
What types of taps are available?
As well as their functionality, taps can add class to even the most standardised bathtubs – but it's essential you choose the type that is right for your bath.
For example, if your bath has two holes but you only want one tap for both hot and cold, you will need a mixer tap. A free standing bath, on the other hand, will be complemented by some stylish floor standing taps.
Some of the taps available include:
Surface mounted pillar taps – these taps are mounted top the deck of the bath.
Wall mounted mixer tap – these are fitted to the wall with the pipework hidden behind.
Wall mounted pillar taps – two separate taps fitted to the wall.
Free standing taps – these are fitted to the floor via standpipe.
Waterfall bath taps – these come either as pillars or a mixer tap, with an open spout that creates a cascading waterfall effect.
Costs for bathtub taps by themselves vary on material used. It's worth noting that wall-mounted taps typically a little cost more to install due to the pipework required.
What to consider when choosing my new tub?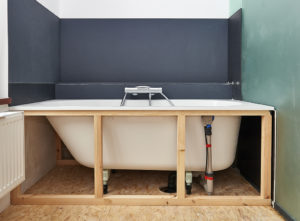 As well as the type of bath and the costs of bathtub installation, there are a few key factors worth bearing in mind when browsing the market for a new tub. This includes:
Water heater requirements – If buying a larger bathtub than you previously had, check whether the water heater is large enough to supply an entire tub full of hot water. For reference, the water heater should be about ⅔ of the size of your bathtub – so, a 40 gallon water heater would suffice for a 60 gallon bathtub. Anything larger and you may need a new heater.
Electrical concerns – If you are having a new electric shower installed at the same time, you will need a Part P certified electrician to ensure the wiring is correctly fitted.
Structural support – how strong is the floor of your bathroom? Most modern tubs are lightweight steel or acrylic, but they need to hold a substantial weight of water as well as occupants. If the bath is particularly heavy or the floor particularly thin, it may be necessary to reinforce the floor with structural support.
Aesthetic concerns – If replacing the bath as a standalone job, will the tub go with the rest of your bathroom furnishings? They may be luxurious to look at, but not all bathrooms will suit a free-standing tub.
Comfort level – As much as a stylish bathtub can bring a bathroom to life, we recommend reading reviews for comfort and practicality ahead of purchase.
Replacing a bath without removing tiles? Can it be done?
While it is possible to replace a bath without removing any tiles, The silicone seal between the tiles and the bath would need to be removed gently and the bathtub pulled out gently, but it's delicate work that often calls for the help of a professional tradesperson.
Checklist for installing a bathtub
Bathtub installation costs depend on the size, weight and material of the tub. The average cost for supply and fit of a new tub is £850.
Unless you have experience in plumbing, we recommend using a professional as costs for repair can outweigh costs of installation.
Accessories such as taps can be purchased separately and included in the bathtub installation price.
When choosing a bathtub, remember to consider water heater requirements, electrics, comfort and functionality ahead of purchase.
Bathtubs can be extremely heavy and are designed to support a large amount of water. Always ensure the floor is strong enough to support the bath.