Last updated on July 20th, 2022
The cost of moving a bathroom upstairs
Whether you're looking to spruce up your current home, or you're taking on a renovation project for a new house, discover the average prices per bathroom project.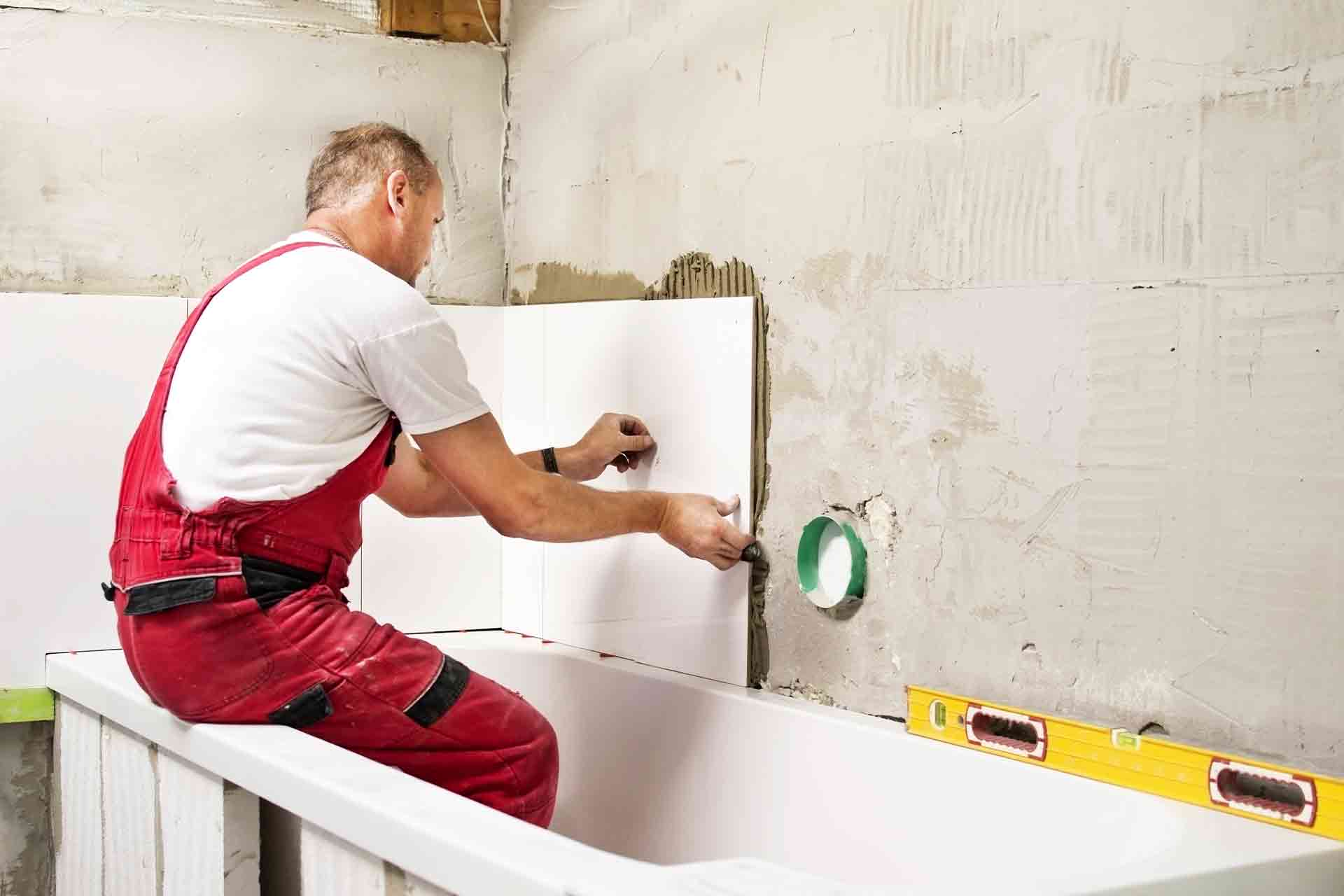 Did you know that having a downstairs bathroom as your main bathroom can take £13,500 or 6% off the average property value in the UK?
There are many benefits to moving a bathroom upstairs if you don't already have one. One of the biggest ones is the space that's freed up downstairs. It's perfect for repurposing it into a larger living space, an office, or even a home gym.
What is the cost of moving a bathroom upstairs?
For a breakdown of each cost, we spoke to the online estimators at B3 Cost Consulting – a team of professional Estimators and Quantity Surveyors. This guide features the estimated cost of moving a bathroom upstairs that they provided.
Type of project
Cost + VAT
(Range low - high)
Average UK cost
Cost to move bathroom upstairs
£10,300 - £19,400
£14,850
Cost to rip out and dispose of bathroom (back to brick)
£750 - £1,050
£900
Cost to make good old space
£2,700 - £3,000
£2,850
Cost to install new bathroom (inc basic sanitaryware and tiling)
£6,850 - £15,350
£11,100
Bathroom extension (per m2)
£2,350 - £3,350
£2,850
In order to estimate the average 'moving bathroom upstairs cost', you will need to look at the price of plumbing, electrics, fittings (unless you are keeping the old ones), tiles, flooring and labour.
Considering the average cost to rip out and dispose of an old bathroom is £900, the average cost to make good of the old space is £2,850 and the average cost to install a new bathroom is £11,100, the total average cost of moving a bathroom upstairs is £14,850.
Factors affecting the cost to move a bathroom upstairs
The above costs will all be affected by a number of factors that may increase or decrease the average cost to move a bathroom. Below we've looked further into these factors:
Pipework: Whether there's existing pipework in place or not will impact the price you pay. If there is no pipework in the location of your new bathroom, this will need to be added at an extra cost.
The proximity to nearby pipework will also affect the cost of your piping. The more pipes that need to be added, the higher the price. Please note, it is significantly easier if your new bathroom is above your existing bathroom because the soil pipe will be much easier to access.
Walls: If you plan to erect new walls to create your upstairs bathroom, or you plan to demolish the walls of your old downstairs bathroom, the total job cost will increase.
Flooring: It is very easy to forget about flooring, however, it is always a good idea to add waterproof flooring like tiles or vinyl to a new bathroom.
Depending on how you choose to use the space that your old bathroom occupied, it may be worth investing in flooring that will match the rest of your home and suit the purpose of your new space.
Size of old and new room: It is unlikely your old and new bathroom will be the same size, so your fixtures may not fit and you may need to purchase a new suite instead.
Plans for the old space: If you choose to add an extension or knock down any walls, you will need to pay more for the job. If you are considering knocking down any load-bearing walls please see our informative guide on this
Portable toilet for the interim: If your only bathroom is being moved you may need to hire a portaloo for use during this time. Our guide to portaloo© hiring cost has some great tips to help with this.
Plasterboard: If the current plasterboard in your new bathroom location isn't moisture resistant you should replace this with plasterboard that is fit for purpose.
Extractors: If you are converting a habitable room into a bathroom, an extractor fan may be required.
Insulation: If a bathroom/shower is installed on an adjacent stud wall, you will often be able to hear the shower running on the other side of the wall. In this case, it may be wise to consider upgrading your insulation.
See the tradespeople we've checked and recommend for your job
Removing an old bathroom
When removing an old bathroom, it is useful to consider the following:
Are you planning to keep your old bath, shower, toilet or sink? It may not be possible to remove your old bathroom suite without damaging it, in which case you will need to purchase new fixtures, but you can get these items very cheap.
You will need to budget for the cost to make good and repurpose the downstairs space. You should assume that plasterwork will either need a good tidy or to be completely replaced.
It is likely you will need new electrics and lighting.
You should assume that any plasterwork below the bathroom tiles will need to be replaced.
Installing a new bathroom
When installing a new bathroom, it is useful to consider the following:
The existing contents such as the flooring etc. will need to be removed to create a wet room environment.
The electrics need to be considered in terms of removing old plug sockets and wiring in a new shower.
Water safe lighting will need to be added.
You will need waterproof walls and flooring. It is worth looking at laminate panels as there is often less cleaning and regrouting needed than with tiles.
There may be a cost in removing a radiator and replacing it with a towel rail.
You will need new pipework and a waste pipe (soil pipe). This will increase the total cost to move a bathroom.
You may need an extractor fan.
You may need to install new glass to an existing window to ensure privacy in your bathroom. This will cost upwards of £250 on top of the cost to move a bathroom upstairs.
There will need to be adequate space in the floor to allow drainage to fall as required.
You should consider the opportunity to install an underfloor heating system if possible.
For further information on bathroom installation or new bathroom costs please see our helpful guides.
It may be easier to build an extension for your new bathroom than to simply move it to an existing room. Our guide to house extension costs can help with your decision. The average bathroom extension cost is £2,850 per m2.
Cost of moving the bathroom to the next room
The average cost of moving a bathroom to the next room is £7,150, but this may be lower depending on the layout of your home.
It is usually cheaper and easier to move a bathroom to the adjacent room than upstairs as pipework will be easily accessible. Having said this, there may still be issues with moving the soil pipe.
FAQs
Can I move a bathroom myself?
It is certainly possible to move a bathroom yourself, although it is not recommended that anyone without the proper experience and skill level attempt this. There are a lot of intricate electrical, plumbing and building works involved, which are usually better left to a skilled tradesperson.
Moving a bathroom is a complex job that will need work by multiple tradespeople, including plumbers, electricians, tilers and general builders. There are also bathroom companies that can do all the work, but you should prepare to pay a slight premium for the service.
If you do not do the job safely and correctly you may cause significant damage to your home. This is particularly risky as water and electrics are running so close to each other.
If you choose to manage your bathroom project yourself but have tradespeople do the work, it is essential that each professional knows what the other is doing. For example, the toilet shouldn't be installed before the tiling as the toilet has to sit at the correct level. If you do install the toilet first, make sure the tiler and plumber know the thickness of the tiles.
Finally, moving bathroom suites can be incredibly difficult due to the sheer weight of them. We would strongly recommend hiring a professional. To find a local, reputable, tradesperson in your area and get a personalised quote to move your bathroom, use our free search feature.
How much does it cost to extend a kitchen?
The average cost to extend a kitchen is £37,500 plus an extra £10,000 - £25,000 to fit the kitchen.
If you want to extend a kitchen into the space occupied by the old bathroom then that's a great way to reuse the space. To learn more about kitchen extension costs please see our house extension cost guide.
A useful checklist for moving a bathroom
Moving a bathroom upstairs can be costly but offers convenience and extra privacy.
The cost of moving a bathroom upstairs is affected by current pipework, new flooring and any structural work required.
It may be possible to re-use your old bathroom suite, although new bathroom fixtures can be very affordable if not.
The cost of moving a bathroom to the next room is cheaper than the cost to move a bathroom upstairs.
Moving a bathroom is a complex, arduous and time-consuming job that is best left to professionals.
See the tradespeople we've checked and recommend for your job