Last updated on October 21st, 2022
Tap installation cost
A new set of taps can do wonders for your bathroom or kitchen aesthetic and in the summer months, an outdoor tap can make washing the car a breeze - not to mention watering the garden.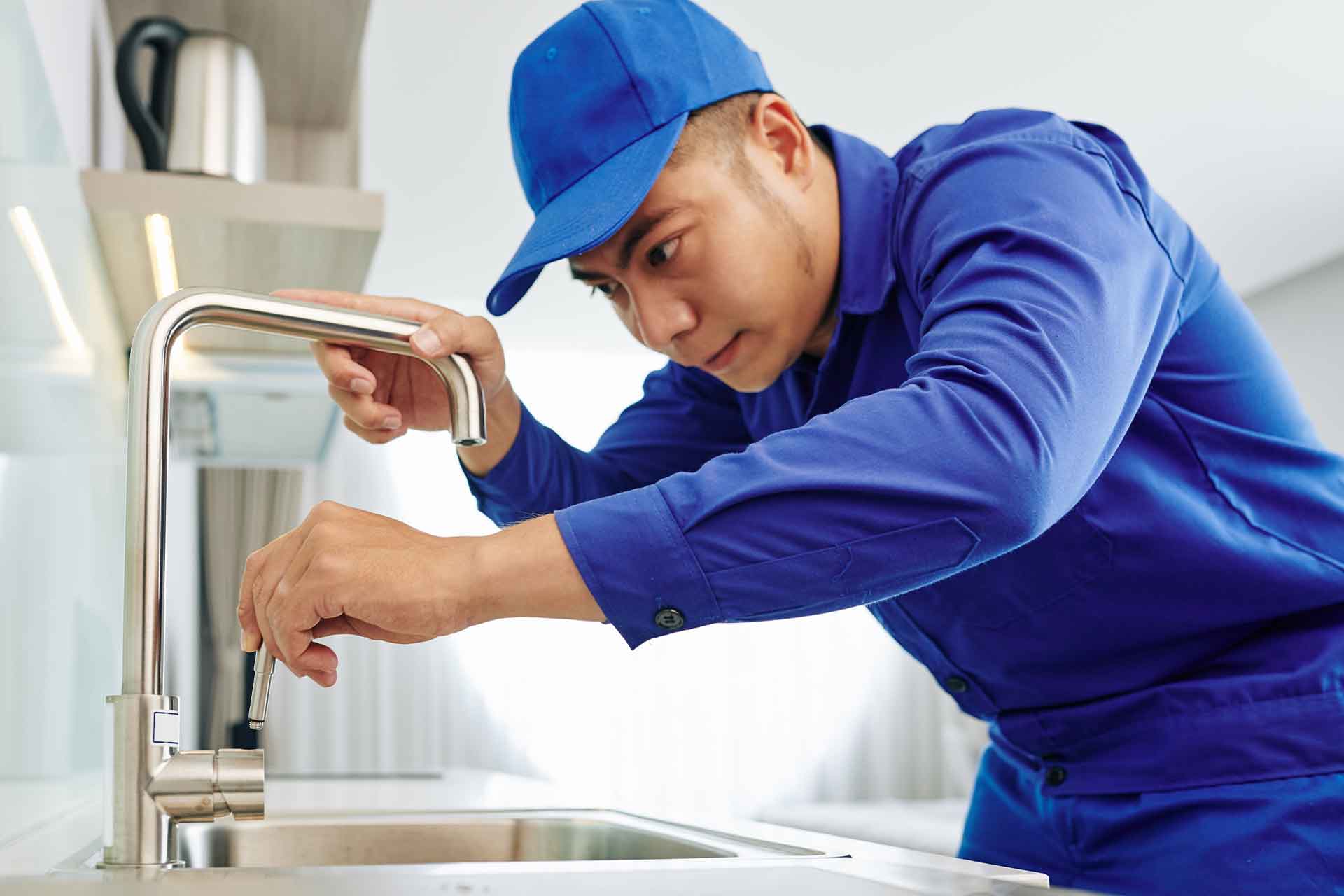 Whether you're looking to get an outdoor tap installed, want new taps for your bathroom as part of a renovation or are planning to replace your old taps to make a quick difference to your kitchen, it's best to get an idea of pricing ahead of the project. Read on to find out how much tap installation costs.
How much does tap installation cost?
| Type of tap installation | Unit | Cost +VAT - Range Low | Cost +VAT - Range High | Average Cost |
| --- | --- | --- | --- | --- |
| Installing an outdoor tap | Materials and labour | £120 | £200 | £160 |
| Installing a kitchen tap (mixer tap, no isolation valves) | Labour only | | | £150 |
| Installing a kitchen tap (mixer tap, isolation valves present) | Labour only | | | £80 |
| Installing a Quooker kitchen tap | Labour only | £300 | £400 | £350 |
The average UK cost of tap installation is £140 (labour only). Prices will range depending on the amount of work needed, the location of the water source and how many taps you need to be installed.
Before hiring a professional, it's important to make sure you choose the right style for your sink or garden. This will typically depend on your budget and the overall theme you're going for. Costs will ultimately vary depending on the material, size and depth, so we recommend shopping around suppliers to find suitable taps that fall within your price range and match the style you're after.
Unless you have experience in this field, it's best to hire a contractor to take care of tap installation. To save time, you can use our handy search bar to connect with plumbers in your local area and compare tap installation costs.
Tap replacement cost
The average cost of tap replacement is around £80-£200 (labour only) and the overall cost will depend on the type and location of the tap, as well as the complexity of the job.
Here are some average costs to replace taps, including materials and labour:
Cost to replace basin taps – £140-£220
Mixer tap replacement cost – £140-£260
Bath tap replacement cost – £200-£320
Cost of kitchen tap replacement – £140-£240
Cost of plumber to replace taps (labour only) – £80-£200
Cost to install a Quooker kitchen tap – £300-£400 labour plus £1,500 for materials
Benefits of installing an outdoor tap
Installing a tap to the outside of your home can make a range of outdoor activities more convenient. From washing the car to cleaning the patio, having easy access to running water in the garden can make all the difference.
When spring rolls around, an outdoor tap takes away the need for back and forth trips to the kitchen to water your plants – and, if you're lucky enough to have an outdoor hot tub or even a paddling pool, you will find filling it up is more efficient with a hose attached to your tap.
See the tradespeople we've checked and recommend for your job
What does fitting an outdoor tap involve?
The typical outdoor tap installation process is as follows:
The first task will be to decide on a position for the tap outside the house. Most outdoor taps are fitted to the wall outside the kitchen area, as this tends to be where the internal cold water mains supply runs from, reducing the amount of plumbing required.
Once the location is decided, a hole will need to be drilled through the exterior wall from the inside using a long 150mm masonry drill. The hole will then need to be opened up to approximately 22mm.
After a hole is drilled into the wall, measure the thickness of the wall and cut a piece of copper pipe to length to be inserted into the wall.
With the water supply turned off, cut into the cold water supply pipe and fit a junction to connect the new pipe.
An inline shut off valve such as a stopcock, or in-line service valve will need to be installed along the new pipe-run.
Run the pipe through the wall and secure it in using wall plugs.
Screw the outside tap into the back-plate.
Check the tightness of all compression joints before turning the water supply back on to check for leaks.
Fit some insulation material around the pipework to prevent it from freezing in winter.
It's important to bear in mind that the above is not an instruction manual: any external tap installation must comply with specific building regulations and it's strongly recommended that only experienced tradespeople handle this type of work.
How long does it take to install an outdoor tap?
Outdoor tap installation typically takes around one hour, though plumbers typically allocate two hours for the job in case there is difficulty locating the stopcock or furniture needs to be removed to access the pipework.
Cost of fitting an outdoor tap
Typical outside tap installation costs fluctuate between £120-£200 for materials and labour, depending on the pipework needed, the desired location of the tap and the accessibility of the water source.
Depending on your experience, you might opt for the DIY approach. To install your own outdoor tap, you will need to buy all of the pipework and fittings – not to mention the right type of drill if you don't already have one. Altogether, you can expect to spend around £80 on DIY tap installation.
See the tradespeople we've checked and recommend for your job
Factors affecting the cost of installing a tap
Whether indoor or outdoor, the total tap installation cost will depend on a few factors. Quotes provided by tradespeople will be calculated according to:
Accessibility of water source
Location of the tap and accessibility of water source will be the first details a plumber asks in order to provide a quote. Kitchen tap and laundry room tap installations can be challenging if the tradesperson has to rework the plumbing to fit a new tap.
Location
As with most home renovation projects, costs in the capital tend to be slightly more expensive. Similarly, if your plumber has to travel a distance to get to your property, you might find the quote to skew high. You can reduce this cost by looking for local experts with our searcher.
Materials needed
If you purchase the taps ahead of the project, make sure to tell a tradesperson before sourcing the quote. If you already have them on hand, your plumber will not need to order them ahead of the tap installation. Other materials and tools will be needed for proper installation including the plumbing connections, copper and sealant, all of which will factor into the tap installation cost.
Tap installation cost calculator
To calculate the total cost of installing a tap you'll need to factor in any new pipework needed (if you're installing a tap where there wasn't one before) as well as the materials required for the job. Add on the cost of labour and you should have a decent estimate for the price of the work. If in doubt, speak to local plumbers to get accurate quotes for the job.
Tap installation quote
We always recommend obtaining at least three quotes from our trusted tradespeople. Our request a quote feature is perfect for getting quotes – you post details about the job you want doing and we'll send it out to local tradespeople in your area. Try it out!
Tap installation hourly rates
The average rate for a plumber to fit a tap is around £40-£60 per hour – depending on their experience, the complexity of the installation and where you live. For more information on prices, check out our guide to plumber costs.
Kitchen tap installation cost
Whether as part of a kitchen renovation project or a standalone job to freshen up the look of your kitchen, getting new taps installed can be a quick fix. What's more, the average kitchen tap installation cost is relatively affordable, typically falling between £80-£150. 
How long does it take to install a kitchen tap?
Most skilled tradespeople will only need about 1-3 hours to install new kitchen taps, though this will depend on your requirements. If you only need the taps to be replaced and there is no need for any reworking of plumbing, it will only take 1-2 hours.
If you also want a new sink installed at the time, a plumber will allocate an extra 1-2 hours for the entire job which will be reflected in your bill. If they find a burst or leaking pipe, the plumber will also need to repair that at the same time and add to the total cost.
Can I install a tap myself?
Yes, but only if you have considerable plumbing experience and are familiar with the process of tap installation. However, considering the cost of tools and materials needed for installing your own taps is around £80, it's worth instructing a professional to avoid pitfalls that those unfamiliar with plumbing can run into.
Tap installation cost overview
Typical outside tap installation costs fluctuate between £120-£200 depending on how straightforward the task is and whether extra materials are needed.
Outside taps must be installed in line with current building regulations. Your plumber will be able to advise on this
To bring down the costs of installation, you may choose to supply materials yourself. Always communicate this ahead of sourcing a quote from a professional.
See the tradespeople we've checked and recommend for your job