Last updated on October 24th, 2022
Chimney liner cost guide
Chimneys liners come in a variety of different shapes, sizes and materials, which all affect how much they cost. In this guide we'll cover the different chimney types and chimney liners that are available to help you choose the right one for you.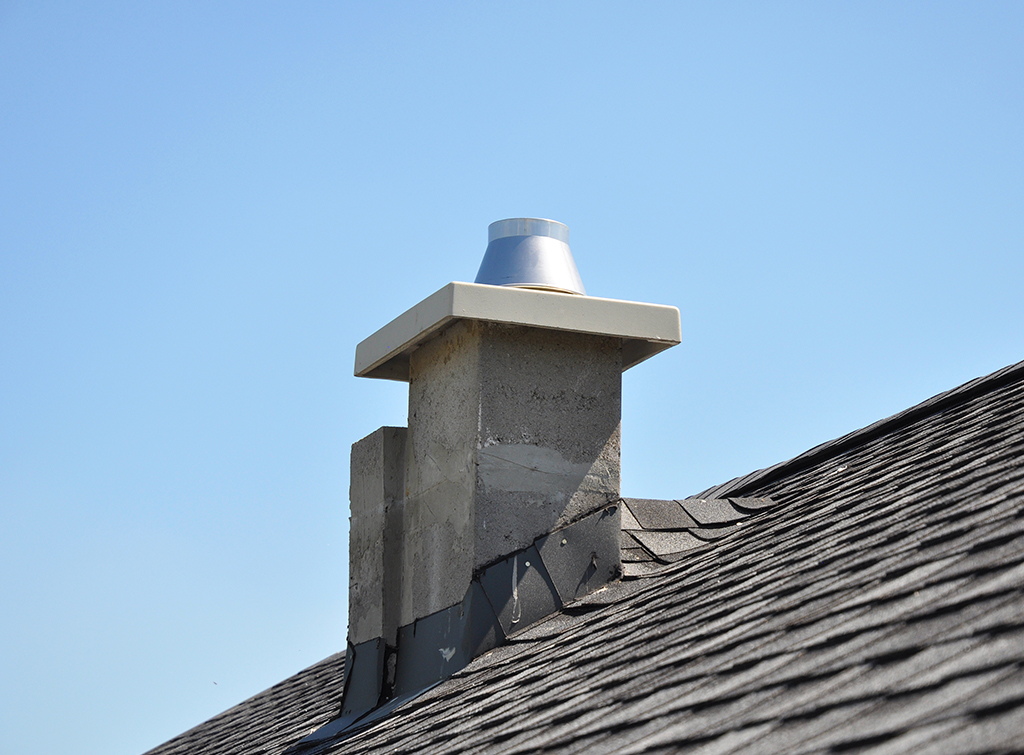 In recent years, wood-burning stoves have become increasingly popular with homeowners in the UK. And common questions that come up are whether you can use your existing chimney for a modern stove (or other heating appliance) and how much a chimney liner will cost.
Whether your chimney has no lining at all, or it has an old lining that needs replacing, there are various reasons why you might need to install a chimney liner. There are lots of types of liners and many different suppliers, but you can get stainless steel, concrete or ceramic liners. Depending on the type of chimney you have you will need to carefully consider the most cost-effective solution. Therefore, it is worth getting prices for various options and carefully look at the advantages and disadvantages of each.
We spoke to the online estimators at My Build Estimate – a professional estimating company monitored by the Royal Institution of Chartered Surveyors (RICS) – to find out the cost of chimney lining.
Don't forget with all projects there are a wide variety of options to choose from that can influence the final costings.
| Chimney liner costs | Range - Low | Range - High |
| --- | --- | --- |
| Materials per m | £175 | £250 |
| Cherry picker hire (day rate average) | £200 | - |
| Chimney expert (day rate) | £180 | £250 |
| Supplying the liner per m | £175 | £200 |
How much does a chimney liner cost?
The average cost to supply and fit a chimney liner is approximately £250 per metre. Your chimney may need other remedial works e.g. new pots, flaunching, repointing, repairs etc. This will be an additional cost to the above. The average cost of just supplying the liner will be between £175 per metre and the rest will be the labour.
It can take between 1 and 3 days to install a chimney liner depending on the complexity and the average cost of the tradesman will range between £180 – £250 per day.
Before we kick off talking about specific chimneys and liners, it's important to note that any work done to an existing chimney needs to comply with UK building regulations and meet the relevant British and European standards. These regulations and standards provide clear guidance on the minimum criteria to meet in order for your chimney or flue to function safely and correctly.
In some cases, approval is needed for relining old chimneys, particularly if you're altering or changing your heating appliance. If you're replacing an existing liner, the costs of chimney relining may be higher as the old liner will need to be removed first.
Chimneys and flues come in a variety of different materials, the most common being stainless steel, pumice and clay. Chimney liner costs can vary and certain liners are only suitable for specific chimney types. Therefore it's important to identify what your chimney is made of and the type of heating appliance(s) you have before you choose a liner.
See the tradespeople we've checked and recommend for your job
Chimney liner cost calculator
In order to work out the cost of installing a chimney liner, you'll need to factor in the following:
Measure the size of your chimney to work out how much liner you'll need
Choose the type of liner to be used (the flu liner cost will vary depending on the type)
Include the labour costs for the job (usually 1 to 3 days)
With those three bits of information you should be able to work out roughly how much the chimney liner installation will cost you. If in doubt, speak to local tradespeople for accurate prices in your area.
Chimney liner installation quote
Getting chimney liner installation quotes from a number of different tradespeople is important to make sure you're being quoted fair and competitive prices for the work. We also recommend asking for a detailed breakdown of all the costs (labour, flu liner cost, other materials, etc) so that you can easily compare quotes from different tradespeople.
We recommend obtaining three quotes from our trusted tradespeople. Our 'post a job' is perfect for this – you post your job, we send it out to trusted tradespeople in your local area. Try it out!
Chimney liner installation hourly rates
Chimney liner installation is often quoted by the day, rather than the hour, but you can expect to pay around £22 to £32 per hour. That works out at a day rate in the region of £180 to £250 per day.
See the tradespeople we've checked and recommend for your job
Why do chimneys need a liner?
Firstly, you might be wondering the difference between the terms chimney and flue. In reality, both terms are often used interchangeably. Officially the chimney is the overall structure including the shaft within which the flue is housed.
The flue is the working part of the chimney consisting of a duct, pipe or opening that carries  exhaust gases from a fireplace or heating appliance to the outdoors. It's this part of the chimney that needs to be lined in order for it to function properly.
Within this system, chimney liners usually serve three main functions:
Preventing heat from transferring out of the chimney
A flue works by using negative pressure that draws the hot air up from the fireplace or heating appliance. Achieving a successful "chimney draw" relies on as much heat as possible remaining within the flue, and not seeping out into the adjacent structure of the building.
Providing correct flue for maximum efficiency of appliances
Modern oil or gas furnaces, as well as wood burning stoves, can only perform well if the chimney provides ample ventilation. Incorrectly sized liners can limit airflow and potentially cause a build up of dangerous levels of carbon monoxide.
Protecting the structure of the building from damage
Flue gases contain acidic substances that can cause damage to the bricks and mortar of a building. Keeping these gases within the flue itself can significantly increase the lifespan of your chimney and prevent damage to the building.
Most houses built before 1965 were built without liners, prior to a change in building regulations. Before then, flues were usually 'parged' (rendered) on the inside using lime mortar. Over time, this parging will have suffered damage from flue gases, leading to erosion and leakage. Houses built from 1966 onwards will generally have been lined with clay liners, though this type of liner may not suit an efficient wood or multi-fuel stove.
One other factor to consider is that chimneys are often built on the outside of the house. Not only does this make them subject to the elements, but combine that with a lack of insulation liners and you end up with a cold and inefficient flue. Installing a well-insulated chimney liner is a price worth paying in order to have an efficient and safe chimney system.
See the tradespeople we've checked and recommend for your job
Types of chimney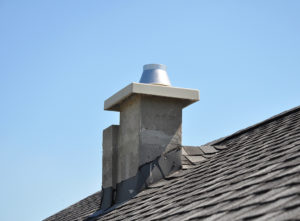 There are a wide variety of chimneys out there, made from a range of materials and built to deal with various heating appliances – each one with its own needs that affect the type and cost of chimney flue liner you'll need.
Whether you have a traditional fireplace, a wood-burning stove or a modern gas fire, you'll need to know which chimney type you have to then choose the most suitable chimney liner. Some of the most common types you'll find are masonry chimneys, metal chimneys and wood burning stove chimneys.
Masonry chimneys
Chimney systems using concrete, pumice and clay or ceramic are collectively referred to as masonry chimneys. More common in older buildings, masonry chimneys require a strong concrete foundation to bear and distribute the structural weight of the fireplace and chimney. Masonry fireplaces traditionally burn wood, although many have been updated to house modern gas-burning fires in order to reduce pollution.
Pumice chimney systems are able to take advantage of the natural insulating properties of pumice and, as such, don't require additional insulation. Pumice systems are also lightweight and come with a range of accessories designed for use with stoves. Pumice chimney systems should not be used with appliances that produce condensation, including pellet or biomass.
Ceramic chimney systems and liners are suitable for most fuel types (wood, multi-fuel, oil, gas and condensing appliances). The inner ceramic liner is usually insulated with rock wool and contained in a preformed concrete block.
Metal chimneys
Metal chimney systems are commonly made of  either aluminium or stainless steel, and are used for wood or multi-fuel burning stoves and open fires. Metal chimneys consist of two concentric metal walls with insulation filling the space between them. Some will have a ceramic liner, which can increase the usable like of the chimney.
Metal systems tend to be used in extensions or existing buildings that do not have a chimney, as they don't need to have a dedicated foundation and can be easily added to the building. Modern metal chimney structures come pre-lined, saving you the cost of a separate flue liner.
Wood burning stove chimneys
Wood burning stoves have become extremely popular with UK homeowners in recent years, as they offer the charm of a fireplace with better efficiency than more traditional masonry fireplaces. Though designed for burning wood, some wood burning stoves can be converted to multi-fuel to burn other types of smokeless fuel.
Modern wood burning stoves are often additions to homes without an existing chimney, a new twin wall flue system is installed. This is effectively a series of connectable stainless steel pipes wrapped in thick insulation and encased by a second outer tube that connect your stove to the outside. This system keeps enough heat within the flue to allow the fumes to draw up through the pipe.
If you have a new or recently installed wood burning stove in your home, it's likely that the existing chimney system will be safe and efficient. However, if in doubt we recommend speaking to a professional tradesperson to carry out an inspection so that you have peace of mind.
See the tradespeople we've checked and recommend for your job
Why install a chimney liner?
There are a number of important reasons why an existing chimney may need lining (or relining).
You have a new heating appliance and the existing flue is too big for it
The flue is leaking smoke and/or fumes into your home
The existing flue is too cold and is not drawing properly
Condensation or tar may be seeping through the walls of the chimney and causing unsightly staining to the inside or outside of the building
The existing flue is in a poor condition due to erosion or other damage and is causing leakage, chilling and poor up-draught
The existing liner was installed the wrong way up causing tar and condensation leakage (this is a common issue with chimneys built from 1965 onwards)
Benefits of installing a chimney liner
There are a host of benefits that come with installing a new chimney liner, making the cost of your flue liner a worthy investment:
Chimney liners prevent carbon monoxide and other harmful gases from leaking into living spaces in your home
Most homeowners' insurance providers will cover the cost of relining your chimney, as it offers a lot of protection to homeowners the your home
Liners will prevent any condensation (commonly associated with gas-burning appliances) from leaking back into the structure of your home
Some insurance policies limit coverage if home renovations are carried out with no improvement made to the chimney
Adding a liner to a chimney with a wood-burning stove or fireplace will prevent condensation that can lead to a build up of creosote and tar – both highly flammable that pose a significant fire risk
Installing a chimney liner helps you, as a homeowner, adhere to building and fire safety regulations (the violation of which could land you with some hefty fines and penalties)
The price of installing a chimney liner far outweighs the risk of chimney fires
Chimney liners are a cost saver too as they drastically improve heat retention and airflow, which means you'll use less fuel
See the tradespeople we've checked and recommend for your job
Types of chimney liner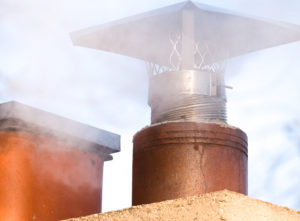 When chimney liners first became popular they were almost exclusively created using clay. Today, there are a number of different chimneys liners available at different price points. Choosing the right type and quality of chimney liner is important to ensure you have a safe, efficient chimney system.
To start with, one of the key factors affecting the cost of your flue liner is its quality. There are currently two grades of liner available:
316 grade – This is the lower cost chimney liner option, but is perfectly fine to use if you're only planning on burning seasoned wood, or have a gas heating appliance.
904 grade – The more expensive but also more durable option that often comes with a longer guarantee. You'll need this grade if you plan on regularly burning coal.
There are a number of common materials used for chimney liners, including:
Stainless steel liners
Flexible liners
Pumice / concrete liners
Clay / ceramic liners
Cast-in-place liners
FuranFlex® liners
Stainless steel liners
Stainless steel chimney liners have become one of the most popular choices in the UK, and are generally considered to be the entry level chimney liner – mainly due to their lower price point and relative ease of installation. They are more affordable, however they usually have a limited lifespan guaranteed for 10 years so you might want to think about the cost of relining your chimney down the line as part of your cost calculations.
Stainless steel liners are available in either a flexible format that can easily accommodate bends in the chimney structure, or in an alternative rigid format – which tend to be the cheapest option. Flexible stainless steel liners come in a single long piece, whereas the rigid version comes in sections that are then slotted together.
Pros
One of the lower cost flue liner options available
Relatively easy to install
Can be installed as a freestanding unit (on the inside or outside of your property)
Ideal for refurbishing existing flues
Suitable for appliances that burn wood, oil or gas
Cons
Short lifespan (many stainless steel liners are only guaranteed for 10 years)
Can corrode rapidly with the use of certain fuels
Easy to damage during the installation process
Flexible liners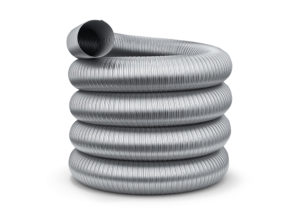 A flexible chimney liner is a great alternative to more rigid types. They tend to be made of corrugated stainless steel and will expand and contract according to changes in temperature.
Many homeowners find that flexible chimney liners might cost a little more than the rigid steel liners, but that they provide a much better solution to improving the performance for their chimney.
Flexible liners are available in two main types:
Single skin liners for use with gas appliances (these should never be used with wood or multi-fuel appliances)
Twin skin liners made from overlapping strips of high grade stainless steel to give a smooth sealed flue-way (suitable for wood and multi-fuel appliances)
Flexible liners are generally a lot easier to install than rigid liners. The fact that they come in a single piece means they can quickly be inserted into the chimney without a lot of fuss, which can mean you'll save on the overall costs of the chimney liner installation. The adjustable length of flexible chimney liners makes them a great option for taller chimneys or those with contours or slight bends.
One of the main factors that create a need to regularly clean and maintain your chimney is the accumulation of creosote. Flexible liners prevent much of this build-up as the flexing process of the liner itself loosens the creosote and causes it to fall off. Less creosote means less need
Another advantage of using a flexible liner is that it can be easily removed for cleaning. This means it's both quicker to clean, and you can do a more thorough job. So, using a flexible flue liner is a cost-saver for both installation and ongoing maintenance.
Pros
Relatively quick and easy to install
Reduced installation costs compared to rigid liners
The versatility of liner makes it suitable for DIY jobs
Less frequent cleaning required due to reduced creosote build-up
The liner can be removed for easy cleaning and maintenance
Cons
Metal flexible liners have a limited lifespan
May suffer corrosion with certain fuel types
See the tradespeople we've checked and recommend for your job
Pumice  / concrete liners
The difference between concrete and pumice chimney is the amount of pumice used to make them. Pumice liners are generally manufactured using 100% pumice aggregate, whereas concrete liners will typically consist of a blend of cement and pumice.
Pumice is made from volcanic rock and is popular in chimney construction due to it being a natural insulator – making it an ideal choice for a chimney liner. Even in concrete liners, the pumice content is usually around 90%, so they still benefit from the same natural ability to insulate effectively.
The insulating properties of pumice allow the flue gases in your chimney to quickly reach their optimum temperature. This means that your heating appliance is able to reach its maximum performance within a short amount of time, which means your chimney liner keeps ongoing fuel costs down.
Pumice liners also keep the chimney warmer for longer, which reduces the likelihood of condensation and soot build-up. However, if the pumice / concrete liner gets damaged or begins to crack (which can happen when the house settles) it can be complicated and expensive to repair.
Pros
Lightweight materials are easy to handle and inexpensive
Highly insulating allows strong draw and minimum heat loss
Helps achieve optimum performance from your heating appliance
Cons
Installation costs can be expensive for this type of flue liner
Complicated to install for chimneys with bends
Clay / ceramic liners
Clay and ceramic flue liners (often referred to as clay tiles) have been around since the 1900s and are still a popular choice of chimney liner. Not surprising as they are able to withstand extremely high temperatures without damaging or hindering the performance of the liner.
In addition, the clay material itself is relatively inexpensive and, once installed, will last for a good 50 years. They come in a range of sizes and come in both round and square formats, to suit the range of wood and solid fuel appliances and open fires.
That said, there are some drawbacks to using clay chimney liners. The clay tiles themselves might be fairly cheap, but the flue liner installation costs can add up due to the work involved to install them in an existing chimney.
Today, most clay liners are generally installed during the construction of the building, as installation can be complicated. Replacing clay liners can also be a tricky task, even with the simplest straight chimney structure.
Relining a clay chimney liner involves chipping the old tiles using special tools to break them out. And, if your chimney has any bends, the process is even more complicated and the chimney relining costs can get hefty.
Due to their rigid shape, clay tiles are best suited to chimneys that are perfectly straight. Even then installation can be tedious due to the fact that the tiles need to be cut precisely to fit together within the flue. This also causes air to get caught in the spaces between tiles, as they don't sit perfectly flush within the flue.
If you're planning to use a clay / ceramic chimney liner, we would recommend contacting an experienced chimney professional to discuss flue liner costs and carry out the installation.
Pros
Long lifespan (50+ years) due to its extreme wear resistance
Excellent resistance to acids and other corrosive substances
Resistant to soot fires, temperature and moisture
Made of natural raw materials and are therefore easily recyclable
Cons
Clay flue liner installation costs can be expensive
Rigid shape means they're not suitable for chimneys with any bends
Complicated installation isn't suitable for a DIY job
Cast-in-place liners
One common choice for a chimney liner, especially for a chimney that's in poor shape, is what's called a cast-in-place liner. Similar to clay chimney liners, cast-in-place liners aren't affected by heat or corrosive gases, which makes them very durable (lasting up to 50 years). They also have the added benefit of providing a sturdy structure that can help reinforce the existing chimney.
Cast-in-place liners are generally lightweight liners that are fixed inside chimneys to form smooth, seamless passageways within the flue. They provide good insulation value and support higher temperatures within the chimney. As a result, your fires burn cleaner and there'll be less creosote or soot build-up.
Installing a cast-in-place liner, while less invasive than using a clay liner, is still a fairly difficult task and chimney liner installation costs can add up . One of the ways in which they're installed is by pumping a mortar mix into the chimney around an inflated rubber tube, which creates a smooth rounded surface within the chimney. Once the mortar has fully set, the rubber tube is removed and the liner is left intact.
Due to the complicated process of installing a cast-in-place chimney liner it's worth discussing costs and options with a qualified tradesperson.
Pros
Boost structural integrity of old chimneys
Improves efficiency of heating appliances
Suitable for use in masonry chimneys that burn all types of fuel
Ideal for chimneys in poor condition
Cons
Installation can be complicated and expensive
Not suitable for a DIY job
FuranFlex® liners
FuranFlex® is one of the newest chimney lining systems available on the market and uses a glass fibre reinforced thermosetting resin,  which is as strong as steel when set. It's most commonly used in listed buildings to bring large open fires back into use or Inglenook fireplaces, where it might not be possible to alter the physical characteristics of the fireplace or chimney structure.
It's also particularly effective at lining long or bendy chimneys, like those found in  some Victorian houses. Using FuranFlex® allows you to line these more complex chimneys without getting stuck or needing to make holes in the chimney wall to guide the liner down. Unlike steel liners, it gives better corrosion resistance, is totally gas and water tight, and generally comes with a 25-year guarantee (and is said to have a lifespan of 100+ years).
Before installation the FuranFlex® liner is bendable, like a fireman's hose. This makes it easy to install as it can be pulled up a chimney or down from the top of the flue. The liner is filled with air in order to push it into the exact shape of the chimney flue, including accommodating any bends. It's then connected to a steam generator and steamed to fix it into shape. – a process which takes between one and three hours.
Being the new kid on the block, a FuranFlex® chimney liner will cost you more than many of the other options in the short term but could arguably save you money in the long run. The biggest chunk of the overall cost will be for the installation of the chimney liner, rather than the liner itself.
Pros
Versatile nature makes it ideal for complex chimney structures
Relatively quick and easy to install
Long lifespan (100+ years)
Corrosion resistant and extremely durable
Cons 
One of the more expensive options
Not all chimney professionals work with FuranFlex®
Chimney fans
A chimney fan is a  mechanical draught system designed to help improve the efficiency of your chimney. They're available for use with a wide range of appliances, including wood burning and multi-fuel stoves and open fires. Once installed, a chimney fan can provide optimal draught regardless of weather conditions and can improve combustion so that you use less fuel.
There are a variety of chimney fans available, some are installed on the top of the chimney, over the flue. When turned on, the fan  lowers the air pressure in the flue and creates a partial vacuum and literally sucks the flue  gases out. Other types of chimney fan sit within the flue itself, usually to one side, and assist air flow by blowing the flue gases upwards.
Chimney fans are generally easy to install and operate using a standard power supply. Some modern versions even come with wireless controls so you can operate them using an app on your mobile.
Before you invest in a chimney fan (or any other chimney product), we recommend having your chimney inspected by a professional. If your flue is blocked and needs clearing, a chimney fan won't solve that issue. In fact, it could cause more problems with leaking dangerous flue gases into your home or risk of a chimney fire.
See the tradespeople we've checked and recommend for your job
The chimney liner installation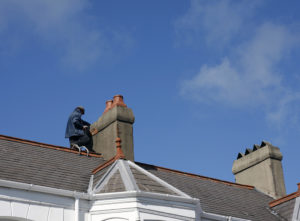 When it comes to the actual installation of your chimney liner you have two options, do it yourself or hire a professional. Due to UK building regulations we would strongly recommend you hire a professional tradesperson to carry out the work, unless you're experienced in carrying out building works.
Many homeowners try to save money by doing DIY home improvements, which is often a sensible decision. However, the installation cost of a chimney liner done by an experienced tradesperson comes with peace of mind that the work will meet regulations and keep you and your home safe.
Hire a competent person
To ensure all the chimney work is carried out in accordance with building regulations and to British and European standards, make sure you hire a professional from a competent person scheme. This is a professional tradesperson who has undergone specific training on how to legally install a domestic biomass, wood or solid fuel burning appliance. The competent person schemes you will need to look out for are:
APHC
BESCA
Certsure
HETAS
NAPIT
OFTEC
Stroma
A tradesperson who's experienced in installing chimney flue liners will be able to give you accurate costs and a breakdown of what work is involved.
Preparing your chimney
Before any of the installation work can be carried out, all chimneys need to be swept prior to fitting a liner. This is for a number of reasons:
It keeps mess to a minimum on the day of installing the chimney liner
To check the flue is clear of any blockages or fire risks, such as bird nests or other debris
Most chimney liner manufacturer guarantees are dependent upon you having your chimney swept prior to installing the liner
The chimney should be swept by a suitably qualified chimney sweep who will be able to provide you with a certificate after sweeping and checking, which you should keep hold of for future reference.
Useful chimney liner installation checklist
Identify what type of chimney you have and if possible inspect to see if it already has a liner to be replaced, or will need to be lined for the first time.
Research the types and costs of flue liners that are suitable for your chimney and heating appliance type to decide which is the best liner for you.
Speak to a professional tradesmen to get expert advice and discuss costs of the chimney liner installation.
When hiring a professional tradesperson, ensure they are experienced in chimney installations –ideally they should be part of a recognised accreditation scheme, such as HETAS.
Speak to a number of different tradespeople to get a good idea of the installation costs of chimney liners and always find out what is included in the price.
Make sure that the tradesperson you hire is familiar with all UK building regulations and relevant British standards that apply to the work they carry out.
Before undergoing any chimney liner installation work, ensure your chimney flue is professionally cleaned.
Tips for post-installation
It's good practice to sweep all chimney flues before and at the end of the heating season to prevent tar and soot deposits having a corrosive effect on the chimney during the dormant period
Have a professional inspection once a year to ensure your chimney and liner are all intact and working properly, including any exposed parts of a chimney for signs of damage.
Taking good care of your chimney liner will prolong its lifespan and avoid you the costs of relining your chimney due to unnecessary wear and tear.
In any room with a heating appliance, ensure you have a functioning carbon monoxide alarm and that you test it regularly.
Remember a carbon monoxide alarm isn't a substitute for correct installation and regular servicing.
See the tradespeople we've checked and recommend for your job
FAQs
Does my chimney need a liner?
In new build properties, all chimneys intended for use with an open fire, wood burning stove or gas fire will need to be lined in order to comply with current UK building regulations. If you're buying a new property with a chimney it should already be lined.
If you're installing a wood burning stove, gas fire or open fire in a new build property yourself then a chimney liner is obligatory to comply with building regulations.
In older properties, however, your chimney won't necessarily have to be lined to meet building regulations. Though it is always recommended to have a chimney liner. An inspection by an experienced chimney professional will tell you a) if your chimney is already lined adequately, or b) if you need to have it lined (or relined) for safety purposes. They should also be able to tell the different types and costs of flue liners that would be suitable for your chimney.
Is it a legal requirement to line a chimney?
Current UK building regulations dictate that chimneys in all newly built properties must be fully lined and meet British standards. In older properties the regulations state that the chimney must be fit for purpose, which may or may not involve having a chimney liner installed.
To find out if your chimney needs a liner to meet legal requirements, a professional chimney liner installer can carry out an inspection and deem whether your chimney is safe for the intended purpose without fitting a liner. However, in practice, we would recommend installing a liner to all chimneys for efficiency and safety reasons. Contact a local professional to discuss options and costs for chimney flue liners.
What type of chimney liner do I need?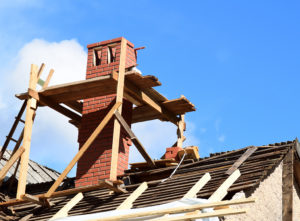 There are several different types of chimney liners that are suitable for different uses and available at different costs.  The entry level for chimney liners is stainless steel, which is the most cost-effective, but has a limited lifespan.
The type of liner you need will depend on the type of chimney and heating appliance(s) you have. Stainless steel flexible flue liners are among the most popular, due to their more affordable cost and ease of installation. We recommend speaking to a professional chimney installer for advice.
How long will a chimney liner last?
The lifespan of a chimney liner depends on the quality and material of the liner itself, which will also affect the cost. The average lifespan of a newly installed chimney liner can vary from 10 to 50+ years, so it's worth taking this into consideration when choosing which  liner is best for your chimney.
A lower quality stainless steel chimney liners and pumice chimney liners generally have a 10-year guarantee. A more expensive, higher quality stainless steel liner or a Furanflex® liner will be more like 20 years.
Are chimney liners safe?
Chimney liners are safe as long they are installed and used correctly.  If you're planning to  use an open fire or heating appliance in your home it's important that you follow the relevant safety instructions provided by the manufacturer.
Chimney liners should also be swept regularly to ensure the flue is clear of blockages or any build-up of creosote or soot.
Does a chimney with a liner need sweeping?
Yes. A chimney with a liner should be swept regularly, ideally at the start and end of heating season. This is to ensure it's kept clean of debris such as bird nests and cobwebs, as well as any build-up of creosote.
If you're burning wood or coal, we recommend having your chimney swept once a quarter, when in use. For smokeless fuel, gas and oil burning appliances your chimney should be swept at least once a year.
Why do chimneys need to be cleaned?
Chimneys should be cleaned regularly to ensure optimum efficiency of the chimney and flue itself, and most importantly to avoid chimney fires occurring. A chimney fire can spread extremely quickly and usually starts due to a build-up of combustible substances, such as soot or creosote.
Chimney fires can spread extremely quickly and set fire to any combustible materials nearby, then spreading to the rest of your home. Regularly cleaning or sweeping your chimney will minimise the chances of a chimney fire starting.
See the tradespeople we've checked and recommend for your job