How to hire a chimney specialist
Think your chimney needs a service and sweep? Finding a reliable pro can be tricky, so we've compiled this nifty hiring guide to help you find the right tradesperson for the job.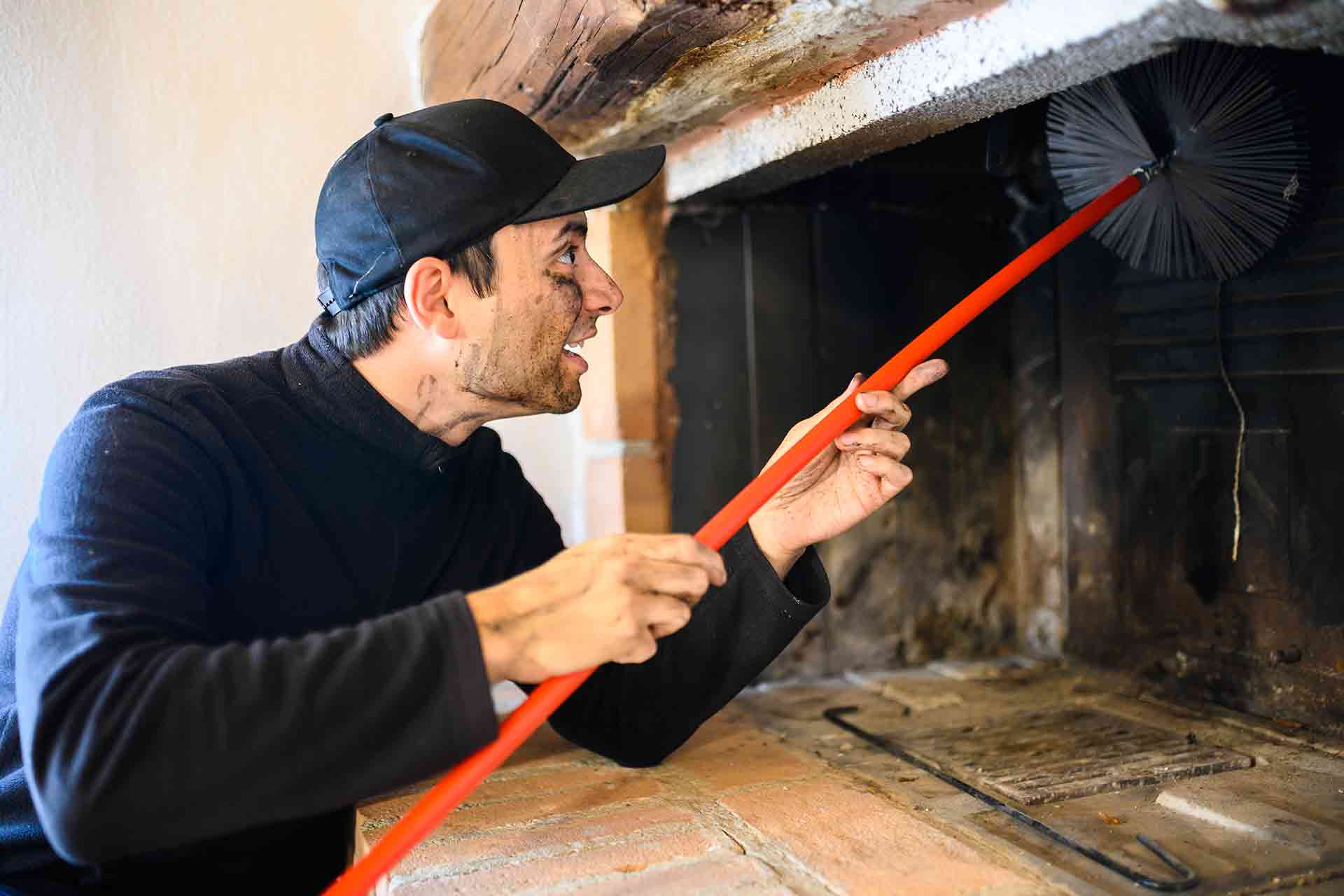 If you live in an older property then there's a good chance that you're also the proud owner of an open fireplace and chimney. There's nothing better than huddling around an open fire on a cold day, but there's also nothing worse than lighting the fire and not really knowing whether your chimney is clear and safe to use.
Your fireplace and chimney need to be looked after. There's all sorts of risk should you not keep your chimney clean and clear. Hiring a chimney specialist is a sure-fire way to ensure that you, your family, and your home are safe whenever you get the fire lit in the chillier months.
So here's how to find the right chimney specialist for you.
How to find a good chimney specialist
Once you've identified the issue, it's time to hire a chimney specialist who can rectify the problem.
Here's a checklist of things to check and ask them about: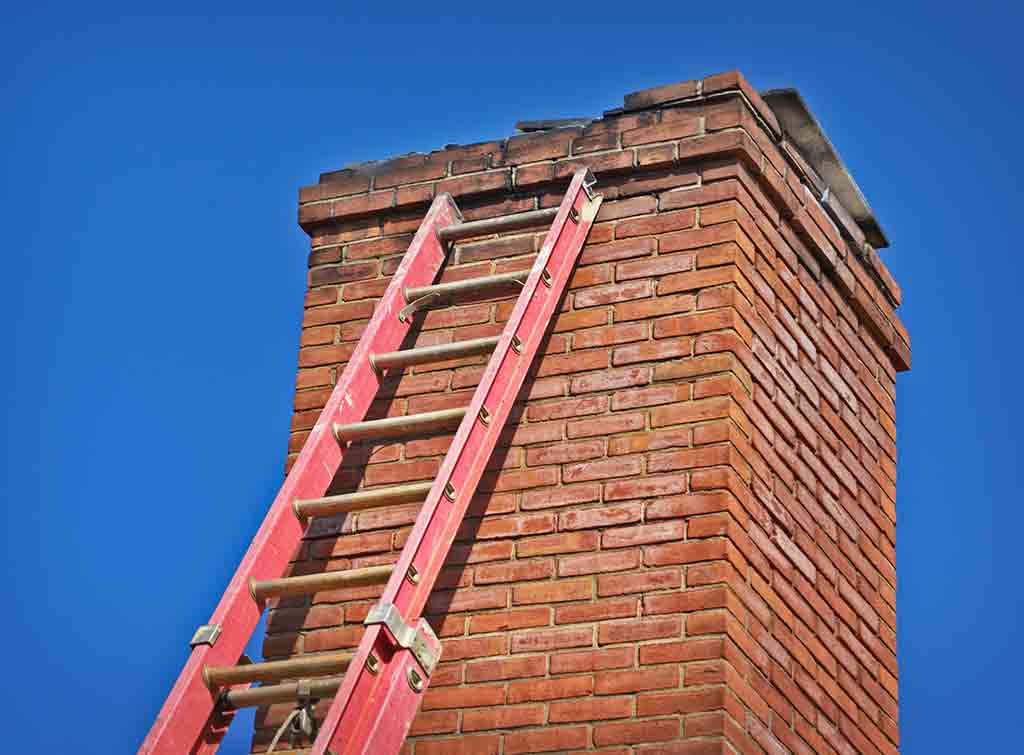 1. Their experience
There is a range of different jobs that fall under chimney and fireplace maintenance. It's important to find a chimney specialist who has the relevant experience to provide you with a solution.
If you're looking to clean and sweep your chimney, then work with a chimney cleaning specialist or chimney sweeper will do the trick. If however, you're looking for new brickwork or repairs to your chimney, then you may wish to consult both chimney specialists, property maintenance and bricklayers. 
2. Check if they're part of competent person schemes such as HETAS and the Gas Safe Register
You will need to hire a competent person. This means they're trained and allowed to self-certify that their work complies with the relevant building regulations without having to involve building control.
Anyone working with gas is legally required to be on the Gas Safe Register.
Find out more about our trade association partners.
3. Find out what sort of survey they offer
A trustworthy chimney specialist should offer a free, no-obligation site survey. They will then inspect the chimney for any blockages or structural problems, and chat with you about what's required – whether it's a yearly clean due or if there are underlying issues to sort.
4. Make sure they carry insurance and warranty
Don't be afraid to ask for details of the chimney specialist's insurance, as you'll want to ensure any accidents that occur in your home are covered. If the tradesperson doesn't have insurance and they get injured or cause damage to your home, you will assume the liability. The safer the better.
5. Get detailed quotes from at least three chimney specialists
Approach three chimney specialists for a quote and ensure they provide a detailed quote after the site survey. They should provide a clear outline for the work due, and a clear breakdown of the costs to do the job so you can compare them like-for-like.
The costs should include things like labour, materials, the removal of waste, and the cost of hiring scaffolding if it's needed.
Getting three quotes is easier than you think – our request a quote feature means we do the hard work for you. You post your job, we'll share it with three chimney specialists near you and they'll be in touch with you!
6. Take a look at their reviews and references
On Checkatrade you can read what your neighbours who have used certain chimney specialists have to say about their services. This gives you the power to determine whether the chimney expert in question sounds like a reliable company.
See the tradespeople we've checked and recommend for your job
Are there accredited trade bodies for chimney sweeps in the UK?
Yes, The National Association of Chimney Sweeps. To become a member, a chimney specialist will be fully qualified and experienced, have full public liability insurance, and issue certificates on completion of their work.
You can also check if they're a member of the Guild of Master Chimney Sweeps, the professional association of chimney sweeps in the UK. If they are, then they will have received comprehensive training and ongoing support.
What are the common signs that a chimney must be swept?
Smoke filling the room when the fire is on
The fireplace is beginning to smell even without a lit fire
You can see signs of tar around the flue
Soot is falling into the fireplace
Your fire isn't burning as well as usual
You can hear bird noise and scratching, which could indicate a nest
I should get my chimney swept how often?
If you're wondering how often a chimney should be swept, according to HETAS, a chimney should be swept at least twice a year when burning wood or coal, or at least once a year when burning smokeless fuels. They also recommend chimneys get swept after a period of prolonged disuse, such as over the summer months.
Of course, this all depends on how often the fire is used. A chimney specialist will be able to advise on the optimal sweep schedule for your chimney.
See the tradespeople we've checked and recommend for your job
How often should a wood-burning stove chimney be swept?
Even if you're burning good quality fuels in a wood-burning stove that's highly efficient, you still need to sweep your chimney annually.
Top tip: Get your service done at the end of summer so you are prepared for the winter months.
Chimney sweep costs
Chimney sweep costs are typically charged at a fixed rate for the job. On average, the cost of a chimney sweep in the UK sits between £50 and £80, although prices will be slightly higher in London.
Most homeowners will pay an average of £65 to have their chimneys cleaned, and it's likely to take around one to two hours depending on when it was last cleaned.
Read our cost guide on chimney sweep costs for more information.
What about a gas fire?
Despite a gas fire not giving off smoke, the chimney will still need sweeping, but less often. It's an important safety measure to keep the gas fire flue free of blockages as it removes carbon monoxide from your home. If blocked, this could build up to a dangerous level.
An annual clean is recommended.
See the tradespeople we've checked and recommend for your job
Questions to ask a chimney expert
Once you've found a chimney expert that you're interested in hiring, here's a reminder of the questions you could ask them:
Questions about the chimney expert
What experience and qualifications do you have?
Are you a member of any official trade bodies?
Can you provide references and examples from previous customers?
Questions about their chimney repairs and sweeping service
What type of chimney inspection report do you carry out and do you charge for it?
How can I prepare my chimney and space around it?
What equipment do you use?
Are you fully insured?
Who is responsible for clearing up afterwards?
Do you charge for disposing of waste materials or debris?
How long will you take to complete the work?