Last updated on August 15th, 2022
Replace window with french doors cost guide
Adding French doors to your property can be a great way to both let in more natural light and give you direct access to your garden – the perfect way to create indoor-outdoor living. In this guide, we look at how much it costs to replace a window with French doors.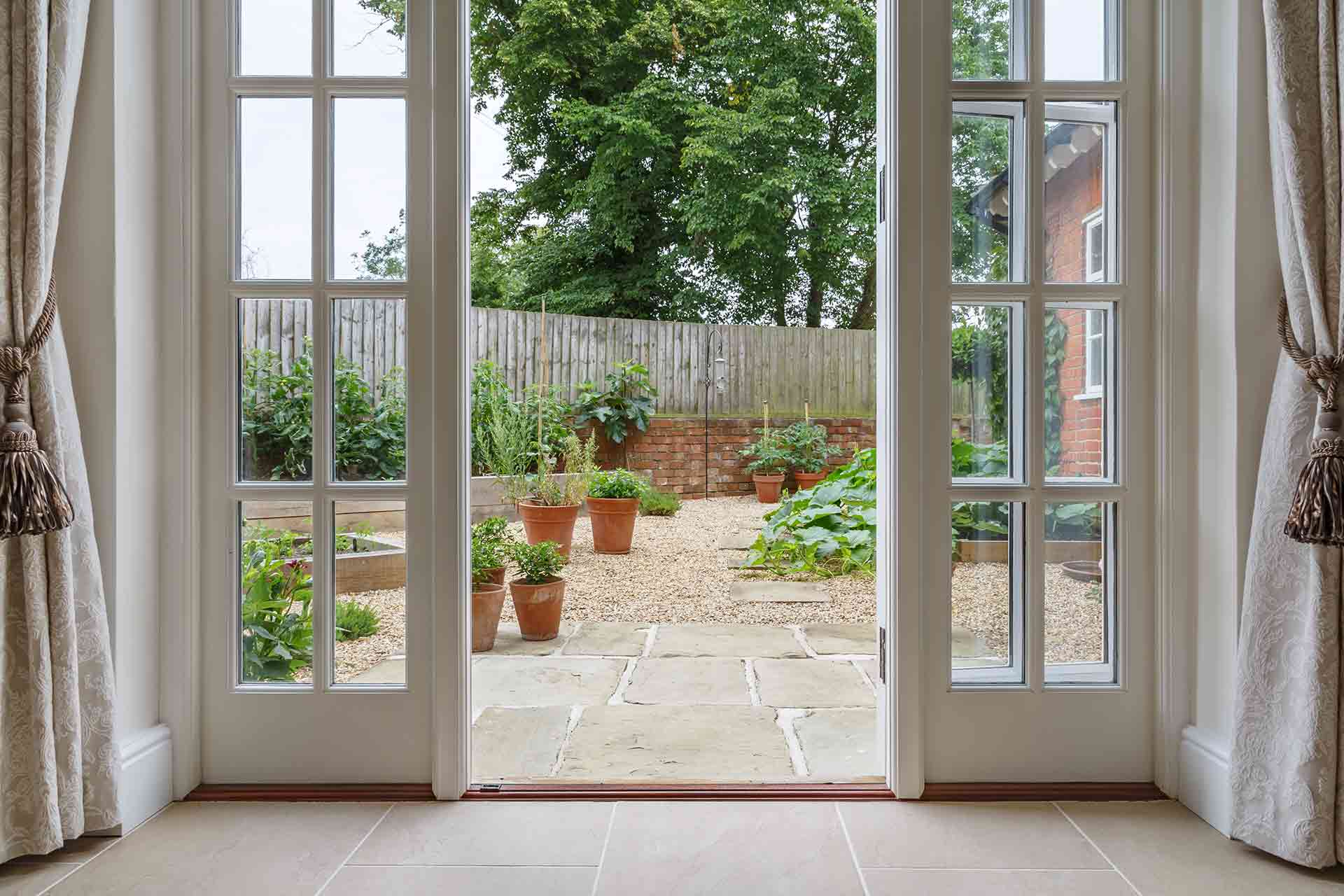 If you think a window is a great feature, then French doors will up the ante and can give your home a real wow factor. They provide access whilst maintaining optimum security for your home.
If you're more interested in bifold doors than French doors, check out our guide to the cost of installing bifold doors.
| Item | Average cost |
| --- | --- |
| Convert an existing window to a French door (materials and labour) | £1,700 |
| French doors (materials only) | £1,000 |
| French door installer (per day) | £175 |
| Steps or decking | £1,000-£5,000 |
| Skip hire for rubble | £300 |
| Labourer (per day) | £100 |
| Painter & decorator (per hour) | £18-£22 |
How much does it cost to replace a window with french doors?
On average, the cost to replace a window with French doors is around £1,700. The majority of that price tag is made up of the cost of the French doors themselves. The material costs can vary massively depending on the size, style and quality of French doors you choose.
To give you an idea, the average material costs of the French doors can range from £600 to £1,200 just for the doors. On top of that, you then add the labour costs and the cost of any finishing, fixtures and fittings.
To find out more, check out our guide to the average cost of French doors.
Factors affecting the cost of French doors
When planning your budget to replace your window with French doors, it's worth considering a number of factors that will affect the total price you pay:
Size and style of French windows
Quality of materials used
Complexity of the installation
Any structural or prep work needed
Where you live
See the tradespeople we've checked and recommend for your job

Labour costs to replace a window with French doors
In addition to the costs of the French doors, you'll need to factor in the price of the labour to turn the window space into the large area for the French doors to be installed. For most projects of this kind you would need a French door installation specialist, who charge around £175 per day.
It's also likely that you'll need a labourer to assist with the work, and the average daily rate for a labourer is around £100 per day.
Also, it's important to remember you'll probably need someone to decorate to make things look good once the structural work has been completed. The average cost of a painter and decorator is about £18 to £22 per hour. You can find out more in our painter and decorator prices guide.
For accurate costs and to find out exactly how long the job will take to replace your window with French doors we recommend speaking to your local French door specialists. They will be able to provide you with a detailed quote with estimated prices for the project.
Additional costs to replace a window with French doors
There are a few other costs it's worth keeping in mind for when planning your project to replace a window with French doors. Hiring a skip to dispose of the rubble will cost £250 to £350, on average.
If you need to add an access feature to the exterior of your property to allow the French doors to be used properly, steps or decking can cost anywhere in the region of £1,000 to £5,000.
Benefits of French doors
For those of you wondering whether installing French doors is the right choice for your home, here are some of the reasons why they're so popular with homeowners up and down the country.

More natural light
A window allows light to enter the room, but French doors will double the amount of natural light that can flood in. You'll immediately notice the level of light change in the room where you have new French doors, even when they're closed.
Excellent security
The security options on modern French doors makes them an excellent choice to keep your home safe. You can incorporate a variety of lock systems, including espagnolette locks and full hinge systems, so you don't need to compromise on security.
Many French doors will pass the PAS024 testing regulations, as they can feature multi-lock systems but it's always worth confirming this with your French door supplier.
Additional access
Replacing a window with French doors is not only adding light and maintaining great security, but it's adding another door to your house.
Having an additional access point to your home can be extremely useful and it also allows you to make your garden an even more integrated feature of your home – perfect for those summer family barbecues.
Add value to your home
Installing good quality French doors in your home can increase the value of your home. It's a feature that can help sell a property by adding both style and function to the home. When choosing French doors, make sure you choose a style that fits with the style of the rest of the property.
Built to last
Modern French door designs are built to stand the test of time and are incredibly durable. With high protection grade glass and reinforced frames available, you can ensure that you'll be enjoying your French doors for years to come.
Wide range of styles
Over the years, the style of French doors has a relatively uniform design to a wide range of materials, colours and designs. You can now find French doors to suit the style of your home so that it makes the perfect addition to your property.
The four most common materials for French doors are uPVC, aluminium, wood and composite. And within those types you can choose from a range of designs and finishes.
Replace window with French doors checklist
Decide which windows you want to convert to French doors and speak to a local French door specialist for their advice.
Ask for detailed quotes for the project, including options for the style and design of the French doors available.
Shop around for fair and competitive costs to replace a window with French doors.
Always hire a tradespeople with experience and relevant qualifications or accreditations, such as the Competent Persons Scheme, FENSA or CERTASS.
See the tradespeople we've checked and recommend for your job