Last updated on December 8th, 2022
Cost to install outdoor socket
Use electrical devices outside safely with our guide on the cost to install outdoor sockets. With helpful tips and info on RCDs.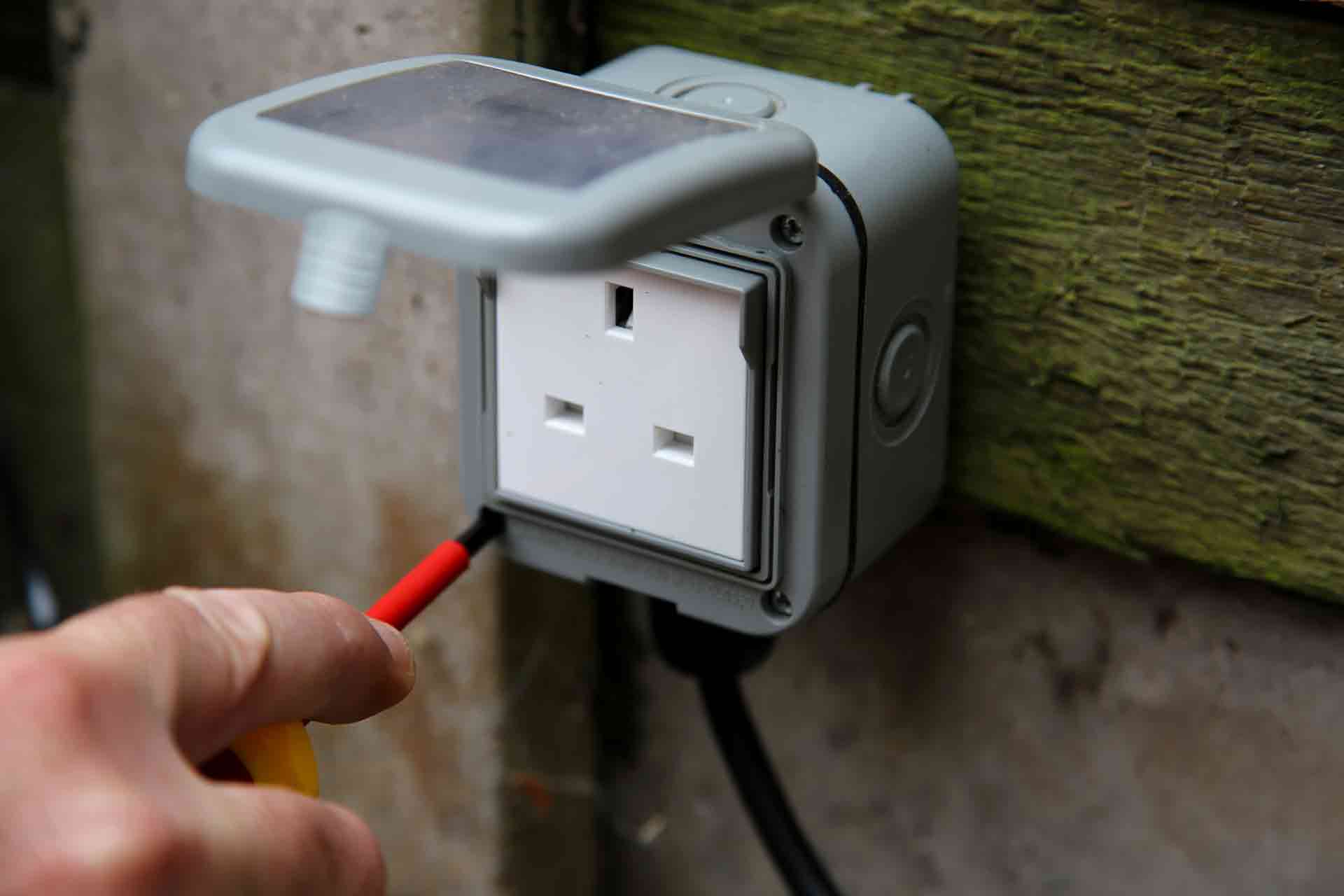 Why install an outdoor socket?
If you want to use electrical equipment safely outside your home then the best way is via an outdoor socket, or exterior power point. In this guide we look at the cost to install outdoor socket and answer the question "how much to have an outdoor socket fitted?".
By adding an outdoor socket you'll have the convenience of not running long power cables from your home. That means no more annoying trip hazards just to mow the back garden, or to do a bit of outdoor DIY with an electric drill.
Alongside this convenience, you'll have a dedicated power source for any long-standing outdoor fixtures, such as hot tubs, outdoor pools, or outdoor lighting. Or, even for using multiple items at a garden party in the Spring or Summer. Plus, you can be sure you have a waterproof and durable power source to reduce the risk of any faults.
You can even add an outdoor power socket to the front of your property. They're ideal for any car washing or pressure washing equipment. However, if you have an electric vehicle it's recommended you look into electric car charger installation costs.
Cost to install outdoor socket
Outdoor plug socket costs
Cost + VAT
(Range low - high)
Average material cost
£10 - £60
Cost to install a single outdoor socket (labour)
£130 - £200+
Cost to install a double outdoor socket (labour)
£200+
If you're wondering "how much does an outdoor socket cost?" then you'll need to work out two costs; the materials and the labour. For materials, the costs could be around £10 – £60 and £100 – £200+ for the labour.
The total cost to install outdoor sockets can cost anywhere between £130 – £260. It depends on the complexity of the job.
You can also learn more about the labour prices for other electrical jobs in our electrician hourly rate guide.
For an accurate quote for your job, speak to an electrician. You can find an approved and guaranteed electrician below.
See the tradespeople we've checked and recommend for your job
What is an RCD?
You may hear the acronym 'RCD' mentioned in relation to outdoor plug sockets. RCD means "residual current device" and is a mandatory feature in many power sockets now. Sockets with this feature will cut off electricity if there is a fault, such as if you cut through your lawnmower cable. This is essential to protect you from fatal shocks.
The cost of an outdoor plug socket with RCD is more expensive but can be cheaper overall when you factor in installation. Without an RCD in the unit, your electrician will need to connect to an RCD somewhere else in your home. Connecting this can require more labour time and cabling, pushing up the cost to fit outdoor sockets.
RCD sockets also include covers that trap the cable in place. As a result, there's no risk of pulling the cable out if you yank it accidentally or it gets stuck during use. Not only is this feature convenient, but it also makes the use of your outdoor equipment safer.
Important considerations when installing an outdoor socket
When choosing an outdoor socket and considering what devices you will use with it, you must consider the following:
The plug socket and any cables must be waterproof and rated for use outdoors.
Any electrical devices left plugged in outside must also be waterproof and rated for outdoor use.
Cables must be frost proof and waterproof. Ideally, they should be exposed to the elements as little as possible.
Periodically check cables and devices left outside to ensure they have not been damaged by pests.
Cover any cables to ensure they are not tripping hazards.
You need to comply with building regulations and electrical regulations.
As discussed above, it is wise to choose a socket with an RCD and that prevents accidental tugging.
Factors affecting the cost of outdoor plug sockets
Type of socket: Depending on whether you want an RCD socket, single plug or double plug, the cost to install an outdoor socket will vary. For example, the average installation cost for a single plug is around £130 – £200, whilst a double plug is £200+.
Electrical inspection: For older homes your electrician may recommend you have an electrical safety check. This will ensure your consumer unit can cope with the extra plug and power drawn.
Position of socket: The further your external power point is placed from other sockets then the more cabling will be needed to connect it. This will increase the labour time.
Usage: If you want your electrical devices to turn off and on at certain pre-set times, then choosing an outdoor plug socket with a timer will let you do so. This is ideal for lighting, heating and Christmas lights.
Experience level of your electrician: The price you pay your electrician will vary based on their experience level and where you live in the UK. We'd always recommend you get the best quality electrician you can afford to reduce any issues down the line.
Number of sockets: If you need two plugs it's far cheaper to install a double socket than it is to install two singles. Likewise, it's cheaper to install two sockets today than a second socket later on. So, be sure to think about your long-term plans if you want to save money.
Accessibility: In addition to the distance from other plugs, the price you pay will also rise if the socket is in a hard to reach area. If you require the socket as a fixed feature away from the wall, such as a box at the end of the garden, this will further increase costs as well.
Can I install an outdoor socket myself?
As with all electrical work, there is a significant risk of damage to yourself or your home if the installation is not done correctly. A professional electrician will draw on their knowledge and experience to help you choose the best socket and amperage levels. They will ensure the work complies with regulations and you'll have the peace of mind that you can use the socket safely.
To find a local, reputable, tradesperson in your area and get a personalised cost to install outdoor sockets use our free search feature.
FAQs
How long will installing an outdoor plug socket take?
Typically, it takes around 2-4 hours to install and test an outdoor plug socket.
What can an outdoor plug socket be used for?
Installing an outdoor plug socket opens up a wealth of opportunities for devices you can use safely outside. This includes:
Lawnmowers.
Car vacuums.
Hot tubs.
Outdoor lighting.
Outdoor heating.
Electric sprinklers.
Pond pumps and pool pumps.
Useful outdoor socket checklist
Outdoor sockets make using exterior devices easy and safe.
The cost to install an outdoor socket is only slightly more than an indoor socket.
RCD sockets are safer and can reduce the cost to install an outdoor socket.
Ensure all plugs, sockets, cables and devices are rated for use outdoors.
Consider your long-term requirements when deciding how many plug sockets to have installed.