Last updated on March 25th, 2023
Damp course cost guide
Damp is a huge concern for properties and something homeowners want to tackle straight away. This damp course cost guide will discuss the overall price of damp proofing your home and what to expect throughout the process.
Hire right, hire once: How to avoid rogue trades
Protect your family and home by hiring the right tradesperson.
Fast Facts
Damp course costs are around £800 for a medium-sized property
Interior walls average £75 per metre of wall treated
A damp proof course can and should last for 20 years
This damp proof course cost guide will discuss what it is, what to look out for, the types of dpc, and the average price of protecting your home from rising damp.
Our aim for this guide is to give you a greater understanding of what to expect when it comes to tackling the unsightly must, mould and marks appearing along your walls.
So how much does a damp course cost? Read on to find out exactly what to expect.
What is a damp proof course?
So what is dpc, and does every home have one?
A damp proof course (DPC) is an essential part of a property that protects your home from moisture rising up from the ground (aka, rising damp).
You can find it by checking the outside of your house and locating a seal that runs horizontally across the brickwork. It usually sits about 6 inches up from ground level.
This seal might not exist on homes built before 1875 – before a DPC became a compulsory building regulation. If that's the case, you will need to invest in a damp course to avoid issues such as:
Reduced wall integrity
Aggressive mould stains
Damage to the floors of your home
Deterioration of plaster, paint and wallpaper
So, how much is a damp proof course, and what types of dpc are available to you?
Damp proof course costs
Damp course costs are dependent on various factors, such as the extent of the damage and the size of the job.
It's worth hiring a professional to come and inspect your walls, check the existing damp course and diagnose the main issue.
Installing a damp proof course is an essential part of damp proofing your property.
For more information on effectively damp proofing your home, check out our guide to preventing damp.
Cost provided item
Cost + VAT
(Lower range)
Cost + VAT
(Higher range)
Average cost
Terraced house
£280
£370
£320
Semi-detached house
£500
£800
£700
Detached house
£1,500
£2,000
£1,750
Labour costs
£150
£300
£225
What is dpc in construction?
In the building industry, there are various types of dpc available:
Damp proof membrane: this is a type of material that's installed to prevent rising damp.
DPC injection: a water repellent barrier is created by injecting silane into the brickwork. This then dries to prevent moisture rising up causing rising damp.
Vertical dpc: this type of dpc is used to stop moisture transferring sideways between neighbouring walls and surfaces.
Chemical dpc injection: the pores of the brickwork are lined with a silicone resin water repellent formula. This is injected into the base of walls that suffer from damp.
Electro Osmotic course: A non-chemical alternative using copper or titanium wiring to create a small electric charge that stops the water from rising. It uses a scientific method to reverse the polarity of the capillarity, keeping the rising water below the level of the new damp course.
On average, damp course costs are around £800 for a medium-sized property.
Damp course cost day rate
Although some tradespeople will include their labour in their damp proof course cost, expect to pay an average day rate of £225 for installation. That includes the tanking slurry, re-plastering and re-rendering required.
A job of this magnitude can take between one and four days.
See the tradespeople we've checked and recommend for your job
Damp course cost calculator
Damp proofing costs depend on a few factors, depending on the extent of the damage. Here are some of the things that could affect how much you spend on damp proofing your house:
The extent of the damage: Since there are different causes for and types of damp, you may not always catch the problem in time. The longer the damp persists, the more damage it can cause to your walls. In extreme cases, you may even have to remove and replace the plaster, which will add to your damp proofing costs.
Independent damp survey: In case you have damp in your home but you can't find the source, we'd advise getting an independent surveyor to investigate. It will add around £150-£200 to your total damp proofing cost. However, these experts will be able to pinpoint the cause as well as recommend the best course of action. As a result, you could save money on unnecessary procedures or time wasted in finding the source of the damp.
Type of damp proofing: As previously mentioned, three types of damp proofing treatments are available. Your damp proofing cost will depend on which treatment you need.
Internal or external walls: When damp proofing interior walls, you might spend around £75 for every metre of wall treated. If you're damp proofing exterior walls, you can expect to spend a bit more as there are more processes to consider. For example, if the rising damp was caused because the exterior ground level rose above the DPC in the wall, you will also need to lower the ground level. For a small house, you will be spending an average of £450 digging the soil and laying gravel on it. On the other hand, if you prefer to lay a concrete path around the house, the damp proofing cost could go over £2000.
Damp course quote
If you want the most competitive quote for damp proofing your house, we suggest that you get prices from three or more companies in your area. To get the most accurate quote, provide as much relevant information as possible. This includes the area of the walls you want to damp proof as well as the extent of the damage. An independent damp surveyor would be able to help you with that. They will also be able to recommend procedures to fix your issues. Use our request a quote feature to get quotes from three tradespeople near you.
See the tradespeople we've checked and recommend for your job

Damp course FAQs
How do I find a damp course?
Find your DPC by looking at your external walls. The damp course should sit 6 inches up from ground level. It will look like a think black line that runs horizontally across your walls.
Who should install a damp course?
Although people with the right skills can do it themselves, we always recommend hiring a professional builder to damp proof your home.
How long does a damp course last?
When done properly, a damp proof course can and should last for 20 years or longer.
Is there a difference when it comes to damp proofing a basement?
Yes, there is. Generally, builders use a damp proof course to protect a property above ground. This stops the damp from rising up and causing further damage to the property. Because a basement sits below ground level, basement flats normally require 'tanking' which consists of applying a membrane, slurry or paint to the walls.
Tanking is more expensive than a standard damp proof course membrane because of the labour and materials involved.
See the tradespeople we've checked and recommend for your job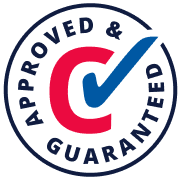 The Checkatrade guarantee
When you contact a trade through Checkatrade, our guarantee could cover you for up to 12 months. You can claim up to £1,000. Exclusions and T&Cs apply.