Last updated on March 31st, 2022
Dry rot repair cost guide
Combat the devastating effects of dry rot with our dry rot repair cost guide. Learn more about dry rot, factors to consider and how to prevent future issues.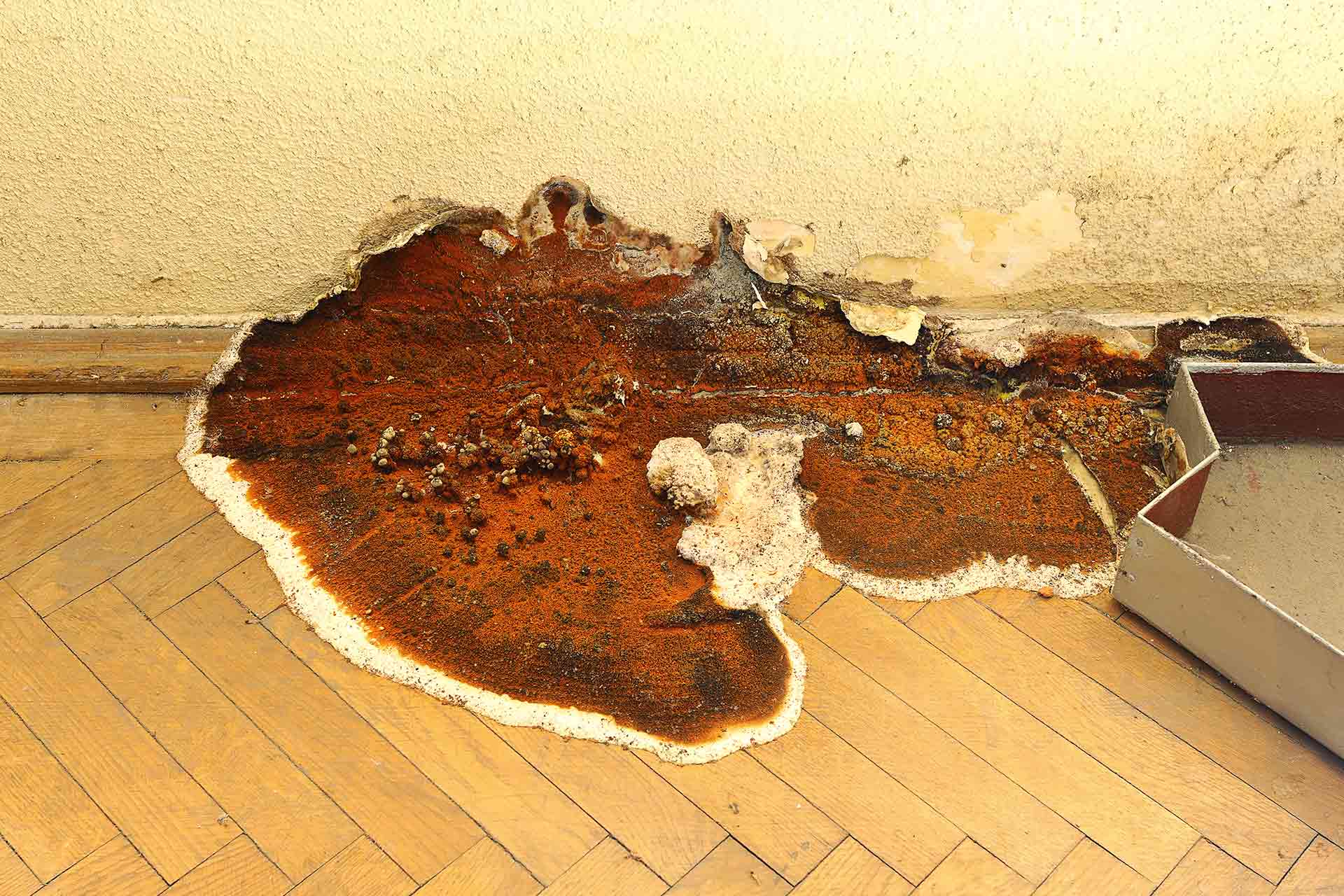 What is dry rot?
Dry rot (also known as wood rot) is a type of fungus that attacks the timber and masonry of your home with devastating results. Paying for dry rot repair costs today can save you a lot of money down the line.
The technical name for dry rot is serpula lacrymans, the worst type of fungal decay. Dry rot spores are commonly found in the air, lying in wait to infect your house. Initially, dry rot will target the wood in your home, but it will also spread to plaster and masonry if not treated.
Caused by damp, rising damp and condensation, once the moisture level in timber reaches 20%, dry rot begins to take hold. It can look fluffy like cotton wool and will eventually grow into mushrooms. Once this happens, the dry rot spores can spread through the air to other parts of your property.
Why pay to repair dry rot?
Dry rot can compromise the structural integrity of your property so should be eliminated as soon as it's spotted. The best way to repair dry rot is to remove the affected wood or masonry and treat the remaining materials to prevent it from returning. While this may seem extreme, protecting your home from this fungus is a priority.
Dry rot is also visually unappealing, forming ugly patterns and eventually mushrooms, and can even affect your health. Hiring a professional can ensure the problem is dealt with in the most efficient way, giving you confidence that your home will be quickly repaired and protected.
If your house suffers from damp, it's important to not only tackle the source of the moisture but also to pre-emptively treat dry rot, to prevent it from taking hold. No matter what your situation is, the following article aims to guide you through this scary process. We will look further into dry rot, the average dry rot repair cost and factors affecting the price you will pay.
Type of repair
Cost + VAT
(Range low - high)

Average cost
Dry rot repair cost
£76 - £9,130
£4,603
Cost to fix wood rot survey
£200 - £400
£300
Chimney wood rot repair cost
£152 - £1,522
£837
Structural wood rot repair cost
£4,000 - £12,000
£8,000
How much does dry rot repair cost?
It's by no means easy to eradicate dry rot in your home. As such, dry rot repair costs can be quite high. Frustratingly, this is not a problem that will go away on its own, and if you put off repairing dry rot, the problem will spread throughout your property. Therefore, treating dry rot as soon as possible is wise to keep repair costs low.
The average cost to fix dry rot is £4,603.
See the tradespeople we've checked and recommend for your job
Factors affecting the cost to fix dry rot
Dry rot can be time-consuming and difficult to eliminate, meaning high repair costs. The actual price you will pay for repairs will depend on a variety of factors including:
Severity: The more serious and extensive the infestation in your home, the higher the cost to fix wood rot will be.
Size of area: Larger areas affected by dry rot will be harder and more expensive to treat.
Number of areas: It's possible for dry rot to affect several areas of your property. The more areas to be repaired, the greater the amount you will pay.
Material: Repairs of wood, masonry and plaster will differ in the methods used and the dry rot repair cost will reflect this.
Cause: Dry rot can be caused by leaking gutters, cracks in walls, rising damp and poor ventilation. You will need to pay extra to remedy these issues as well as treat the dry rot. Otherwise, the fungus will likely return.
Ease of access: Where the wood rot infection is will affect the price you pay. Difficult to access areas will usually mean longer labour times and a higher cost to fix the dry rot.
Experience of tradesperson: When hiring a professional the amount you pay will usually reflect the experience of that person. Tradespeople who are more experienced at dealing with dry rot may be expensive but will mean a better-quality job will be done.
Repair costs for common problems
Survey to identify the cost to fix wood rot
It's possible to pay for a dry rot survey. This will not only identify any areas of dry rot but also show the severity of the issue and give you an indication of the right way to proceed with repairs. A survey to find the cost to fix wood rot is £300.
Chimney wood rot repair cost
Chimneys can also be affected by dry rot, especially if they are made with timber. The wood rot can take hold due to any cracks or leaks in your chimney. This will eventually destroy the structural integrity of the chimney and should be dealt with sooner rather than later.
The average chimney wood rot repair cost is £837.
Structural wood rot repair cost
Once dry rot has had time to spread and significantly attack your home, you will need to pay for structural repairs, which are not cheap. A professional will need to remove any affected materials and replace them, then treat any remaining materials.
This can be time-consuming but is essential to ensure you are safe within your property. Without repairs, the damage can be catastrophic and extremely costly to remedy, which is why tackling the issue quickly is important. The average structural wood rot repair cost is £8,000.

Can I repair dry rot myself?
Repairing dry rot is vital to keep your family safe and your home secure. While it's possible to tackle small, mild areas of dry rot yourself, extensive infestations should always be dealt with by a professional for the following reasons:
Damp areas affected by dry rot can worsen any respiratory issues you have.
Repairs may involve replacing timber and structural materials which can be dangerous and should always be done by a professional.
You risk dry rot returning if it is not completely eradicated.
It's not wise to work with heavy and large materials without an expert.
Repairs may require you to work at heights which can be dangerous.
Due to the risks and dangers involved, we would strongly recommend hiring a professional. To find a local, reputable, tradesperson in your area and get a personalised dry rot repair quote use our free search feature.
FAQs
How can I prevent wood rot?
It's possible to pre-emptively protect your home against dry rot, potentially saving you thousands in repairs. Below are the best ways to prevent wood rot in your living space:
Promptly deal with any damp areas of your home. This includes tackling condensation and dealing with mould or rising damp. See our damp proofing cost guide for more top tips.
Consider using a dehumidifier to keep the moisture in the air from causing any issues. If you don't wish to purchase one of these clever machines, then view our dehumidifier hire cost guide.
Repair any cracks or holes in your pipes, roof, windows and walls.
Replace any leaky appliances like washing machines or dishwashers.
Useful dry rot repair checklist
Serpula lacrymans, or dry rot, is a fungus that affects timber, plaster and masonry.
Dry rot can spread quickly and cause severe damage to the structural integrity of your home so should be dealt with as soon as possible.
If left untreated, dry rot repair costs can reach up to £12,000!
Even chimneys can be affected by dry rot.
It's safer to hire a professional to tackle dry rot for a high-quality job and peace of mind.