Last updated on March 31st, 2022
How much does end of tenancy cleaning cost in 2022?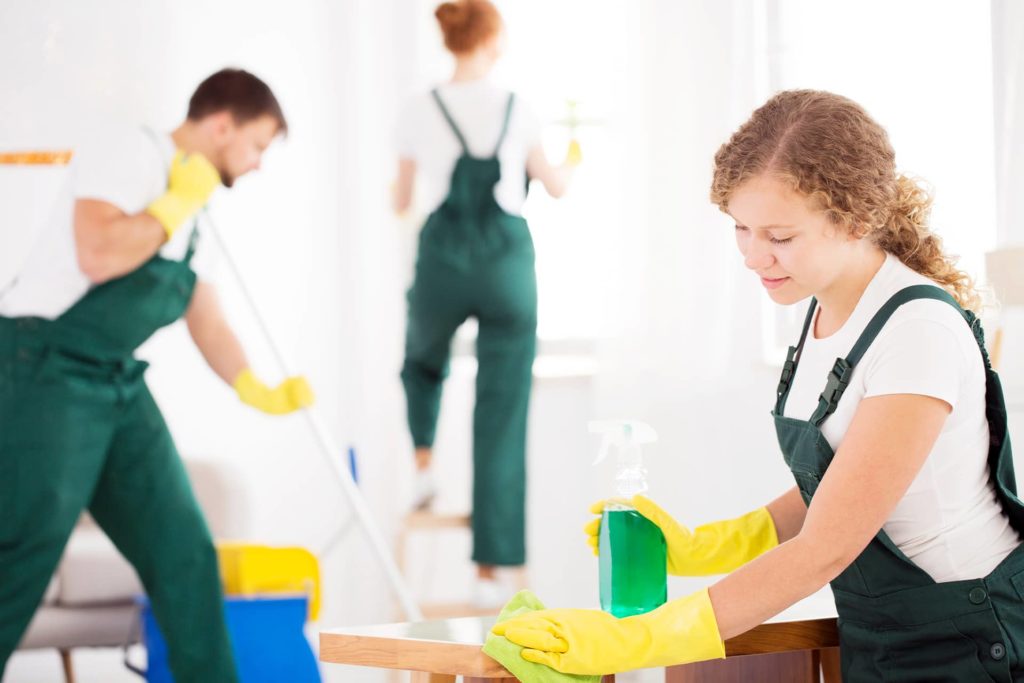 With the end of your tenancy looming, the task of cleaning the property becomes unavoidable. Maintaining cleanliness in your home is one thing – preparing it for the next tenant is another. If you've been searching for end of tenancy cleaning prices to no avail, we've got you covered.
Faced with the daunting task of deep-cleaning the property and the high expectations of a landlord, it's best to call in some help from a professional.
Naturally, this job will come at a price. However, when compared to the cost of losing a large percentage of your deposit, it's a drop in the ocean. Below, we've put together a practical guide to prices for end of tenancy cleaning to help you budget for the task ahead.
End of tenancy professional cleaning cost
Prices for end of tenancy cleaning will ultimately depend on the size of the home and the number of rooms in the property. Typically, the price will range between £190 – £500.
It's also dependent on the number of cleaners required to complete the job. Overall, the time an end of tenancy clean takes can differ. Anything from 1-2 hours for a smaller property, or as long as 5 hours for a larger home is to be expected.
| Property type | Size | Average UK cost |
| --- | --- | --- |
| Studio | One room | £195 |
| Apartment | Up to two rooms | £250 |
| Apartment | Two to three bedrooms | £315 |
| House | Four or five bedrooms | £370 |
| House | Six or more bedrooms | £415 |
How much does end of tenancy cleaning cost?
The average price for domestic end of tenancy cleaning in the UK is £310.
Naturally, this cost will be higher for larger homes of around five to six bedrooms, where the price will more likely sit at between £400 – £500.
Remember, as well as helping you safeguard your deposit, getting a professional deep clean also means you don't have to worry about this very labour-intensive task yourself. It frees up your time and gives you peace of mind that it will be completed to the required standard.
Find a local cleaning company
End of tenancy cleaning cost calculator
In order to calculate the cost of your end of tenancy cleaning, you'll need to factor in the size of the property and the condition that it's in. Larger homes and/or properties that are extremely dirty and require a lot of cleaning effort will cost more to clean.
End of tenancy cleaning quotes
We always recommend obtaining at least three quotes from our trusted tradespeople. Our request a quote feature is perfect for getting quotes – you post details about the job you want doing and we'll send it out to local tradespeople in your area. Try it out!
End of tenancy cleaning hourly rate
The average hourly rate for an end of tenancy cleaning is around £20 – £25 per hour, depending on the individual cleaner and their experience and where you live.
What does an end of tenancy clean include?
An end of tenancy clean means all the floors, tiles, carpets, walls and the inside of windows in your apartment or home will get a deep clean. Areas that have visible dust and dirt build-up need cleaning, while cobwebs must also be cleared out of hard-to-reach places.
Any electrical appliances that are part of the tenancy will also get the 'deep clean' treatment. This is ideal for those of us who have stopped noticing the build-up of lint in the washing machine or grease in the oven.
It can even stretch further if you are willing to pay extra. Cleaning the outside of windows, tidying the garden or scrubbing the driveway may also be necessary. Then there are the little things that are easily forgotten. Think scrubbing door handles, locks and keys and the washing of kitchen bins.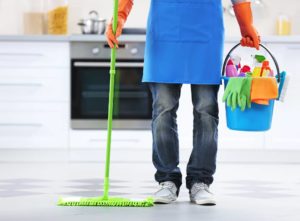 What's the difference between end of tenancy cleaning and normal cleaning?
The cleaning you are probably more versed with is known as 'regular cleaning'. This typically includes running a hoover over carpets, removing visible dirt and quickly wiping down surfaces of dust and debris. These routine tasks require low effort to keep the place looking clean. However, they only tend to scratch the surface.
The process of an extensive, end of tenancy deep clean involves practically every part of every room in the property – from top to bottom.
Think skirting boards, light switches, the space under your TV unit you haven't looked at since moving in. Of course, each professional cleaning company has a different list of what might be included. When sourcing a quote for end of tenancy cleaning prices, make sure the cleaner communicates the work they will undertake.
Taking the kitchen as an example, you should expect the following to be cleaned:
The oven and hob and extractor hood
The microwave oven
The fridge/freezer
The washing machine, dishwasher and tumble dryer.
The sink
The countertop and cabinets
The walls and flooring (including carpets if applicable, at additional cost)
Find a local cleaning company
End of tenancy cleaning FAQs
Is carpet cleaning included?
Typically, carpet or upholstery cleaning will be charged as an additional cost. Check out our carpet cleaning cost guide for more specific help, guidance and prices.
Will I get my deposit back if I use a professional cleaning company?
Companies will often return and re-clean if there are any issues with the actual end of tenancy clean – free of charge. So, purely on the merits of the cleaning, using a legitimate cleaning company lowers the chances of losing your deposit.
However, if there's been any cosmetic or structural damage caused during the tenancy, then there's not much a cleaner can do.
Is cleaning windows normally included in the end of tenancy quotes?
End of tenancy cleaning companies tend to provide inside window cleaning as part of their service. However, if your windows need to be cleaned on the outside, there will be an extra cost. It's also worth remembering that cleaning companies don't have the safety equipment for upper-level windows. If your windows cannot be cleaned from the inside, you will need to hire a local window cleaner. Head over to our window cleaning cost guide for more advice and prices.
Does the freezer have to be defrosted before the cleaners arrive?
Yes. Try to make sure your freezer is fully defrosted in advance, so the cleaners can get started straight away. If you need some help with this have a look at our freezer defrosting guide.
Is oven cleaning included in end of tenancy cleaning quotes?
Yes. This is one of the biggest parts of an end of tenancy deep clean. It is a big job because there will likely be years of dirt and grease build-up since the last clean and it requires a thorough hand.
Can I do end of tenancy cleaning myself?
It's feasible if you have both the time and inclination. However, many estate agents and landlords ask for a receipt as proof that a property has been professionally cleaned. Use the search bar below and we'll help you find an end of tenancy cleaning price to meet your budget.
Find a local cleaning company
Good jobs, guaranteed
Get covered when you book with Checkatrade.