There's a spectrum of paint colours out there, and browsing shed paint is no exception. So, how do you pick the perfect shade for your garden? What colours and finishes do you need to take into consideration before choosing your final finish?
Thankfully, we've got everything you need to make the best decision when it comes to your garden. Check out our carousel content for some shed paint ideas and read on for our top tips to get started.
Shed paint ideas and considerations
Choose colours that complement your landscape
Whether you want a bold statement or a subtle finish, be sure to match your paint to your garden aesthetic. Consider the shade spectrum and choose one that complements your perennials.
Pick premium quality paints
Your paint needs to last, so only choose paints such as 100% acrylic latex paint for a robust finish.
Prepare your shed before painting
Strip away any previous colour and smooth away impurities, then apply a base layer before applying your chosen paint on top.
Finish with sealant
To ensure your paint lasts, finish it with a waterproof sealant. Then stand back and enjoy your shed's new look!
See the tradespeople we've checked and recommend for your job
Like what you see? There's more where this came from. Check out Checkatrade's blog for more tips, ideas, how-tos, and inspiration.
Get inspired with these shed paint ideas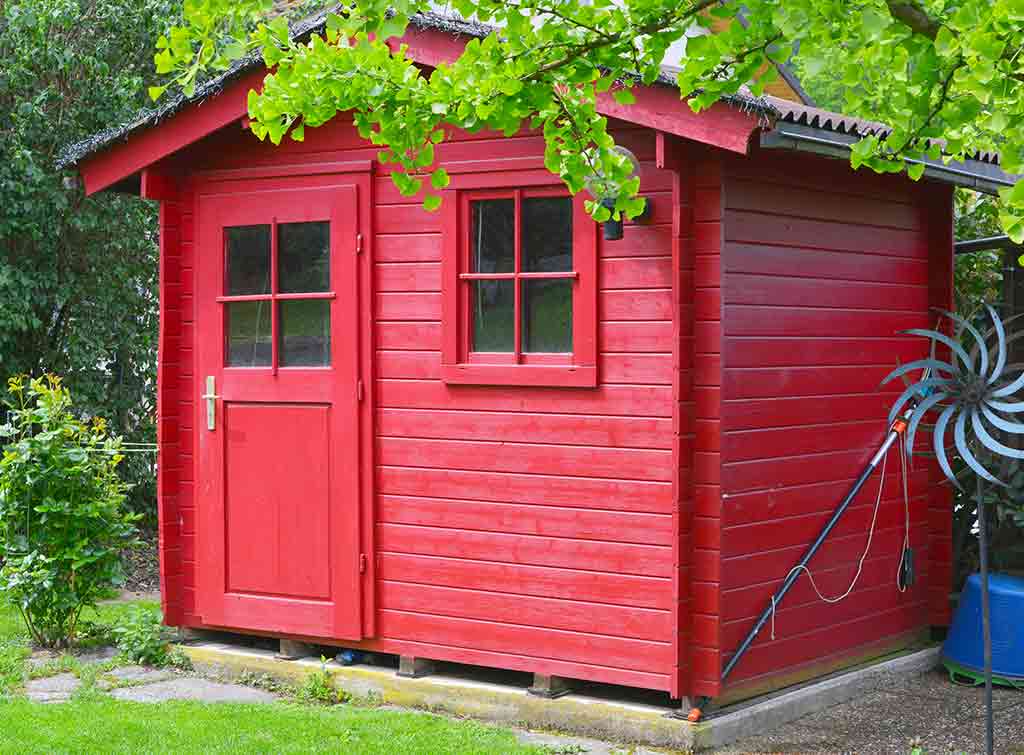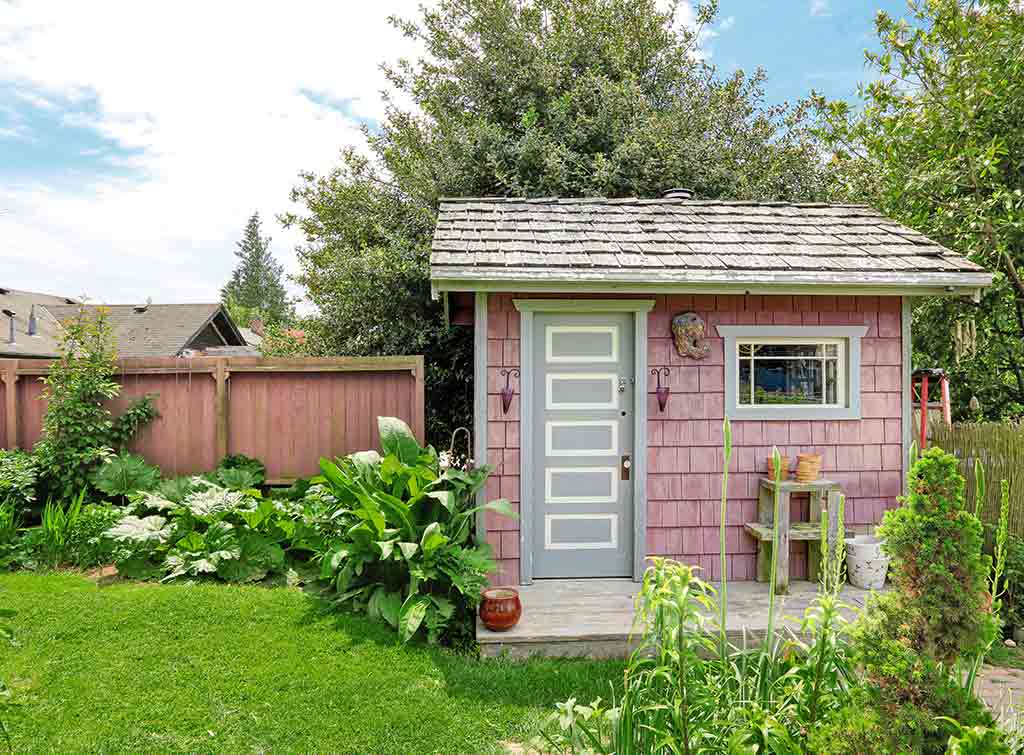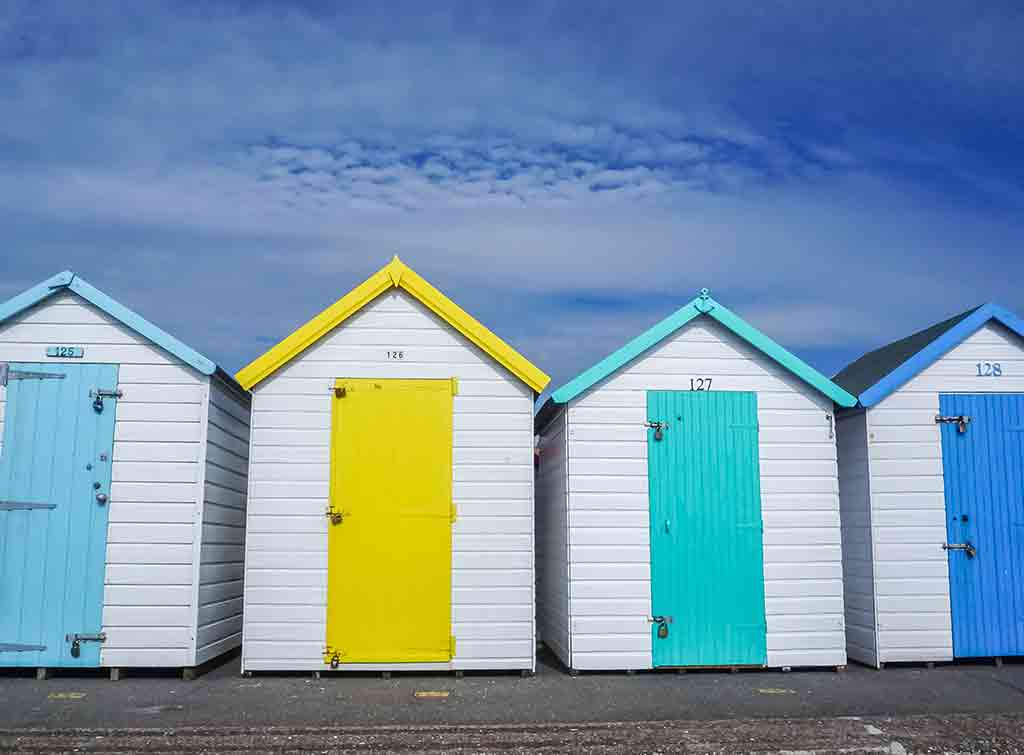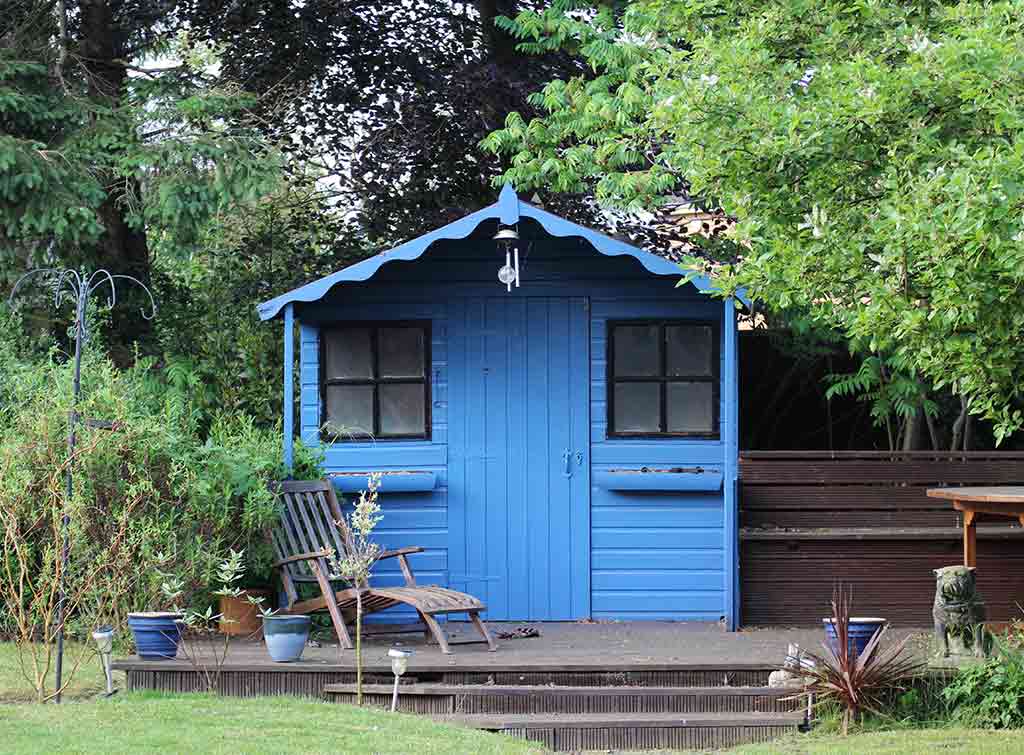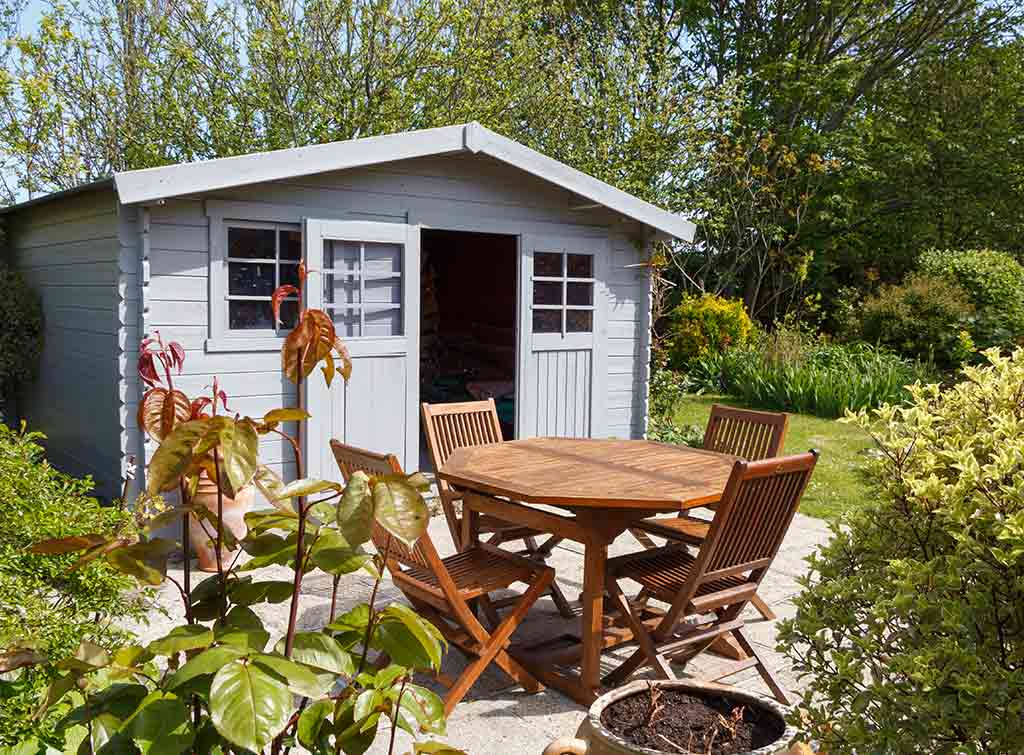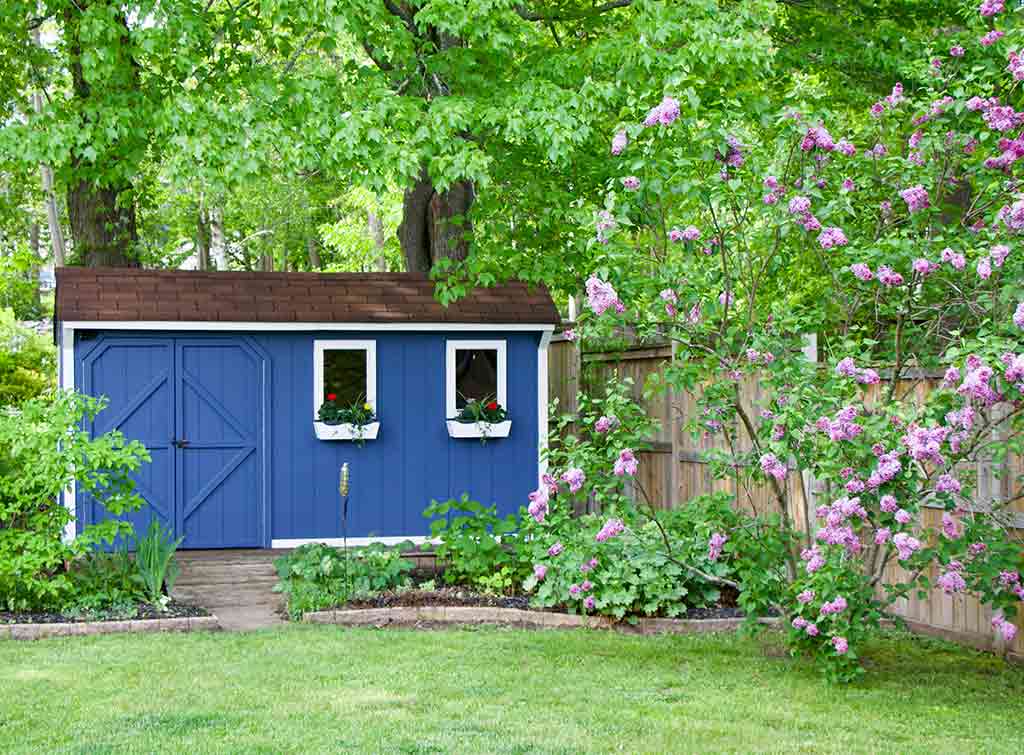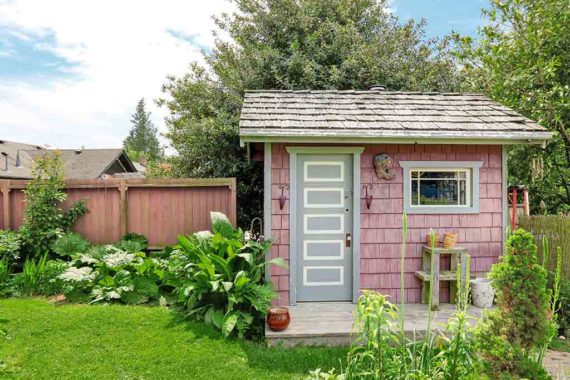 Shed paint ideas
Go bold or go home with this bright red shed design. The shade matches a rose in bloom, which is why it's a great choice if your garden is full of leafy perennials like this one.
These homeowners have opted for an entirely red shed; however, you could also mix it up with a white painted door, roof and window frame.
Get the look by hiring one of our professional shed painters today!
Shed colour ideas
We love this striking shed design, which is why we've included it in our inspirational carousel.
First, there's the blossom pink brick cladding that matches the shed in the background. Both the pattern and colours are floral and whimsical in themselves. Second, the grey door complements the blush perfectly, while the white frames offer some extra interest. And third, the tiled shed roof ties all the elements together for a gorgeous aesthetic.
In short, this could be a shed, playhouse, storage unit, miniature home or menagerie. We'll let you decide which…
Garden shed paint ideas
These homeowners have chosen a forest green for their unassuming shed. What's wonderful about this colour is how it contrasts against the bright lush plants and bushes that surround it.
Note the black felted roof, which matches the hanging plant mount and shed clasps. It also ties in with the vintage lantern, trellis, and black lawn border, and it's these subtle details that will make your garden aesthetically pleasing.
Shed mural ideas
Inject a bit of fun and verve into your garden by turning your shed into a piece of art.
Murals are a top garden trend because they allow homeowners to express their creativity and personality. They also allow you to play with colour and themes, which is why this playful fish works so well.
This seafront blue shed is painted in a distressed style, while the fish scales are muted colours that complement the blue. Why not get your paint brushes out and give this design a go?
Take a look at our mural cost guide to find out more.
Shed door paint ideas
A great way to inject fun and style almost instantly is to paint your shed door a bright colour whilst keeping the rest of the shed white, grey or natural.
These seafront sheds are a wonderful example of how bright and bold colours look striking against the skyline – regardless of the drab surroundings. By painting just the door and the roof rafters, you give your shed (and garden) an instant lift.
Try your hand at this simple effect, or hire one of our professionals to do the job for you.
Shed floor paint ideas
This shed is a great example of how to add fun and character using patterns and features. The wavy rafters and window boxes are lovely additions, while the great decking is a perfect platform for an afternoon snooze.
When it comes to painting the floor of this interesting design, the first thing to consider is how much traffic your shed is going to have. If you're going to be in and out a lot, then merely treating the floor with a hardy wood stain might be your best bet. However, if you're using the space as more than storage, a nice durable floor paint and jute rug is a great way to dress the space.
Grey shed paint ideas
This entire shed has been painted in a lovely light grey hue. And there are several reasons as to why it works so well.
Firstly, the shed boasts two stable doors, which are interesting features that are slatted and finished with six small window panes at the top. Secondly, the shed sits on a white gravel patio area, which in turn is surrounded by the garden lawn and flower beds. Lastly, grey is a great hue because it's muted yet stylish, and it works in any outdoor space that's full of colour and life, allowing the perennials to steal the show.
Get the look by hiring one of our professionals today!
Colourful shed ideas
This fun stable shed is finished to a beautifully high standard. We love the royal blue paint colour used to contrast the green and blossom of this neat and tidy garden. We also love how the shed roof, with its dark brown flat bricks, match the trees and branches in the background.
The homeowners have opted to paint the shed's frame and windows boxes in white, which makes the rest of the design pop. Overall, this is a classic design that would work well in most landscapes.
Want to recreate this look? Then hire one of our professional painters today and ensure a picture-perfect finish.
See the tradespeople we've checked and recommend for your job
Tell us what you think
What others think of this article:
Need More Information?
Related posts