Last updated on July 5th, 2022
How much does it cost to repair a fridge freezer?
A fridge is arguably one of the most important appliances in the home, and if it breaks, you will need to get it fixed ASAP. Find out how much fridge repairs cost and what the problems could be.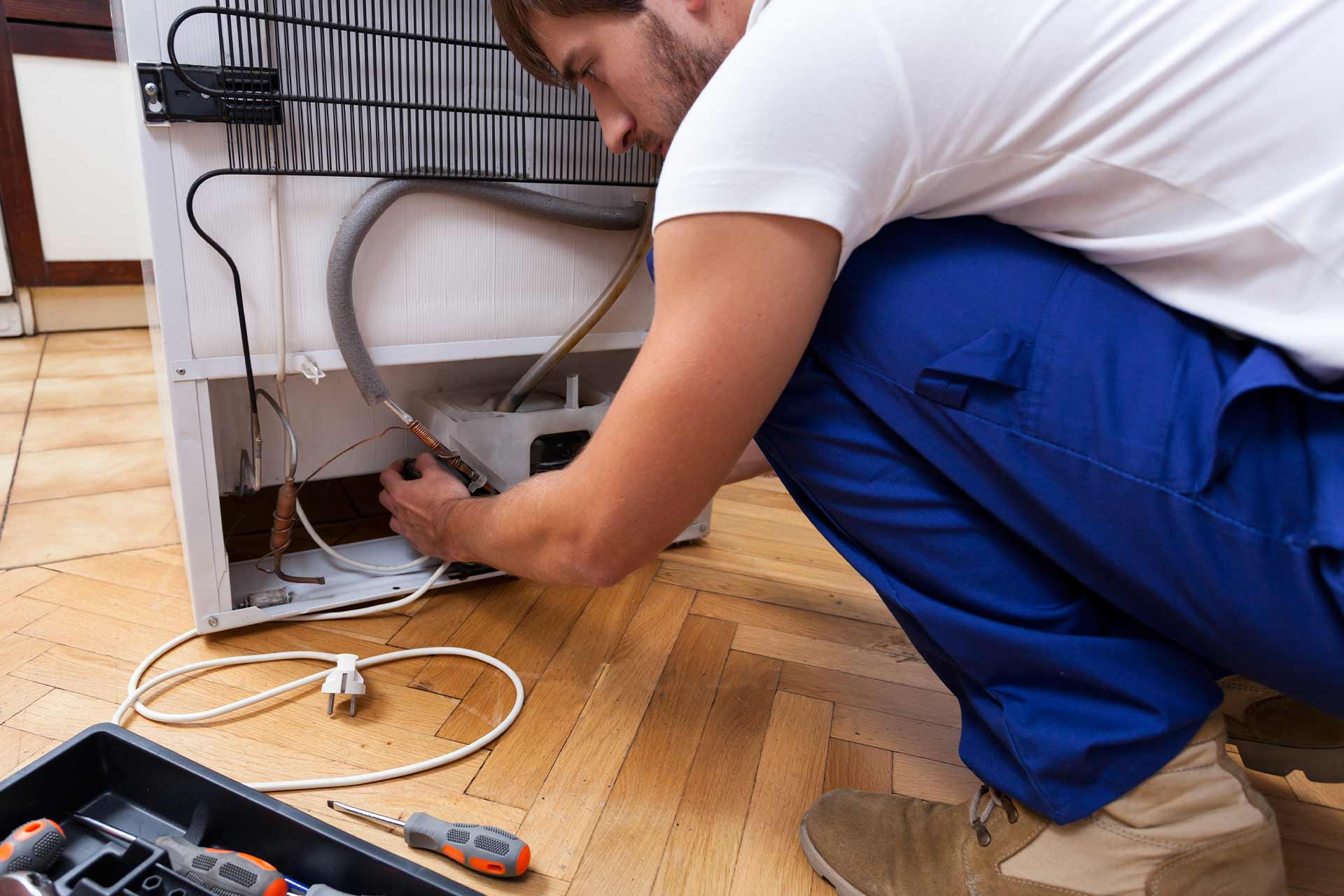 Reacting quickly to any problems with your fridge can save you a lot of time and money. Keep reading to find out more about common issues and what the costs of fridge repairs are.
The prices you'll find in this guide are average costs for refrigerator repairs in the UK, for accurate quotes for your fridge, we recommend contacting your local fridge repair expert.
Appliance repair is more possible than ever now that the UK has introduced the right to repair scheme. 
How much does fridge repair cost?
| Item | Range - low | Range - high | Average cost |
| --- | --- | --- | --- |
| Supply and fit new door seal/gasket | £76 | £115 | £85 |
| Supply and fit new thermostat | £77 | £110 | £86 |
| Replace defroster | £80 | £150 | £115 |
| Repair ice maker | £180 | £280 | £230 |
| Repair compressor | £325 | £445 | £385 |
| Call-out fee | £60 | £150 | £105 |
On average, refrigerator repair costs are around £86 to supply and fit a new thermostat. The average cost of a new door seal/gasket to repair your fridge freezer is about £85.
Most professional fridge repair experts will charge an initial call-out cost, which usually covers the first hour of their visit. Any additional time they spend will be charged at an hourly rate. The average call-out charge for refrigerator repair is £60 - £150.
If you need to replace the defroster mechanism or motor, the freezer repair will cost around £115. The average fridge repair cost if your ice maker is broken is about £230.
To repair the fridge compressor, you'll be looking at an average cost in the region of £385.
The total price you'll pay for your fridge repair will depend on a number of factors:
Make and model of your fridge
Age and condition of your appliance
How long the job takes
Additional costs for any new parts that might be needed
Where you live
When hiring a professional fridge repairer, it's important to always confirm all costs upfront so that you know how much the repair could add up to.
See the tradespeople we've checked and recommend for your job
Common fridge freezer problems
There are a number of problems that UK homeowners have with their fridges. The most common include:
Water leaking from the fridge/freezer
The fridge is freezing food
The fridge or freezer isn't cold enough
Ice build-up in the freezer
The fridge freezer is making an unusual noise
The extent of the problem and the overall condition of your fridge will affect the cost of repairs. If you're experiencing any problems with your fridge freezer, contact a local expert for advice on how to fix it.
Should I repair or replace my fridge?
A typical fridge freezer should last between 8-10 years. If your fridge freezer is over ten years old, it's most likely that it would be better to replace it rather than repair it.
Not only are there new models for fairly affordable prices, but they're also much more energy-efficient and will cost you much less to run than your old one.
On the other hand, if you have a fairly new model already, it's bespoke or built-in, or it's an expensive large fridge freezer, then a repair will most likely cost you much less than replacing it.
The costs of repairing and replacing vary considerably, depending on the make, model and condition of the appliance, so it's always worth speaking to a fridge repair expert before you make a decision.
See the tradespeople we've checked and recommend for your job
Additional fridge repair costs
The main additional cost you could face when having your fridge repaired is the cost of any parts that might be needed for the repair.
As these can greatly alter the total price you pay, it's always worth asking for cost estimates for parts in advance.
Does my fridge freezer warranty cover repairs?
In some cases, yes. Many manufacturer warranties will cover repairs if your fridge freezer breaks, so it's always worth checking with them first before hiring a professional to come and fix it.
Can I repair my fridge freezer myself?
Unless you have experience in dealing with electrical goods, we strongly recommend hiring a professional to repair your fridge. Many of the problems will involve fitting new parts, which require experience and skills to carry out the work.
Changing parts or tampering with your fridge freezer yourself could also invalidate any warranty that you may have.
Useful fridge repair checklist
Identify the problem(s) with your fridge freezer.
Check your appliance manufacturer warranty to see if repairs are covered.
If you don't have a valid warranty, contact local fridge freezer repair experts for advice and accurate prices.
Discuss costs upfront, including any parts that might be needed.
Always shop around for fair and competitive costs
When hiring a professional, choose a tradesperson with relevant experience and the appropriate qualifications/accreditations.
See the tradespeople we've checked and recommend for your job