Last updated on April 3rd, 2023
Glass extension cost guide
Glass extensions truly embody the wow factor and will dazzle any visitors or guests in your home. A fantastic investment, these extensions instantly increase your living space while creating a fantastic feature to complete your home. With panoramic garden views, imagine cuddling up with a book on wet days as you watch the rain run down the glass walls. A completely immersive experience, glass extensions allow you to enjoy the outdoors no matter the weather.
Hire right, hire once: How to avoid rogue trades
Protect your family and home by hiring the right tradesperson.
Why build a glass extension?
Stunning and striking, glass extensions are designed to enhance and bring a touch of class to your home. A perfect finishing feature for any home, these extensions can increase your property value by up to 7%.
Furthermore, these extensions flood your home with light and the option to completely open up the back of your house. So, what are you waiting for? Keep reading to learn more, including the average glass extension cost, benefits and important considerations.
How much do glass extensions cost?
Type of extension
Cost + VAT
(Range low - high)

Average cost
Glass extension cost
From £3,000 per m2
Glass room extensions cost
£14,535 - £72,000
£43,267.50
Glass side return extension cost
£2,000 per m2 + £40,000
How much do extensions cost?
£25,000 - £112,500
£68,750
Unfortunately, these extensions do not come cheap. With the large expanses of glass, installation is tricky and arduous, which is reflected in the price. Having said this, there are ways to maximise your budget and smaller extensions will be cheaper overall.
The average glass extension cost starts at £3,000 per m2.
Common benefits of glass extensions
A real investment, glass extensions come with an array of positive attributes. They are well worth your investment and below are a few of the fantastic benefits of these extensions:
Flood your home with natural light
Great views of your garden
Can be enjoyed no matter the weather
Excellent aesthetics
Increase the value of your home
Immerse yourself in nature
Lower energy costs
Increased ventilation in warmer months
See the tradespeople we've checked and recommend for your job
Factors affecting glass extension costs
As we mentioned earlier, glass extensions can be quite expensive. Despite this, these incredible feature rooms are well worth saving for and you will not regret your choice. The actual amount you pay will be affected by the following factors:
Materials used: The type of glass you use (e.g. double or triple glazed) and the frame materials you choose will impact the price you pay.
Size of extension: The larger your glass extension, the more materials and longer labour times will be required. This means a higher glass extensions cost.
Type of opening: You will need to choose the type of doors or opening in your glass extension. Options such as bi-fold doors or sliding glass panels will all be priced differently.
Added ventilation or heating: You should budget extra for installing heating and/or ventilation.
Added features: Adding extra features will make your new glass extension functional, feel comfortable and look amazing. Choose from options including lighting, power sockets, blinds and more.
Flooring: It's important not to forget you will need to install flooring like carpeting, tiles or laminate. This will raise your glass extensions cost.
The condition of the current space: What currently occupies the space where your new extension will sit and what is the condition of the ground? It may be necessary to pay extra for damp proof membranes and underpinning to keep your extension stable and secure.
If a crane is needed: Large glass panes are very heavy and unwieldy so a crane may be needed during installation. This will come at an extra cost.
Other types of glass room extensions
Glass room extensions cost
While these stunning extensions can be costly, a little bit of saving and careful planning makes this a project most people can work towards. Installing a conservatory will be cheaper but you will be missing out on the enchanting and tranquil experience of having a room built of glass.
The average glass room extensions cost is £43,267.50.
Glass side return extension cost
Designed to perfectly slot into an unused area of your home, glass side return extensions are a fantastic option for any property without much space. Fitting into the small area of space running alongside your home, these extensions are practical and can look amazing once finished.
The average glass side return extension cost is £2,000 per m2 + £40,000.
How much do traditional extensions cost?
Extensions are a great option for those who do not wish to move home but need the extra living space. Standard extensions are not made from glass and once completed they look like they have always been part of your home. Glass extensions can be more expensive per m2 but as they are smaller, will usually cost less overall.
For more information about extensions, please see our helpful house extension cost guide. The average extension cost is £68,750.
Can I install a glass room myself?
Installing any kind of extension is a huge project not recommended for beginners. For starters, your measurements must be exact. Large expanses of glass are expensive and if they are not the right size, this mistake could cost you massively.
Due to their weight and size, these panes of glass cannot be installed on a DIY basis. A crane may be needed as well as multiple workers for safe installation. You should also always adhere to building regulations as a matter of law. A tradesperson would know these regulations and strictly stick to them.
Furthermore, if the job is not done to a high standard, you are opening your new glass extension up to leaks, damp and mould. Even worse, you could injure yourself or your family and cause damage to your home if you don't know what you are doing.
We would strongly recommend hiring a professional. To find a local, reputable, tradesperson in your area and get a personalised glass extension installation quote use our free search feature.
FAQs
Will I need planning permission?
Similar to adding a standard type of extension, you will need to obtain planning permission before commencing work.
What other types of extension are there?
If you need extra living space but are unsure if a glass extension is the right fit for you, please click below to learn more about other types of extension:
Useful glass extension checklist
Glass extensions are an incredible way of introducing light and ventilation into your home. Plus, they can increase its value by up to 7%.
The average glass extension cost may seem high, but prices actually start at £14,535.
Factors including size, materials and added extras will all affect your glass extensions cost.
It's not wise to attempt installation of a glass extension on a DIY basis due to the risks involved.
Alternatives to glass extensions include conservatories, garage conversions and rear extensions.
See the tradespeople we've checked and recommend for your job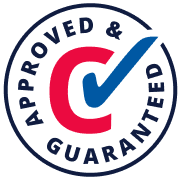 The Checkatrade guarantee
When you contact a trade through Checkatrade, our guarantee could cover you for up to 12 months. You can claim up to £1,000. Exclusions and T&Cs apply.