Last updated on May 16th, 2022
Cost of building a granny annexe
Why build a granny annexe?
It is a parent's job to care for a child throughout their childhood and even into adulthood. Once parents become older, or they begin to struggle with health issues, often the now grown up child wishes to play a part in their parent's ongoing care. This leads many to research the cost of building a granny annexe. Whether this is in the form of frequent visits to cook or clean for the older parent (or other relative), helping with care home costs or even to building a "granny annexe" will depend on the circumstances of all involved. If you have reached the point where you are concerned for a loved one's health and wellbeing you may find yourself facing this very same choice. A granny annexe is an excellent way to keep them close but still allow them to retain their independence.

With a granny annexe, you can avoid costly care homes or the guilt and worry experienced when an unwell or elderly relative lives alone. You can pop in to check on them daily and help with things like cleaning and personal hygiene. You can even invite them over for evening meals.

Although the term "granny annexe" has caught on, these dwellings can be for any family member, or even a guest. For example, a grown-up child can live there whilst they save for a home of their own. In today's economy, it is no surprise this is a common situation and can be a perfect solution. A granny annexe would also allow them their much-needed privacy while they could help with bills and chores.

Granny annexes can also increase the value of your home. Read on to learn the cost of building a granny annexe, alternative options and other things to keep in mind when beginning this journey.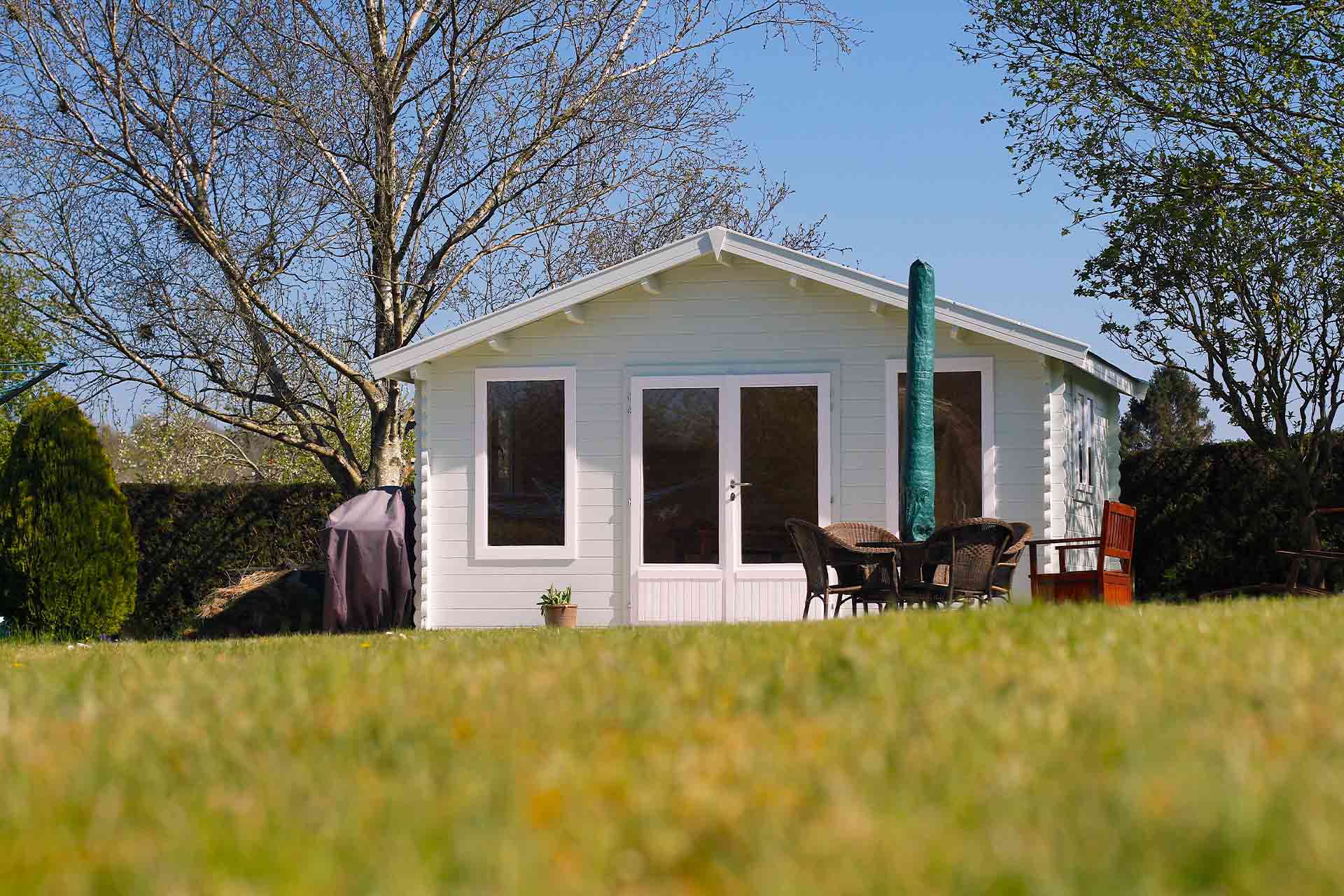 How much does it cost to build a granny annexe?
Cost per annexe
Cost + VAT
(Range low - high)
Average cost
Cost of building a granny annexe
£80,000 - £100,000
£90,000
Cost of granny annexe (buying kit)
£29,600 - £51,750
£40,675
Garage conversion
£7,500 - £20,000
£13,750
Loft conversion
£37,500 - £60,000
£48,000
Basement conversion
£100,000 - £160,000
£130,000
Planning permission
£200 - £500
£350
Building regulations
£150 - £250
£200
Utility diversions or works
£5,000
A granny annexe is a self-contained dwelling that will usually have a bedroom, bathroom, kitchen and lounge area. As such, it is not a cheap project to undertake. You will need to budget for building costs as well as furnishings and fittings.
For a breakdown of typical costs, we spoke to Steve Courtier at Wessex Water. This guide features the estimated granny annexe prices that they provided.
The average granny annexe build cost is £90,000.
Common types of granny annexe
When building a granny annexe you have four different options:
Granny flat: Usually found in cities like London where space is at a premium, a granny flat often occupies one floor of a family house. As there isn't much space to add an extension, this option is perfect for families looking to stay in their current home.
Traditional annexe: A traditional granny annexe will be built inside a home or added as an extension. Great for large properties that have room to spare or those with big gardens that can house the extended building.
Prefabricated annexe: It is also possible to buy a prefabricated annexe. There are a large variety of configurations to choose from and some companies even give you the option to create a bespoke annexe. A prefabricated annexe comes with all the fixtures and fittings you need and will be put together onsite. We have lots more details on flat pack and prefab costs here. The average cost of a prefabricated granny annexe is £40,675.
Outhouse conversion: If you have an outhouse that is not being utilised, it could be converted into a granny annexe. Even small buildings have potential, and you would be surprised to see just how well minimal spaces can be transformed.
See the tradespeople we've checked and recommend for your job
Benefits of granny annexes
With a wealth of benefits, granny annexes open up so many possibilities in terms of functionality. The following are a few of the excellent opportunities granny annexes create:
If extending into a garden they offer extra space for small homes.
Granny annexes let elderly relatives retain their independence and privacy.
If you have the space, a granny annexe is an excellent way to give teenagers their own space but still keep them close.
They are usually more affordable than a care home if used over a number of years.
Annexes are great for guests who prefer personal space.
They allow you to keep loved ones close and spend more time together.
Factors affecting the cost of building a granny annexe
In order to properly budget for a granny annexe, you will need to account for the below factors:
Size of annexe: The larger the annexe, the greater the granny annexe build cost will be.
Layout of the annexe: More complex layouts will take longer to build and use more materials, raising the price of installation.
Kitchens and bathrooms: These rooms are more expensive to build than a bedroom or living room. This is due to the extra fittings, like a bathroom suite or kitchen cupboards.
Electric, gas and water connections:

The further the annexe is from the main utility connections, the greater the cost to gain access to these essential services. Rooms like kitchens and bathrooms also need more connections.
If you have existing utilities running under your new granny annexe, it is essential to protect or divert these when digging your foundations. The cost of utility diversions or works can be around £5,000.

Pitched or flat roof: Extensions with flat roofs are more affordable than those with pitched roofs. For further information please see our flat roof extension cost guide.
Added lighting, heating and ventilation: The more of these important fittings you need, the more chance you'll exceed average granny annexe prices.
Finish: Unless you are purchasing a prefabricated annexe, you will need to budget for finishing touches like painting, carpeting and decking.
The condition of the space where the annexe will be built: Whether you are building an annexe in your home or adding an extension, the condition of the space will affect your granny annexe prices. This is due to the need for extra structural support and the price to remove old materials.
Foundations: Depending on where and how you are building your granny annexe, it is important to ensure the structure has proper foundations. Always budget for strong foundations to prevent issues further down the line.
Should I build or buy a granny annexe?
Choosing whether to build a new annexe or buy a prefabricated annexe can be a tough decision. Each type of annexe comes with its own pros and cons. In general, building a new annexe can be more expensive but does give you greater control over the layout and interior of the structure.
Prefabricated annexes are usually a set size and shape which may mean they don't fit the space as well as a traditional granny annexe would. Finally, it may be quicker to buy a prefab annexe. As it is pre-built, the annexe can be delivered and quickly put together at the site.
Can I build a granny annexe myself?
The idea of saving on labour costs can be very alluring, however, the last thing you need is an annexe that is unsafe and structurally unsound. This decision really comes down to your skill and experience level but before starting please consider the following:
Measurements must always be exact unless you want to end up with an annexe that doesn't fit properly.
It is never wise to work with electrics or gas without professional assistance.
It's worth looking at using a prefabricated annexe.
If the job is not done safely you could cause injury and/or damage to your family or home.
It is very difficult to build a granny annexe and it and requires multiple disciplines.
You may be able to save money by doing easier jobs like the decorating yourself.
Building an annexe is time-consuming and arduous.
Building regulations must always be adhered to. Hiring a competent tradesperson will ensure this is always done. Please note, the average cost of applying for building regulations approval is £200.
Due to the complexity and difficulty of this project, we would recommend hiring a professional. To find a local, reputable, tradesperson in your area and get a personalised granny annexe building quote use our free search feature.
FAQs
What other options are there to granny annexes?
If a granny annexe does not feel like the right fit for your needs, the following are alternative options to expand your living space:
What other options are there to care for an elderly relative?
Whether a granny annexe is suitable for your unwell or elderly family member really depends on their circumstances. Below are some alternative choices:
Care home.
Live-in carers in their own home.
Community nurse.
Caring for them yourself in their own home.
Do I need planning permission?
Yes, as your granny annexe is a permanent addition to your property and it is designed to be lived in, you will need to obtain planning permission before commencing. The average cost of planning permission is £350.
Useful granny annexe checklist
Granny annexes are an excellent way to keep your loved ones close while they still retain their independence and privacy.
The cost of building a granny annexe is high due to the extensive and complex nature of the job. Buying a prefabricated annexe is much more affordable.
Factors like size, layout and shape can all affect the cost to build a granny annexe.
Alternatives to a granny annexe include care homes and hiring live-in carers.
Building a granny annexe is a difficult, time-consuming project that shouldn't be attempted without proper training.