| Type of nest removal service | Unit | Cost |
| --- | --- | --- |
| Ground Floor/Garage/Outbuilding nest removal | Removal service | £75+ |
| First floor nest removal | Removal service | £95+ |
| Roof space nest removal | Removal service | £100+ |
| More than 1 nest removal | Additional service | £20+ |
| 3rd nest and each additional nest | Additional service | £15 |
| Wasp Nest Removed 24-72 hours after treatment | Additional service | £25 |
| Inspection | Initial stage cost | £100+ |
Hornet and wasp nests are fast becoming a major problem for many people throughout the summer months.
As nest numbers continue to rise in the UK, we've noticed an increase in homeowners seeking out hornet nest removal costs – and understandably so. A sting from these pests is painful at best and life threatening at worst.
Left unchecked, a wasp or hornets nest will thrive, wreaking havoc on your home as they chew wood materials to a pulp. If you have noticed an influx of wasps or hornets buzzing around your home, it could be a sign that a nest is nearby.
Acting fast to remove it can prevent damage to your property and give you the confidence to use the space in which hornets have nested.
Due to the risks associated, it should go without saying that this is a job best left to the professionals.
We have other pest control costs in our pest control cost guide.
The cost of hornet nest removal
Hornet nests are a perfectly natural occurrence, but that doesn't make them any less dangerous. Swift removal is essential in preventing harm to you and your property, but what kind of costs can you expect for the job?
The average hornet nest removal cost is £200.
Hornet and wasp nest removal is a growing trade in the United Kingdom as businesses, gardens and homes continue to record higher numbers of infestations.
The cost of a hornet nest removal will vary, with the following factors typically determining the base costs of the removal:
The number of nests on your site
The location of the nest
Whether specialist equipment is needed for removal
We recognise the importance of keeping within budget, so we've spoken to the online estimators at My Build Estimate – a professional estimating company monitored by the Royal Institute of Chartered Surveyors (RICS).
Here is a guide to help you navigate the costs of wasp nest removal and hornet nest removal.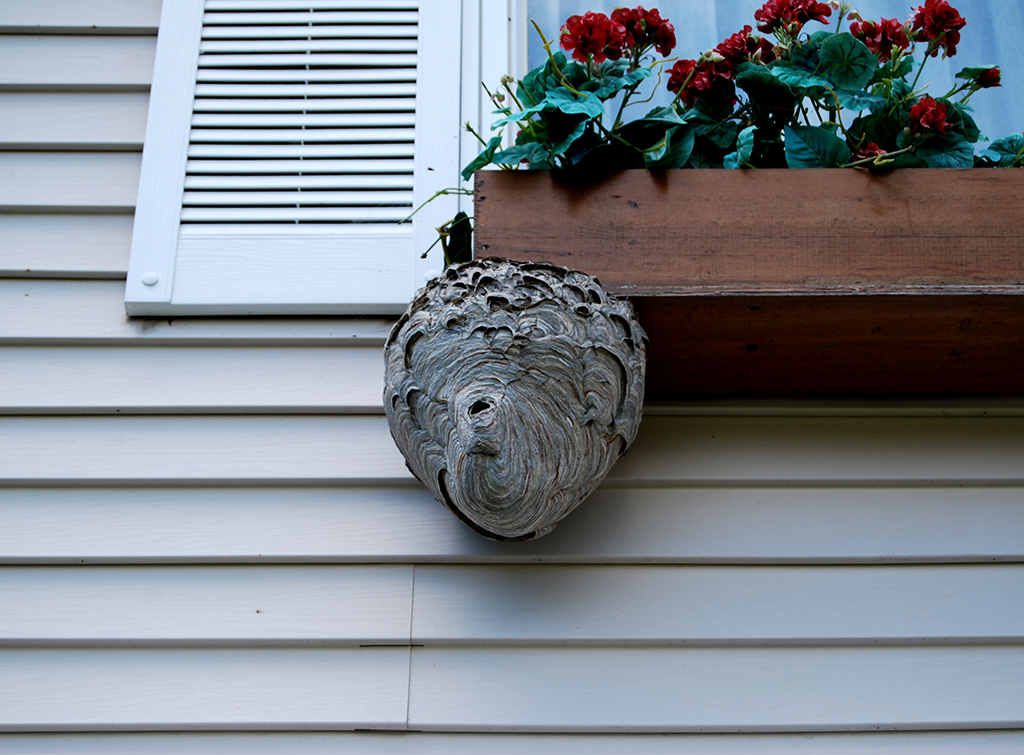 Have I got a hornet nest?
Hornet nests can start as a headache and quickly turn into a nightmare. It's much easier to remove or treat a hornet's nest in the early stages of development.
What is the difference between a hornet and a wasp?
Hornets are similar to wasps. On average a hornet is larger than the common wasp and can grow to 5.5cm in length.
An easy way to identify a hornet is to observe their markings, most will have a brown or orange body with black marks similar to the common wasp.
Getting stung by a hornet can be very painful, and an individual hornet can sting repeatedly. Thankfully, hornets are regarded as less aggressive than regular garden wasps if left unprovoked.
Find pest controllers near you
Where do hornets usually nest?
Hornets typically make nests either outdoors in trees, or indoors in hard to reach spaces. Bird boxes, garages, roof spaces and wall cavities are all likely hotspots for hornet or wasp infestation.
How to identify a hornets' nest
In the summer months, when the hive is active, it should be straightforward to identify a hornets' nest. If you observe a steady stream of hornets leaving and entering a space or cavity, it is likely there will be a nest nearby.
A hornet nest looks similar to a regular wasp nest but tends to be larger in size. They are usually formed around soft or ageing wood and have paper-like structure, often with a teardrop shape and a singular entrance.
Have I got a wasp nest?
Similar to hornets, wasps tend to nest in dark, hard to reach hidden spaces. Wasps will commonly build a nest in outdoor spaces like bushes or trees, but can also be found in attics, garden decking, sheds and other similar locations.
Signs of a wasp or hornet nest
Locating a wasp nest is fairly straightforward. Keep an eye out for the flight path of wasps as they leave or return to the nest. In summer months, the increased activity to and from the growing nest should make the location easy to spot.
Keep an eye out for visible structures: wasps use chewed wood to build their nests, so it's important to check in areas where the wood materials are soft enough for them to make a home.
That said, you should never wait to determine whether you have a wasp or hornet nest. As soon as you suspect an infestation, call a professional wasp removal nest team to have it removed or treated.
How big can a wasp nest be?
Wasp nests are on average smaller than hornet nests. The nest will begin at roughly the same size as a golf ball, and will continue to grow throughout the summer. Wasp nests have been known to grow to the size of a football but can grow larger still if left alone to thrive.
How are hornet nests removed?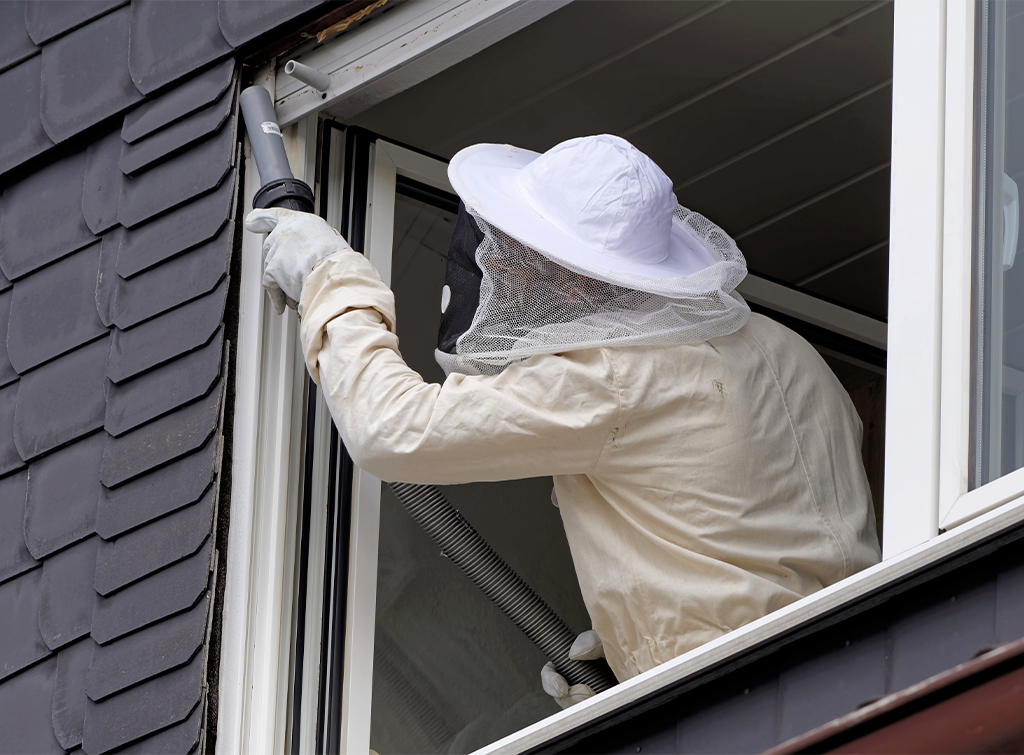 Typically, the first stage of the removal process is a full onsite survey.
In this initial inspection, searches will be carried out to locate the nest you have identified, as well as any other nests that may have been missed. If a hornets' nest is discovered, the site will be prepared for treatment.
The treatment process involves a qualified trades-person applying an insecticide to the nest, causing the structure to expire along with the hornets that inhabited it.
Within a couple of hours, the nest will show minimal signs of activity and within 48 hours the nest, the queen and the worker hornets will be destroyed.
The cost of the hornet nest removal from your site after treatment is typically cost at around £25.
Removal or treatment?
Treating a hornet nest is a method for removing any pests from your site. It involves spraying the entrance of the nest with a biodegradable insecticide that is not highly toxic to mammals, but is extremely so to hornets, wasps and ants.
Removing a hornet nest is the physical removal of the nest from your site.
If you believe you have a nest on your premises that is no longer active, it is probably more cost effective to have the nest removed rather than undergoing the treatment process.
If you are unsure whether there is still activity in the hornet nest on your property, a site inspection will cost around £100.
Any treatment of a hornet nest starts at £75 for ground level work, and can increase to over £100 if the nest is above ground level.
How much does it cost to remove a wasps' nest?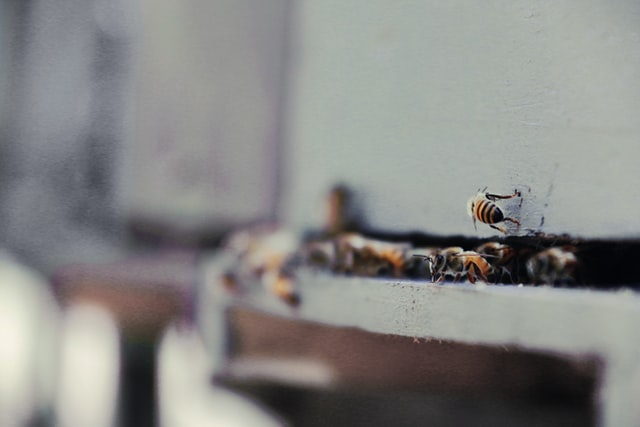 Understanding how much it will cost to remove a wasps' nest is dependent on a number of factors.
The removal process of a wasp or hornet nest is usually conducted in two phases. The first stage is the inspection of your property, and this will cost on average £100.
Once the inspection is complete, and a live nest is on your property, the removal and treatment phase begins. The removal and treatment phase cost around £75 for a ground floor or outdoor removal, and can scale up to £100+ for hard to reach spaces like a roof or attic.
Any further nests located on your property typically cost an additional £20 for treatment, and removing the nest/s from your property will incur a further £25 fee.
It's worth noting that if access equipment is needed for hard to reach spaces, your tradespeople may include additional charges.
Find pest controllers near you
How much does it cost to remove a wasp nest from a loft?
The average wasp nest removal cost is £200 if found in a loft.
How much does it cost to remove a wasp nest from a roof?
Removing a wasp nest from a roof will incur additional costs not found with ground level work. The cost of wasp nest treatment alone is likely to cost £100+, coupled with inspection fees, the total project may cost upwards of £200+ to treat and remove a wasp nest from a roof.
How much does it cost to remove a wasp nest from a shed?
The standard wasp nest removal cost from a shed is between £175 – £200, and may increase if several nests are located.
How much does it cost to remove a hornet nest?
Hornet nest removal cost can differ on price dependent on where the hornet nest is on your property or business.
Outdoor work is typically cheaper, with costs increasing if multiple nests are located, if the nest requires access equipment for removal, or if the nest is found above ground level.
How much does it cost to remove a hornet nest from a loft?
Removal of a hornet nest from a loft is likely to cost upwards of £200.
How much does it cost to remove a hornet nest from a roof?
Removal of a hornet nest from a roof is a highly skilled task, and will cost between £200 – £300.
How much does it cost to remove a hornet nest from a shed?
If you need to remove a hornet nest from a shed, you should expect to pay on average between £175 – £200.
Additional prices and considerations
There are two key factors that are likely to increase the costs of hornet nest removal. These are:
Additional nests in the property
If additional nests are found on your property, you will likely pay a reduced rate for wasp nest treatment and removal. Tradesmen typically charge between £15 – £20 for each additional nest located on your site.
Removal after treatment
Removal after treatment on average takes place 24-72 hours after the nest has expired. The average cost of wasp nest removal is £25.
Can I remove a wasp nest myself?
It's never advisable to remove a wasp or hornets' nest yourself. A hornet's first reaction to any agitation to the nest or queen is to go on the defensive and aggressively attack anyone who endangers them.
Hornet stings are more painful than wasp stings, and can lead to severe allergic reactions that can require hospitalisation.
Bringing in a qualified tradesperson to assist the removal of your wasp or hornets' nest is the safest and most effective way of removing the pests for good.
Hornet nest removal checklist
Treating & removing a hornet or wasps' nest can be resolved quickly when working with a professional tradesperson. Specialist equipment and insecticide is required and the removal should not be attempted on your own.
The average hornet nest removal cost in the UK is £200.
Hornets are considerably larger than wasps, and pack a much stronger sting.
Cost of hornet nest removal will differ based on the location of the nest.
The process takes place in three steps: Inspection, treatment, removal. This typically takes place over the course of 48 – 72 hours.
We strongly recommend not to conduct a hornet nests removal by yourself. Always consult a professional to avoid injury or hospitalisation.
Tell us what you think
What others think of this cost guide:
Need More Information?
Related posts