Last updated on September 1st, 2022
How much is a ton of gravel?
If you're wondering how much a ton of gravel is, our detailed guide reveals the average cost you can expect to pay in the UK.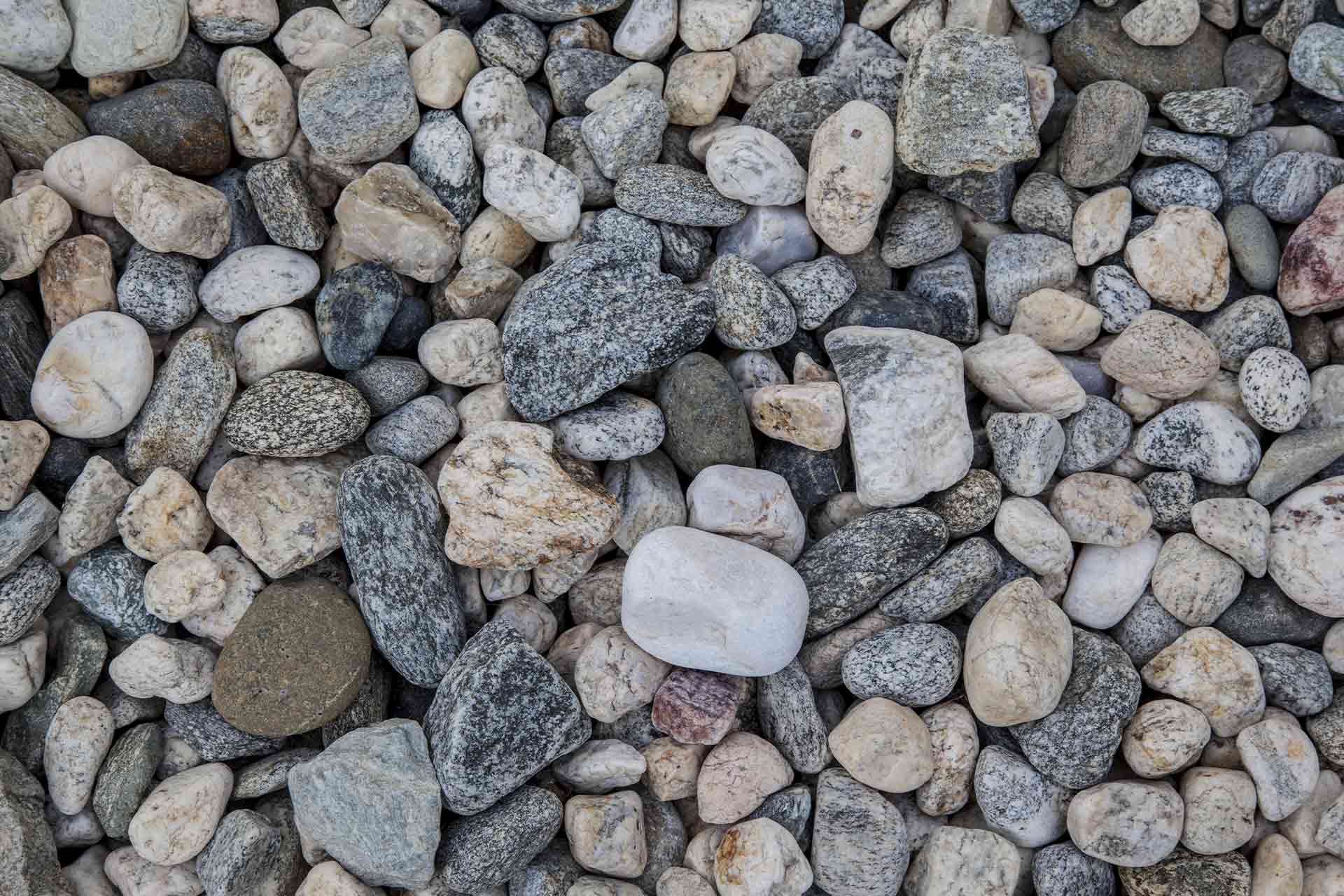 What can gravel be used for?
Gravel is a versatile and affordable material that has endless uses. Available in many colours and sizes, it can be used to emphasize or highlight garden landscaping and is great for plant drainage.
Not only is gravel aesthetically pleasing, but it can also be used as a base for new patios and to create stylish driveways and paths. An alternative to concrete and slabs, gravel is easier to install and maintain.
Furthermore, a well-installed gravel driveway can increase the value of your home and make an attractive entrance to your property. You can even combine it with lawn edging to create stunning features.
In this article, we will look at the benefits and uses, plus answer the question 'how much is a ton of gravel'. Whether you are unsure about using gravel or want to price your job, we have you covered.
What is a ton or tonne?
Depending on where you are in the world a 'ton' can mean slightly different weights:
If you're in the UK: A ton is approx. 1,016kg.
If you're in the US: A ton is approx. 907kg.
And, if you say tonne or want a metric tonne: Then that's 1,000kg in the UK and US.
To keep things simple, we have applied a value of 1,000kg throughout this article whenever we mention the cost of gravel per ton, or tonne.
How much is a ton/tonne of gravel?
| Cost provided item | Average UK cost |
| --- | --- |
| A ton/tonne of gravel | £73.32 |
| An 800kg bag of gravel | £60 |
| Pea gravel per ton/tonne | £106.50 |
| Pea gravel per 800kg | £85.20 |
| Gravel for small driveway | £1,700 |
| Gravel for large driveway | £3,700 |
Many people are asking the above question but the truth is, gravel is no longer sold by the ton. You can still purchase large bags but they are more likely to be sold by the kilogram.
While we can calculate the cost per ton, you are much more likely to pay a cost per kilogram. Most large bags are sold in 800kg – 850kg amounts.
If you were to buy the equivalent bags to make up a tonne, then the average cost of gravel per ton is £73.32.
Benefits of using gravel
With a fantastic range of colours, styles and sizes, gravel can accentuate any area of your property. From paths to flowerbeds and large driveways, there are a wide variety of uses.
Furthermore, you can look forward to the following benefits:
Easy maintenance: As long as a weed-proof membrane is used, maintenance will be at a minimum. You will, however, need to remove any rubbish or debris that is blown onto your gravel.
Stylish and visually appealing: Designed to complement any taste or style, gravel is extremely adaptable.
Long-lasting: Gravel has the potential to last for 100 years which is much longer than other driveway or path materials.
Simple to install: Adding a weed-proof membrane is essential, however, once this is done gravel can simply be poured into the space.
Cost-effective: Inexpensive and functional, gravel is a great choice for anyone on a budget.
See the tradespeople we've checked and recommend for your job
Factors affecting gravel cost
While gravel is sold in affordable bags, the following factors will influence the price you pay:
Types: Base gravel, crushed stone and pea gravel are all types of gravel available to purchase. Each type will have a different price point.
Size of area: From a small flowerbed to an entire driveway, the amount you require will impact your ton of gravel cost.
Number of areas: As above, multiple areas to be covered will be more expensive than a single flowerbed. This is due to extra labour times and the need for more materials.
Foundation: Depending on the current set up of the area to be covered with gravel, you may need extra preparation before proceeding. This may include excavating the space and installing a weed-proof membrane.
The condition of the current space: Areas that are in poor condition will require more work to be made stable and ready for gravel.
Removing old path or driveway materials: If you are replacing an old path or driveway, you need to budget for disposing of the materials such as concrete or slabs.
Accessibility: Areas that are hard to access will mean higher labour costs.
Cost by project/type
Cost of pea gravel per ton/tonne
Made of miniature, smooth balls of stone, pea gravel can be visually appealing and is highly popular. Pea gravel is sold in large bags and in kilograms with an average cost of £85.20 per 800kg. This type of gravel is more expensive than standard options but also more attractive.
The average cost of pea gravel per ton is £106.50.
Cost of gravel for driveway per ton/tonne
Gravel driveways can be costly but are also more affordable than other types of driveway. With numerous benefits and a wide variety of styles and colours, gravel is a great option for those on a budget.
The cost of gravel for driveways per ton is £73.32. For a small driveway, your gravel cost will be around £1,700, and for a large driveway expect to pay around £3,700.
You can also get lots more great information with our driveway cost calculator.
Can I install gravel myself?
This is often a question asked by those planning to install a gravel driveway due to the need to save on labour costs.
The truth is that only you can answer this question. Having said this, if you are considering taking on this as a DIY job, please take the following into account:
It is very likely you will need to excavate pathways and driveways which involves using heavy machinery. This can be extremely dangerous if operated by anyone who isn't properly trained.
Consider your level of experience and skill. Have you dealt with many DIY projects before? Do you have the skills or training to install a driveway or path?
You will probably need to remove your existing path or driveway. This is not an easy job; it is very arduous and time-consuming.
Installing a weed blocking membrane is essential and if not done properly your new driveway or path may be ruined by pesky weeds.
If not done well, your driveway or path will be unstable and could collapse.
You should always check to see if gas or water lines run beneath the area to be excavated. If you accidentally hit one of these pipes, the outcome could be disastrous.
Consider what you are using gravel for. It is much easier and less complex to use it as decoration in a flowerbed than to install a new driveway.
Due to the risks and dangers involved, we would recommend hiring a professional. To find a local, reputable, tradesperson in your area and get a personalised gravel installation quote use our free search feature.
FAQs
Do I need planning permission?
This depends on how you will be using the gravel. For example, for a driveway, path or flowerbed.
It will also hinge on the drainage of the driveway or path and the materials you use.
If you are unsure it is essential to check before commencing.
How long does it take to install a gravel driveway?
This depends on a number of factors, including the size of the area and whether it needs excavation.
On average it will take approximately 2 days.
Useful gravel cost checklist
Gravel can be a stylish, attractive material to work with. It is also durable and long-lasting.
Gravel is not usually sold in tons, rather large bags weighing approx. 800kg.
The cost of gravel per ton is affected by the size of the area to cover, the type of gravel you choose and the condition of the current space.
It may be dangerous and risky to undertake the installation of a gravel driveway yourself.
See the tradespeople we've checked and recommend for your job