Last updated on May 3rd, 2022
Main sewer line repair cost
Use our comprehensive guide to help establish your main sewer line repair cost bill if you have cracked or damaged drain pipes on your property.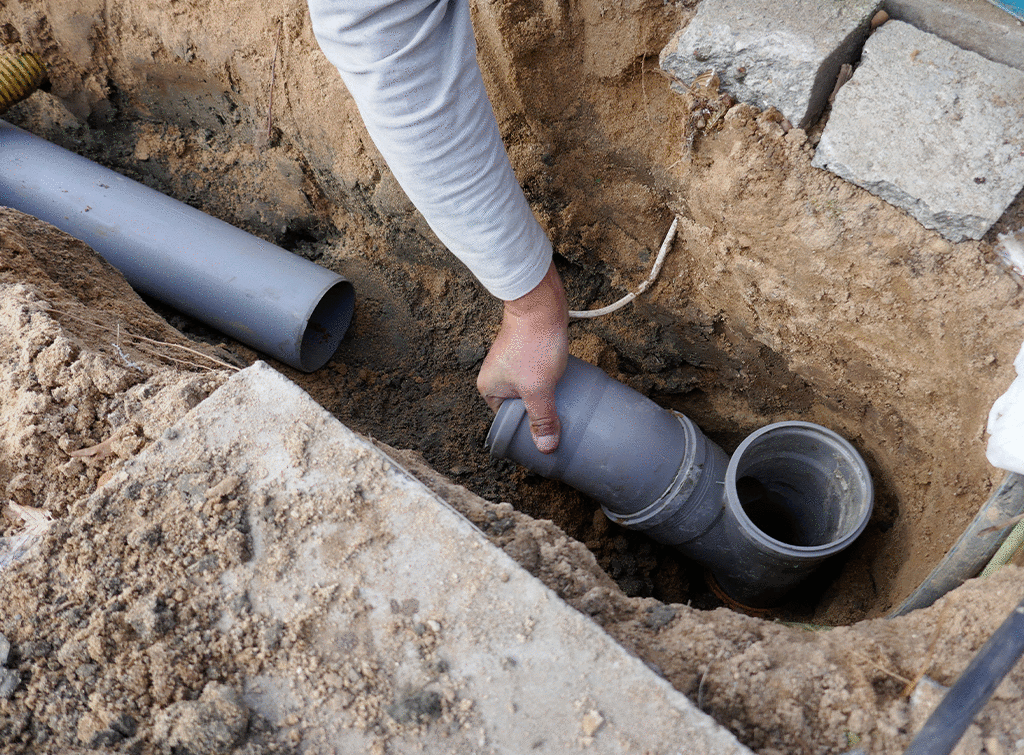 Which pipes, lines, runs and sewers are my responsibility?
Unless you have a septic tank, cesspool or private sewer, chances are you'll be connected to the public sewer.
Although the public sewer is the responsibility of your local water authority, there will be a series of pipes within the boundaries of your property leading up to the road, which are your responsibility should they break.
These pipes form your main sewer line and drainage run, although it's important to remember that the sewer itself is not your responsibility. As a simple rule, if the pipe, line, run or sewer is outside the boundary of your home, you should contact your local water authority for advice.
You may also hear the term 'lateral drains'. These carry wastewater away from your home, towards the sewer. These are also generally owned by the local water authority.
| Main sewer line repair costs | Unit | Cost +VAT (low range) | Cost +VAT (high range) | Average cost |
| --- | --- | --- | --- | --- |
| Drain cleaning | Per project | £120 | £250 | £185 |
| Drain line breakage repair – materials and plant rental | Per project | £400 | £600 | £500 |
| Drain line breakage repair - labour | Per project | £200 | £400 | £300 |
| Replacing pipework | Per metre | £180 | £890 | £535 |
| Relocating drain from main sewage supply – materials and plant rental | Per project | - | - | £2,700 |
| Relocating drain from sewage supply – labour | Per project | - | - | £1,800 |
| Drainage relocation design | Per project | - | - | £500 (£75+ p/h) |
| CCTV Drain survey | Per project | - | - | £275 |
Why would I need to repair my sewer line and drainage run?
There are lots of names for these pipes – sewer lines, drainage runs, drain lines etc. but they all suffer a fairly common set of faults. For this article we'll refer to them as pipes and drains, for simplicity.
Many pipes will be as old as your home, in some cases not having been replaced for decades, so problems can occur. Drain breakages can happen because of wear and tear, animals, tree root ingress, pipes freezing, blockages and more.
To spot issues inside the property look for dampness or mould. Outside the property check for sunken or wet ground. Unpleasant smells can also be an indicator of problems.
If you are experiencing unpleasant smells, damp/mould or slow drains this could indicate a blockage in the pipe or some form of damage. If the problem is not resolved once the blockage is removed, or if a blockage is not the cause of the issue then you could have a collapsed drain leading to the sewer.
No matter the cause, these problems need to be resolved immediately and can get much worse if ignored. Drain and sewer pipe repair and replacement costs are far lower if taken care of today than tomorrow.
To help you price this job we spoke to Bob Branscombe (MRICS and MCIOB qualified), who has 34 years in the industry with Branscombe Consulting. He provided us with estimated, average prices for repairing this all-important pipework.
See the tradespeople we've checked and recommend for your job
CCTV drain survey costs
The first step is to determine where the problem is occurring. Property deeds can help show where pipes are as well as whether there's an issue within your boundaries.
Once you know where the pipes are, one of the easiest ways to determine the extent of your drain problems is through a CCTV drain survey. This is an essential cost in virtually all cases of sewer, drain and run issues where the pipework is buried and cannot be accessed physically.
Whilst it is possible to use drain rods to 'feel' for the problem, a CCTV drain survey is more accurate and can be more cost-effective and quicker for larger areas.
This will give you an accurate overview of the extent of any damage, making clear the cost to repair your sewer (and other) lines.
CCTV drain surveys cost around £275 per project.
Cracked drainpipe repair costs
If you just need a blockage cleared and this is the first blockage you have encountered, then this can be resolved for as little as £140.
If it's a frequent blockage or the CCTV identifies other issues, then you will need the drain line to be repaired or replaced.
Drain line repairs can help with simple issues such as minor root ingression, small cracks and unstable joints. They can be resolved through isolated fixes and installing a Cured-In-Place Pipe (CIPP), which is a method of fitting a new pipe liner within the existing one, which is heated to seal the pipe.
It's a cost-effective way of fixing the problem and prevents the need for some replacements.
How much does it cost to repair a drainpipe?
Whilst material costs for CIPP and other trenchless solutions tend to cost more than traditional methods, the labour costs are reduced to such an extent that the total cost is generally 25-30% lower. If you're using a contractor to conduct the work, this is a great way to save money and time.
To repair a cracked drainpipe we recommend you budget £800 for the materials and labour.
Collapsed drainpipe repair cost
If you have a collapsed drainpipe, then this is a much more serious problem that can be caused by surface works, major root ingress and ground movements. Depending on the extent of the damage a repair may not be possible and therefore you will need to replace it.
Repairs can weaken the line so if you need lots of repairs you may find it's cheaper to just replace the pipework entirely. To replace the existing pipework, planning permission is not required.
Sewer lines are located deep underground so you can either use pipe bursting technologies which are also trenchless, or opt to undergo traditional excavation work. Pipe bursting can be used to move away the broken pipe and feed new pipework into place.
However, you may still need to excavate if the cause of your problems is underground, such as tree roots that need removing.
With traditional excavation, the pipe will need to be located, the damaged section cut out, a new piece of pipe refitted with coupling and then the hole filled in.
Due to this extensive process and the risks if something goes wrong, it is recommended you use a professional contractor or plumber to conduct the work.
See the tradespeople we've checked and recommend for your job
Main sewer line repair cost calculator
To work out how much your main line sewer repair is going to cost you, you'll first want to understand the nature and extent of the problem. That's where a CCTV drain survey comes in, which will give you a much better idea of what you're dealing with.
From there, you'll be able to get accurate quotes for the material and labour costs for the work, including any potential cleaning, repair or replacement. The basic maths of it is, the bigger the problem, the higher the cost.
Main sewer line repair quote
We recommend obtaining at least three quotes from our trusted tradespeople. Our request a quote feature is perfect for getting quotes – you post details about the job you want doing and we'll send it out to local tradespeople in your area. Try it out!
Main sewer line repair hourly rates
Due to the varied nature of main sewer line repairs, it's not often that you'll be quoted an hourly rate for the work. Instead, it's more likely that you'll be charged costs per metre or per project. For example, replacing pipework is generally anywhere in the region of £120 to £600 per metre.
If it's simply cleaning that your main sewer line needs, then you could be looking at a cost of £120 to £160 for the job.
How long does it take to replace a drain breakage?
It typically takes around 1-2 days to replace a broken drain, although this depends on the method (pipe bursting or excavation) and the amount of pipework to be replaced.
Drainpipe replacement cost
Depending on how deep the excavation is and how much pipework needs to be replaced the cost will vary.
Replacing drainpipes costs considerably more than having them repaired, especially when compared to trenchless solutions.
The quality of the pipes also plays a role in the cost. PVC pipes are the cheapest, whilst copper pipes are better quality but more expensive. You may opt to just replace the drains entirely with new pipework whilst the trench has been opened.
To replace drainpipes tends to cost around £180 to £890 per metre.
If tree roots are the cause of the damage these will need to be removed at a cost of around £75 to £500.
You may even want to relocate the drain, such as when planning an extension. Relocating a drain can be done at a cost of £4,900. A drainage engineer will be able to assess and plan the revised layout, depth and installation so the works can be approved with planning permission and carried out.
Key takeaways for sewer line repairs
Check what's your responsibility first. Lines, runs and pipes to the sewers are likely to be, but the actual sewer falls under the local water authority.
Look for common signs of issues – dampness, mould, unpleasant smells and slow drainage.
Request a CCTV survey to understand exactly what the issue is and to make sure your drain repair costs are accurate.
Use trenchless solutions to bring the cost of repair and replacement down and get the work done quicker.
Make sure any causes are resolved so the problems don't come back. Tree roots will need to be excavated if they are the cause.
See the tradespeople we've checked and recommend for your job