Last updated on October 4th, 2022
Microgreen growing room setup cost
Microgreens are packed with nutrition and can be easy and profitable to grow. Find out how much it costs to set up a microgreen growing room.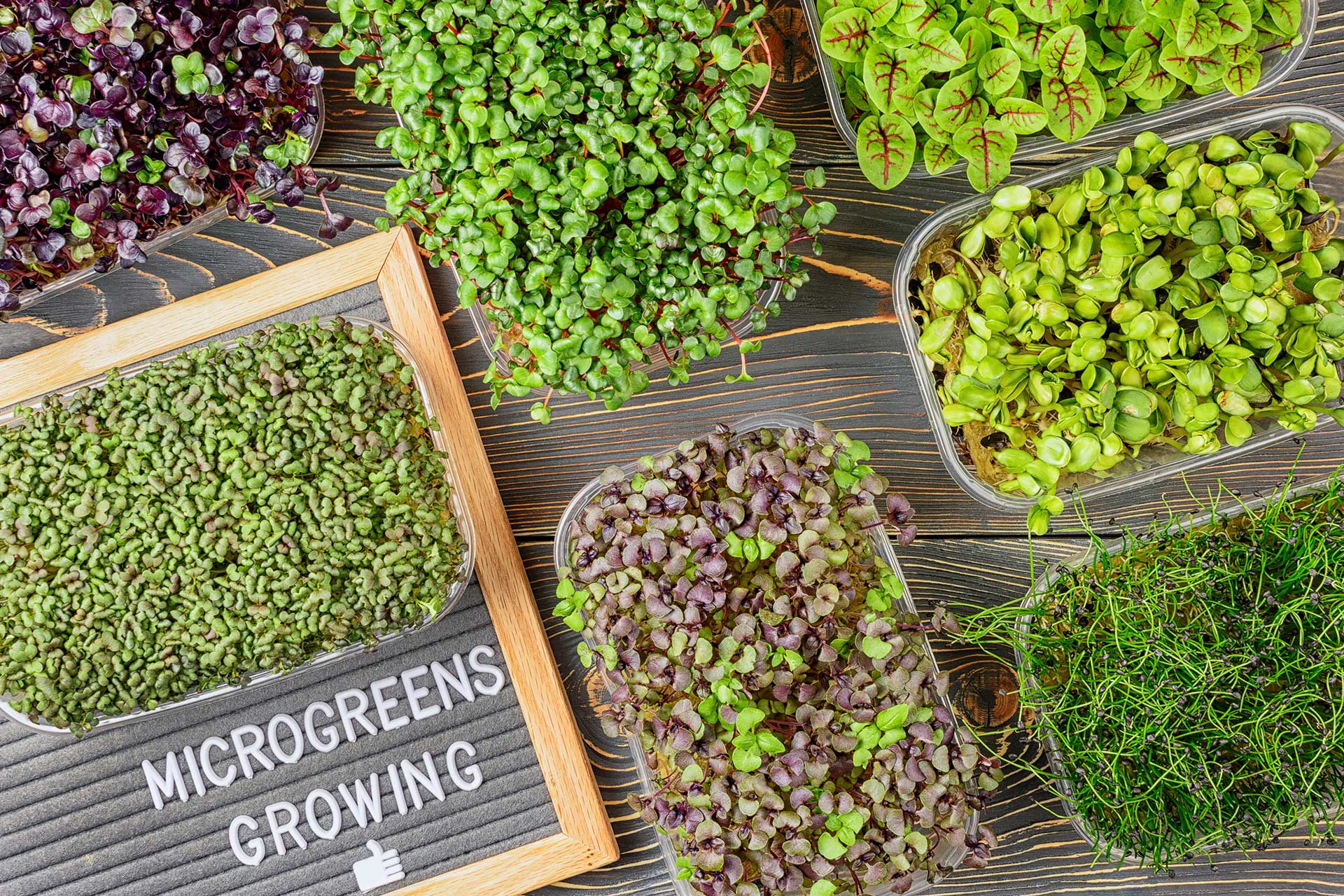 Microgreens are a healthy addition to your food and are easy to grow. But, did you know you could also grow them for profit? Our microgreen growing room setup cost guide will tell you exactly what you need and how much you'd need to spend for this venture.
Why grow microgreens?
Growing microgreens is easy as pie. All you have to do is plant the seeds and harvest them as soon as the leaves start to develop. Not only are they easy to grow, but they're full of nutrients and flavour too.
Because they're so easy to grow, it makes sense to scale up and perhaps think about growing them commercially too. Microgreens cost per pound tends to be around £20, so it could be pretty lucrative once you're set up!
Microgreen growing room setup cost
| Cost provided item | Unit | Range - Low | Range - High | Average cost |
| --- | --- | --- | --- | --- |
| Greenhouse | 6' x 10' | £240 | £300 | £270 |
| Freestanding shelving racks | Per rack | £35 | £150 | £90 |
| Installing MDF or plywood shelving (material) | Per linear foot | £20 | £90 | £55 |
| Installing MDF or plywood shelving (labour) | Per hour | £20 | £30 | £25 |
| Electric wall heater installation | Supply and installation | £80 | £1,100 | £500 |
| LED grow lights | Per light | £10 | £170 | £60 |
| Fan for air circulation | Per fan | £18 | £85 | £51 |
| Growing trays | Per tray | £1 | £11 | £6 |
When growing microgreens, you need a room that is warm and well-lit with good air circulation to prevent any mould. As well as this, you're going to need some shelving to maximise the space you have.
If you don't have a spare room, you could install a heated greenhouse in your garden. A 6′ x 10′ greenhouse will cost you around £240 – £300. Heating and shelving would be extra, although you won't need artificial lighting for the summer months.
You can buy freestanding shelving racks for £35 – £150 per rack. Alternatively, you can have shelving installed using MDF boards or plywood.
If your room already has a heating system, you may not have to spend anything on heating. However, if not, you may have to spend around £500 on installing a wall heater.
For lighting, you'd need to install LED growing lights, if the room doesn't get enough sunlight. These range from £10 – £170 per light.
Finally, you would need a fan to keep the air circulating, so that the seeds don't grow mouldy or start rotting. You can buy a table fan from £18 – £85.
See the tradespeople we've checked and recommend for your job
Factors affecting microgreen setup cost
As we mentioned earlier, a successful microgreen growing setup needs space, light, heat, and air circulation.
In addition, you would need growing trays, a growing medium, seaweed-based plant food, and seeds. Depending on what the room already has and what you need to install, your microgreen setup cost will vary.
Microgreen setup quotes
As you can see, microgreen setup costs may vary according to what you need. If you need a carpenter or an electrician for your microgreen setup, we recommend getting quotes from three tradespeople before choosing the right one for you.
Try our request a quote feature out to get four quotes from four tradespeople near you. Simply fill in the form with as much detail as possible and we'll do the rest for you.
FAQs
What is the difference between sprouts and microgreens?
Sprouts are germinated seeds with only the root, whereas microgreens are seedlings with at least two true leaves.
How much space do I need for my microgreen growing setup?
Since microgreens don't need a lot of space, you can start with as little as a wall in a sunny room. You can grow 50lbs of microgreens in a 60 square-foot area every two weeks.
See the tradespeople we've checked and recommend for your job