Last updated on May 30th, 2022
New door frame cost guide
Whatever your reasons to want a new door frame, we'll help you calculate your new door frame cost in this guide.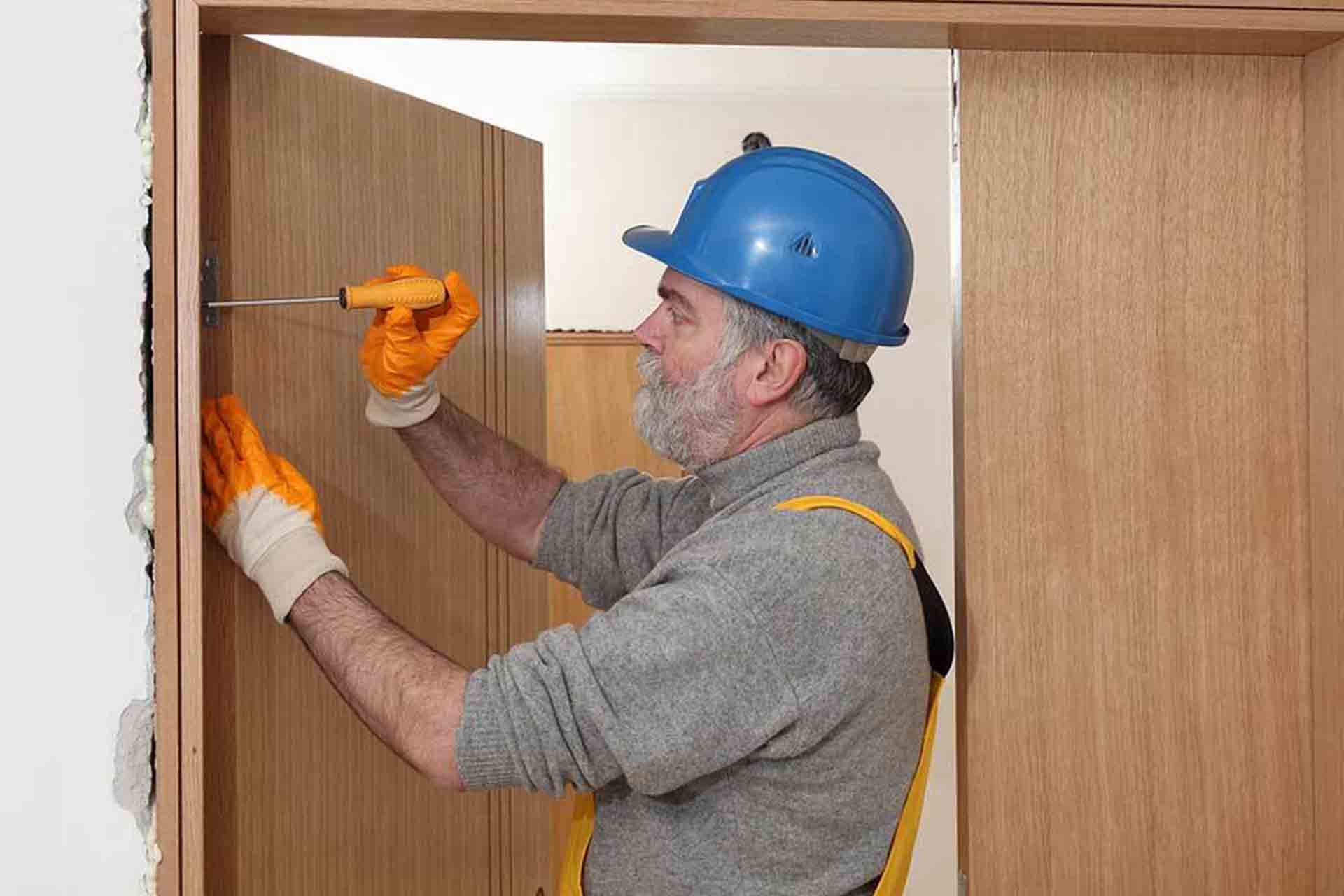 Looking to install a new door frame due to damage, to increase security, to match a new door or simply to refresh your living space?
Or, maybe you're renovating your home, adding an extension or even moving the position of the door and frame?
Below, we've compiled a complete guide including all the essential information you need about door frame installation costs plus factors to consider and things to look out for.
How much does a new door frame cost?
It is important to consider that the cost of a new door frame is made up of the cost of materials, the cost of labour and any extra costs (we will go into further detail later in this guide). Taking this into account the average cost for the installation of a softwood door frame will be £80 (labour) + £197.50 (materials) which adds up to £277.50.
| Cost provided item | Unit | Price range - Low | Price range - High | Average UK cost |
| --- | --- | --- | --- | --- |
| Hardwood door frame (materials only) | Ea | £90 | £800 | £445 |
| Softwood door frame (materials only) | Ea | £20 | £305 | £197.50 |
| Door frame installation | Ea | £40 | £120 | £80 |
| Front door and frame | Ea | £500 | £3,000 | £1,750 |
| Door frame installer | Per hour | £25 | £37.50 | £31.25 |
Types of door frame
Before choosing a new door frame it's important to explore all of the available options. Below are the most common types of door frame used and their pros and cons:
Wooden: There are many types of wooden door frame such as mahogany, oak and pine, each with different properties. In general, wooden door frames offer a classic, aesthetically pleasing look, made of natural material that can easily be painted. On the other hand, wooden doors are less weather-resistant and durable than their counterparts.
Composite: The main drawback of composite doors is the cost. Compared to other materials, they are very expensive. Despite this, the benefits are numerous, they are extremely strong and secure, low maintenance, durable and offer insulation against noise and the elements.
Metal: The main two types of metal doors are aluminium and steel. They are less costly than composite doors and offer several benefits such as durability against weather, fire resistance, high security and they are not susceptible to moisture and rotting. Unfortunately, they have their cons including a less appealing appearance and they are affected by rust.
Common issues with door frames
Depending on the type and material of your door frame there are several common issues affecting frames that will become apparent over time. The most common issues are as follows:
Sticking: Often an issue with older doors; humidity and changing temperatures can cause the door or frame to warp and enlarge which will mean difficulty in opening and closing the door.
Sagging: This is usually due to the foundation settling over time or screws on hinges not being tight enough. Sagging is where the door itself starts to drop and is no longer correctly aligned with the frame causing gaps that affect the insulation and security of the door.
Drafts: These occur when your door is not properly aligned with its frame, leaving small gaps that in colder months let in icy winds.
Find carpenters your neighbours recommend
Cost of a new door frame
It is useful to carefully consider the different materials on offer when deciding on your new door frame as the cost will widely vary depending on whether you choose a wooden, metal or composite frame. Roughly, the cost of a new door frame will be from £90 – £445.

Cost of fitting new door frame
Different tradespeople will have different hourly rates, some may charge for a full day, some may feel they need more workers and others may take longer, all of which will affect the overall price you pay for labour. Approximately the time taken will be 2 – 3 hours at a cost of £40 – £120.
New front door and frame cost
The difference between replacing an interior door (between two rooms in your home) and an exterior door (front or back) is the level of security and durability needed.
When considering the new door and frame cost for the front of your home this largely varies depending on the material you choose. For example, a new uPVC front door will cost between £250 – £450 and a composite front door will cost between £520 – £2,500.
For further information regarding front door installation please see our door installation cost guide.
Other costs to consider
With any job done well, there are extra costs to consider apart from the cost of materials and labour. Some of these are as follows:
Disposal of the old frame and/or door: Some workers will happily dispose of your old materials however in certain circumstances this responsibility will fall on you. In this case, most local authorities have a service available where they collect your old materials and safely dispose of them. This usually costs from £40 – £65.
Finishing: If installing a new timber door frame, it is often necessary to paint this yourself or to pay a professional to do this which will incur additional costs. If you are replacing an exterior door frame, it is also essential to weatherproof this as soon as possible.
Door Lock: When fitting a new door frame, it may be impossible to use the current door lock and as such, you may need to replace the entire lock. Even if you do not need to change the lock it can be a smart choice to do this anyway to improve the security of the door. For UPVC doors view our UPVC lock cost guide.
Building Regulations: It is often necessary to notify Building Control when you are installing a new door frame as this work is classed as a 'control fitting'.
Find carpenters your neighbours recommend
New door frame cost calculator
To calculate the cost of your new door frame you'll need to factor in the size, style and material of the door frame – each of these will impact the cost. Then, on top of the cost of materials, you need to add the labour cost, if you're having the frame installed. To get accurate prices, speak to local door frame specialists and ask for a breakdown of costs for the various options available.
New door frame quote
We always recommend obtaining at least three quotes from our trusted tradespeople. Our request a quote feature is perfect for getting quotes – you post details about the job you want doing and we'll send it out to local tradespeople in your area. Try it out!
Hourly rates for fitting a new door frame
The average hourly rate for a door frame installer is around £25 – £37.50 per hour. If you're hiring a carpenter to do the work, their hourly rate is usually in the same region, averaging £31.25 per hour or £250 per day.
Can I replace a door frame myself?
It is possible to purchase a door frame kit in order to replace your current door frame, however, this is not an easy job.
Taking into account the weight of your current door, ensuring a correct fit and the potential to damage not only the door and frame but also the surrounding wall, it is recommended you hire a professional. In fact, hiring a professional and the door frame fitting price may be cheaper than you think, please see our above table for up-to-date pricing.
To find a local, reputable, tradesperson in your area and get a personalised cost to replace a doorframe use our free search tool.
Key takeaways for calculating new door frame costs
There are numerous reasons why you may choose to purchase a new door frame, such as when renovating, excessive damage or to update the look and feel of your space.
It is vital to carefully decide which material is best for your new door frame. Each material offers benefits and costs such as durability and security, so choose your frame material on this basis rather than simple aesthetics.
Consider any extra costs when budgeting for your new doorframe installation costs, such as the removal of old materials and the finish you require.
While it is possible to replace the doorframe yourself, this is a difficult job and you may end up damaging existing fittings.
Find carpenters your neighbours recommend