Last updated on March 31st, 2022
How much does uPVC door lock replacement cost?
Read our helpful guide on uPVC door lock replacement costs. From lock types to locksmith costs we've got you covered with prices and money saving tips.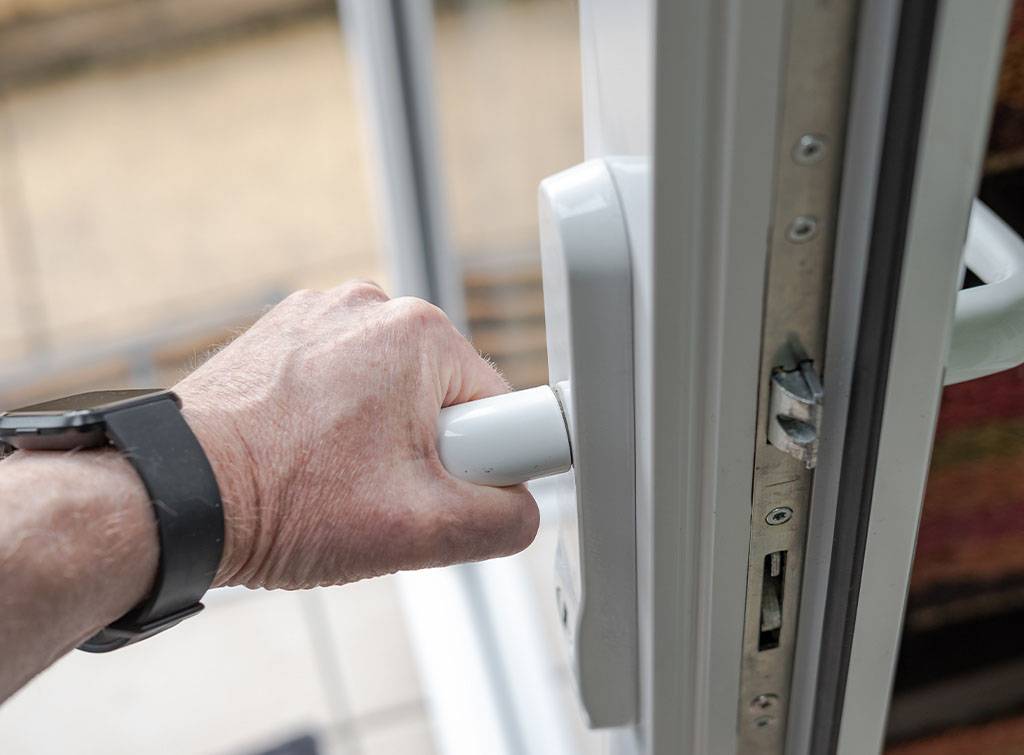 There are many scenarios where you may wish to have your door locks changed, for which you'd look for uPVC door lock replacement cost. Some of these will be by choice, such as increasing security or to comply with insurance requirements, and others through necessity, such as following a break-in, after you lose your keys or even moving into a new home.
Fortunately, replacing your locks does not have to be an expensive, drawn-out process. Most locksmiths are available any time of day and out of hours, plus they usually have a range of new locks ready to be installed.
We have put together this guide for you with more information on the average door lock replacement costs and important factors that will affect this price. On average, how much does a door lock replacement cost?
The average cost to have a locksmith replace a standard Euro cylinder lock on a uPVC door is £100 plus the cost of labour.
| uPVC replacement door lock costs | Unit | Cost +VAT (Range low-high) | Average cost |
| --- | --- | --- | --- |
| Locksmith changing a standard euro cylinder lock on a uPVC door | Per lock | £75 - £125 | £100 |
| Locksmith changing an anti-snap euro cylinder lock on a uPVC door | Per lock | £100 - £150 | £125 |
| Locksmith | Per hour | £50 - £95 | £75 |
| Locksmith out of hours | Per hour | £75 - £125 | £100 |
| Gain entry if locked out | Per job | £75 - £150 | £115 |
| uPVC patio door lock replacement | Per lock | £90 - £120 | £110 |
| Changing all the locks at a property | Per home | £400 - £600 | £500 |
For a breakdown of each cost, we spoke to the online estimators at My Build Estimate – a professional estimating company monitored by the Royal Institute of Chartered Surveyors (RICS). This guide features the estimated average uPVC door lock change costs they provided.
Types of cylinder locks for uPVC doors
It is easy to be confused by the multitude of locking mechanisms and structures on the market, however, there are two common locks used for uPVC doors:
Euro cylinder locks: These are very popular as they are extremely versatile, removing the cylinder is very easy and it is possible to use the same key with different cylinders for buildings with several offices.
Anti-snap euro cylinder locks: Whilst very similar to euro cylinder locks, these locks have one key difference, their security level. They have a much higher security rating. That's because they cannot be picked open. Also, they are tested against lock snapping and lock bumping.
How much does uPVC door lock replacement cost?
When calculating the door lock change cost, it is important to also consider the cost of labour if hiring a locksmith. For reference, the cost of simply buying a replacement uPVC door lock is from £35 – £45 for a standard euro cylinder lock and from £40+ for an anti-snap euro cylinder lock.
See the tradespeople we've checked and recommend for your job
Factors affecting uPVC door lock replacement costs
Unfortunately, it is difficult to calculate the exact uPVC door lock change cost. That's because there are many factors that need to be taken into account, including:
The standard: British Standard locks are certified by the BSI so will be stronger and more secure than non-British Standard locks, but more costly.
Time of day: If you are locked out and urgently need your lock replacing out of hours, this will incur an extra charge of approximately £25 – £35 per hour.
Brand of lock: Due to different levels of security and durability, depending on which brand you choose the costs of the door lock change may be higher than the average figure from the above table.
Labour costs: The time taken by the locksmith to replace your lock. It is often possible to agree on a price beforehand based on an estimate of the time required. And, as such, you will pay that fixed cost no matter how long it takes. Complex jobs, such as replacing all the locks in a home, will take a lot longer.
Travel: In certain circumstances (e.g. if you require emergency assistance and the only locksmith available has to travel a large distance) you will be charged extra for the distance they travel.
Lock type: Multi lever locks will add to the overall cost of your replacement, priced between £150 – £250.
Please note, lock parts may not be readily available. In such cases, it may be necessary to board up broken windows and doors until repairs can be made. This will include additional costs but is essential to keep your home safe.
How much do other uPVC replacements cost?
If other parts of your home have been damaged, you may also enjoy our other cost guides on replacement glazing units for uPVC windows and how to repair a uPVC door.
How much does a locksmith charge to change a front door lock?
There's such a wide range of locks available, beyond just locks for uPVC doors. As a result, it is difficult to exactly estimate the cost of replacing a front door lock.
The door lock change cost will be roughly between £100 – £200. However, taking into account the factors described in the previous section, you will need to adjust this price accordingly.
If you're looking to get a patio door lock replaced instead, this usually costs £90 – £120.
Locksmith hourly rates to change a uPVC door lock
The typical locksmith hourly rates are around £50 – £95 per hour, averaging at £75 per hour. If you wish to get your uPVC door lock changed, that takes around 1 – 3 hours generally, depending on various factors.
Of course, if you want your door locks changed out-of-hours, that would cost you more per hour. Most locksmiths' hourly rates for such a situation would be between £75 – £125.
See the tradespeople we've checked and recommend for your job
Security door lock replacement cost
Security doors are designed to be extremely difficult to break through. They are heavy and usually made of steel, with very secure and complex locks. For this reason, you need to hire a professional locksmith. That is because they will be able to give you an accurate cost for replacing a security door lock. The labour cost for a professional locksmith will usually be between £50 – £95.
How much will a front door lock replacement cost?
The cost of a replacement front door lock will depend on the type of lock you want and need and whether you only need the cylinder replaced or if you require a multi-point locking mechanism. Front door locks are usually slightly more complex than a standard interior door lock as they need to be able to secure your home.
A front door lock change cost for a uPVC door can be as little as £30+ for a cylinder replacement and anywhere from £60+ for a more sophisticated multi-point locking mechanism.
The final price will also depend on the size, make and standard of the lock that is chosen.
uPVC door lock replacement cost calculator
As well as the costs for labour and the lock itself, it is important to budget for any additional costs that may arise when replacing your locks. These include:
Gaining access if locked out. This can be a significant job depending on the ease of access and can cost around £75 – £150.
Replacing broken windows or doors that are damaged when gaining entry to your home if you are locked out.
Broken or snapped keys that are inside your door lock. These will need to be removed and will probably incur extra costs.
If you have been burgled, you may choose to replace all the locks at a property. This costs around £400 – £600 depending on the locks used and amount of locks.
In certain circumstances, it may be possible to replace lost keys without changing your locks. In this case, you will be charged for the new keys and any call-out fees.
How long does it take to change a lock on a door?
The time taken to change door locks will vary based on:
The type of door you have
Your existing locks
The new locks required
Repairing any damage to your door or lock
The average time taken is approximately 1 to 3 hours.
Can I replace my own uPVC locks?
It is possible to replace simpler locks yourself. But, it is also easy to do a poor job, putting your home security at risk. Below are the benefits of hiring a professional locksmith:
Speed: Many locksmiths are available 24/7 and have fully equipped vans so are able to respond and resolve any issues you have in a flash.
Security: It is a huge part of a locksmith's job to be up-to-date on the latest security issues and technology. As such, they can advise you on the best type of lock for your requirements. And, then they can fit it to a high standard. This means you, your home and your property are as safe as possible.
Experience: Most locksmiths are knowledgeable and experienced meaning they are prepared for any scenario and able to deal with a wide variety of locks.
uPVC door lock replacement quotes
To receive a uPVC door lock replacement quote you will need to find local and reputable tradespeople in your area. We always suggest getting quotes from at least three tradespeople. If you don't have the time to search for trusted locksmiths, then we've got the perfect tool for you.
With our 'Post a job feature' you can post your job and we will send it to locksmiths who come recommended by your neighbours. Once the locksmiths receive your job they will be in touch with you to discuss more. You post the job, we'll take care of the rest.
Key takeaways for uPVC door lock replacement
The door lock change cost is affected by the brand, security and type of lock.
It is worth asking for a quote upfront so you can be sure you will only need to pay a set amount no matter how long the work takes.
Hiring a professional locksmith is definitely worth the cost as they are quick, efficient, knowledgeable and will complete the job to a high standard.
There may be additional costs to consider such as repairing damaged windows, boarding up or removing broken keys from locks.
Despite the extremely diverse locks on offer, when it comes to uPVC doors there are two main ones to consider; euro cylinder locks and anti-snap euro cylinder locks.
See the tradespeople we've checked and recommend for your job