How to restore a staircase
Revitalise an old staircase with our detailed guide. Learn how to restore staircases, removing signs of creaking, neglect, damage, age and overuse.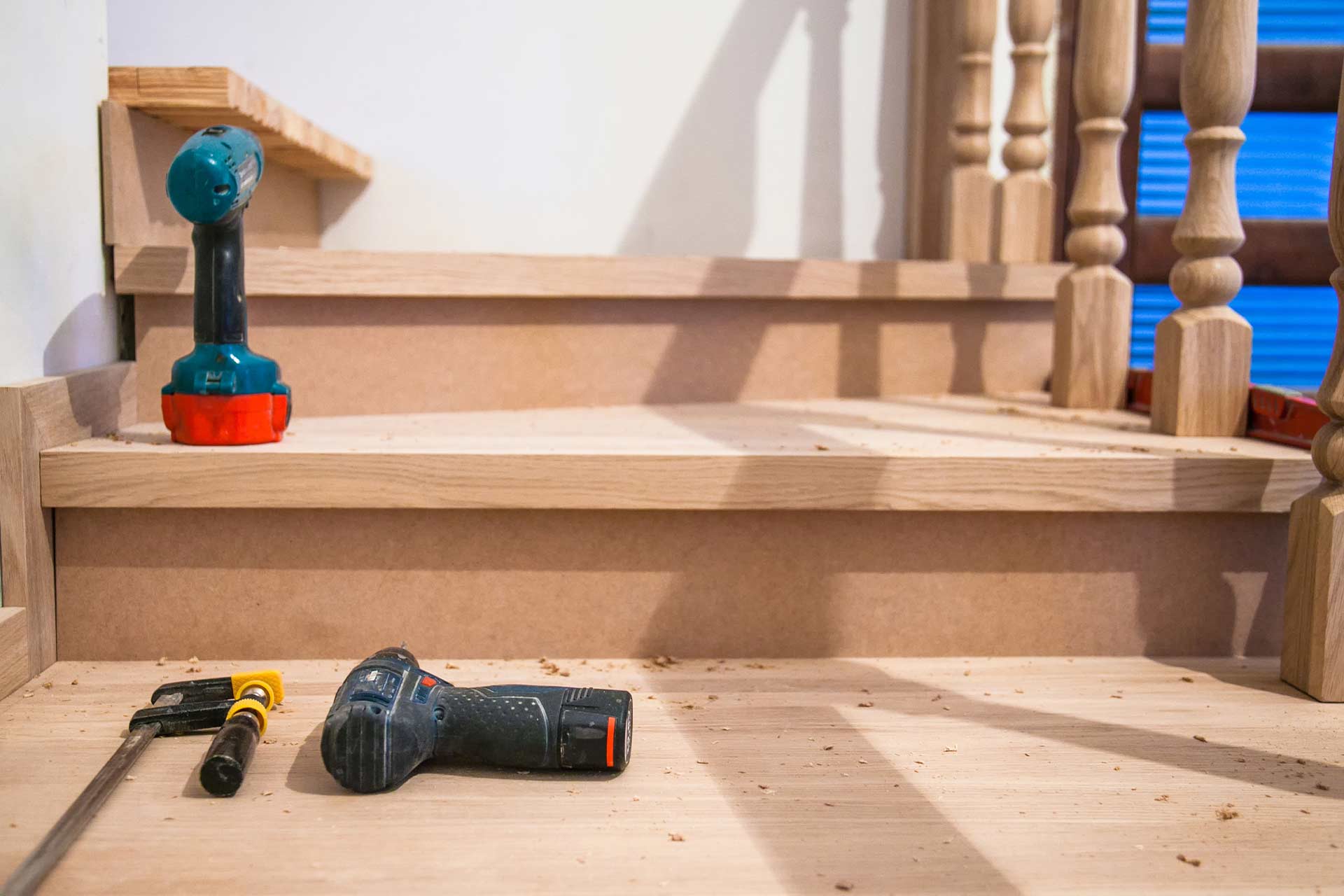 Staircases are one of the most well-used parts of any property. Unfortunately, this constant wear and tear over time will affect the staircase making it look old and worn. Despite this, it's often possible to restore staircases, bringing them back to their former glory.
If you're looking for ways to repair your damaged, old staircase, you're in the right place. We'll be looking into how to restore staircases, with the different tools and materials you'll need, plus step-by-step instructions.
How to restore staircases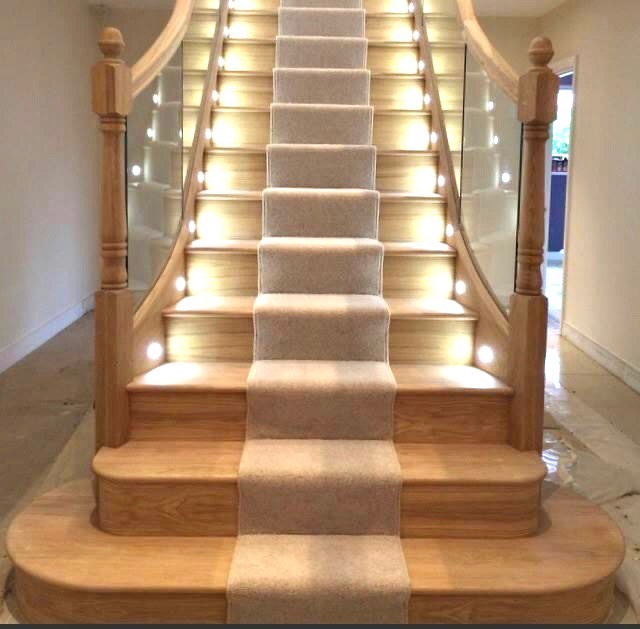 Once your staircase begins to show its age, it can still be brought back to its former glory. You'll need a range of tools and materials, depending on exactly which methods you plan to use.
Some of the handiest tools and materials you'll need are:
Hammer
Chisel
Drill
Spirit level
Saw
Paint remover
Hard wax oil
Wax polish
Wood stain
Wire wool
Sandpaper
See the tradespeople we've checked and recommend for your job
How to restore wood stairs
In order to properly revitalise a worn staircase, you'll need to decide the best method to use. Rough staircases can be sanded, flaking paint can be removed and dull surfaces can be waxed.
Wondering how to restore a wooden staircase? Use the below methods:
Paint: Removing old layers of flaky paint can help you to see the bones of your staircase. This is particularly important if the staircase is old, as it'll likely have layers and layers of paint. Make sure to protect yourself if your home was built before 1960 as the paint may contain lead.Once the paint is removed, you can sand it, then prime and paint the wood. You can also paint over old layers of paint, although this can give uneven results.
Sanding: Whether or not your staircase was painted, sanding is essential to create a smooth, even surface. This will help to give your staircase a flawless finish and prepare the timber for painting or sealing.
Waxing: To achieve a natural, authentic finish, waxing your staircase is a great option. You can also use oils to enhance the appearance of your stairs.
Polishing: Using French polish can help to build a more durable surface while still showing off the beauty of the wood.
Congratulations, you now know how to restore a wooden staircase!
See the tradespeople we've checked and recommend for your job
How to restore old stairs
Bringing an old staircase back to life is generally completed using several different methods. You can learn how to restore old stairs using our 'how to restore wood stairs' section. If you're dealing with a very old building, you'll need to be very careful about any work you carry out.
Many older, historically significant buildings are considered listed and will have their own restrictions. Thankfully, our listed building renovation guide is the perfect resource if you're planning any type of restoration project in a listed building.
How to refinish wood stairs
It's a shame that so many wooden staircases are covered with carpeting. This hides the beauty of the natural wood and keeps it from reaching its true potential. If you're working towards a more natural home, knowing how to refinish wood stairs is a fantastic skill to have.
Dreaming of authentic wood stairs? Use the below steps:
Remove the old carpeting and any tacking strips carefully so as not to damage the timber.
Pull out any staples with a pair of pliers. You can simply hammer any nails into the wood underneath.
Next, remove any paint or varnish on the wood stairs.
Thoroughly sand the timber until it's smooth and even. Do this using 80 grit sandpaper, then 100 grit and 120 grit after that. Dust and clean the wood before continuing.
Now you're ready to paint your staircase. Use a layer of primer to properly prepare the stairs for painting or varnishing.
Apply your varnish or paint in thin layers, always waiting until dry before moving on to the next coat.
You'll likely have a gap between the base of your staircase and the floorboards of the lower floor of your home. You can fill this with a foam strip and wood filler. Make sure to create a level, even finish.
See the tradespeople we've checked and recommend for your job
How to fix old stairs
Issues with old stairs are very common and can in many instances be remedied. Wondering how to fix old stairs? The best method to use will depend on the problem you have. From squeaking to chips, you can repair your old stairs without the need for a professional.
To fix squeaky stairs, use the following steps:
You can fix your staircase from above or below. We have based this 'how to' on repairing from above as not everyone has access to below their stairs.
First, you'll need to identify where the squeak is coming from. Find the right step then continue.
Begin by using a drill to make clearance holes in the tread and the riser of the creaking stair. Use a smaller drill bit for the holes in the riser's top.
Next, create clearance holes that include a countersink bit. This means your screws will sit flush with the stairs.
Fill the holes with wood glue, then screw the screws in. Once they are in position tightly, use wood filler to hide the heads.
You can instead use metal brackets attached to the riser and the tread to prevent creaking.
How to repair wood stairs
Wood stairs are both stunning and problematic. Issues with shrinkage, wearing and creaking can all be common issues.
If you want to know how to repair wood stairs, especially if creaking is the problem, please see our 'how to fix old stairs' section.
I need further assistance – hire a professional
Working on a well-used staircase can be complicated and tricky, so it's no surprise many people need assistance when undertaking this kind of project. If you feel out of your depth, speaking to a professional is a safe option. With experts in your area, we're here to connect you with trusted tradespeople.
Find a stair restoration specialist near you below.
See the tradespeople we've checked and recommend for your job
How much does professional staircase renovation cost?
If you're considering hiring an expert to take care of your staircase renovation, it may be useful to know some of the average costs. We've summarised some of the amounts you can expect to pay along with links to our guides below. These will provide you with prices as well as some fantastic information and guidance for your renovation.
Click any of the below links to see our staircase cost guides:
Always obtain at least three quotes from three qualified professionals. In fact, you can get three quotes by posting your job here. Post your job and we'll find the tradespeople for you!