Quartz vs granite cost – which is cheaper?
Remodelling a kitchen is not a cheap home improvement, so it's likely you want to understand just how much your dream worktop might cost. Quartz and granite are two of the most sought-after materials for kitchen worktops, both adding a top-quality finish to any kitchen design.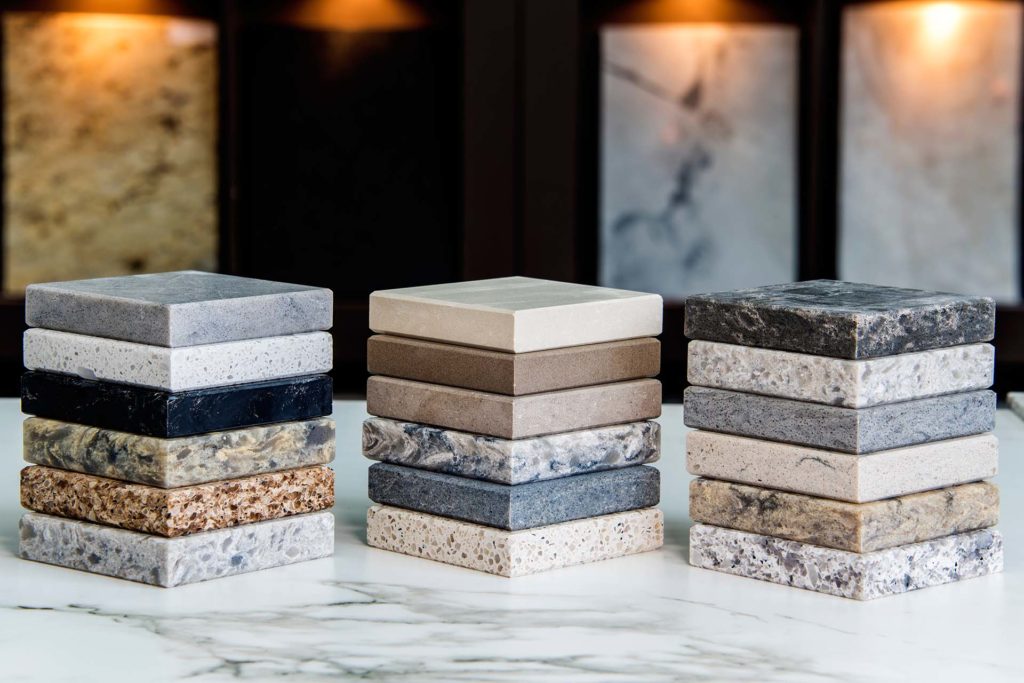 In this article, we'll cover:
There are many factors to consider when choosing between the two. But in this post, we'll look at granite vs quartz on price.
| Cost provided item | Unit | Range - low | Range - high | Average |
| --- | --- | --- | --- | --- |
| Standard quartz countertop - supply only | 600mm depth x 5m length | - | - | £800 |
| Standard granite countertop - supply only | 600mm depth x 5m length | - | - | £850 |
| Quartz countertop, including installation | Per m2 | £200 | £550 | £375 |
| Granite countertop, including installation | Per m2 | £270 | £600 | £435 |
Quartz vs granite cost comparison
Our table of costs will help you to calculate the cost of supply and installation.
These costs reflect an average price, for standard quartz and granite worktops. Bear in mind prices can vary depending on the colour and finish chosen.
To supply a 5m standard countertop (600mm depth):
Quartz will cost on average £800
Granite will cost on average £850
To supply and install a countertop (per m²):
Quartz will cost on average £375 per m²
Granite will cost on average £435 per m²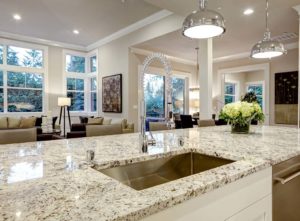 If looking at granite vs quartz cost per square metre, quartz normally comes out slightly cheaper than granite.
Having said that, many experienced granite worktop suppliers and fitters can manipulate the cutting to make granite the more cost-effective option. This is because granite comes in larger slab sizes than quartz. Therefore it's possible to get all the required pieces from one larger slab of granite, as opposed to two slabs of quartz.
Factors affecting the price of quartz and granite worktops
When comparing quartz countertops cost vs granite, you'll see a variance in price depending on:
The size and dimensions of the worktop
The specific type of granite or quartz you choose
There will also be a difference in quartz vs granite countertops price based on the finishes you choose, as outlined in the table below.
| Bespoke service | Unit | Average cost |
| --- | --- | --- |
| Unpolished cutouts (e.g. sink/hob) | Each | £180 |
| Polished cutouts (e.g. for an undermounted sink) | Each | £185 |
| Drainer grooves | Set of 5 | £150 |
| Curved corners | Each | £15 |
| Rounded edges | Per metre | £14 |
Unpolished cutouts. This refers to the sections cut out for your hob and sink. If you want to top mount your sink, an unpolished cutout is all that's needed as it won't be seen.
Polished cutouts. If you're opting for a butler sink, for example, you need polished cutouts, as you'll see the edges of the worktop around the sink.
Drainer grooves. This is essentially your draining board. Costs average at £150 for a set of five.
Curved corners. The worktops will come with square corners as standard. If you want these curved, expect to pay around £15 per corner.
Rounded edges. Worktops either have a flat or rounded edge. A flat, or squared edge is standard. To have rounded edges will cost around £14 per metre.
We recommend using these costs as a ballpark and speaking with your local kitchen worktop fitter for a detailed quote. Use our handy search function below to find top quality granite and quartz fitters in your area.
FAQs
Is quartz more expensive than granite?
Granite normally works out more expensive than quartz. However, it's worth asking your granite worktop supplier if they can get all the pieces needed from one (larger) slab, as this can sometimes work out cheaper than two (smaller) slabs of quartz.
Are quartz countertops more expensive than granite?
Generally, they are fairly similarly priced, but granite can be more expensive depending on the availability of a certain colour and pattern. Quartz can sometimes work out the more expensive of the two due to the treatments it receives during manufacturing.
Find an expert to supply and install your kitchen worktop
Good jobs, guaranteed
Get covered when you book with Checkatrade.