Last updated on September 7th, 2022
Recessed shower shelf cost guide
In this recessed shower shelf cost guide, we look at the average price of the shelf and how you can go about including one in your bathroom.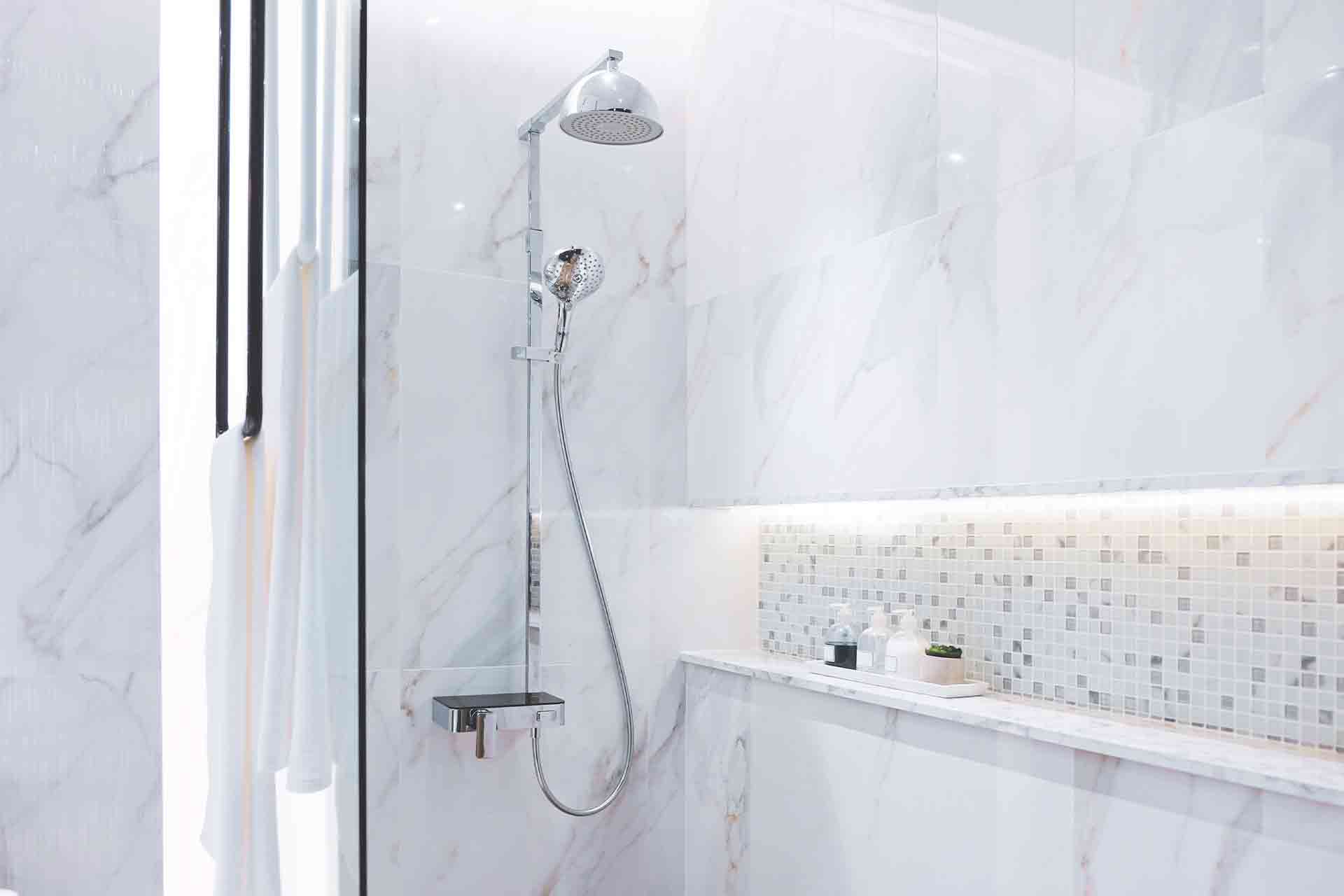 One of the biggest trends in bathroom design in recent years is building a recessed shower shelf. It's the perfect way to store your bath and shower products neatly stored on a shelf tucked out the way.
Whether you decide to build your recessed shower shelf into a stud wall or within the shower unit itself, you can optimise space and add a stylish touch.
How much does a recessed shower shelf cost?
| Cost provided item | Average UK cost |
| --- | --- |
| Recessed shower shelf unit | £60 |
| Tiler (per hour) | £40 |
Due to the nature of a recessed shower shelf, it's hard to quantify the cost of the shelf itself.
If you're looking for a recessed shower shelf unit you can get one for about £60 each. But you'll also need to think about the installation and how exactly you're going to incorporate it into your bathroom.
You may need to knock into some walls for your recessed shower shelf, so it's worth speaking to a local builder or bathroom specialist for their advice and to get accurate quotes for the job.
Factors affecting the cost of a recessed shower shelf:
Size of shower shelf
Materials used
Any construction work needed
Where you live
If you're also looking for prices to install the shower unit, take a look at our shower installation cost guide. For prices of installing a new bathroom, see our bathroom installation cost guide.
See the tradespeople we've checked and recommend for your job
Labour cost
If you're planning to tile your recessed shower shelf, the cost of a tiler is about £40 per hour. For more information about tiling, check out our tiling cost guide.
How do I create a recessed shower shelf?
There are two main ways to create a recessed shower shelf in your bathroom. You can either knock into the existing bathroom wall, or build a fake wall into your bathroom to allow a recess to be created.
The option you take will depend on your property, so we recommend speaking to a local construction expert to give you advice on the best choice for you and your home.
Useful recessed shower shelf checklist
Check if you can knock into your existing shower wall.
Speak to a local construction expert for their advice.
Contact local shower installation experts for accurate quotes.
Shop around for fair and competitive costs.
Always hire a tradesperson with relevant experience and ask to see examples of their work.
See the tradespeople we've checked and recommend for your job