If you're having problems with your shower and looking to replace it, then look no further. In this guide we'll look at the cost of a shower installation based on replacing the shower unit itself (including the pump, pipework and shower head), rather than building or replacing the whole shower cubicle, tiles and all.
There are a range of showers available on the market, and which one you choose will affect the cost of fitting it. Therefore, it's important to start by establishing your budget and what type of shower you need.
Electric shower installation costs
From £60 to £200 plus labour
| Shower installation costs | Range - Low | Range - High | Average labour |
| --- | --- | --- | --- |
| Electric shower | £60 | £200 | £200 |
| Mixed shower | £50 | £150 | £150 |
| Power shower | £100 | £500 | £350 |
| Thermostatic shower | £120 | £200 | £200 |
| Digital shower | £350 | £600 | £300+ |
Electric showers are one of the most common types of shower you'll find in UK homes. They work by being connected to your cold water supply and using a heating element to heat up the water, so they're ideal if you want instant hot water.
When you buy an electric shower make sure you check what kW rating they have – the higher the better. On average, the cost of a standard electric shower installation will be around £300 for supply and installation.
Key features:
Needs a good water pressure (from either your mains supply or a shower pump)
Doesn't need hot water from your boiler
Compact and easy to install
Well suited to homes with combi boilers
Mixer shower costs
From £50 to £150 plus labour
A mixer shower, as the name suggests, mixes water from your home's hot and cold water supplies to achieve the right temperature. With this type of shower the unit doesn't heat any of the water itself, so it depends on your boiler or heat tank for hot water.
You can also get mixed shower units that you can conceal within the wall so they're hidden away – although doing this will increase the cost to install your new shower.
Key features:
Requires both a hot and cold water supply
Stronger water pressure than electric showers
Concealed styles are available
Best suited to homes with good water pressure and a reliable supply of hot water

Power shower installation costs
From £100 to £500 plus labour
If you're looking for a powerful, high pressure shower then a power shower is what you want. Often confused with electric shower units because they look similar, a power shower uses an internal pump that significantly increases water pressure. The costs for a power shower installation will be higher than both an electric or mixed shower.
Key features:
Best type of shower to provide strong water pressure
They tend to use more water than other shower types
Need a hot and cold water supply
Ideal for homes with weak water pressure
Thermostatic shower costs
From £120 to £200 plus labour
Thermostatic showers use a system of internal valves combined with a sensor that detects changes in water temperature. The shower unit regulates the hot and cold water before it leaves the shower head, preventing scalding or dramatic changes in temperature.
Like with any shower type, the cost to install a new shower unit will vary depending on make and model.
Key features:
A safer alternative for temperature control
Needs to connect to your home's hot and cold water supplies
Well suited for homes with young children or elderly folks
Digital shower costs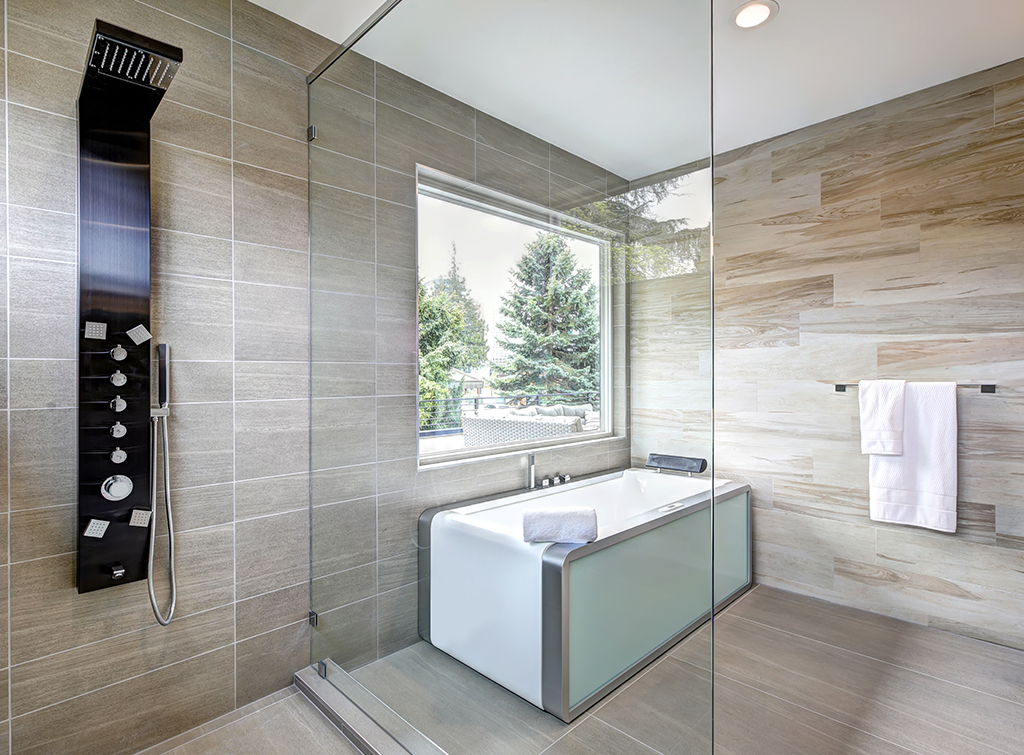 £350 to £600 plus labour
For tech-lovers out there, digital showers combine the workings of a mixed shower with the precision of a digital control that allows you to set a precise temperature at the touch of a button.
Some digital showers are also compatible with other smart devices in your home, but connecting them up can add to the overall shower fitting cost.
Key features:
Connects to your home's hot and cold water supplies
Options available for all types of water system or boiler
Some are compatible with other smart home devices
Well-suited for homeowners who want to add tech to their bathroom
Labour
In addition to the cost of the shower unit itself, you also need to factor in the installation labour – if you're hiring a professional tradesperson to do the shower installation. On average a plumber will charge around £60 per hour, and should take 3-4 hours to install a straightforward shower.
If you add this to the cost of the shower unit, you're looking at a total cost of between £300 and £1,000 for the supply and installation of a new shower by a professional installer.
Shower installation cost calculator
How much does it cost to install a shower in the UK? In order to work out the total cost of installing a new shower there are a number of factors you need to consider. You'll first need to know the type of shower you want to install, as this will have the biggest impact on the cost. Once you know the type of unit you need, you should add on the installation labour costs and any other fixtures or fittings needed – including any plumbing or tiling work.
Shower installation quote
We recommend obtaining at least three quotes from our trusted tradespeople. Our post a job feature is perfect for getting quotes – you post details about the job you want doing and we'll send it out to local tradespeople in your area. Try it out.
Shower installation hourly rates
The average hourly rate of a plumber to install a shower is about £40 to £60 per hour. To find out more, check out our guide to plumber costs in the UK.
Find a shower installation expert near you
Additional costs and considerations
As mentioned, the costs above are for simply fitting a shower unit. If you're looking to replace an entire shower (including the cubicle, screen, shower tray, tiling, etc) then you'll be looking at an additional set of costs. These will vary greatly depending on the quality and type of materials you choose. And labour costs will also increase as the job could take several days rather than hours.
The average cost for a whole shower installation is around £1,000.
FAQs
What type of shower should I choose?
The best shower for you and your home depends on a number of factors, including the type and size of your boiler you have and the water pressure in your home. Different shower types will help address different issues of water pressure and temperature control.
Do I need a plumber and electrician to install an electric shower?
No. But if you're having any type of shower installed that connects to water and electricity then you'll need to hire a Part P-certified plumber. They can safely complete the shower installation and will ensure that all water pipes and wiring are handled correctly.
Is a mixer shower electric?
No. Most mixer showers work without electricity as they operate using the mechanics of water pressure. However, if you want to have a separate shower pump installed, that will need a power source.
Tell us what you think
What others think of this article:
Need More Information?
Related posts