How much does it cost to install a septic tank?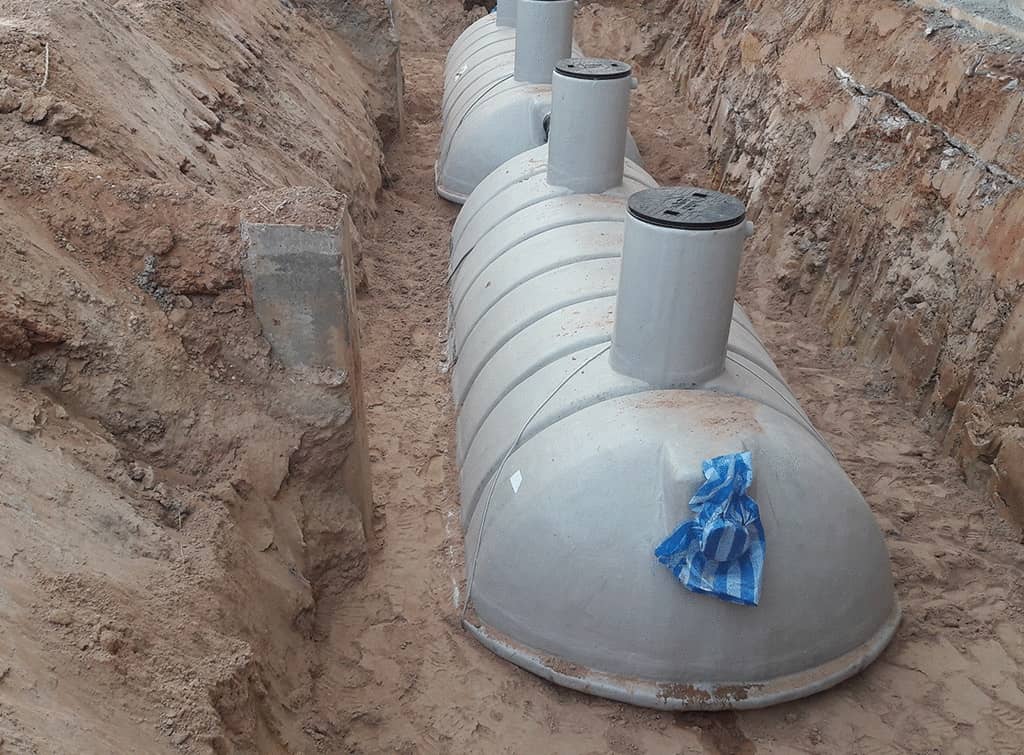 | Septic tank installation costs | Unit | Excavation costs | Cost of tank & positioning | Total + VAT |
| --- | --- | --- | --- | --- |
| Small septic tank | Per tank | £2,720 | £980 | £3,700 |
| Medium septic tank | Per tank | £3,265 | £1,235 | £4,500 |
| Large septic tank | Per tank | £3,905 | £1,395 | £5,300 |
| Empty tank | Per tank | - | - | £120 - £350 |
It's easy to take for granted reliable plumbing in towns and cities, but in the countryside, it's not always an option. Where mains drainage isn't available, a septic tank is an ideal way to remove sewage and wastewater from the home.
Best of all, a well-designed system connected to a soakaway or drainage field can last for decades and even be cheaper in the long run than paying to be connected to the public sewers.
What's the average cost to install a septic tank?
Prices range from £3,700 to £5,300 including excavation, the tank itself and installation.
To help you price this job we spoke to Bob Branscombe (MRICS and MCIOB qualified), who has 34 years in the industry with Branscombe Consulting. In this handy table, we've compiled estimated and average costs so you can work out the septic tank installation prices for your home.
How does a septic tank work?
A septic tank stores wastewater from your home and allows it to settle as effluent, leaving the solid contaminated waste (sludge) at the bottom of the tank, scum at the top of the tank and liquid septic water in the middle.
With underground systems, the liquid septic water is filtered and released into a drain field through an outlet pipe where it is treated by microorganisms. The remaining sludge and scum in the tank is left to decompose. Should this build up too much then the tank will need to be emptied.
What size septic tank do I need?
Septic tanks collect waste not only from sinks, baths and toilets but also from dishwashers and washing machines, meaning a considerable amount of water can be collected every single day. Making sure you get the right size is key, as smaller tanks quickly end up costing more to empty in the long run if you haven't picked a big enough size.
To calculate the size you need, BS6297 and British Water Flows and Loads recommend the following formula:
Size needed = 150 litres x maximum number of people in the property + 2,000 litres
British Water Flows and Loads estimate each person will use 150 litres per day, but you may want to do your own calculation. Children are treated as needing the same amount as adults. 2,000 litres is the minimum amount of litres needed to comply with building regulations.
By spending more upfront and choosing the largest system you can afford and have space for, you will save more in the long run.
Smaller septic tanks cost around £850 to purchase, whilst larger ones can cost around £1,200.
Type of septic tanks and their costs
There are two main considerations in terms of the type of septic tank; what design is best for your garden and what material should the tank be made of?
Design: If you are installing the tank in an area with rich soil or dirt then gravity systems that use the existing water flow from the pipes are best, whilst pressure systems are ideal for areas with gravel or coarse soil.
Material: The most common materials for septic tanks are concrete, polyethylene and fibreglass which vary in strength and how long they will last. Polyethylene is very long-lasting, for example, but also more expensive than a standard concrete system.
Find a septic tank installer near you
Septic tank location costs
You can choose to position a septic tank below or above ground, with the following benefits:
Above ground: Cheaper and a great option for small systems if you don't mind them being visible or taking up space. An ideal solution for temporary structures too.
Below ground: More expensive for installation but take up less space and allow you to use larger tanks, saving you money in the long run. Essential for larger families.
Septic tank drainage costs
Most domestic septic tanks are installed below ground along with accompanying underground drainage. This can be done via soakaways or a drainage field.
Soakaways: Holes in the ground filled with pea gravel, rubble, rainwater crates or other materials to collect the effluent. Contractors have begun to move away from this solution, especially in light of 2020 regulations.
Drainage fields: An interconnected network of pipes and trenches in a continuous loop. This better allows effluent to flow and drain into the ground.
Waterways: This approach is no longer possible. The 2020 regulations blocked the discharge of septic tanks to surface water drains, streams, ditches, canals, rivers or any type of waterway.
Septic tank surveys
For peace of mind when buying or selling a home, septic tank surveys are generally requested to ensure everything is ok with the installation. You should consider that a poor quality tank or installation may cost you down the line when this survey is done. Buying the right-sized, good quality tank that's properly installed will save money in the long run, every time.
Septic tank installation costs and timings
Above ground systems are very simple to install and generally only take a day, with lower costs for soil disposal and excavation than below ground systems.
Below ground systems and drain fields can take around a week or two to install, depending on the size of the tank, the soil quality and availability of diggers and excavators.
Additional time will be needed to secure the necessary permits as well.
Health and safety is a key consideration with these installations. With deep excavations, earthwork, the considerable size of the tank and ensuring safe access we recommend the installation is done by a trained professional.
Labour costs for installation are generally between £1,000 – £1,400 with a further cost of approx. £2,700 to £3,905 for excavation needed for a new installation. This will increase if the soil is contaminated.
Septic tank installation regulations
The rules on septic tank installations were updated in 2020, in the form of the Environment Agency Septic Tank General Binding Rules. As indicated above, these state you cannot empty a septic tank into a waterway. In addition to these rules, you must check with your local authority whether you can install a septic tank. The UK Government has an excellent guide on the General Binding Rules you need to follow and if you will require a permit.
You must also seek planning permission and building regulations approval. This can be secured via your local authority who will also be able to confirm if you are in a protected zone.
Septic tank installation cost calculator
If you're looking to calculate the cost of septic tank installation, you'll need to decide on the size of the tank you'll need. You'll also need to think about the location of where you'll be installing the septic tank, and what type of material you'll opt for the tank itself.
If in doubt, speak to local septic tank specialists to get a breakdown of costs – and ask them to provide options if possible, so you can see how different factors affect the total cost of the installation.
Septic tank installation quote
We recommend obtaining at least three quotes from our trusted tradespeople. Our request a quote feature is perfect for getting quotes – you post details about the job you want doing and we'll send it out to local tradespeople in your area. Try it out!
Septic tank installation hourly rates
You'll almost certainly be quoted a 'per project' rate for the septic installation labour costs, which typically range from £1,000 – £1,400. Though it's always worth shopping around to see what installation costs are in your area.
Septic tank emptying costs
With underground tanks, only the scum and sludge needs emptying through occasional pumping. Therefore, it could be two to three years before you need to have the tank emptied. In fact, it's advised this isn't done too often as having a good amount of bacteria in the tank helps break down future effluent.
If you want to check yourself if your tank needs emptying you can buy a Sludge Judge for around £120 – £200. Much like checking the oil on your car, you can check the amount of sludge in the tank in a similar way. This can save thousands in unnecessary pumping over the life of the tank.
You can further reduce your water requirements by using low-flow toilets, more economical washing machines or reduced flow showerheads.
Expect to pay between £120 – £350 to empty a septic tank with larger tanks costing more.
Find a septic tank installer near you
Septic tank repair costs
Good quality septic tanks are designed to last a long time but they're not unbreakable. Common faults include a clogged septic system, blocked pipes, flooding, unexpected smells and tank corrosion.
Septic tank repairs cost considerably less than replacing the system. Cleaning (also known as "jetting") the pipes, chemical treatments, filter replacements and soil loosening are several options for repair.
Regular inspections can help reduce the risk of these issues occurring and aid with insurance claims should the septic tank be unrepairable.
Septic tank replacement costs
There are many reasons to look into the costs to replace a septic tank:
The septic tank is broken
Another house is added to the same private drainage system
You move into a new home with a larger family than lived there previously
Your family grows and the current system isn't big enough anymore
Septic tank replacement costs slightly less than getting a new system installed if you can use the existing drainage field. You may even be able to sell the old system to recoup some of the costs.
However, if the old septic tank has broken or contaminated the ground around it then costs will be as much as or even more than a new installation. If the tank has not been pumped enough then the old soakaway or drainage field can become clogged. If this happens it takes a long time for the bacteria that's built up to die out and you'll have to pay the cost of an entirely new installation and new tank. A considerable expense and one that underlines just how important regular pumping is.
Contaminated soil will also need to be removed at a cost of around £40/m3.
Need a septic tank installation quote?
To find a local, reputable, tradesperson in your area for a new septic system, use our free search feature.
Key takeaways for septic tank installation
Buying the largest tank you can afford and have space for will reduce the amount you spend later on.
Concrete septic tanks are cheaper than other alternatives but may not last as long as polyethylene ones.
Above ground systems are cheaper initially and easier to install but can result in considerable emptying costs.
Below ground systems are more standard and may not need to be emptied for years with lower drainage costs overall.
Be sure to speak with your local authority to get planning permission and follow all septic tank installation regulations.
Find a septic tank installer near you
Good jobs, guaranteed
Get covered when you book with Checkatrade.