Last updated on May 25th, 2022
Skirting board fitting cost
Skirting boards (also known as baseboards) are decorative finishing touches that cover the joints between walls and floors. Find out how much they cost to fit and finish in our guide.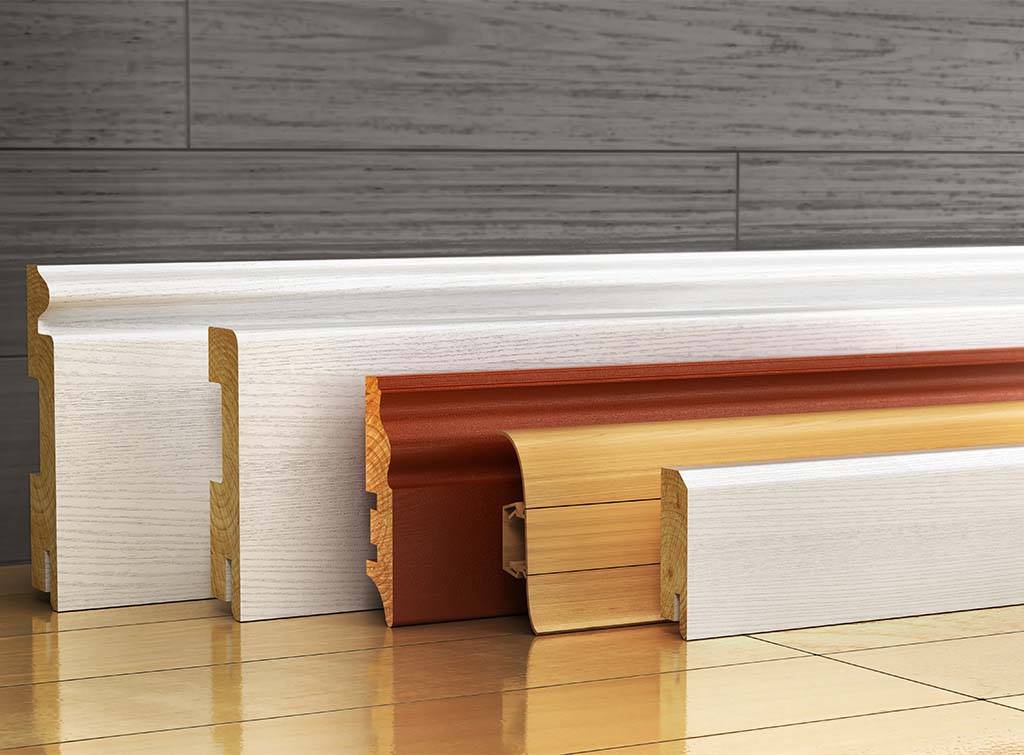 In this guide, we look at the average cost of fitting a skirting board in the UK. Please note that all prices included are meant to act as an estimate.
Whether you've moved into a new property or are renovating, redecorating or repairing your home, you might want to consider hiring a carpenter to repair or fit new skirting boards. Find out how they're fitted and the factors that make up the overall costs of their installation.
We spoke to the online estimators at My Build Estimate – a professional estimating company monitored by the Royal Institution of Chartered Surveyors (RICS) regarding the costs in this guide.
We've also included key considerations for the purchase and process of fitting your skirting board.
Cost for fitting skirting boards
| Cost provided item | Unit | Price range - Low | Price range - High | Average UK cost |
| --- | --- | --- | --- | --- |
| Supply and fit skirting board | Per lm | £18 | £26 | £22 |
| Fit skirting board - labour only | Per hour | £25 | £37.50 | £31.25 |
| Gloss painting skirting boards | Per hour | £22.50 | £32.50 | £27.50 |
| Gloss painting skirting boards – including repairs and making good | Per lm | £5 | £10 | £7.50 |
| Carpenter | Per hour | - | - | £31.25 |
| Carpenter | Per day | - | - | £250 |
| Painter | Per hour | - | - | £27.50 |
| Painter | Per day | - | - | £220 |
The cost to install skirting boards can vary depending on the quality, material and size of the room they're being fitted in. On average, you can expect carpenters to charge the cost of fitting skirting boards at a hourly rate of around £31.25. However, if you also need painting to be done, you'll also need to factor in the average hourly rate for a painter, which is £27.50.
For bigger jobs, you can expect carpenters to charge by the metre. On average, a skirting board supply and fitting cost per linear metre is £22.
Additional costs to consider
The painting requirements of the skirting boards
Disposing of the old skirting boards
Any wall and/or floor preparation required
For example, gloss painting skirting boards in poor condition with lots of filler required will, on average, cost you around £7.50 per linear metre.
See the tradespeople we've checked and recommend for your job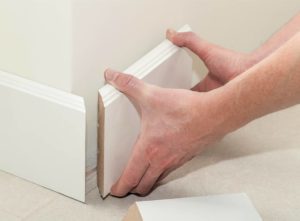 How are skirting boards fitted?
Skirting boards are usually fitted by a carpenter using various tools, such as:
Mitre saw
Screws
Pins
Wood glue
Tape measure
Pencil
Hammer
Nail punch
Drill driver
Countersink bit
Plane
Coping saw
After assessing your walls, they will take measurements and cut the skirting boards to size. Next, they'll fix any studwork required and mark the location of the studs on your floor with a pencil.
Once everything is marked out, the carpenter will drill pilot holes through the skirting board and into the studs. Further cuts will be made for the screws to sit behind the surface before being screwed in.
Next, wood glue will be used along the join to push the skirting board into place, with further drilling and screwing required to firmly secure the boards.
Finally, a few pins will be nailed through the second piece into the first and then punched below the surface.
This process will be repeated, taking into account the corners, which require careful scribing for accuracy. Then, once the room is completed, a wood filler will be used to fill in the screw holes, leaving your skirting board ready for a coat of paint or varnish.
Can I fit skirting boards myself?
Although many people attempt to fit skirting boards themselves, we always recommend hiring a professional.
The measuring, cutting, scribing and fixing needs a level of accuracy and skill to ensure the finished look is neat and tidy. A badly done job can equal gaps in corner joints and uneven fittings. It also takes longer and could cost you more in the long run.
Search Checkatrade for a qualified and trusted tradesperson who will ensure your skirting boards are fitted properly and professionally.
Key insights
All prices in this cost guide are based on standard 75mm skirting boards.
If you are using bigger/thicker skirting, then the overall price will increase.
If there are a lot of corners or difficult cuts in a room, then the cost of skirting will also increase.
See the tradespeople we've checked and recommend for your job