Last updated on June 23rd, 2022
Slate roof cost per m2
If you're looking to add character to the exterior of a property, a slate roof can do just that. As a natural material, slate is also extremely durable and can often last for over 100 years.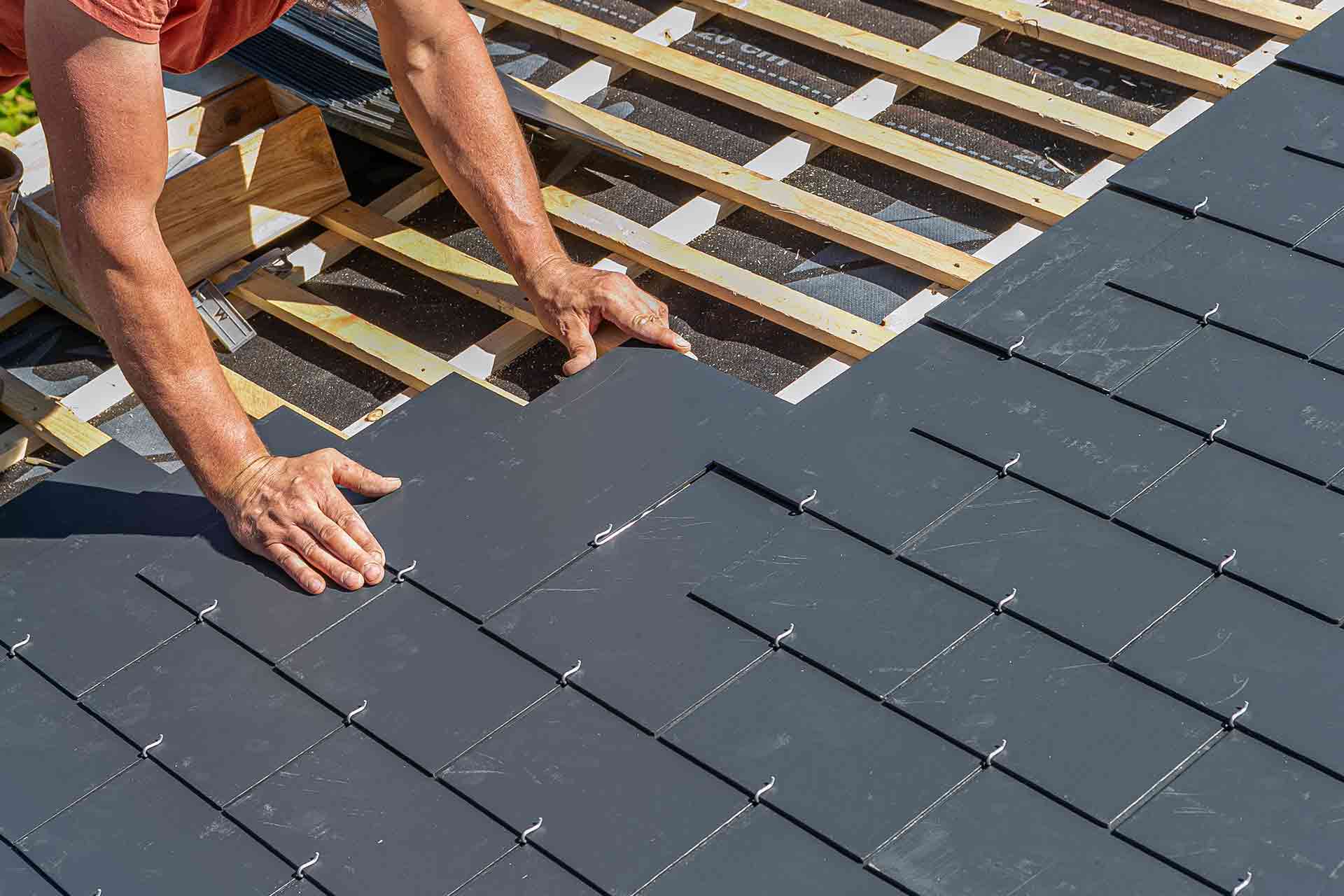 In this guide, we look at the average slate roof cost per m2 in the UK. The prices featured in this article are meant as a guide to help you plan your budget for the cost of a new slate roof. For accurate quotes, we recommend speaking to your local roofing specialists. But if you're wondering how much does a slate roof cost on average, then read on for more information.
| Cost provided item | Unit | Cost - low | Cost - high | Average cost |
| --- | --- | --- | --- | --- |
| Slate roof | Per m2 | £40 | £60 | £50 |
| Spanish slate | Per m2 | £25 | £30 | £27.50 |
| Labour per roofer | Per day | £250 | £300 | £275 |
Slate roof cost per m2
The cost per m2 of a slate roof can vary, but you can expect to pay somewhere in the region of £40 to £60 per m2. There are cheaper alternatives out there, such as importing Spanish slate for your roof. This costs on average around £25 to £30 per m2.
Some slate suppliers will have an online slate roof cost calculator for you to work out how much the slate will cost for your roof project. If in doubt, contact the supplier directly to discuss exact slate roof costs.
In addition to the cost of the slate itself, you'll also want to consider the labour costs. As slate requires skill to fit as a roofing material, you want to make sure you hire an experienced roofer who has worked with slate before. The average cost of slate roofers (who usually work in pairs) is about £250 to £300 per day – this is for each roofer, so with two on the job you could pay £600 for both of them.
If you hire a roofer they will often supply their own scaffolding, but some may not, or they may charge an additional fee for it. To find out more about the prices of scaffolding, check out our scaffolding cost guide.
See the tradespeople we've checked and recommend for your job
Stone slate roof cost
One option for your roof is using stone slate which, provided it's well looked after, can last more than a hundred years. The average stone slate roof cost is around £40 to £60 per m2.
The cost of your stone slate roof will depend on where the slate is from, whether it's new or reclaimed, and where you live.
Composite slate roofing cost
Composite, or man-made, roofing slate is a more cost-effective option if you want the look of a new slate roof without the higher cost of natural slate.
The overall look will be very similar to natural slate, only it's made up of plastic and rubber materials instead. Thanks to being made quickly and easily, the composite slate roofing cost can often be less than £1 per slate. It also comes with the benefits of not having to be imported long distances, as it can be manufactured more locally.
Useful slate roof checklist
Speak to your local roofing specialists for their professional advice and your options for a new slate roof.
Ask for quotes for slate roof costs with options for natural or composite slate roofing.
Shop around for fair and competitive slate roof prices.
Always hire tradespeople with relevant experience fitting slate roofs.
When hiring a tradesperson, check out the reviews and ratings from previous customers to gauge the quality of their work.
See the tradespeople we've checked and recommend for your job