As the world turns its attention to cleaner power, solar thermal systems are becoming an increasingly popular solution for homeowners. By drawing power from the sun, these systems transfer the heat straight into your hot water supply. The result is emission-free hot water for you to wash, do the dishes and clean your laundry. Not only are solar water heating systems beneficial to the environment, but they're also a great way to save heating costs in the long-term. But how much does a solar hot water system cost?
To help you budget, we've put together a practical guide to solar thermal system prices.
Ready to get started? Click HERE to find a tradesperson near you.
| Item | Unit | Cost - low | Cost - high | Average cost |
| --- | --- | --- | --- | --- |
| Solar thermal system | System and installation | £3,000 | £6,000 | £4,500 |
| Solar thermal kit | System | £1,500 | £2,500 | £2,000 |
Solar hot water system cost
Solar thermal technology harnesses clean energy by converting the heat from the sun into hot water. This is ideal for homeowners and businesses alike who want to reduce their carbon emissions and cut down on the costs of fossil fuels.
There are two main types of solar thermal system:
Active solar water heating systems, which have special devices to convert the sun's energy into hot water, and
Passive solar water heating systems, which rely on the design of the building itself to absorb solar energy.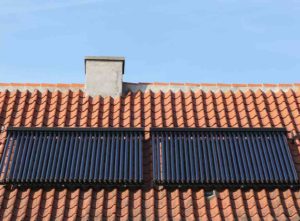 In this guide, we're looking specifically at active solar thermal systems. The cost of a solar hot water system will ultimately depend on the type and quality of the solar panels, but you can expect a quote of between £3,000-£6,000. This includes the cost to install solar hot water system as well as the materials required, including panels, pipes and a hot water tank.
The good news? The Green Homes Grant has been extended to 31st March 2022. That means homeowners and landlords can apply for vouchers ranging between £5,000-£10,000 in value for energy-saving renovations. Solar thermal panels are included under the grant scheme.
What is the cost of installing solar hot water system myself?
It is possible, of course, to purchase a DIY installation kit. If you opt for this route, you can expect the solar domestic hot water system cost to be around £1,750. However, this doesn't take into account the cost for scaffolding, which you will need if you have a two-storey home.
Find a solar thermal fitter near you
FAQs
What is the average cost of a solar hot water system?
The average solar hot water heating system cost is £4,500. A professional tradesperson will give you an accurate cost for installation.
How much does a gas boosted solar hot water system cost?
Solar hot water systems aren't usually standalone systems. They usually have a gas backup system to ensure you always have access to hot water. Gas boosted models help homeowners get the best of both worlds: lower carbon emissions through a solar water heater and the on-demand performance of a gas water heater. The cost for installation and materials will usually come to around £4,500. However, this will depend on the complexity of the installation. If scaffolding is required, these costs will be included within the quote.
How do you install a solar panel?
First and foremost, you will require between 2-5 m2 of roof space to install solar panels. The most common installation method is to mount the panels on directly to the rafters using specialist roof hooks, frames and clamps. Scaffolding is needed for properties of two storeys, which will increase the total cost.
Is my heating system compatible with a solar thermal system?
If you have a regular heating system which is gravity fed, you'll need to get an extra heat pump or valve so that the system can function properly when the heating is running alongside it. It's worth noting that solar thermal systems aren't usually compatible with combi boilers as they receive water directly from the mains. If you gave a hot water storage cylinder, you'll likely be okay.
Before proceeding, it's worth checking with the manufacturer of your boiler to determine whether it will be compatible with a solar thermal system.
Find a solar thermal fitter near you
Tell us what you think
What others think of this cost guide:
Need More Information?
Related posts