Last updated on March 31st, 2022
Sunroom cost guide
Installing a sunroom is an exciting process full of opportunities to completely customise your new space. Sunrooms are also an excellent way to infuse light into your home, creating an open, inviting space for living and relaxation. Plus, depending on what you're prepared to pay for sunroom costs, they can be designed to your exact needs and style.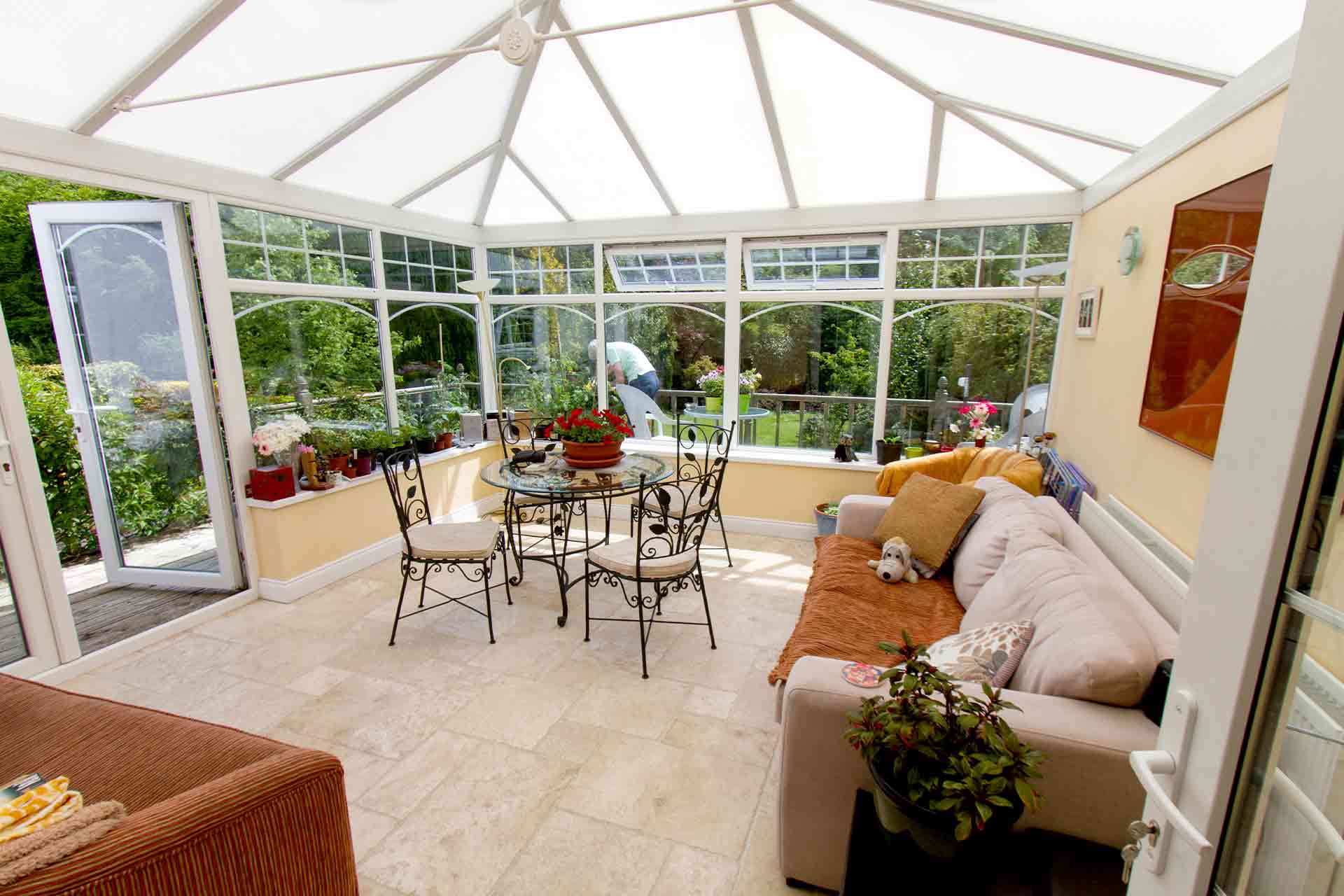 Why install a sunroom?
Your sunroom can be adapted to suit any season with a wide range of cooling and heating methods (more on this later), making it comfortable no matter the time of year. Sunrooms can also be a great alternative to conservatories, with similar benefits but without the scorching sun turning your new room into an oven on hot days.
If you are considering moving to a larger house, a sunroom can give you much needed extra living space, eliminating the need to move. In fact, you may wish to add an entirely new room by turning a sunroom into a home office or gym instead.
With the potential to increase the value of your home and the chance to still enjoy your garden even in wet weather, sunrooms are an excellent investment. Read on to discover the average sunroom cost, benefits and FAQs.
How much does a sunroom cost?
While it is true that sunrooms can be expensive, bear in mind you are adding an entirely new room and increasing the floor space of your home. With all the preparation and labour that goes into creating your perfect sunroom, it is easy to see why these beautiful additions are so costly.
Type of job
Cost + VAT
(Range low - high)
Average cost
Sunroom cost
£10,000 - £80,000
£45,000
Sunroom cost per square foot
£77.26 - £270.40
£173.83
Sunroom cost per square metre
£695.33 - £1,390.65
£1,042.97
Sunroom extension cost
£14,535 - £72,000
£43,267.50
Electrical supply to sunroom (not exceeding 25m)
£500 - £900
£700
Building Regulations
£150 - £250
£200
Timber maintenance costs (yearly)
£250 - £350
£300
For a breakdown of typical costs, we spoke to Steve Courtier at Wessex Water. This guide features the estimated sunroom cost that they provided.
The average cost of adding a sunroom is £45,000. To see how this compares to other rooms, view our house extension cost guide.
Difference between a sunroom and a conservatory
Many people think sunrooms and conservatories are the same, however, this is not the case. Both of these fantastic home additions have their own benefits and costs, as below:
Conservatories have all-glass walls and ceilings. Blinds can be added but, in general, conservatories are not very private.
Sunrooms have tile or slate roofs with extra privacy and less heat in the summer.
Conservatories allow more warmth and light to enter the room but can be stifling in the summer.
Sunrooms are better for an extended living space.
See the tradespeople we've checked and recommend for your job
Benefits of sunrooms
Extra living space: The larger the sunroom, the more extra living space you will gain. Great for busy families, this additional space can be a lifesaver in creating a new quiet alternative to a hectic living room.
Unique and customisable: When designing a sunroom, you have the option to completely customise the space through shape, materials and style.
More privacy than conservatories: Conservatories have glass roofs, meaning neighbours can see directly inside when looking out of a top floor window. Sunrooms have a normal roof which eliminates this issue.
Enjoy your garden without getting wet: British weather is unpredictable, and rain is very common. If you have spent time and money creating a beautiful garden, a sunroom gives you the opportunity to still enjoy it without getting drenched.
Long-lasting: Sunrooms built to a high specification will be designed to last for many years giving you peace of mind.
Increase the value of your home: Additional living space or an extra room can increase the value of your home by up to 7%.
Extra storage: As well as using your sunroom for extra living space, you also have the opportunity to add additional storage.
Reduce energy bills: Sunrooms trap heat inside your home, reducing the need for the heating to be on constantly during colder months.
Can increase security: Many sunrooms come with extra secure doors to increase the security of your home.
Can be designed to fit most budgets: From £10,000 - £80,000, your perfect sunroom is out there.
Factors affecting the cost to build a sunroom
Most sunroom prices fall into the range of £10,000 - £80,000. However, the amount you actually pay will be impacted by the following factors:
Materials used: Glass, aluminium, brick and UPVC, the materials used to make your sunroom are all priced differently.
Size of sunroom: Larger sunrooms mean higher material and labour costs.
Location: If you want your sunroom at the end of the garden, rather than attached to the house, you'll pay a lot more for electrics and heating to be connected. Connecting electrics can cost between £500-£900 within 25m of the home.
Foundations: If the existing foundations are poor, you'll need to budget more for groundworks.
Layout/shape of the sunroom: Unusually shaped sunrooms will be more expensive to build and will need to be drawn up by a professional.
Quality of job: You will need to choose the quality of materials used, as well as the experience of your tradesperson. Higher quality materials and more experienced professionals will mean greater sunroom prices but will give a better quality, longer lasting sunroom.
Added ventilation or heating: To ensure your sunroom is comfortable no matter the weather, you may wish to add ventilation and heating, both of which come at an extra cost.
Added features: Options include lighting, roof windows, furniture and blinds. Each added feature will increase the price you will pay.
Finish: Expect to pay more for decoration like painting and carpeting.
The condition of the current space: Before a sunroom can be built, the current space will need to be prepared. This may involve removing old structures, excavating and laying water-proof membranes.
What optional extras can I add to my sunroom?
You can really make your sunroom work for you with the addition of optional extras such as:
Roof lighting or windows;
Bi-fold or french doors (find out the cost to install bi-fold doors);
Heating;
Air conditioning;
Flooring;
Furniture;
Blinds.
Project costs by job and sizes
Sunroom cost per square foot
Your tradesperson may quote the cost of your new sunroom on a square foot basis. This can be useful as you will get exactly what you pay for. The average sunroom cost per square foot is £173.83.
Sunroom cost per square metre
If you want a sunroom that is oddly shaped or with a complicated layout, it is quite common to get quotes based on the square metres your addition will occupy. The average sunroom cost per square metre is £1,042.97.
Sunroom extension cost
If you are planning to build a sunroom onto the back of your home rather than taking the place of an existing structure, you will save money on the removal of the old materials. This may be a good solution if you need additional living space and have a large garden.
The average sunroom extension cost is £43,267.50.
Can I install a sunroom myself?
While taking on a project as a DIY job can save on labour costs, installing a sunroom is not a simple, quick job. As such, unless you are experienced or skilled in this area, it is not recommended you attempt this. If you are thinking about taking on sunroom installation yourself, please consider the following first:
Building a sunroom is very arduous and time-consuming. It is an impossible job for those who aren't physically able-bodied.
The materials can be very heavy and cause serious injury if not properly installed or dropped.
Working at heights and up ladders can be dangerous.
Specialist tools will be needed to ensure a safe and quality job.
If the sunroom is not correctly finished, you may experience leaks or draughts and it could be ruined by damp or weather damage.
To save money why not consider taking on less complex tasks like painting or even laying flooring?
We would strongly recommend hiring a professional. To find a local, reputable, tradesperson in your area and get a personalised sunroom installation quote use our free search feature.
FAQs
How do I make the most of my sunroom throughout the year?
Installing a sunroom is expensive and time-consuming so ideally, you would want to utilise this new space throughout the year. In order to do so, follow the below tips:
Summer: Adding air conditioning, an overhang, stone floors, large windows and doors that completely open up.
Winter: Adding double glazing, extra insulation, radiators/wood-burning stoves and underfloor heating.
Create an open-plan space from the living area into the sunroom.
Build onto the southern elevation for shelter during the winter and extra light during the summer.
Add roof lights for extra light during darker months.
What are sunrooms built of?
The materials used for your new addition will affect its durability, life span and the average cost of adding a sunroom. For example, with timber sunrooms, you'll have to pay around £250-£500 a year in maintenance costs.
Below are the most common materials used:
Timber;
Glass;
Brick;
UPVC;
Aluminium windows;
Roof tiles.
You can find a great breakdown of the options here.
Do I need planning permission?
For this job, you must obey by building regulations at a cost of between £150-£250. In terms of planning permission, it is always best to check but you will typically need it if your sunroom is:
Higher than the roof of your home;
Adding on a porch or veranda;
Larger than 30m2 living space.
Useful sunroom checklist
Sunrooms are a stunning addition to any home. They extend living space, have unlimited potential and can increase the value of your property.
The average sunroom cost can be expensive as you are effectively extending your home and adding an entirely new room.
The cost to build a sunroom can be impacted by the size of the sunroom, the materials used and the condition of the current space.
Sunrooms can be adapted for use in the summer and winter by adding heating and ventilation.
Taking on sunroom installation yourself is a huge, risky job that is better left to professionals.