Last updated on October 13th, 2022
Tile vs laminate cost – which is cheaper?
Our complete guide to tile vs laminate cost will help you decide which flooring option is best for your project.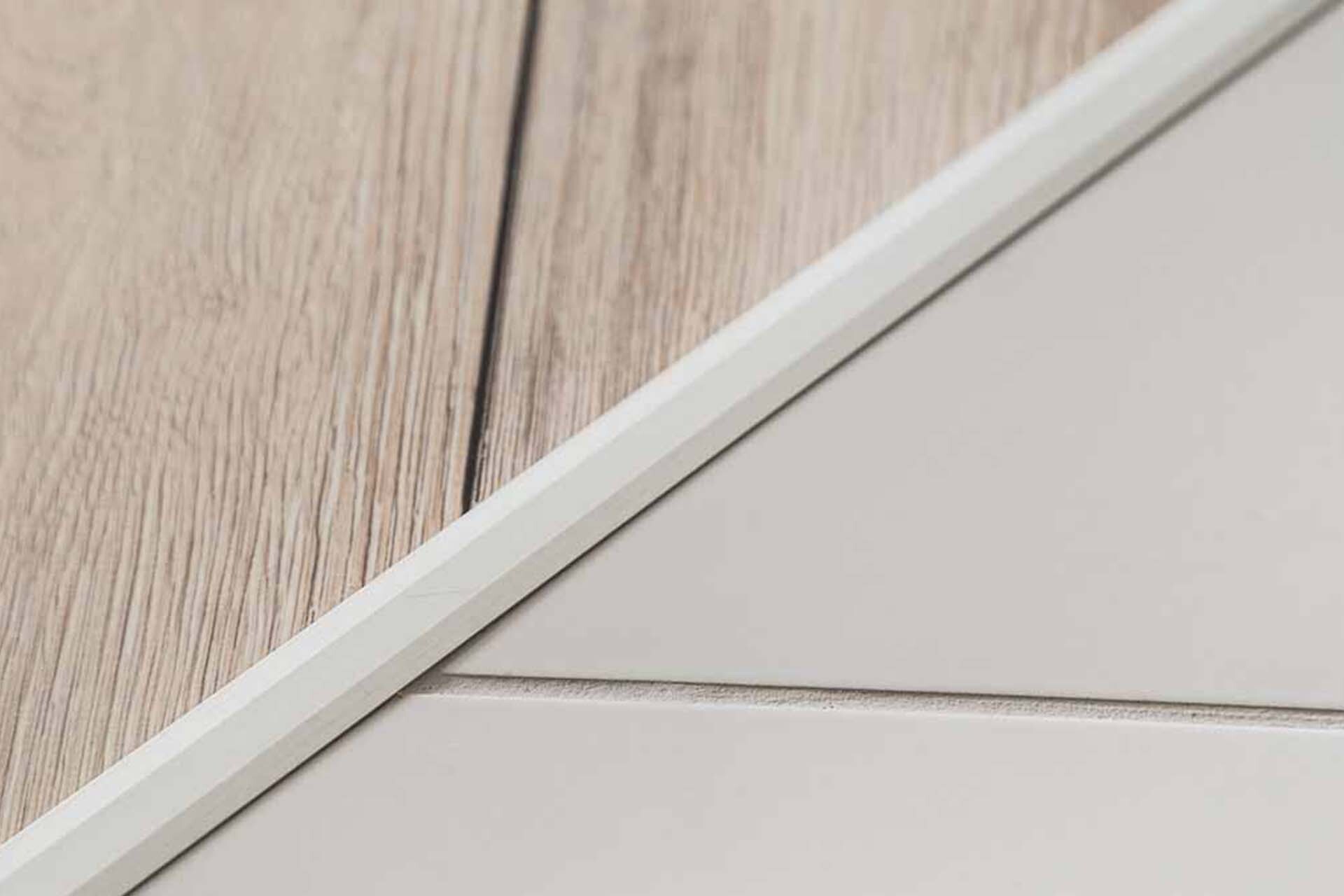 If you're weighing up tile vs. laminate cost, you'll find everything you need to know in this helpful guide.
Tile vs laminate: Which costs more?
Laminate flooring is cheaper to purchase and install than tiles. However, despite the higher initial cost of tiled flooring, it does have greater long-term value as it will last longer than laminate and can increase the value of your home.
How much does tile flooring cost?
| Item | Unit | Average cost |
| --- | --- | --- |
| Tile flooring (standard tiles only) | Per m2 | £10 - £40 |
| Laminate flooring (materials only) | Per m2 | £10 - £40 |
| Cost to lay tiles | Per m2 | £35 |
| Cost to fit laminate | Per m2 | £25 |
| Tiler | Per day | £350+ |
| Laminate fitting | Per day | £350+ |
Tile flooring starts from £35 per m2. This cost reflects a very basic, plain tile. If you choose a stone tile, for example, expect to pay more.
Once you've selected your tiles, you'll need a professional tiler to fit them. A tiler's day rate is, on average, £200 – £350. This cost will depend on your location.
The cost of tile flooring will depend on:
The type of tile you choose, for example, stone, ceramic, or porcelain
The style you choose: plain, patterned, or mosaic
The size of the area to be tiled, i.e. how many tiles you need
How much prep work is needed in the room you're tiling. Do you need to remove existing tiles first or level the floor?
The cost of any additional materials required to complete the job, for example, grout
In our guide to the cost of tiling a kitchen or bathroom, you'll find the average cost of tiling these two rooms. It also covers the cost of tiling a shower or a floor, to help you plan for any tiling project.
See the tradespeople we've checked and recommend for your job
How much does laminate flooring cost?
Laminate flooring materials normally cost between £10 – £30 per m2. Laminate flooring comes in a variety of different styles. The more elaborate the style, and the higher the quality, the more expensive it'll be.
As with tiles, there are a number of factors that will determine the cost of your flooring project: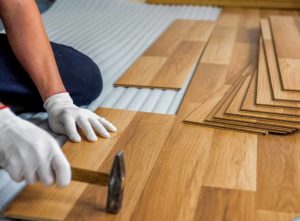 The size and shape of the room being covered
The type, thickness and quality of the laminate you choose
The amount of prep work and finishes needed, e.g. floor levelling, skirting boards etc
Your location (expect to pay more in London)
Our guide to the cost of laminate flooring, covers the costs in more detail, including the varying cost of different types of laminate wood flooring, and any extra costs to factor in.
Typically, these could include carpet removal, floor levelling, underlay, new skirting boards, and door trimming. A professional flooring expert will be able to advise what's needed for your project.
Key takeaways: tile vs laminate
The average cost of tiles (material) is £20 – 40 per m2 (standard tiles).
The average cost of laminate flooring (material) is £10 – £40 per m2.
A tiler's day rate is anything from £200 – £350.
Account for the cost of additional materials, e.g. grout, adhesive, underlay.
Account for any prep work or finishes you may need, e.g. floor levelling, trim, skirting boards, or door trimming.
See the tradespeople we've checked and recommend for your job
FAQs
Are laminate floors a good choice?
Laminate flooring will give you the look of hardwood or tile, depending on the style you choose, but for a fraction of the cost of the real thing.
Laminate wood flooring is ideal if you have pets or children, as it's more durable than hardwood.
What is the downside of laminate flooring?
If wood laminate flooring is heavily worn, scratched or grooved, it cannot be sanded or refinished as hardwood can. While laminate flooring can last between 15 – 25 years on average, it will eventually need to be replaced.
Are tiles a good option for flooring?
Tiles last between 75 – 100 years, making them a good long-term investment. They're a great option in rooms that are exposed to water and moisture, such as bathrooms and kitchens. Tiles are resistant to scratches, they're low maintenance, extremely durable, timeless, and hypoallergenic.
Can you get laminate floor tiles that look like ceramic?
If you love the look of tiles but they're outside of your budget, the good news is you can get laminate floor tiles.
Many styles are waterproof, meaning you can use them in a kitchen or bathroom with confidence. They also come in a variety of styles so you can complement your interior scheme whether you're looking for classic Victorian or contemporary concrete.
See the tradespeople we've checked and recommend for your job