Last updated on September 5th, 2022
Timber frame house cost guide
This article looks into the cost and benefits of timber-built properties, how much different designs will set you back and other useful considerations.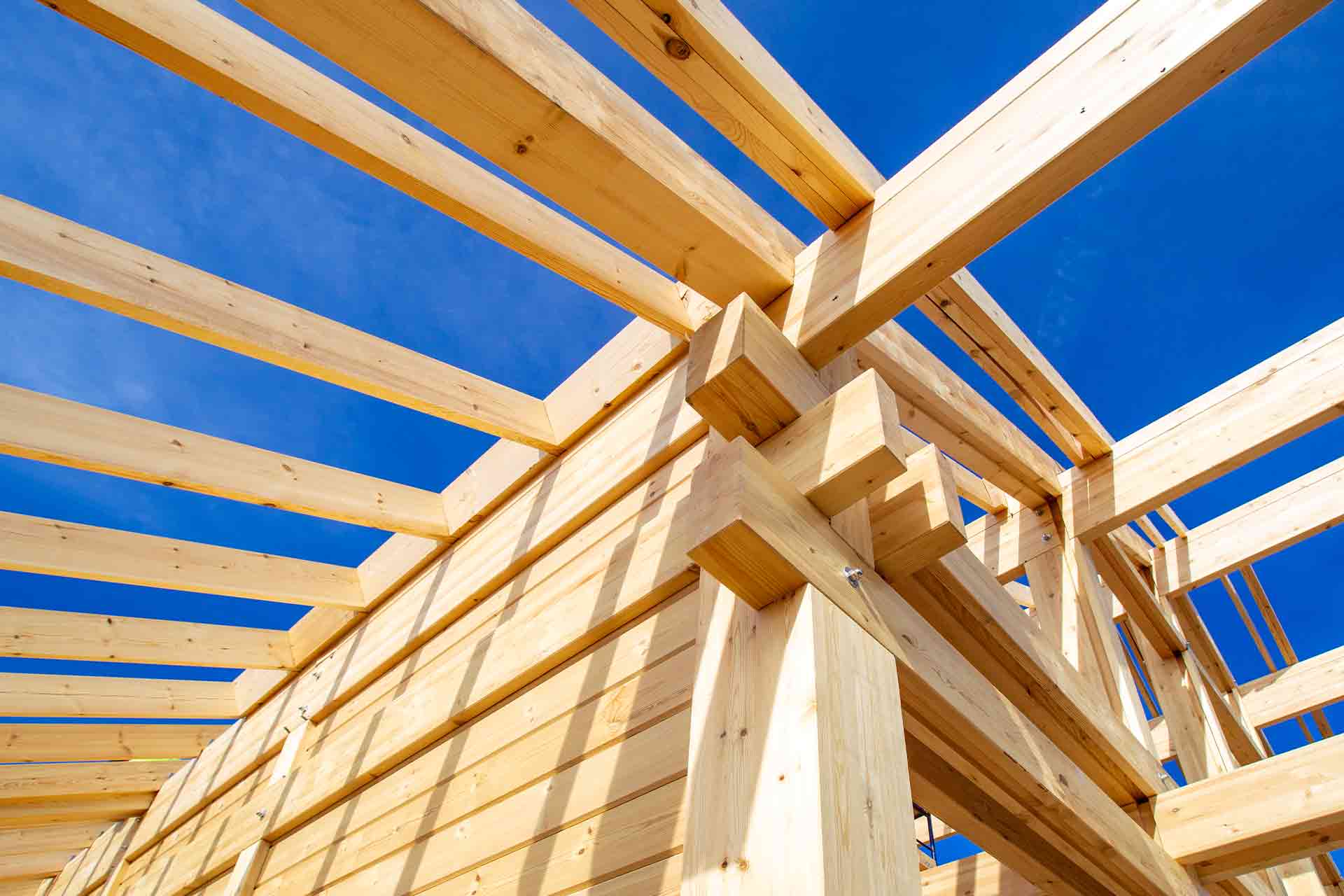 Why build a timber frame house?
Becoming more popular every year, timber frame houses are a fantastic, energy-efficient alternative to traditional masonry homes. Timber frame houses are also very attractive to self-builders due to the wide range of prefabricated options available.
The chance to choose the layout, size and style of your new house is the ultimate goal of many homeowners. And, timber frame houses fit the bill perfectly. With many manufactured in a factory to order, you can look forward to a unique, customised property that works for you.
Timber frames can even be used to add on a home extension for those who are happy in their current homes but need more living space. Best of all, timber frame houses may cost less than a pre-built new home!
How much do timber frame houses cost?
For a breakdown of each cost, we spoke to the online estimators at B3 Cost Consulting – a team of professional Estimators and Quantity Surveyors. This guide features their estimated costs for timber frame houses.
Timber frame extension cost calculator
Type of home
Cost + VAT
(Low - high)
Average cost
5 bed timber frame house cost
£168,000 - £488,000
£328,000
4 bed timber frame house cost
£284,500 - £304,500
£294,500
3 bed timber frame house cost
£230,000 - £250,000
£240,000
2 bed timber frame house cost
£177,000 - £197,000
£187,000
Timber frame homes cost of build
£1,700 - £2,300 per m2
£2,000 per m2
These stunning homes can be designed to fit your budget, with 2-bedroom options starting from £187,000 on average. Of course, you will still need to purchase the land where your house will sit, increasing the price accordingly.
On average, timber frame homes cost from £187,000 to £328,000, depending on the number of bedrooms you need.
Benefits of timber frame houses
Timber frame homes are often cast as cheap and cheerful, but there's more to these structures than meets the eye. Remarkably strong and highly durable, there are several advantages to opting for wooden frames:
Energy efficiency: Best known for its environmental benefits, timber framing is a sustainable option for house building materials. Since it has a higher R-value than other materials, timber frames help to keep your home warm in the winter months without creating a "thermal bridge".
Flexibility: Timber frames can be cladded in various materials – be it brick, stone or wooden panels. This is to complement local regulations and planning requirements.
Natural materials: Unlike certain materials, timber is non-toxic, so it will not leak chemical vapour into the building and makes it safe to touch and handle.
Affordability: When compared to the cost of bricks, timber structures are far cheaper – generally costing approximately £2,000 per m2.
More space for your money: Thinner walls mean larger spaces inside.
Pick your own location: Be mindful that a crane may need to access the property as part of the construction process.
Prefabricated timber frames are factory produced: This means that every wall and floor will be flawless.
Speedy building: Prefabricated options are much quicker to build than traditional houses.
Great for locations with poor soil conditions: This is because timber frame houses are lightweight.
Versatile: Your timber frame contractor should be able to take your 'standard' home and convert it into a panel kit system. It may be worth asking them for this a part of the price they quote you.
Sustainable: Thanks to the materials used, timber frame houses are much more sustainable than other options
Factors affecting timber frame house costs
To ensure you budget enough for the construction of your timber frame house, it's wise to consider the variables that will impact the price you pay. While there is a wide range of influencing factors, the following are the most pertinent:
Size of the home: The larger your new timber frame house is, the greater the cost. For example, a four-bedroom house will be more expensive than a two-bedroom house.
Materials used: Aside from the timber frame, you will need to choose the materials for the rest of your home carefully. Different materials carry different price points.
Style of home: Each style of home will come with its own costs.
Layout of home: Choosing the exact layout of your new house is exciting, but this can increase or decrease the cost of your timber frame home.
Underpinning and foundations: Essential to ensure your home is stable and secure, underpinning and foundations are an extra cost to consider.
Adding utilities: Installing water, gas, and electric will also come with additional costs.
Adding extras: You will need to budget for things like insulation, kitchen units and bathrooms.
Finishing touches: Don't forget to account for finishing touches such as flooring, painting, lighting and more.
Windows and doors: Where large window and door openings are required, an element of steelwork will need to be installed. A competent timber frame contractor should sort this, but bear this in mind when planning your design and budget.
See the tradespeople we've checked and recommend for your job
Important things to consider
As well as looking at the factors that affect the cost of timber frame houses, it's worth considering the following:
There are many 'branded systems' on the market that offer pre-designed kits—for example, those from Germany and Scandinavia. Alternatively, using our search feature will reveal several local specialists who can engineer, fabricate and erect your own design in a timber frame format. This will often produce a more 'traditional' house than some of the extravagant or high-end European designs.
You should be wary of what the timber frame contractor can offer. You may well be offered kits for a single dwelling for around £20,000. However, this won't get you much of a house.
A timber frame contractors' price is likely to involve the inner leaf of the walls, the first (and if applicable) 2nd-floor structure, one side of the partition walls and the roof. You will need to add in the outer leaf of the walls, the insulation, the civils, the roof coverings, internal joinery, finishes and more.
Try to have an idea where you'd like to mount things on walls. Large TV screens, for example, can be heavy, and your timber frame supplier may need to increase the thickness of some walls to allow for these items.
Large construction companies commonly use timber frames, and there are savings to be made. It's always worth checking with your mortgage provider whether they are happy to insure this type of home.
Costs of different sized timber frame houses
Timber frame extension cost examples
| Labour required | Unit | Average UK Cost |
| --- | --- | --- |
| Full team of contractors | 60 m2 timber build | £100,000 |
| Project Coordinator and Subcontractors | 60 m2 timber build | £90,000 |
| Self managed project with subcontractors | 60 m2 timber build | £80,000 |
Building costs can quickly rack up if you aren't careful, so make sure to stick to a strict budget. On average, a 60m2 timber structure constructed by a team of carpentry experts and led by project coordinators will cost in the region of £100,000 in total.
While you can save on costs by undertaking the project yourself, hiring a specialist is worth the investment. For the average additional cost of around £20,000, you can ensure the structure is built to a high standard by industry professionals.
2 bed timber frame house cost
If your family is still quite small and you are looking for a reasonably priced timber frame house, a 2-bedroom property may be perfect for your needs. The average 2-bed timber frame house cost is £187,000.
3 bed timber frame house cost
For growing families or those in need of a little more space, a 3-bedroom home may better fit your requirements. The average 3-bed timber frame house cost is £240,000.
4 bed timber frame house cost
Larger families will need not only more bedrooms but also more living space. A 4-bedroom home will be more expensive but also essential for more inhabitants. The average 4-bed timber frame house cost is £294,500, with a 5-bed coming in at £328,000.
Timber frame houses cost of build
If your timber frame house isn't prefabricated, you may be offered a quote based on how many square metres the property is. The average timber frame homes cost is £2,000 per m2 and this cost includes fitting out, e.g. bathrooms and kitchen.
Can I build a timber framed house myself?
Building a house from scratch, even one that is timber framed is not a job for a DIY beginner. Training and experience are essential. Please read the following before deciding whether to tackle this project yourself:
Measurements must be accurate and exact.
It may be hard to plan a house layout without help from a professional. Consider engaging with a timber frame specialist who may be able to assist with the foundation layout. It's crucial that it must be accurately built for the kit to work.
You shouldn't work with gas or electrics yourself for safety and legal reasons.
Although a prefabricated timber framed house may be easier than building a home from scratch, it's still a very challenging project.
A professional can ensure you comply with building regulations.
If not done safely, you could cause injury to yourself and/or irreparable damage to your new home.
We would strongly recommend hiring a professional for this project. To find a local, reputable tradesperson in your area and get a personalised timber frame house quote, use our free search feature.
FAQs
Are there difficulties in reselling a timber framed house?
There can be difficulties reselling a timber framed house. These problems are caused by timber frames being considered non-standard construction. So insurers consider the fire risks associated with a timber frame, and mortgage lenders consider the shorter lifespan of timber vs traditional bricks and mortar construction.
It is worth considering that although timber houses can be sold, potential buyers may find it difficult or costly to arrange a mortgage/insurance.
How long do timber frame houses take to build?
Prefabricated homes will take up to 12 weeks of factory time to build, then 4 – 6 months of construction.
Do I need planning permission for a timber frame house?
Yes, but it depends on the type of timber frame structure you are building. For example, building a new house will require planning permission, but an extension may not. You will need to always comply with building regulations plus, land and soil surveys are also recommended.
Are timber frame houses cheaper?
Comparing the costs between steel frames and timber structures is difficult due to the range of variables that factor into the total construction cost.
The supplier, the contractor used and whether the frame is built from scratch or prefabricated will all influence the final timber frame home cost. That said, timber frames will always be cheaper than steel frames since the construction process is much less strenuous by comparison.
What is the lifespan of a timber frame house?
Generally speaking, the timber frame itself should last between 10 – 40 years.
Useful timber frame house checklist
Timber frame houses can be energy efficient, be built in any location and are a sustainable option.
The average timber frame houses cost may be lower than buying a pre-built home.
Factors including the size of the house, the materials used and the layout of the house will all affect how much timber frame homes cost.
It's not safe or wise to build a timber frame house yourself, unless you have the proper training and experience required.
See the tradespeople we've checked and recommend for your job