Last updated on March 31st, 2022
Locksmith prices for 2022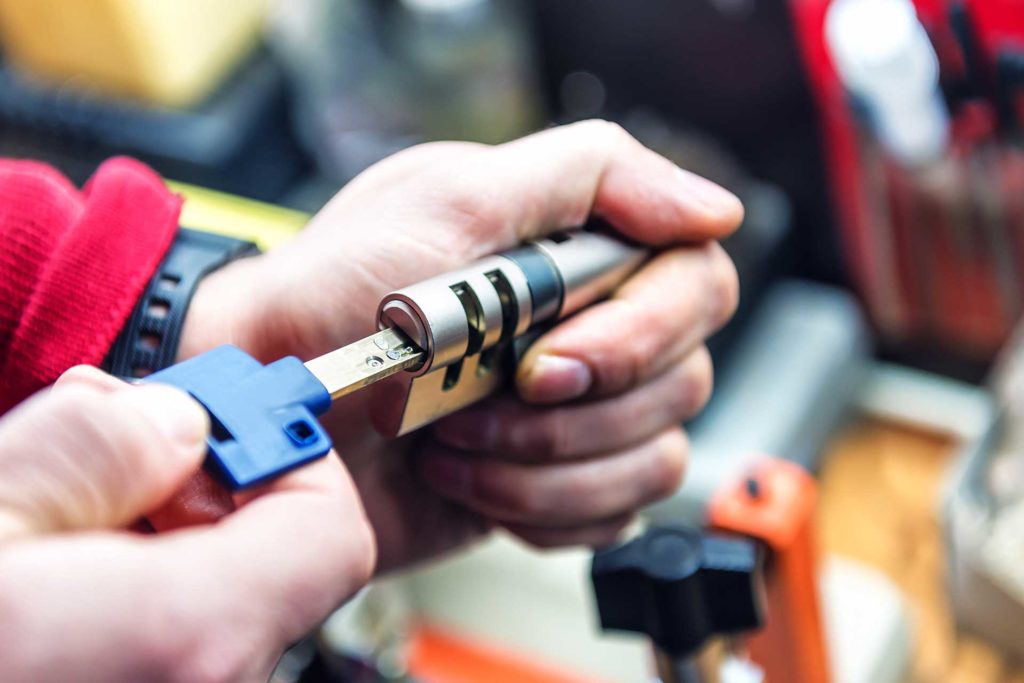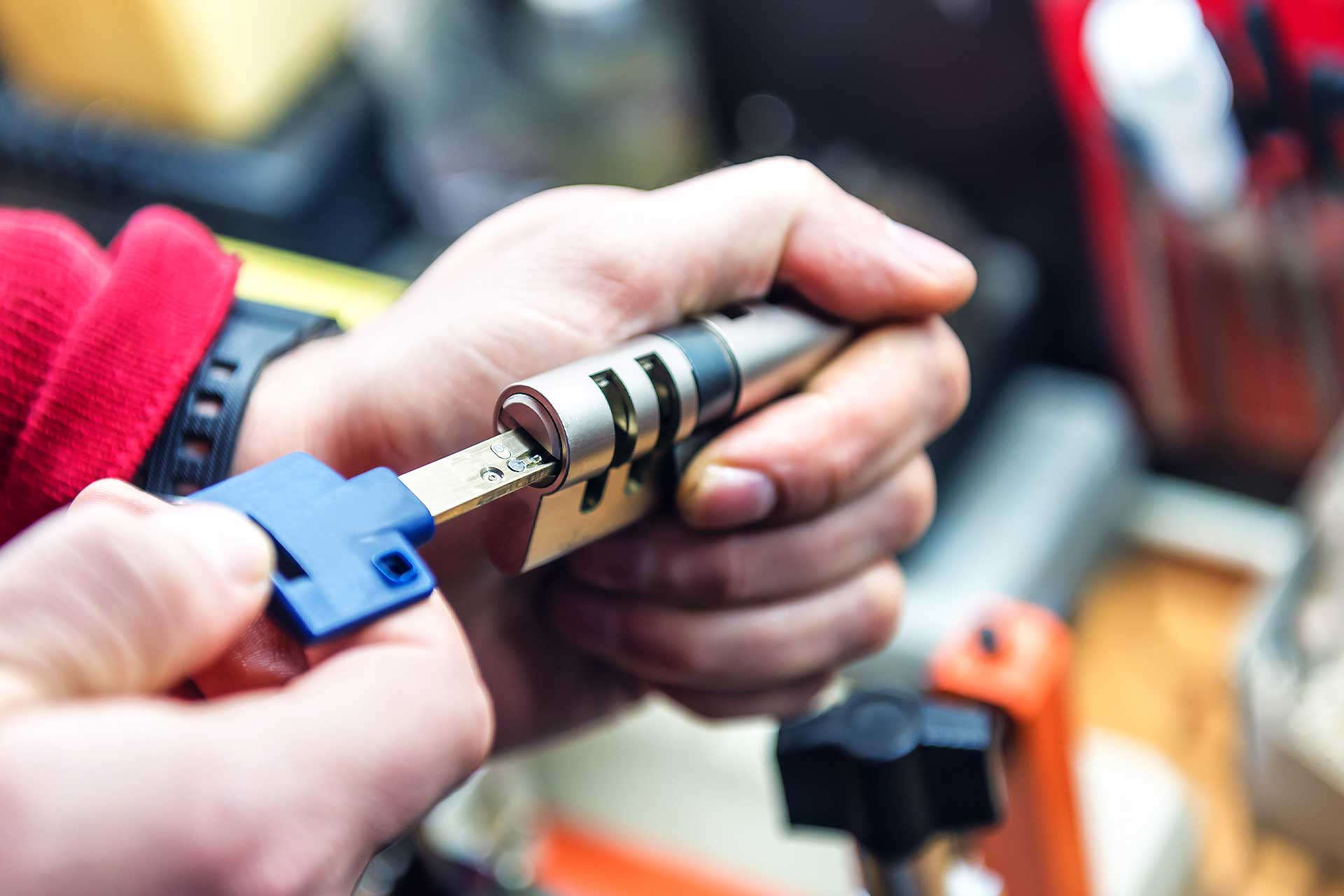 If you need to replace or upgrade the door locks in your home or get locked out of the house, a locksmith is often the best solution. This guide looks at the average locksmith prices in the UK and the common jobs you might need them for.
For the security of your home, it's important to hire a reputable and reliable locksmith. When hiring a locksmith, ensure they have the appropriate qualifications and accreditations, such as belonging to the MLA (Master Locksmiths Association).
Whether you're moving into a new home, upgrading the security on your current home following a burglary, or you've been locked out by accident, it's good to know what it will cost you to get sorted.
Top tip: Be aware of professional-seeming associations that offer locksmiths membership and accreditation for a fee, rather than properly vetting them. Stick with MLA-approved locksmiths where possible.
| Job | Range - Low | Range - High | Average cost |
| --- | --- | --- | --- |
| Change standard uPVC lock | £100 | £150 | £125 |
| Change anti-snap uPVC lock | £125 | £175 | £150 |
| Change a yale lock | £80 | £120 | £100 |
| Garage door lock replacement | £75 | £85 | £80 |
| Patio door lock replacement | £85 | £95 | £90 |
| Replace nightlatch | £85 | £95 | £90 |
| Rim cylinder replacement | £65 | £75 | £70 |
| Replace mortice lock | £100 | £150 | £125 |
| Change all locks (2 exterior doors + windows) | £300 | £400 | £350 |
What are typical locksmith prices?
Locksmiths often charge an hourly rate for jobs, plus the cost of any locks and other materials they need to use. Some locksmiths will charge a set price for specific jobs. And if it's out of hours or an emergency, they'll usually charge an additional callout fee.
There is a wide range of jobs that a locksmith can do, which means the prices they charge will vary considerably depending on the exact job. The price you'll pay will vary depending on several factors, including:
Type and number of locks
Time of callout
Quality of locks used (meeting British standards for theft resistance)
How long does the job take
Whether a key is stuck in the cylinder
Need for gaining access/boarding up damage
Where you live
Locksmith cost calculator
To calculate the cost of hiring a locksmith, you'll need first to know what type and quantity of locks you need their help with. Then you'll need to factor in the time of the callout, the quality of the locks and any materials costs for replacing locks, keys or parts.
Generally speaking, bigger and better locks can cost more to fix or replace. And the more locks you need fixing, the higher the cost – because the job will take longer.
Average locksmith hourly rates
The average locksmith hourly rate may vary, depending on the time of day (or night) that you need them. As a standard, a locksmith usually costs somewhere in the region of £65 per hour for standard working hours.
If you need an emergency locksmith out of hours, then many locksmiths will charge a tiered hourly rate that might look something like this:
8 am to 6 pm – £65 per hour
6am to 8am / 6pm to 8pm – £75 per hour
8 pm to midnight – £85 per hour
Midnight to 6 am – £120 per hour
Locksmith quotes
Whatever the job is, we recommend asking the locksmith for a breakdown of their quote before hiring them so that you know what you're paying for. And it's always a good idea to get many different quotes to check you're getting a fair and competitive quote. To find accurate locksmith prices, browse our list of trusted locksmiths in the UK.
Find locksmiths your neighbours recommend
| City | Average cost £ |
| --- | --- |
| Bolton | £140 |
| Carlisle | £131.38 |
| Edinburgh | £100 |
| Exeter | £102.54 |
| Glasgow | £142.14 |
| Leeds | £149.32 |
| London | £163.47 |
| Sheffield | £135.22 |
Locksmith costs per city
The average cost of a locksmith will vary slightly depending on the location you're in. For example, for a locksmith in Edinburgh, the average cost is £100, compared to a locksmith in London, which comes in at £163.47. In Exeter, the average cost of a locksmith is £102.54. It's always worth getting a few quotes from professional locksmiths to find the right tradesperson for you.
Note: The average prices shown here indicate a locksmith's prices calculated from customer feedback sent to Checkatrade. These jobs may vary in complexity, but this gives you an idea of what expert tradespeople in your local area are charging.
Find locksmiths your neighbours recommend
Cost to change door locks
The most common job that British homeowners need a locksmith for is to replace the locks, whether one lock or all the locks. That could be because you've bought a new home, or perhaps your old locks are wearing out, and you want to upgrade your property's security.
If you're changing all the locks, the cost to change locks will be around £350, based on the property having two external doors and multiple windows.
The average cost to change a Yale lock during normal business hours is around £100 per lock (materials and labour). Changing a standard uPVC door lock will cost about £125 per lock. If it's an anti-snap uPVC lock, the cost will be around £150 per lock for the supply and installation.
Find locksmiths your neighbours recommend
| Emergency job | Range - Low | Range - High | Average cost |
| --- | --- | --- | --- |
| Out of hours callout fee | £50 | £150 | £100 |
| Out of hours hourly rate | £80 | £200 | £140 |
| Emergency boarding up | - | - | £200 |
| Remove a broken key from lock without replacing cylinder (labour only) | £80 | £100 | £90 |
| Regain entry to a property | £90 | £130 | £110 |
How much does an emergency locksmith cost?
Emergency locksmith jobs will always cost more than non-urgent work carried out during normal business hours – and often, emergency locksmith prices will be significantly higher. Most locksmiths will charge an upfront emergency callout charge, which will be in the region of £50 – £150.
Locksmiths will also increase their hourly rate for any emergency or out-of-hours jobs. You can expect to pay up to double their usual charges, sometimes even more.
Out of hours locksmith cost
An average out of hours locksmith rate can cost anywhere from £80 – £200 per hour. This includes work done in the evening, at weekends and on bank holidays. Emergency locksmiths can charge however much they like, however, so you'll have to gather multiple quotes to find the best price for their services.
Emergency boarding up
If you've been locked out and had to force entry to your home, or if you've suffered a burglary with damage caused, you'll need it boarding up. The average cost for emergency boarding up is around £200.
Removing a broken key
To remove a broken key from a lock without replacing the cylinder will cost, on average, around £90 (labour only).
Regain entry to a property
Being locked out is a real pain, but a locksmith can easily help you get back into your home. The average cost of regaining entry to your property is about £110 – based on opening one standard mortice lock and one standard rim lock.
Types of lock
The type of lock will be one of the main factors influencing the price you pay for your locksmith.
Mortice locks are among the most common types of locks in British homes and sit flush within the door structure.
Nightlatches are often referred to as 'secondary locks' and come in standard and deadlock versions. Popular Yale locks are mainly night latches.
Anti-snap uPVC locks prevent locks from snapping. They're difficult to break in and are used predominantly on UPVC doors.
Multi-point locking systems have a minimum of three locking points that lock simultaneously. As they're most commonly used on uPVC doors, they're commonly known as uPVC locks.
Can I change my locks myself?
Some people may be able to change their own lock, but we strongly recommend hiring a professional locksmith to change your lock to keep your home secure. Replacing locks yourself can also invalidate some home insurance policies.
Incorrectly fitted locks can be a major security risk for your home. Unless you are knowledgeable on locks and British Standards, it's best to hire a professional locksmith to do the job.
Useful locksmith checklist
When hiring a locksmith, always ensure they are fully qualified and accredited with an association that vets all members (e.g. MLA).
Be aware that there is no official government licensing for locksmiths, so anyone can technically call themselves a locksmith.
Speak to some local locksmiths to get fair and competitive prices.
Ask for a breakdown of quote costs to understand what you're paying for.
Avoid hiring a locksmith out of hours where possible, so you don't have to pay the inflated prices for an emergency locksmith.
Find locksmiths your neighbours recommend
Good jobs, guaranteed
Get covered when you book with Checkatrade.