Last updated on July 5th, 2022
Wood floor restoration cost guide
To help understand wood floor restoration costs, we've put together the following cost guide on the average prices for restoring your hardwood, parquet or classic wooden flooring.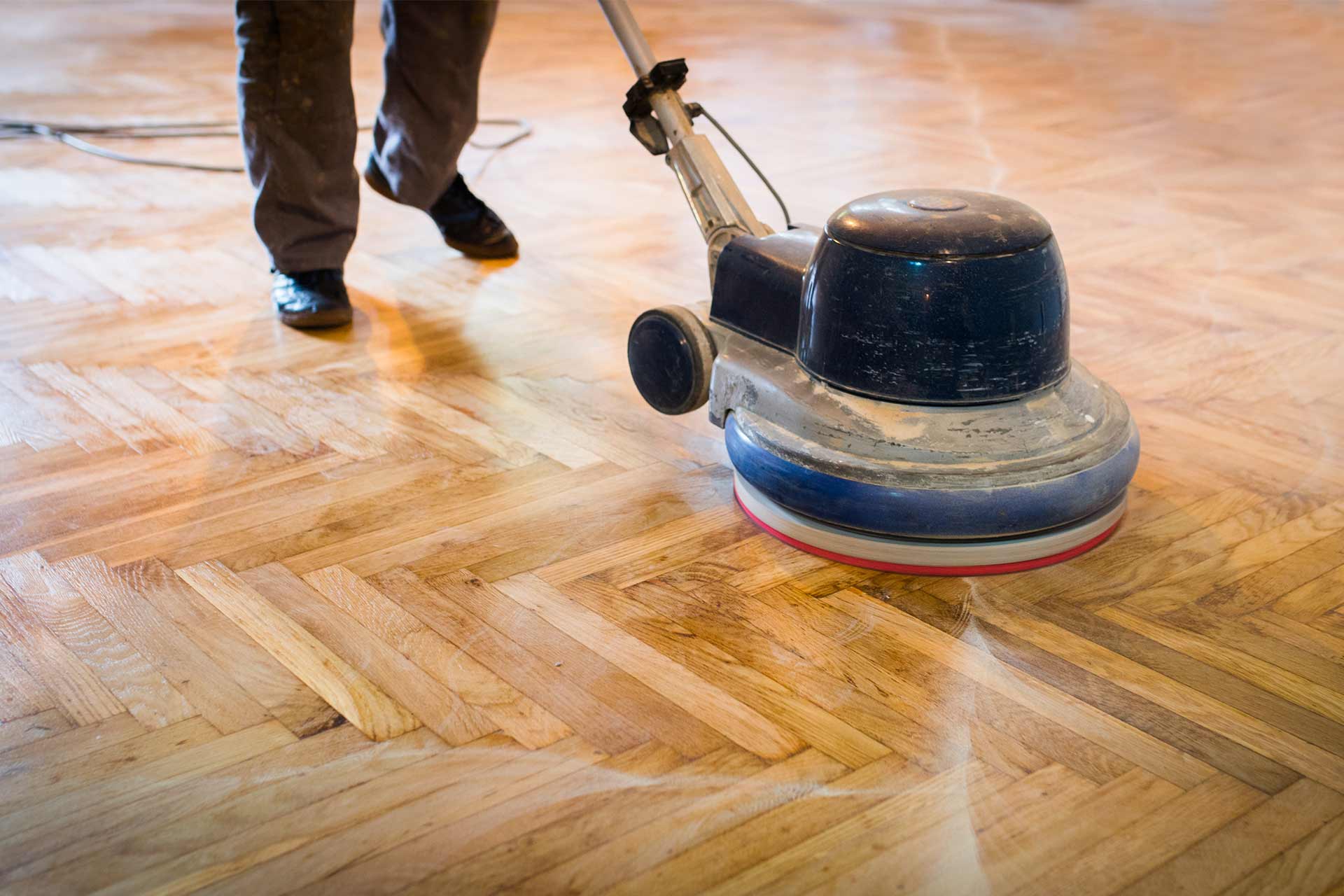 Restoring wooden flooring back to its best can rejuvenate a room and increase your property value as original wooden flooring continues to grow in popularity.
If you have recently moved into a new property or simply have restoration at the top of your to-do list, the cost of wood floor restoration is worth the investment.
Wooden floor restoration costs are determined by the size of the flooring, and the level of repairs required. Wooden floor repairs are typically a mixture of sanding and refinishing treatments to bring out the floorings natural features.
| Cost provided item | Unit | Price range - Low | Price range - High | Average UK cost |
| --- | --- | --- | --- | --- |
| Remove carpet | Per m2 | £6 | £8 | £7 |
| Remove carpet | Per room | £100 | £150 | £125 |
| Floor sanding & refinishing | Per m2 | £20 | £30 | £25 |
| Stair sanding | Per step | £35 | £50 | £42.50 |
| Floor stain | Per m2 | £8 | £12 | £10 |
| Restoration labour | Per hour | £25 | £35 | £30 |
How much does wood floor restoration cost?
Repairing classic wooden floors is a multi-step process. The costs associated with the repair will be dictated by the size of the flooring, labour costs, and any specialist materials or equipment required.
The average wooden floor restoration cost is £25 per m2 for sanding and refinishing. That said, carpet removal, sanding, treatment and labour can usually be bundled into one cost-effective quote.
If you are confident in completing sanding, carpet removal and refinishing the wood, you will undoubtedly save on labour costs.
Do I need to remove the carpet myself?
If you have experience of removing carpet and want to dispose of the carpet yourself, you can pursue this option but be wary of damaging the flooring beneath the carpet.
If you have no experience with carpet removal, hiring a tradesperson to remove the carpet as part of your project is a cost-effective and practical solution that mitigates risk to the wooden floor beneath.
The average cost of carpet removal is £125 per room. Included in this cost is the labour, the materials required for the job, and the disposal of the carpet.
Shall I empty the room for the fitter, or will they do it?
If you want to keep your wood floor restoration cost down, removing items from the room which is getting restored is a sensible move. If you cannot empty the room yourself, contact a professional tradesperson for a quote that includes the removal and replacement of your items as part of the contract.

Parquet flooring restoration cost
Parquet flooring is an elegant and iconic form of wooden flooring. If the wood is maintained correctly, the flooring can last for decades. If left untreated and frequently subjected to damage, the flooring can appear worn and become an eyesore.
Parquet flooring restoration cost is determined by the extent of the repairs and the materials required to complete the job.
Parquet flooring repair cost
If your parquet flooring requires a full sanding and a refinishing treatment, you can expect to pay around £25 per m2.
However, your parquet floor repair cost could mount if the flooring requires more substantial repairs, such as fixing loose blocks or replacing rotten or missing blocks.
Occasionally, you may even find that instead of replacing missing blocks, the previous owners of a home have filled in areas of the floor with concrete. In this case, you may have to budget for concrete removal on top of the cost of installing new parquet flooring in that area of the room.
To get new parquet flooring installed, you're looking at a cost of between £27 – £80 per m2, depending on the type of wood you require.
See the tradespeople we've checked and recommend for your job
Hardwood floor repair cost
Hardwood flooring is found up and down the United Kingdom and can bring a beautiful and sophisticated look to just about any room in the house.
To determine the average hardwood floor repair cost, it's best to consult with a tradesperson to survey the floor for the extent of the repairs.
Hardwood can often require sanding and finish as standard. If deeper colour is required, the wood can be professionally stained. Staining your hardwood floors is not recommended as a DIY job as your staining could go awry and lead to permanent damage.
Wood floor refinish cost
Refinishing wooden flooring aids in the maintenance of the flooring for the future, and helps in restoring the wood back to its original look and feel. On average, a sanding and refinish will cost £25 per m2 and labour will cost between £25 – £35.
How much does timber floor polishing cost?
Polishing timber floors can prevent damage and bring new life to worn flooring. Timber floor polishing will take some time, and can require several coats which can require several visits from a tradesperson.
To accurately provide a quote on timber floor polishing, a tradesperson will have to visit your property and measure the dimensions of the flooring.
If sanding is required prior to the polishing process, you will need to consider the additional cost. You can, of course, complete the sanding yourself, but we only recommend this action if you have prior experience.
Can I restore wooden flooring myself?
If you have experience in wood restoration or have worked in a trade that required woodwork – restoring wooden floors is a labour-intensive task, but one that should be relatively straightforward.

If you have no experience in wooden floor restoration, it is worth consulting with a tradesperson before starting any work yourself. Wooden floor restoration costs are competitive and can prevent permanent damage to timeless wooden flooring.
Wood floor restoration cost calculator
To calculate the total cost of your wood floor restoration, you'll need to first work out the area of flooring to be restored. From there you'll need to take into consideration the type of wood, the condition and the amount of restoration required.
For accurate prices in your area, we recommend getting a quote from a local wood restoration specialists to get a detailed breakdown of the costs.
Wooden floor restoration quotes
We always recommend obtaining at least three quotes from our trusted tradespeople. Our request a quote feature is perfect for getting quotes – you post details about the job you want doing and we'll send it out to local tradespeople in your area. Try it out!
Hourly rates for restoring wooden flooring
The average hourly rate of a wooden floor restoration specialist is in the region of £25 – £35 per hour. That said, it's often more common to be quoted a cost per square metre rather than per hour.
Wood floor restoration cost checklist
The average cost for wood floor sanding and refinishing is £25 per m2.
Parquet and hardwood floors can be delicate and easily damaged without the appropriate care.
If you require carpet removal, on average it costs £7 per m2.
Removing items from your room before a fitter arrives will keep your wooden floor restoration costs down.
Hiring an experienced tradesperson can prevent DIY accidents that lead to permanent damage to flooring.
See the tradespeople we've checked and recommend for your job