Causes of ceiling cracks and potential repairs
Want to know the causes of ceiling cracks and potential repairs for each? We have all the expert advice you need.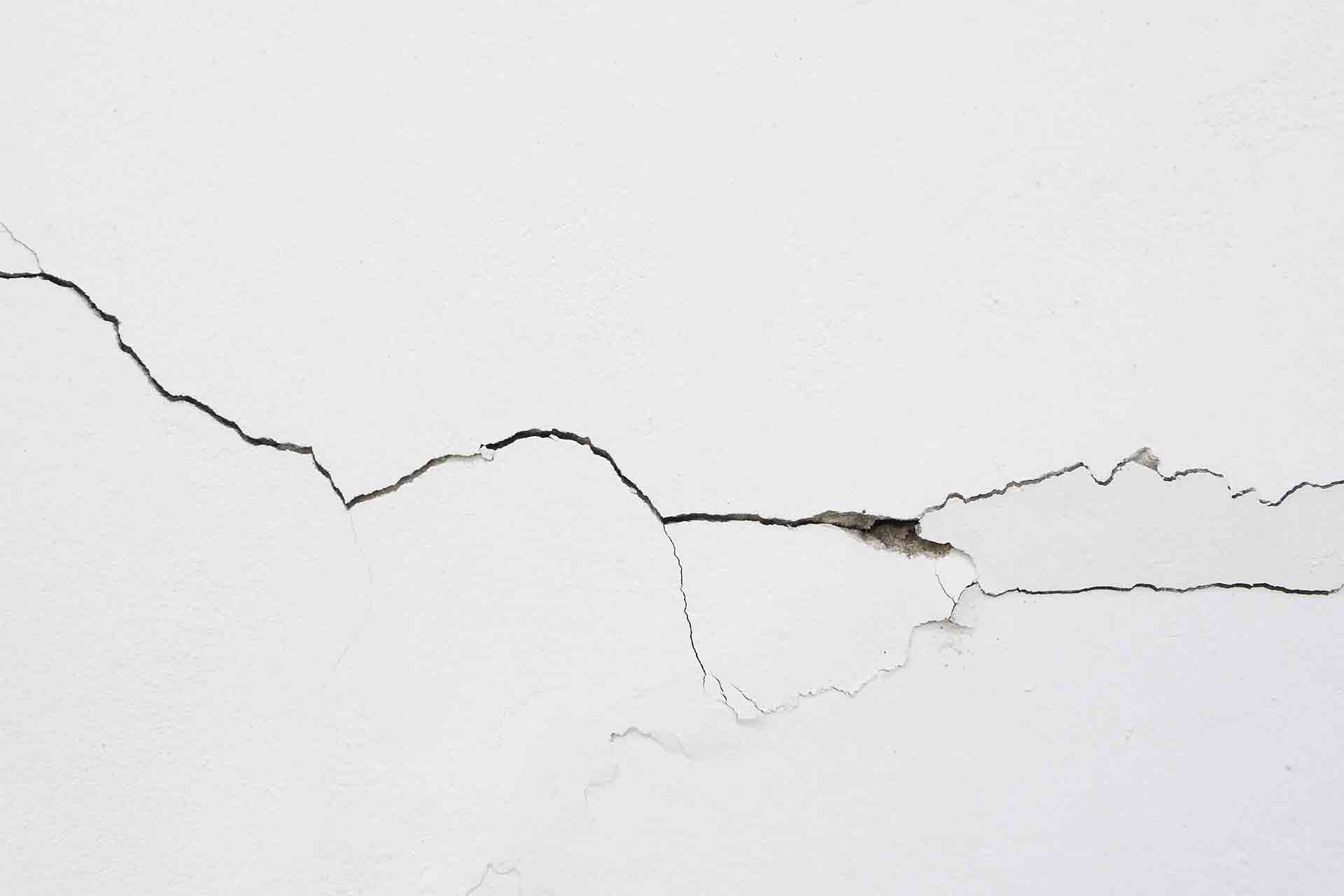 Ceiling crack repair is a must for proud homeowners who want to hide unsightly blemishes. Thankfully, most cracks are caused by normal or minor issues and are easily repaired.
Even so, the best method of repair depends entirely on the type, placement, and extent of the crack.
This blog will take a look at:
The various reasons ceiling cracks occur
How to repair any ceiling cracks
When it's best to call in a professional
What causes cracks in ceilings?
Ceiling cracks happen to everyone, whether they're living in a listed property or a new build. They're usually nothing to worry about, often caused by structural damage or natural movement.
Here are the most common causes from least to most problematic.
The age of your property
Cracks in older homes are often found because of the foundations 'settling.'
If you were ever told before you went to sleep in an older property that the bangs and clicks were 'just the house settling for the night,' this is where the phrase came from.
It's always worth hiring a surveyor to check an older property if you're thinking of buying it.
Issues with your drywall installation
Builders that don't use enough drywall mud when taping the joints run the risk of loose tape that causes cracks in the drywall.
Moisture problems
Leaks in your roof or windows can cause major issues with damp inside your walls. When water gets between the frame and the drywall, yellow or brown stains tend to appear.
Structural damage to your ceilings and walls
In more serious cases, cracks are a sign of serious structural damage from subsidence (the ground sinking beneath the property causing foundational misalignment) or other movements. In these cases, a professional is required to tackle the issue.
Asbestos
When left alone, asbestos isn't normally an issue. However, if you do notice a crack in the Artex with dust falling through, an asbestos expert is your only option.
Is my ceiling crack a structural issue?
Cracks that are thick, deep, or larger than 3mm in width tend to indicate structural issues. Other signs include if the crack is where the wall meets the ceiling, there's a large number of cracks, or they're causing 'sagging.' In these cases, a professional will need to take a look as soon as possible.
Why not hire one of our experts? You can see their reviews on their profile, which are checked by us to make sure they're legitimate, giving you greater peace of mind that you're in capable hands.
See the tradespeople we've checked and recommend for your job
Types of ceiling cracks
Dangerous ceiling cracks
As previously mentioned, any structural cracks indicate an immediate issue. Be sure to call a professional to come and diagnose the problem and work on fixing it asap.
Hairline cracks in your ceiling
Most hairline cracks are caused by drywall issues and are nothing to be too worried about. Anything from changes in room temperature to DIY work such as shelves or lighting can cause these types of cracks.
Paint cracking on your ceiling
If you're suffering from paint cracks, you likely have a moisture issue. Water tends to cause bulging, cracking, and peeling on your ceiling, which flakes and detaches from the surface.
Hire a damp proofer to locate, diagnose and fix the issue for you before it gets worse.
Vertical crack in your ceiling
When a vertical crack appears in your ceiling, it suggests you have a weakened wall stud. These tend to occur as your house settles over time.
IF you have more than one of these, it suggests a severe structural issue that a professional needs to fix. If the crack is horizontal, a truss uplift might be the cause, especially if it's between interior walls.
Spiderweb ceiling crack
Spiderweb ceiling cracks are so-called because they resemble a spiderweb. They tend to reveal where a home settles unevenly due to issues with the foundation of a property. However, if they're under 1cm, don't worry too much. It'll just be the thin drywall drying out.
If you're concerned with their depth, size, and location, it's always worth calling a builder to inspect the problem.
Cracks along your ceiling edge
For cracks that look like they're pulling away from you wall, this is because of an issue called a 'truss uplift.' Trusses are supposed to be flexible and able to handle changes in temperature while framing your roof and ceiling.
However, extreme weather conditions can cause them to pull away, which results in cracks along the ceiling edge, leaving a gap. When this happens, a construction professional will need to come and realign it.
Bowed ceiling crack
Sadly, a bowed ceiling crack indicates problematic structural issues. This is usually due to water damage, a massive amount of weight on the floor above your ceiling, or your foundation settling badly. Bowed cracks tend to appear on bulges down the middle of your ceiling.
In this case, you're only option is to call a foundation specialist to diagnose and fix the issue.
Straight crack in your ceiling
If your drywall is taped or muddled poorly when first installed, straight cracks appear because of shrinkage where the tape was placed. Thankfully, they're an easy fix and aren't a huge cause for concern.
See the tradespeople we've checked and recommend for your job
How to repair ceiling cracks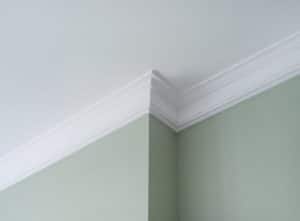 Depending on the type of crack, repairing them is usually an urgent task. However, a bad DIY job is an unsightly and ultimately costly endeavour unless you get it right the first time.
For hairline, spiderweb, and straight cracks, you can repair these yourself with ceiling repair products.
These come as:
Sprays
Semi-liquids (which you apply with a sponge)
High-hiding ceiling paints
Before you start your DIY project, make sure you know what crack you're repairing. If the issue is structural or due to water damage, you're just putting a plaster over a gunshot wound.
It's also worth considering the texture of your ceiling, which makes repairs a little more complicated. However, there are ways to do it yourself using the right tools and attitude.
Follow these steps:
Diagnose the cause of the crack yourself or through a professional
Work out whether you can repair the crack yourself or whether you need to call a professional
Correct any underlying cause of the crack to stop it from reoccurring
Work out if you need to add texture, paint, or any other material to blend your repair
Remove popcorn ceiling, which is a hazard to your health and style (just make sure they're not riddled with asbestos first)
Buy the right tools and materials for the job
How to fill cracks in your ceiling
Small cracks only need a little spackling while larger or numerous cracks need a premixed drywall mud with mesh or paper drywall to reinforce the compound.
Add a 6-inch taping knife to your toolbox to remove any loose ceiling texture or paper too.
Then, once you've protected your floors and furniture, put on some goggles and overalls and get to work.
How to fix ceiling cracks
Use a multi-tool or Stanley knife to 'open' the crack so the flexible filler has enough to adhere to. Create an upside-down 'V' shape if possible with the widest point on the surface and the narrowest point deeper into the ceiling.
Prepare your flexible filler and insert it into a caulking gun.
Gently squeeze the filler into the crack.
Dampen your finger with a cloth and use it to push the filler into the crack.
Leave enough room (1-2mm) for skimming and wait around an hour until moving onto the next step.
Add some flexible filler and add it to some interior filler in a bowl.
Use a flex knife and 'skim' the mixture over the crack. Leave to dry.
Repeat twice.
Run your flex knife over the crack to remove excess filler.
Add texture with a cloth or sponge where required. However, if you want a smooth finish, move on to the final steps.
Sand the filler until it's flush with the surface. Then remove the dust and clean the area.
Depending on your filler, you may need to prime or mist it before applying a layer of paint.
Cost to repair ceiling cracks
Most small ceiling repairs will set you back an average of £175. However, read our following guides for further information and a more accurate quote. You can also query this project with our tradespeople if your job is urgent.
Did you find this 'causes of ceiling cracks and potential repairs' guide helpful? If so, don't forget to check out our blog for more expert advice, how-tos, and cost guides.