Best way to clean patio slabs
Looking for the best way to clean patio slabs? Your patio can take a battering from the elements and DIY work, so we look at how to clean paint, grease, and cement off your patio slabs.
You're here either because you've noticed your patio is looking duller than usual, or you need to get rid of the paint, cement or grease you or someone else spilt on your patio.
We'll go through the best ways to clean your patio for the different scenarios.
How to clean patio slabs with a pressure washer
If your patio is looking a bit worse for wear, or you have just moved into a property with a patio that is looking a little unloved, it's possible to clan patio slabs with a pressure washer.
When using a pressure washer you need to be careful. Goggles are a must. The clue's in the name – power washers use a lot of power to shoot out water, and so there will be flying debris.
If you're cleaning patio slabs with a pressure washer then you also need to be careful as it is possible to damage the slab surface with too much pressure, or even disturb the mortar or join between the slabs.
Depending on the size of your patio it can be a time-consuming and tiring job. To take the pressure off yourself, contact a patio cleaning professional and get ready to enjoy your sparkling clean patio when it's done.
How to clean patio slabs without pressure washers
As we've mentioned, there are some DIY methods you can try to clean patio slabs without a pressure washer.
Depending on the spill or stain you can try over-the-counter cleaners, and home remedies using detergents and vinegar.
Our recommendation is that it's always worth contacting a specialist who can give you the best advice based on their experience – it could also save you from a costly mistake!
See the tradespeople we've checked and recommend for your job
How to get paint off patio slabs
If you're doing some DIY it can be so easy to get paint on surfaces. When painting outside on your patio it's best to put newspaper or even a sheet down but if you forget, or have a spillage you can get paint off patio slabs using paint stripper.
You need to be very careful though as it is possible to damage natural materials, and paint can be a toxic and dangerous substance if not handled correctly.
If you have a major paint spillage, to get paint off your patio slabs it is best to contact a professional patio cleaner as they will have the experience and equipment to deal with the problem safely.
For small specks, patches, or dribbles of paint, you can attempt a DIY clean-up. Before using any substance on your patio it is wise to test on a small area that is less obvious. Some patio materials can be easily damaged by the use of chemicals or abrasive cleaning tools.
If you do want to attempt a DIY solution to get paint off your patio slabs then you can try the following:
Give the concrete surface a deep cleaning and allow it to dry
Apply a paint stripper
Give the paint stripper some time to set
Scrub the surface
Follow up the scrubbing with a pressure washer
Repeat the process as necessary until all the paint is removed
How to clean grease off patio slabs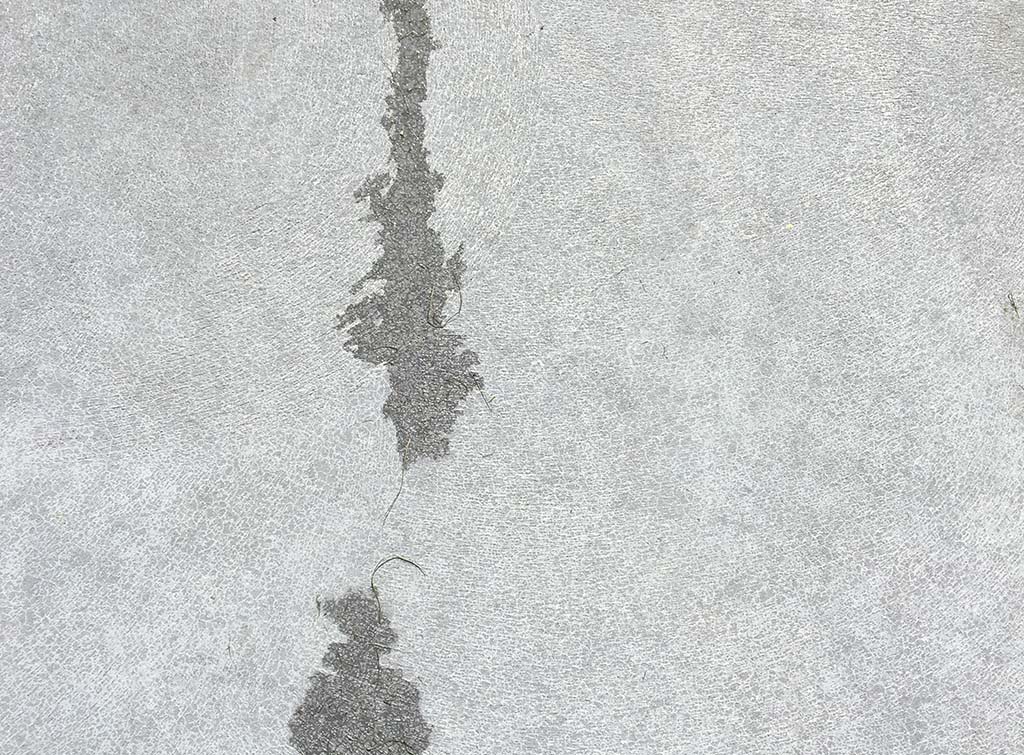 Maybe you've been repairing a bike, or grease from your BBQ has spilt on your patio. How can you clean grease off your patio slabs?
Similar to paint, grease can be harmful to plants and animals and can be dangerous if not cleaned up safely. Depending on the severity and quality of the grease spillage or stain, and the type of patio surface, it may be best to get in touch with a professional patio cleaner.
For small drips and spills that are fresh you can attempt this DIY method to clean grease off patio slabs:
Lightly dab (not rub) the stain with a clean rag or paper towels
Apply washing-up liquid or laundry detergent to the stain and allow to sit for 20-30 minutes
Scrub with a nylon bristle brush and rinse with hot water
You can also make a paste with soda crystals (not bicarbonate of soda) and detergent, 2tbsp of white vinegar, and 2 cups of water. This will make a paste that you can scoop onto the patio and brush with a nylon-bristled brush.
How to remove black spots from patio slabs
You may have noticed black spots on your patio. This is actually a type of mould caused by moss or algae. It can be quite stubborn so it is always best to try and remove it as soon as you have noticed it has appeared.
There are specialist chemical patio and mould cleaners that you can buy that have ingredients that prevent mould regrowth. These should always be used with caution as the run off onto grass or planted areas will likely cause damage. It's also vital to keep pets and children away from any area that is being treated, during the treatment and for a day or so after.
If you're not sure how best to remove black spots from your patio slabs then a professional will certainly be able to help you.
See the tradespeople we've checked and recommend for your job
How to get cement off patio slabs
Whether you have been trying to repair your patio or doing some DIY involving cement, it's easy to accidentally get it on your patio.
If you haven't noticed until it's dry and hardened, or if it's a large area that has been left for a long time then this is definitely a job for the professionals who have just the tools for the job, including a jet or pressure washer.
If it's fresh dribbles of cement from your DIY efforts then you can add water to powdered laundry detergent until it forms a paste and apply this to the wet cement and scrub.
FAQs
How much does it cost to get a patio professionally cleaned?
For more information on the cost of patio cleaning take a look at our patio cleaning cost guide.