Dimmer switches can be beneficial for providing adjustable lighting in your home, but if you notice a dimmer switch buzzing, you might have a problem that needs fixing. In this guide, we look at common causes for dimmer switch humming and how you can deal with the problem.
Why is my dimmer switch buzzing?
When you notice a buzzing or humming sound coming from your dimmer switch, it's a sign that there's an issue inside the dimmer switch unit itself. Generally speaking, if you can hear an audible buzzing coming from your dimmer switch, it means the electrical current is jumping the gap between metal parts of the light switch unit – that's what's causing the sound.
If left unresolved, the jumping current causing the dimmer switch humming can lead to burn damage to the light switch and connecting wires and potentially pose a fire risk. So, it's definitely an issue that you should get fixed as soon as possible.
How to a stop dimmer switch humming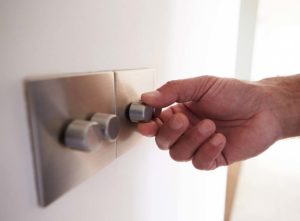 When it comes to fixing a light switch buzzing for a dimmer unit, the best solution is often replacing the dimmer switch unit itself. Here's an overview of what you need to do:
Turn off the electrical power to the circuit that includes the light switch you need to fix – this is extremely important before you start doing anything to the dimmer switch itself.
Remove the cover plate from the dimmer switch.
Unscrew the mounting screws and gently remove the switch from its housing.
Double-check that the power is off by using a non-contact voltage tester.
Remove the old switch by separating, unscrewing the wire connector, and separating each pair of wires.
Connect the new unit, following the manufacturer's instructions – take care connecting each of the live wires to the switch unit.
Mount the new switch on the wall and test to check that it works.
If the new dimmer switch is buzzing or humming, then you have a bigger problem to deal with – contact a local electrician to come and identify the issue.
Top tip: If you're not confident dealing with wiring, we always recommend hiring a qualified electrician to carry out any work to repair or replace dimmer switches in your home.
Find an electrician my neighbours recommend
Common causes of LED dimmer switch buzzing
If you find an LED dimmer switch buzzing in your home, here are some of the likely causes:
Poorly installed or poor quality dimmer switches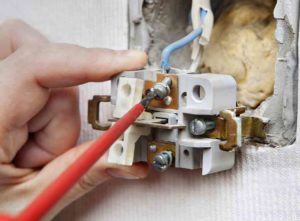 A common cause of LED dimmer switch buzzing is poor installation or using a poor quality dimmer switch unit. It's always important to use good quality electrical materials and ensure a qualified electrician installs them to avoid issues in the future.
Loose wiring
This is the main culprit for LED dimmer switches humming away. Tightening the wiring or replacing the dimmer switch unit should fix the problem, but always make sure an experienced electrician does any electrical wiring work to ensure the safety of your home.
High-powered appliances
If you have a high-powered appliance connected to the same electrical circuit as the LED dimmer switch that's buzzing, it might be causing issues with the voltage and disrupting the flow of electricity.
How much does it cost to fix dimmer lights buzzing?
The average cost of replacing a light switch is around £75 – depending on the cost of the materials. The cost of hiring an electrician is around £45 per hour for labour, which can vary based on the job's complexity, the individual electrician's experience, and where you live in the country.
FAQs
Are dimmer lights buzzing dangerous?
They could be. The sound of dimmer lights humming is usually a sign of a problem with the electrical wiring of the dimmer switch unit, which could lead to other electrical problems and even be a fire hazard. That's why it's always important to have any buzzing dimmer lights repaired or replaced by a qualified electrician as soon as possible.
Do dimmer lights buzzing mean my home needs rewiring?
Not necessarily. More often than not, dimmer switch buzzing is a localised issue with the switch unit itself. But it could be a symptom of poor wiring. To find out more, check out our guide to seven warning signs that your house needs rewiring.
Find an electrician my neighbours recommend
Tell us what you think
What others think of this article:
Need More Information?
Related posts