Insulation is a key component when building homes, creating a heat resistant barrier between indoors and outdoors. This means your property will stay warmer in the winter and cooler in the summer, keeping you feeling comfortable throughout the year.
Conventional insulation is packed with adhesives and chemicals, so you may want to go green and consider switching to eco-friendly insulation instead.
Here's everything you need to know about going green with your insulation.
What is green insulation?
Eco-friendly insulation is often referred to as green insulation, and there are many options to choose from. Green insulation refers to insulation that is recyclable, efficient, environmentally friendly and requires only small amounts of energy to produce.
Green insulation doesn't contain chemical fire retardants and other additives, making it much cleaner.
Why should I choose eco-friendly insulation?
While you may have used conventional materials to insulate your home for years, making the switch to eco-friendly insulation is a great choice. It's also a choice that has many advantages over other insulation types. These include:
Cheaper manufacturing: Some types of standard insulation may take up to 10 times the energy to produce than green options, which isn't good for the environment.
Saving energy: By choosing eco-friendly insulation you can increase the energy efficiency of your home, reducing energy bills.
Safety: With less harmful chemicals, eco-friendly insulation is a great way of keeping your family healthy. Did you know that some types of conventional insulation may contain formaldehyde, which is known to increase your risk of cancer?
What types of green insulation are there?
There're many types of green insulation on the market today and picking the right option for your home may require a little research.
Each material has its own benefits – which we've summarised below:
Cellulose: Very affordable, fireproof and offers great heat insulation.
Sheep wool: Resistant to mould and fire, very insulating and environmentally friendly.
Cork: Great at reducing noise pollution, damp-proof and long-lasting.
Of course, there are other types of green insulation, including hemp, denim and wood fibre. Do take a bit of time to find the best fit for your home.
What is the best eco insulation?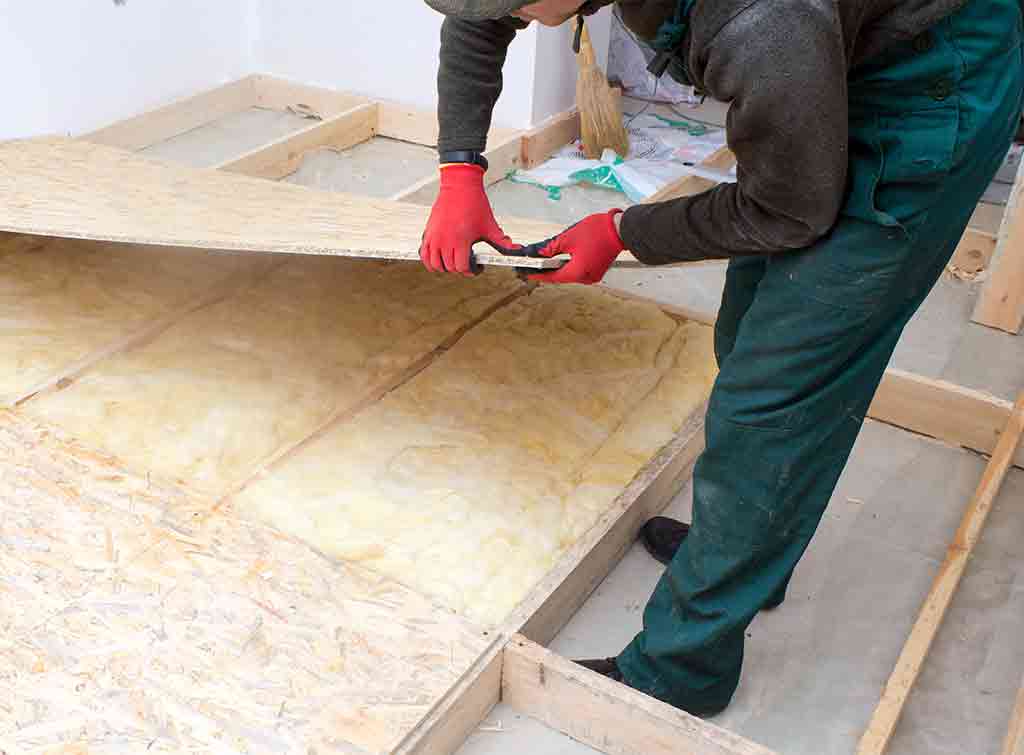 With a wide range of choices, it can be difficult to find the best eco insulation for you. That's why it's so important to read up on these materials before making any decisions.
According to Paragon protection's website, the best types of eco-friendly insulation are denim, cellulose and spray foam.
Remember, there's no wrong choice when it comes to switching to green insulation. The fact you're making the switch is fantastic to help us save our environment.
The right option will depend on your circumstances and requirements, so do speak to at least three professionals to get advice on your new green home insulation.
Speak to an insulation expert near you
Making the switch to eco-friendly insulation
Once you're ready to make the switch from conventional insulation to a green option, it's time to call in a professional. Installing insulation can be very risky as you may need to access your loft and walls, which can cause accidents and damage to your home if you make a mistake. That's why hiring a tradesperson is the best option for insulation fitting.
It's important to pick someone you trust that will deliver a high-quality service. By using our free search feature you can easily find someone who's vetted but also has honest feedback from your neighbours!
If you don't have time to search, then post your job here. We'll reach out to insulation tradespeople for you and they'll get in touch with you.
How much does insulation cost to be installed by a professional?
Unfortunately, unless your home is properly insulated, large amounts of heat can escape through your walls and loft. This means you're paying for energy that you aren't using, not the best way to live on a budget! Instead, hiring a professional to upgrade your home's insulation will save you money and help the environment.
So, how much does it cost to hire a tradesperson to install new insulation? Well, this'll depend on where the insulation is being fitted, the type of insulation you choose and how large you home is. For a little more context, our cavity wall insulation cost guide and our loft insulation cost guide both have average figures you can expect to pay, plus lots more useful information.
Generally, cavity wall insulation will cost between £330 and £725 depending on what type of property you own. Spray foam loft insulation, however, will cost an average of £55 per m2.
Which tradesperson should you use for the job?
The best trade for this job is an insulation expert. You'll need to choose a tradesperson with plenty of experience insulating homes. This way you can ensure your job will be done efficiently and to a high standard.
Wondering how to find the best insulation expert?
Simple, search our online directory and see who your neighbours recommend.
Speak to an insulation expert near you
Tell us what you think
What others think of this article:
Need More Information?
Related posts