Last updated on August 17th, 2022
Cavity wall insulation cost guide
If you're looking for ways to reduce heat loss from your property, cavity wall insulation could be the answer. If you live in an older property, built before the 1990s, you more than likely have cavity walls. If this is the case, you can save huge amounts of energy, keep your heating bills down and ensure your home is warm and comfortable by insulating your cavity walls.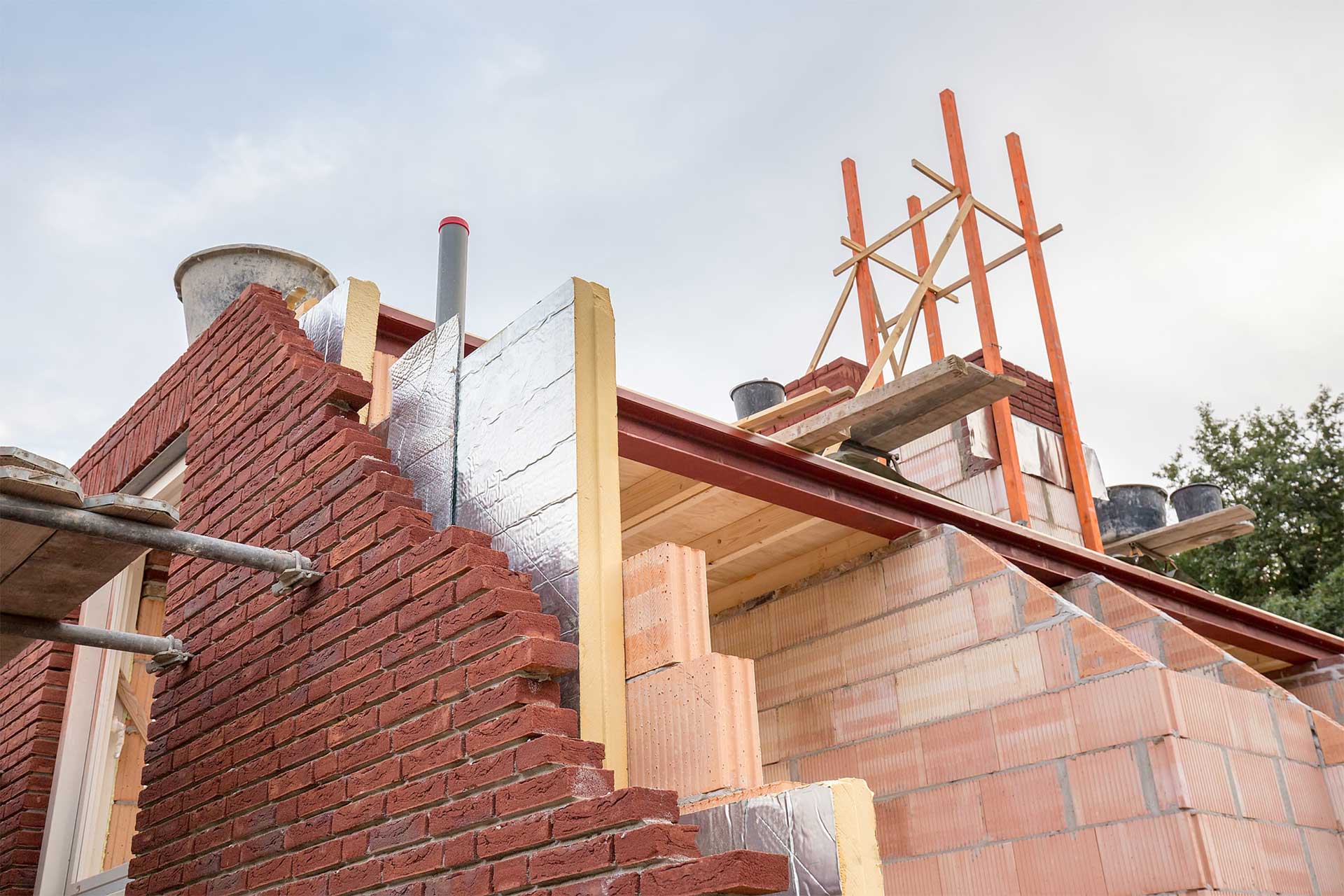 Keeping your home warm and toasty can be challenging, not to mention costly.
Did you know that if your home isn't properly insulated, approximately one-third of all heat lost escapes through your walls?
Looking for ways to reduce heat loss from your property? Cavity wall insulation could be the answer. If you live in an older property built before the 1990s, you likely have cavity walls. In that case, you can save huge amounts of energy, keep your heating bills down and ensure your home is warm and comfortable by installing cavity wall insulation.
Here's everything you need to know about cavity wall insulation and a handy price guide to give you an insight into how much you'll need to spend.
How much does cavity wall insulation cost?
| Example property type | Average price |
| --- | --- |
| Detached property | £1800 |
| Semi-detached property | £1000 |
| Mid-terrace | £600 |
| Bungalow | £800 |
| Flat | £400 |
The costs of cavity wall insulation will vary depending on several factors, particularly the size of your home.
Before any cavity wall insulation is installed, your walls must be inspected to check they are suitable. Any issues, such as damp or other wall defects, will need to be addressed before the work is started.
You'll need to take this work into account in your budget. You should also look to see if there are any available grants via the Energy Company Obligations (ECO) scheme.
Costs may vary by region, the scope of the project and indeed by the products you plan to use.
Cavity wall insulation cost per m2
The cost of cavity wall insulation depends on your property's size, the accessibility of the walls, the type of insulation you choose, and the installer you work with.
As a general rule, you can expect to pay around £22 – £26 per m2.   This is based on polyurethane foam. Glass wool will be cheaper at around £13 – £18 per m2.
It's worth bearing in mind that whatever the size and type of your property, you should be able to recoup the costs of cavity wall insulation in under five years, thanks to the savings you'll make on your energy bills.
How does cavity wall insulation work?
A cavity wall comprises two thin walls held together by wall ties, with a gap between them. Known as the cavity, this gap prevents rain from getting into the property through the outer wall.
Cavity wall insulation works by storing heat within the inner walls before bouncing it back into the room and retaining it for longer. The result? A warmer home with less wasted energy!
But how does cavity wall insulation actually work? Because heat does not travel through the air very easily, it's a natural insulator. The materials used to insulate cavity walls per m2 are chosen because they trap air between their fibres, creating what's known as an 'air matrix'. This means that insulated walls retain heat far more effectively than empty cavity walls.
How will my cavity walls be insulated?
If you have cavity walls, the gaps in your walls can be insulated by injecting material in from the outside.
Your trader will check that the walls are suitable before ensuring they're in good condition and that you don't have any issues with damp.
If everything is in order, holes will be drilled in from the outside, at various points along the wall, and insulation is then injected through these holes. Once the walls have been filled, the holes are sealed over with cement.
Once the cavity wall insulation work is complete, you will be sent a guarantee by the Cavity Insulation Guarantee Agency (CIGA).

Do I have cavity walls?
Properties in the UK have either solid walls or cavity walls. As the name suggests, you can only have cavity wall insulation if you have cavity walls.
So, if you're thinking of getting cavity wall insulation, the first thing you'll need to do is establish if your property has cavity walls.
The age of your home is a great place to start. As a general rule, properties with cavity walls started being built in the 1920s and were a popular technique until building regulations changed in the mid-1980s.
Another clue is the appearance of your walls. If you have cavity walls, the bricks will usually be arranged in an even pattern, and all the bricks will be laid lengthways. If your bricks are arranged in an alternating pattern, producing rows of what looks like long and short bricks, chances are your walls are solid.
Of course, a professional trader will be able to tell you for certain whether your property has cavity walls. They can check whether or not the walls are solid with what's known as a borescope inspection, which involves drilling a small hole in your wall. Alternatively, your local authority's building control department might be able to help.
The benefits of having cavity wall insulation in your UK home
There is a wide range of benefits associated with cavity wall insulation. In fact, it's one of the most cost-effective home improvements out there.

Lower energy bills
With cavity wall insulation, the savings you will make on your energy bills are significant. So much so, the cost of the work usually pays for itself in less than five years.
A warmer home
A third of all heat that escapes from your home does so through the walls. Cavity wall insulation helps to prevent it.
Reduced carbon footprint
When your heating escapes through the walls, you'll need to use more energy to heat your home. Cavity wall insulation prevents the escape of energy, meaning you'll use less energy and, as a result, lower your carbon footprint.
Quick and easy installation
Although you'll need a professional to carry out the work for you, the actual process of installing cavity wall insulation is relatively quick, easy and disruption-free. It can normally be completed within two hours, depending on the size of your property, of course.
Types of cavity wall insulation
There are several different types of cavity wall insulation. The most popular and common materials to use for this type of insulation are:
Blown mineral fibre
Blown mineral fibre is one of the most common types of cavity wall insulation. It consists of strands of fibreglass or mineral wool, which are then forced into the wall cavity using compressed air. These fibres then expand to fill out the space.
Mineral fibre is similar to the quilt insulation used in lofts. For walls, it is broken down into small tufts to allow it to be blown in.
This is a relatively cost-effective insulation method, and it's easy to install. As a result, it is often used by free cavity wall insulation schemes.
However, it's not without its downsides. Blown mineral fibre can only be used for standard sized or wide cavities as, if it's used in cavities under 50mm, there is a risk of it becoming patchy. It's also important that it is correctly installed to avoid problems further down the line.
Mineral fibre must be kept totally dry to avoid it losing its insulating properties.
This type of insulation is covered by the British Board of Agrément (BBA) Certificates and can be used anywhere in the country.
Polystyrene beads and granules
EPS beads and granules are blown into the cavity using compressed air with a mix of adhesive. When the adhesive cures, it bonds the beads together and creates an insulated barrier within the wall cavity.
The beads can be supplied loose or in a light resin to hold them together. Or, if you're using granules, these will stick together on their own, thanks to their shape.
This type of insulation is usually used in walls with a narrower cavity. It is very effective at trapping heat and creating really solid cavity wall insulation free from gaps. Another benefit of this type of insulation is that it allows any moisture to drain through to the ground, helping to prevent damp.
However, it has been known for loose granules to escape through the airbricks, particularly if you have work done on your property at a later date that requires the walls to be cut or drilled into.
Polystyrene beads are covered by the British Board of Agréments (BBA) Certificates.
Foam
This type of insulation is pumped into the cavity. The foam is created instantly within the wall cavity when two chemical components are injected and mixed.
Polyurethane foam can be injected into the wall cavity through small holes, achieving results that should last as long as the life of the building without any further maintenance.
The best type of cavity wall insulation for your property will depend on several things, including how thick your wall cavities are, the degree of humidity and the atmosphere in your property, and your budget.
Cavity wall insulation calculator
A cavity wall insulation cost calculator will provide a rough guide on how much you should be paying to have your cavity wall insulation installed. Simply enter the length and height of the wall in metres, and the calculator will do the maths and give you an average cost.
Cavity wall insulation isn't a job you can do yourself. You will need to contact a professional, registered installer to carry out the work.
Cavity wall insulation quotes
Looking to insulate your home and seeking cavity wall insulation quotes from a trusted tradesperson?
We've made it very easy for you with our 'Request a quote' tool. Simply enter your details, such as the size and age of your home, which insulation you're looking for and if you require an initial assessment. We'll forward your job posting to recommended tradespeople in your area.
Then, you can wait for them to send you their quotes. You can even check out their reviews to see what your neighbours think of them!
To get competitive quotes, we recommend comparing prices from at least three companies. This way, you get what you want at the price that's right for you. And, you get a house that's warm. More importantly, it stays warm for a long, long time.
Cavity wall insulation FAQs
How long does it take to insulate cavity walls?
It should take an experienced professional around two hours to insulate cavity walls in an average house with easily accessible walls as a rough guide.

How much does it cost to remove cavity wall insulation?
For detailed prices please read our comprehensive cavity wall insulation removal cost guide. Costs start from around £1,680 for a typical semi-detached home. If you have cavity wall insulation that has not been installed properly by a qualified professional, you may need to remove it for these reasons:
The insulation was completed with unsuitable material.
The wall cavities aren't wide enough for insulation, leading to damp issues.
The insulation was installed incorrectly.
Your property has timber frames, so cavity wall insulation should never have been installed.
See the tradespeople we've checked and recommend for your job