Garden room planning permission
Add much needed extra living space with our garden room planning permission guide. Learn about permitted development and applying for permission.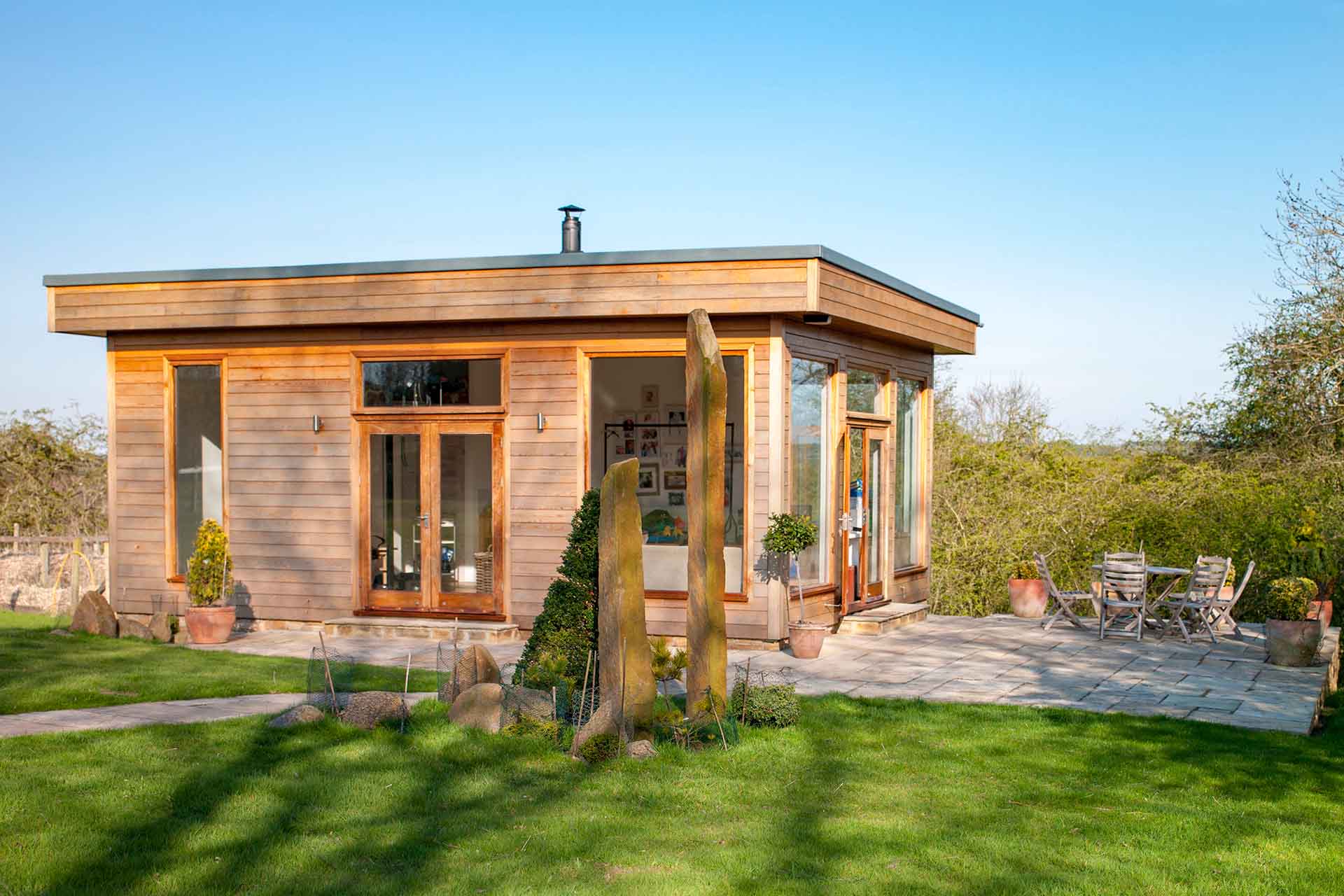 One of the most common complaints by homeowners is the lack of space in their properties. One solution for this is to add an extension, but this can be costly and time-consuming. An alternative option is to install a garden room.
In this guide, we'll be taking a closer look at garden room planning permission, including when you need it, permitted development and the application process.
Do I need planning permission for my garden room?
The benefits of garden rooms are numerous, from extra living space to having a private sanctuary in your own garden. Generally, you won't need planning permission for a garden room, but this isn't always the case.
Garden rooms are classed as outbuildings and are often considered permitted development. However, there are certain circumstances where you'll need permission to build your garden room. If your garden room falls into any of the below categories, then it's likely you will need planning permission:
Your home is a listed building
You will be living in or operating a business from your garden room
Your new structure covers above 50% of your land
The garden room is at the front of your property
The structure has a raised platform or balcony
Your new outbuilding is more than one storey or 3 metres high
It has eaves that are over 2.5 metres high
For further guidance on garden room planning permission, take a look at the outbuildings page on Planning Portal's website. In addition, if you're at all confused about whether you need planning permission to build your garden room, we'd recommend contacting your local planning department.
What are the new rules for building in a back garden?
In 2020, new permitted development rules came into play that affects whether or not you need to apply for planning permission. Please note, these rules don't apply to listed buildings, flats, and homes outside Britain. Generally, these rules apply to the size, position and use of your garden room, so make sure your new structure is:
Only one storey high
Less than 10 square metres big and more than 20 metres from your property if you live in a conservation area
Either more than 2 metres from your property boundary or less than 2.5 metres high
Not built to the front or side of your home if you live in a conservation area
Not located in your front garden
Not fitted with a microwave antenna
See the tradespeople we've checked and recommend for your job
How to get garden room planning permission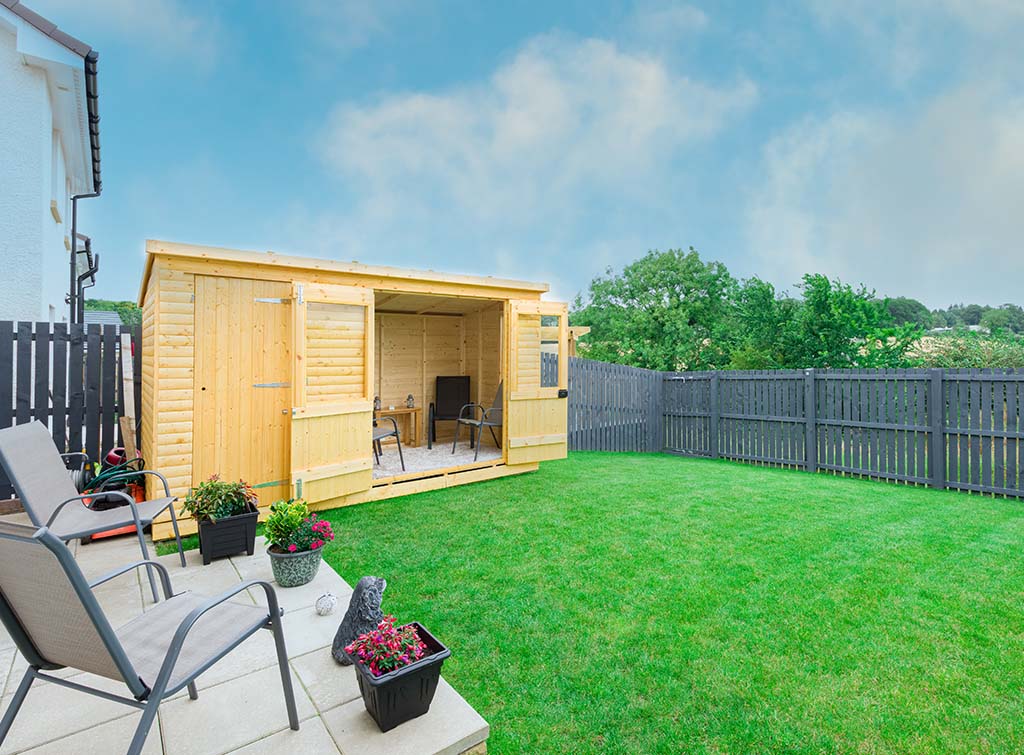 If your planned structure falls into any of the above categories, you'll need to apply for planning permission. The process isn't too complex, although it can take weeks to get approval for your garden room, so factor this into your plans. To apply, you'll need to fill out an application that goes to your local planning authority for approval. You can do this online through the gov.uk website.
You will also need to think about building regulations. In certain situations, you may need to apply for this in addition to planning permission. Even if your garden room falls outside the requirement for building regulations, it's well worth following these anyway to ensure your new structure is well built and insulated.
If your new outbuilding will be over 15 square metres, will be used for sleeping or is more than one metre from your property boundary, you'll usually need to apply for building regulations approval. You can submit your application through the gov.uk website.
Looking to build a garden room?
While you may be able to do some of the work yourself, we'd strongly recommend hiring a tradesperson for high-quality, long-lasting results. This is especially important for anything that requires you to work with electricity, gas or plumbing as this can be very risky.
So, how can you find the right person for your job? Well, the most important thing when undertaking any type of project is to find a team of professionals you can trust. At Checkatrade, our members pass through 12 checks to make sure you get the best possible service.
Just type your postcode into our free search feature to find a range of professionals recommended by your neighbours. We're so confident about our members that we have introduced a guarantee, which means if in the rare case anything does go wrong, we'll give you up to £1,000 to put things right (T&Cs apply).
For further support when it comes to home improvements and finding the right worker for your job, check out the HomeOwners Alliance website. You'll find handy guides and advice for a range of different projects.
How much does a garden room cost to be installed by a professional?
Once you've decided to hire a qualified professional to build your garden room, you may wonder how much this will cost. While building a garden room is generally cheaper than an extension, it'll still cost an average of £2,650 for a mini garden office, plus £690 for assembly.
Of course, the larger the garden room, the more it'll cost and for a big, log cabin style garden room you may pay up to £30,000. For more prices and considerations, check out our garden room cost guide.
Once your garden room is installed, it may be worth investing in some new garden landscaping to further enhance your outside space. It can cost between £50 – £100 for decking. To learn more, check out our garden landscaping cost guide.
See the tradespeople we've checked and recommend for your job
FAQs
What is backland development?
Backland development applies to any structure built in your back garden. If you're adding a structure then you're conducting backland development.
How do I get planning permission to build a house in my garden?
If you plan to build a house in your garden, you'll definitely need planning permission and building regulations approval. You can apply for these through the government website pages on planning permission and building regulations.
Which tradespeople should I use for the job?
There are a range of companies that provide garden rooms. However, if you want a garden room that perfectly suits your outside space and your requirements, it's well worth building from scratch. To build a custom structure, you'll need the help of different tradespeople.
To save you the time and energy of scrolling through search engines looking for electricians, builders, and other professionals, try our request a quote feature. Simply give us the details of your project and we'll send these to three professionals in your local area. They'll either ask for more information or send you a quote. It couldn't be easier!