The benefits of insulating a loft
Find out what the benefits of loft insulation are, the best ways to insulate your loft and how to find the right tradesperson to insulate your loft.
With so much going on in the home, jobs such as installing loft insulation often get neglected. This can have a massive impact on your energy usage and heating bill.
When outside temperatures plummet, the key to a cosy home is making sure you have the right insulation, especially in your loft.
In this guide, we cover the benefits of loft insulation, the best ways to insulate your loft and how to find the right tradesperson to insulate your loft.
The benefits of loft insulation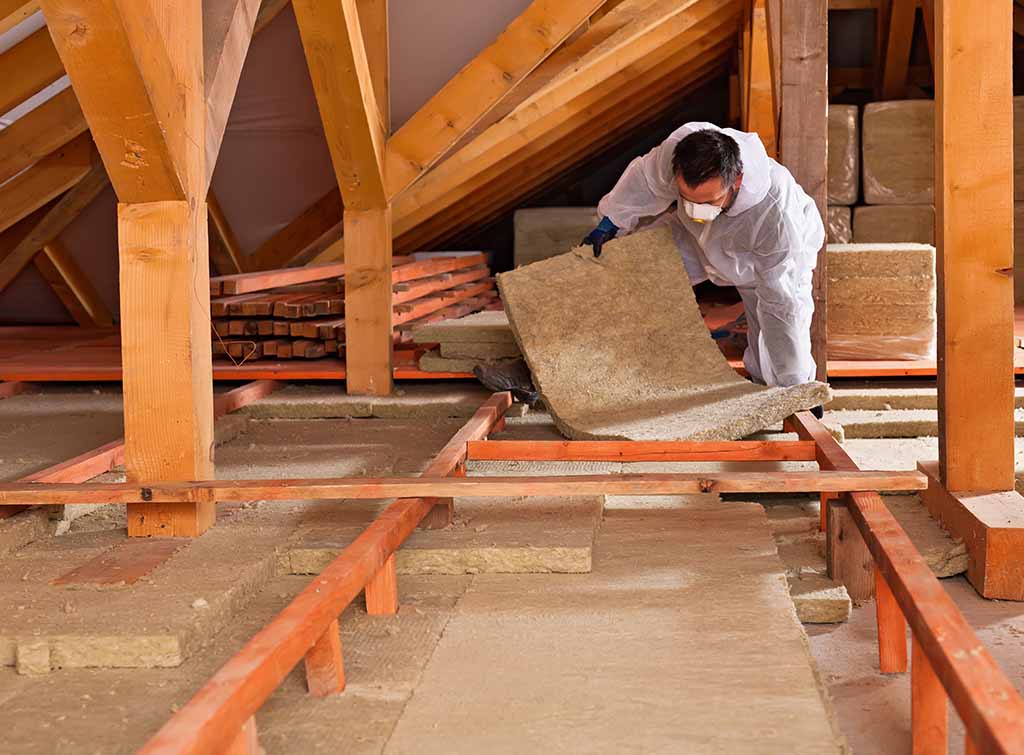 If your roof is frequently covered in birds, this can indicate that your loft insulation isn't up to scratch. As heat escapes through the roof, they benefit from what essentially is a heated seat for them.
While loft insulation is an extra expense you may not have budgeted for, it's well worth the investment. You will see a reduction in your energy usage that'll continue for the life of your new insulation.
In fact, you could see savings of up to £315 a year according to the Energy Saving Trust. Did you know that there's a range of other benefits from properly insulating your loft? Well, these include:
An increase in the value of your home
Making your home more environmentally friendly
Reduced noise pollution inside your property
A cleaner roof without a gang of pigeons making themselves at home
Best loft insulation materials and types
There are a range of insulation types that you can have in your loft. An insulation specialist will be able to tell you which is best for your loft. The most common methods of loft insulation include:
Loft floor rolls
Loft rafter insulation
Sprayed foam insulation
Insulated loft floorboards
There are also a few different materials you can use to insulate your loft effectively. Below are the most common types of loft insulation:
Blanket loft insulation
Loose-fill loft insulation
Sheet loft insulation
Blown-fibre insulation
See the tradespeople we've checked and recommend for your job
How to insulate a loft
Knowing how to insulate a loft can be a great skill to have and if the job is done well you won't need to worry about adding more insulation for decades. There are several stages to loft insulation including preparation, gathering tools and materials, and installing the insulation itself. If this sounds like the right project for you, our how to insulate a loft guide covers everything you need to know.
How to maximise the effectiveness of your loft insulation
Insulating your loft isn't a job suited to everyone and if you aren't a confident DIYer, we'd recommend hiring an expert. Professional insulation fitting will ensure your loft is effectively insulated and stays energy efficient for years to come.
Concerned about hiring a stranger to work in your home? No problem, our members are thoroughly checked to ensure whoever you hire is trustworthy and committed to giving you excellent service time after time. We've also introduced a guarantee where you could be covered up to £1,000 in the unlikely event something goes wrong with your job (T&Cs apply).
If you're ready to contact a professional, search now to find an experienced tradesperson recommended by your neighbours.
How much does loft insulation cost to be installed by a professional?
For worry-free installation of your loft insulation, it's well worth considering hiring a professional. So, exactly how much will this cost you?
The average price for basic blanket insulation is £500 but this will vary depending on the size of your home and whether you need the old insulation to be removed. Check out our loft insulation cost guide for more details.
See the tradespeople we've checked and recommend for your job
FAQs
How thick should loft insulation be?
When deciding what thickness of loft insulation you need, consider that the current EEC programme suggests a minimum depth of 270mm.
How much loft insulation do I need?
Firstly, you'll need to carefully measure the space, making you don't step between your loft joists. You can then reduce your final measurements by 10% to account for the joists themselves.
What is the best loft insulation?
You'll need to consider your loft itself before deciding what the best insulation material will be. For example, blanket insulation is easy to install but can be difficult to fit around obstructions. Alternatively, blown-fibre insulation is great for hard to access areas but can be costly.
More details on the different options can be found in our loft insulation cost guide.
How long does loft insulation last?
This depends on a range of different factors, but most insulation can last up to 80 years. However, your insulation will last less time if there are any leaks in your loft, if it's installed incorrectly, if there are rodents living in your loft or there is any mould build-up.
Which tradesperson should I use for the job?
For long-lasting, highly efficient loft insulation, we'd recommend hiring an insulation specialist.