Last updated on January 30th, 2023
How much does a new kitchen cost to install?
The kitchen is the heart of the home. We spend time cooking, dining, and entertaining there, so it's no surprise that a new kitchen is one of the most popular home improvement jobs. Find out how much to budget for your new kitchen.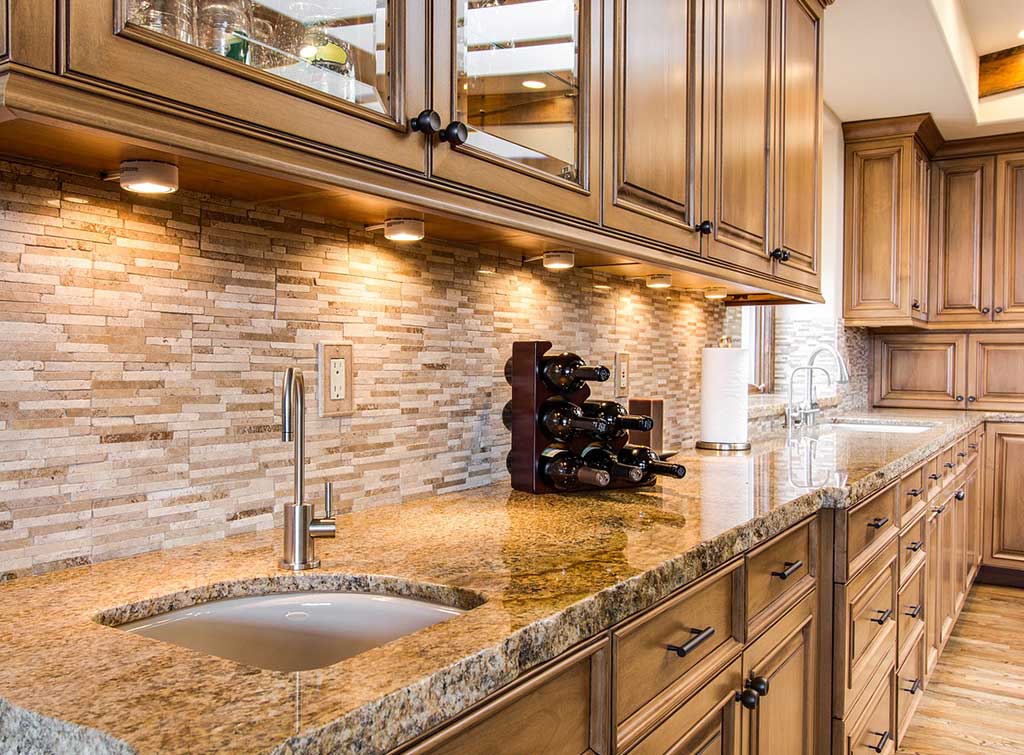 Before you jump right in and start tearing out your current kitchen and ordering your new one, it's essential to consider how much a new kitchen could cost you. Knowing the rough new kitchen costs allows you to budget sensibly for your new kitchen design and fittings.
How much does it cost to install a new kitchen?
Unfortunately, the answer isn't straightforward. The price of your new kitchen could vary from £5,250 for a small budget kitchen renovation to £10,550 for a large kitchen renovation.
| New kitchen items | Low cost (small kitchen) | High cost (large kitchen) | Average cost |
| --- | --- | --- | --- |
| Units | £1,500 | £10,000 | £3,000 |
| Worktops | £100 | £5,000 | £1,000 |
| Appliances | £450 | £5,200 | £2,000 |
| Kitchen installation | £2,200 | £4,600 | £3,000 |
| Plumbing | £200 | £600 | £300 |
| Electrics | £300 | £1,000 | £500 |
| Flooring | £500 | £2,000 | £750 |
| Total cost | £5,250 | £28,400 | £10,550 |
What is the average cost of fitting a new kitchen in the UK?
So, on average, how much does a new kitchen cost to install? It's estimated that the UK average someone pays for their new kitchen to be fitted is around £3,000. This will vary depending on the size of the kitchen.
See the tradespeople we've checked and recommend for your job
New kitchen cost calculator
The costs in the table are for a new kitchen installation. The low estimate is based on a small kitchen with one wall of eight budget units, laminate worktop, cooker, hob and hood (all budget brands). The high estimate is based on a large kitchen with 20 premium units plus an island, quartz worktop, cooker, hob, hood, fridge/freezer, dishwasher and microwave (all premium brands).
The new kitchen cost will vary depending on these factors:
The size of the room and kitchen.
The number of units you're installing.
The materials you choose.
How much worktop space there will be.
Flooring: The cost of flooring ranges between £20 – £30 per m2 plus the cost of installing.
Whether you're purchasing new appliances or not.
Whether major structural changes need to be made to your home to fit your new kitchen.
Kitchen rewiring: New electrical wiring could set you back by around £1,000.
Plumbing.
Whether you work with a kitchen designer.
Whether you work with a professional kitchen fitter.
With so many factors influencing the overall budget required, it's essential to understand what you need from your new kitchen and have a clear plan to help you get the most for your money.
We've covered the estimated new kitchen quotes for working with a professional kitchen installer in our cost guide. So do check it for more information on what a kitchen fitter does.
The average day rate of a kitchen fitter is around £240.
How to keep costs down
Sometimes you don't need a completely new kitchen to give the feel of a new one. Some things to consider include:
Go for new doors only and keep the existing frames.
Consider wrapping or painting existing doors. As well as buying new handles.
Buy premium brand appliances which will be on show (e.g. cooker) but use budget brands for integrated appliances.
See the tradespeople we've checked and recommend for your job
How to design your new kitchen for your UK home
One of the key steps to success when designing your new kitchen is to put together a well thought out plan. Whether you're updating certain aspects of your existing kitchen on a budget or looking to strip it all out and start afresh, planning is vital.
By design, we don't mean simply considering the colours and other aesthetics. You must also consider the practical elements of your kitchen, such as lighting, plug sockets, flooring, storage options and many more things which come into play when making these decisions.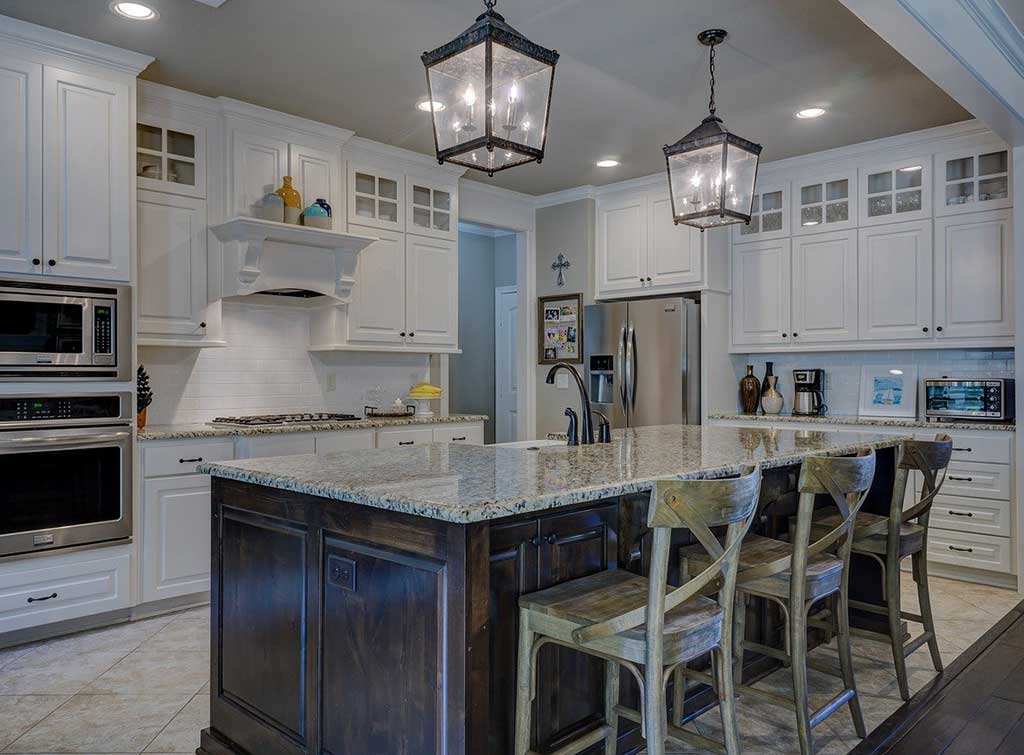 How much does a professional kitchen designer cost in the UK?
We estimate that working with an independent kitchen designer will cost you around £5,000 for a very high-end kitchen (over £25,000).
Normally, however, the cost to design your kitchen is combined with the kitchen fitting service, like an all-in-one package. When you're looking for quotes, do make sure to ask whether the cost includes your kitchen's design and installation.
Working with a professional designer may be the key to helping you to understand how far your budget can stretch. They will also have the knowledge to help you choose the right layout for your needs and ensure that you remember everything that must be considered.
We have a new kitchen fitting cost calculator that could help you consider what you want in your kitchen and the cost to have it. Check out our kitchen design cost guide for kitchen island, kitchen tile, and kitchen extension costs.
See the tradespeople we've checked and recommend for your job
How to choose your kitchen worktops and their costs
When choosing your new worktops, the aesthetics are something to consider, but they should not be the only influence on your decision.
The first decision to make is which material you wish to purchase. Although laminate worktops can be bought for very affordable rates, it's unlikely that they will last for as long as a stone such as Granite. There are pros and cons to each material:
Cost provided item
Cost + VAT
(Range low - high)
Average UK cost
Kitchen worktops - Laminate (5m length)
£200 - £800
£500
Kitchen worktops - Quartz (5m length)
£500 - £1,100
£800
Kitchen worktops - Wood
£300 - £900
£600
Kitchen worktops - Granite (5m length)
£550 - £1,150
£850
Labour - Laminate (per m2)
£40 - £60
£50
Labour - Granite (per m2)
£120 - £180
£150
Labour - Quartz (per m2)
£80 - £130
£110
Kitchen doors
£95 - £145
£120
Unpolished cutouts (Quartz/Granite)
-
£180
Polished cutouts (Quartz/Granite)
-
£185
Drainer grooves (Quartz/Granite)
-
£150
Curved corners (Quartz/Granite)
-
£15
Round edges (Quartz/Granite)
-
£14
Laminate worktops – They are a budget-friendly option that can mimic the appearance of more costly materials, although they are unlikely to last as long and can be damaged easily.
Wooden worktops – This material can look excellent but requires regular upkeep, making them an often costly option.
Granite worktops – No two cuts will be the same with this natural stone. It offers an incredible look and is exceptionally durable. It's difficult to scratch, and you will find this material stays looking shiny and new for years to come. They are porous but will be sealed, meaning day to day cleaning is simple. Over time, if this seal does begin to wear, you might find your worktop is susceptible to staining and liquid absorption.
Quartz worktops – This man-made material is exceptionally tough and will withstand the hustle and bustle of everyday use. Although it does not quite achieve the aesthetic depth that natural stone provides, it does come in a wide range of colours, patterns and styles, which means that there is a cut of quartz to suit every home. Non-porous and extremely hygienic, you will find that Quartz provides you with a long term solution that suits your needs.
How to choose cupboards for your new kitchen
When it comes to choosing your new kitchen cupboards, you must consider what your priorities are.
What do you need to store within them?
How many shelves do you need?
Would you prefer lots of thinner shelves, or would fewer taller ones benefit you more?
Where will you be placing them?
How many cupboards do you need?
Do you need to invest in any other additions to your cupboards, i.e. built-in wire racking?
Design your kitchen in such a way that means that every small nook and cranny can be utilised to its best ability – you'll be surprised to realise just how versatile kitchen units can be. You can fit a cupboard or drawer almost anywhere in the kitchen space.
The materials must also be taken into account. Are you going to be looking for solid timber units or wood-veneered? Planning well in advance is essential with such a range of patterns, styles, and materials available to choose from.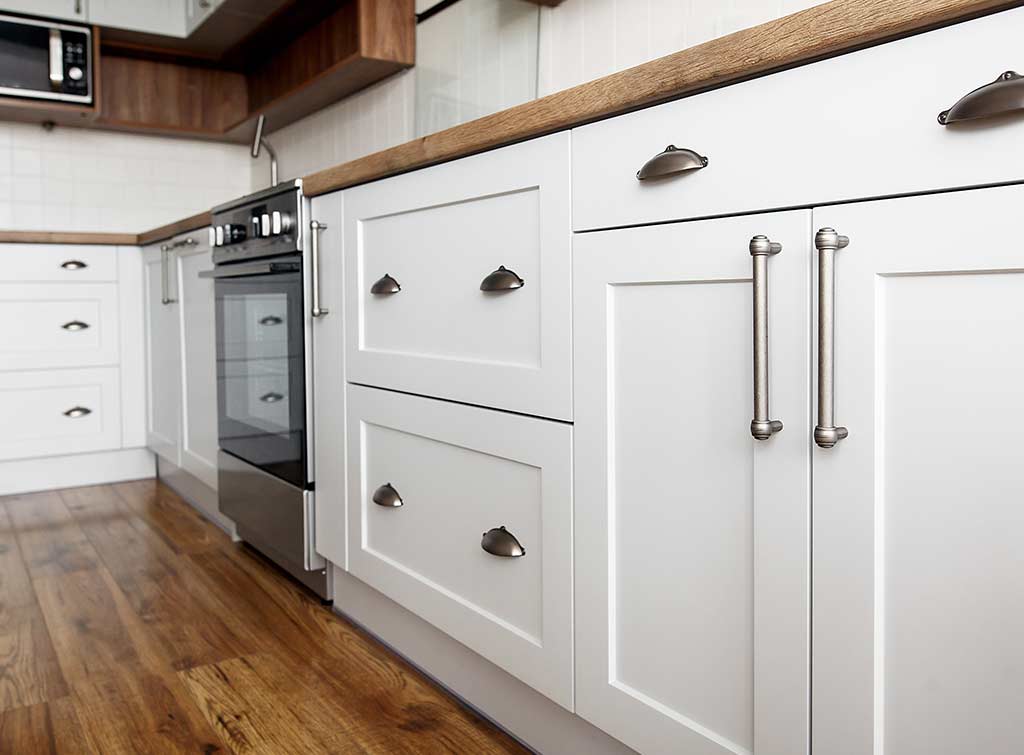 How much does it cost to fit kitchen cupboards?
Working out the price of your kitchen cabinets will rely on the material of the cupboard and doors you have, along with the labour cost to have it installed.
It's estimated that a kitchen cupboard installation will cost around £225, not including the material cost.
The cost of a standard kitchen cupboard unit will be around £20 – £70 and £20 – £50 for a wall unit. Higher-quality units will be between £70 – £130 for a base unit and £70 – £100 for a wall unit.
See the tradespeople we've checked and recommend for your job
Selecting the right appliances
Another thing that homeowners must take into consideration when installing their new kitchen is whether or not they are going to be installing completely new appliances.
Are you going to be opting for all-new built-in kitchen appliances?
Will you need a rewiring job carried out to meet the needs of your new layout?
Are you going for gas appliances? If so, have you got the contact details of a reputable gas qualified installer?
It's essential to think about not only the type of appliance you require but also the costs and practicalities of having that appliance.
Once again, the cost to have your appliances fitted will rely on what appliance you're having fitted, whether it's electric or gas, and the price for both the appliance itself and the labour to install it.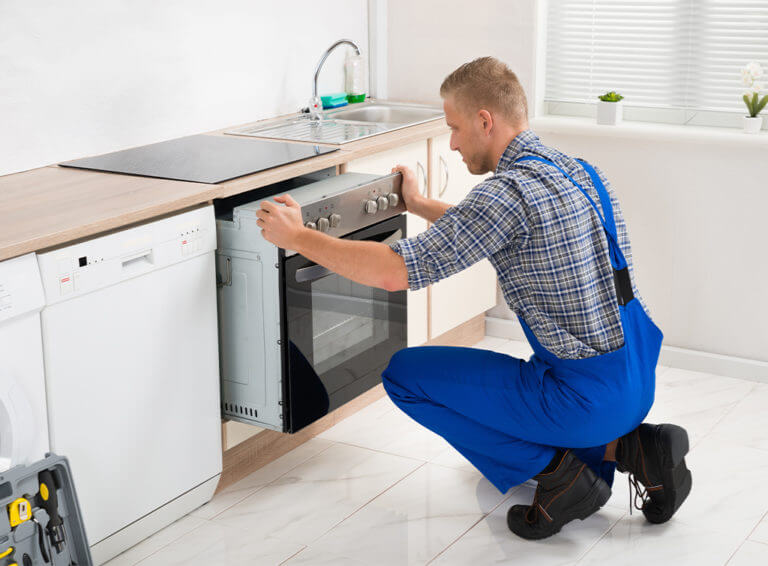 FAQs
How long does fitting a new kitchen take?
The duration of a kitchen fitting does vary from project to project. It might be that you have a small, simple kitchen, then a professional may be able to install it within a few days. A medium-large kitchen could be a week – two weeks. If you're attempting a DIY installation, it could take even longer.
The level of work required will affect the timescales surrounding the project. For those having everything ripped out, new flooring installed, walls re-decorated, units added, appliances fitted, splashbacks and tiling installed, worktops to be cut, and everything else, then this kind of project will be at least half a week if not more.
Speak to a professional kitchen fitter when getting your quote to estimate the duration of installing your new kitchen.
How much is the labour cost to fit a kitchen?
A kitchen fitter will typically cost £20 – £30 per hour. For more information take a look at our cost of a kitchen fitter guide.
Should you hire a professional kitchen fitter?
We would always recommend hiring a reputable professional to take on any big installation projects in your home. They will be able to get things done quickly and efficiently and have the skills and insurance in place to ensure that the job is done safely and correctly to all the right regs.